Last year on this day, 24th of January at 8:30am, I went to the breast clinic. M came with me. I met a nurse and a doctor. After the examination, the doctor almost assured me that nothing was wrong, but that we needed to do all the tests to get this confirmed. I totally agreed. This was the morning of an ultrasound, a mammogram, another ultrasound, two biopsies and a final mammogram. My goodness, after all that I was a bit concerned. You can almost see in the sonographer's facial expression that something wasn't right. After all the tests we were called back to see the doctor and suddenly he was not so sure that my lump was "nothing to worry about". He just simply said, "I don't know. Until we know the results I can't comment, as I don't know." He repeated several times, "I don't know". Going away completely clueless and totally freaked-out, we ended up in Carluccio's for some brunch – I felt like having a very boozy one, but managed to refrain from ordering a bottle of Prosecco, mainly due to it being Tuesday and I didn't feel like going home at noon half-drunk to my two little boys – even though grandmother was with them. Sensible!
After a week of worrying we were back at the breast clinic to hear the results. Trying to keep my chin up, we walked into the waiting room. Next to us there was another couple looking rather serious and nervous, so to break the icy atmosphere we decided to do a bit of height measuring to see if the passport information was actually correct. One minute later the nurse called my name. Just from the way she called my name and looked at me I knew. I knew that something was wrong. How little did I know. We were waiting for a little time in the consultation room before the doctor came in. The doctor opened the conversation in a jokey tone, asking if they really "stabbed" me last week, which was quite amusing. He actually did a 'shit sandwich'. For people who are not familiar with a shit sandwich, here is an explanation. The news is dressed up as thus, first a positive statement, then the bad news, and then a positive statement to take the edge off! So he began by telling me that one of my biopsies came back clear. However, he continued to informing me that the lump that I'd been worried about was cancerous. The final bit of good news was that the cancer had not spread.  I am not sure about the strategies in how they tell people bad news, but the shit sandwich actually kind of worked. Admittedly, I did get really hot as my body heat rose from normal to maximum in seconds. I was trying to process the information that had just come out of his mount. It's a good job M was there as I didn't really hear what he was saying and I couldn't recount it afterwards. Except that my options were chemotherapy and surgery, or surgery and then chemotherapy. No right or wrong! My choice! I just could not comprehend that chemotherapy would even be on the cards. I was thinking surgery to get rid of something bad, if it was bad, but chemotherapy? This was definitely a shock.
Anyway, you are here for the dressing right so I am going to tell you about a different kind of surprise, a nice one this time round. This salad dressing is the best, I promise. I could not believe how rosemary could make such a wonderful dressing. Normally I would go for something "mayonnaisy". But oh no where have I been all my life..this one is too good for words. For me a dressing is an (if not THE) important aspect in a salad. It makes or breaks a salad, right? If the dressing is tasty it can make any leaves taste amazing. This vinaigrette recipe is exactly that. It will make any salad super tasty.  M and I just love rosemary. We adore the earthy, floral autumnyness it brings to a dish and here it adds another dimension to a simple leaf salad and the health benefits are pretty awesome too as rosemary is known for boosting the immune and circulatory systems and improving memory. Nevertheless, these little green shards perfume food and give it a depth of flavour. The addition here in a vinaigrette will pick out and pair very well with any main dish that is flavoured with rosemary. Roasted potatoes or sweet potato chips that have been doused in olive oil, garlic and rosemary can also be dipped in this dressing just like a tangy sauce. We have followed a simple ratio of oil, lemon juice and herbs for this classic style vinaigrette and it is super easy to reproduce.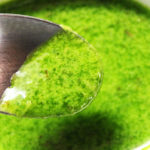 Ingredients
3 sprigs of rosemary

A small handful of spinach

1 teaspoon of Dijon mustard

100ml of olive oil

Juice of a half of lemon

Salt and pepper
Instructions
Simply combine all the ingredients and blitz until smooth with any blender .