Homemade granola is actually very easy to do. They are perfect when you want a very quick and healthy breakfast – as the batch for the week is done in advance. You can easily bring it to work or have it on the go with oat milk or coconut yogurt. You can even have it as a delicious crunchy topping on your smoothie bowl.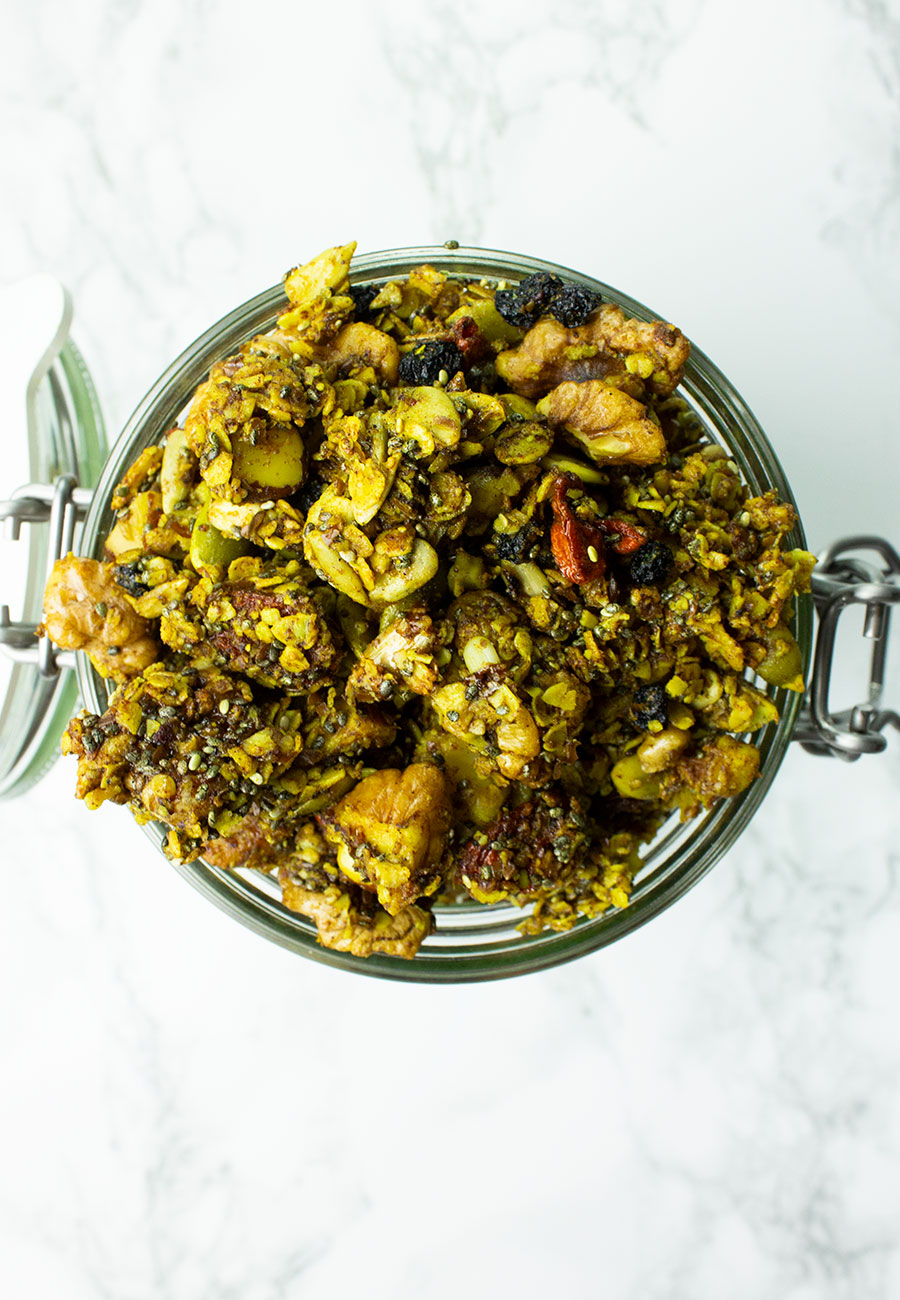 Easy healthy homemade granola with turmeric recipe
This is probably the healthiest homemade granola recipe. Or some people would call it nutnola, but we call it tacknola as it's The Anti-Cancer Kitchen's granola. It contains nuts, seeds, spices such as cancer-fighting and anti-inflammatory turmeric and berries to give you the best start to the day.
This homemade granola recipe has been created to fight cancerous cells and prevent the cancer from coming back or spreading. And, all these amazing granola ingredients are perfect for helping your cells repair especially after extensive chemotherapy and radiotherapy cycles. Let us explain why.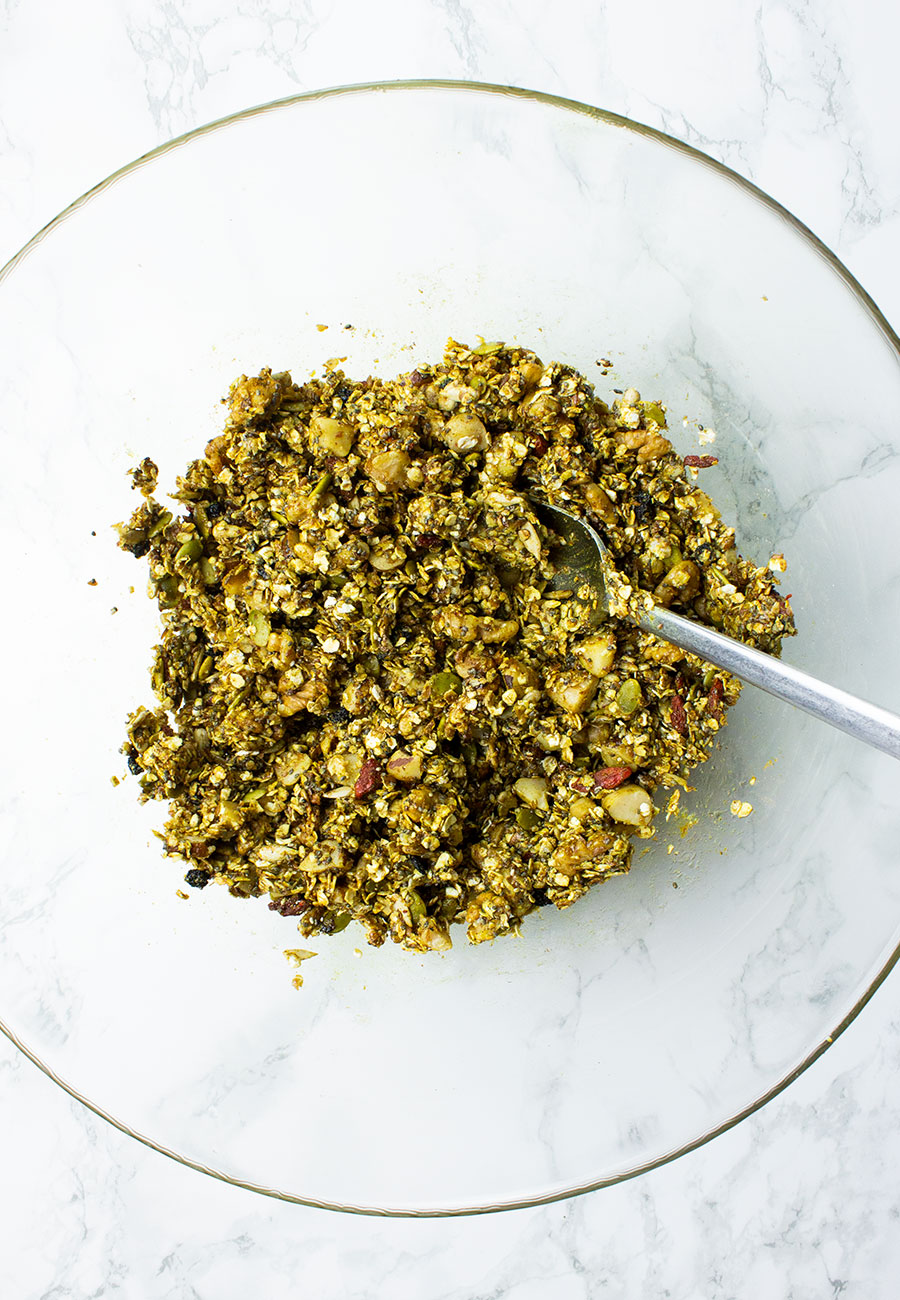 Health benefits of our homemade granola
Most of the granolas that you can buy in the supermarket are very high in refined sugar, it also can contain unhealthy fats and oils, and is packed with processed foods and unnecessary fillers. This homemade granola is completely transparent. There is nothing unhealthy and all of the ingredients in this recipe have been put in there to help your body cells repair, prevent cancer, give you energy and promote generate health and wellness.  The ingredients we are using in this recipe are the best cancer fighters.
Brazil nuts
The highest source of selenium is found in Brazil nuts. Selenium works as a powerful antioxidant in the body and prevents cell damage. Selenium also protects against free radicals and encourages toxic metal detoxification.
Walnuts
Walnuts prevents cancer growth as it contains omega 3 fatty acids and antioxidants such as Vitamin E, melatonin and phytosterols. While all of these compounds have anti-cancer activity, it is the synergistic presence of all of these nutrients together that makes walnuts such a powerful cancer fighting food.
Chia seeds
Chia seeds and flax seeds are incredible as they are a rich source of lignans. Lignans have anti-estrogenic effect that inhibit cell growth in breast tumours.
Sunflower seeds
Sunflower seeds contain selenium and pumpkin seeds are packed with cancer-fighting nutrients that slow cancer cell progression.
Goji berries
Goji berries are a superfood as they help fight inflammation and support the body in its fight against free radicals. Same with blueberries. Research has shown that blueberries can protect against DNA damage and reduce the risk of getting cancer.
Blueberries
Blueberries are believed to contain the highest antioxidant capacity of all commonly consumed fruits and vegetables. Lingon berries are anti-inflammatory and antioxidant too. The berries contain procyanidins, a substance which protects the body against cancer.
Turmeric
Turmeric is one of the healthiest foods in the world as it has wide-ranging health benefits. While once focused on anti-inflammatory benefits, decreased cancer risk, and support of detoxification, studies on turmeric intake now include its potential for improving cognitive function, blood sugar balance and kidney function.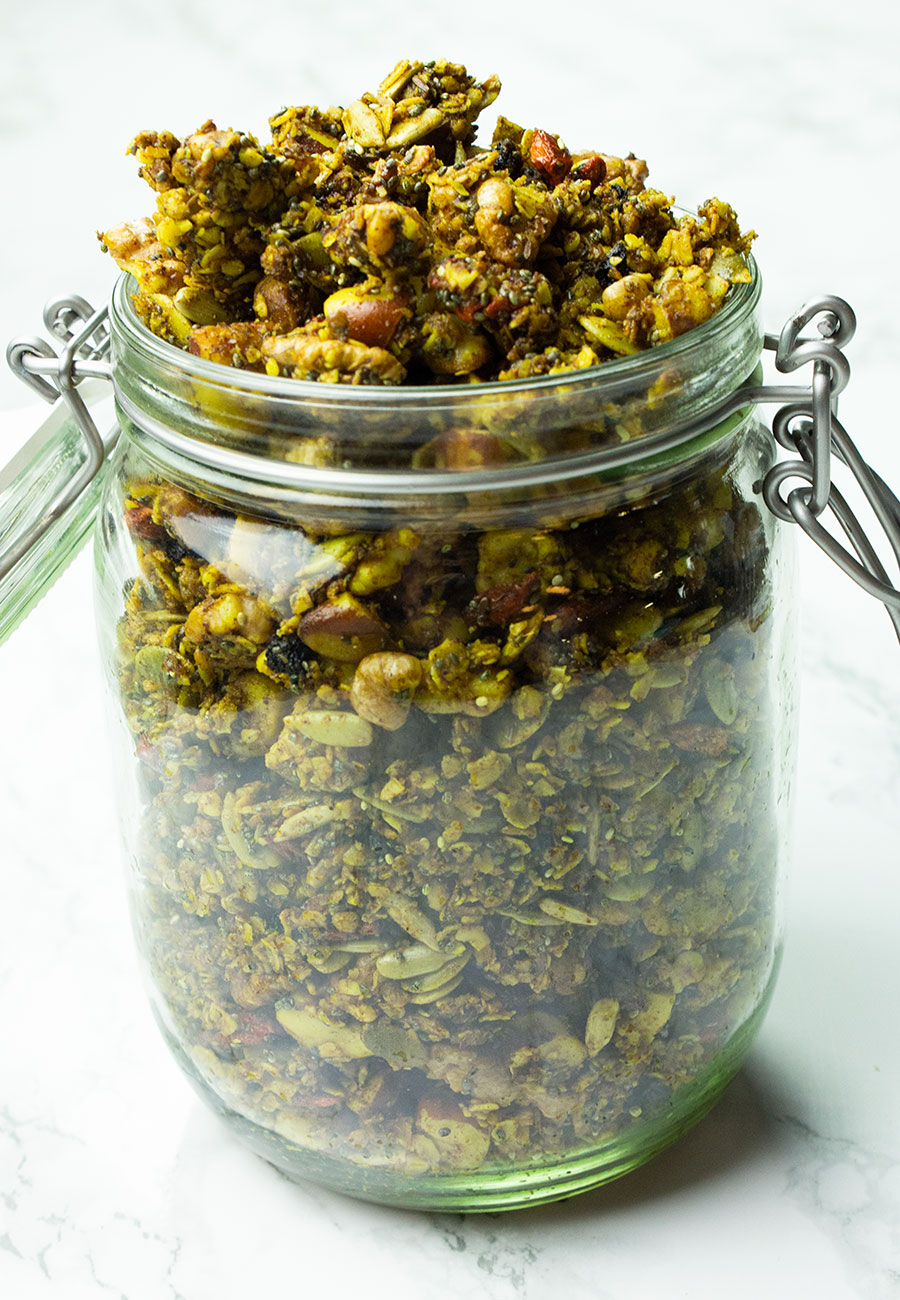 How to make homemade granola with turmeric
Our homemade granola recipe uses a small amount of whole oats. Oats keep you feeling full for a longer time due to slow releasing complex carbohydrates that help our bodies sustain energy levels through the morning and day.
Whole oats are also very high in antioxidants, fibre and protein. It can Improve blood sugar levels and even help you lose weight. Always avoid buying quick oats products as they tend to contain lots of sugar and unnecessary processed stuff and chemicals.
To sweeten this turmeric granola, we use cinnamon, organic date nectar and Maple syrup, however you can also use organic Agave syrup or organic Manuka honey. Manuka honey has lots of health benefits. We've opted for Maple syrup and date nectar, but we have made this with Agave syrup and honey before and the results are delicious.
To bind it all together, we use coconut oil. It's light and is full of goodness. Coconut oil is high in healthy saturated fats. Research has also shown that the fatty acids in coconut oil could potentially kill harmful bacteria, viruses and fungi. Coconut oil has also a longer shelf life than some other fats. As it is solid at room temperature, it is perfect in baking recipes and for greasing baking pans and as a replacement for butter or other plant-based oils.
Why make homemade granola
Firstly, you know exactly what's in it. Secondly, you can control the sugar/sweeter levels and you can put more spices, nuts, dried fruits and berries that are good for your health. And the obvious reason of course is that it is so deliciously good and naughty-free.
Have you made this recipe?
We'd love to see your food creations! Please leave a comment below, share or tag using @anticancerkitchen on Instagram and hashtag it #anticancerkitchen.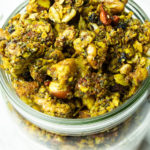 Ingredients
100g brazil nuts

100g walnuts

30g chia seeds

20g flax seeds

70g sunflower seeds

50g pumpkin seeds

20g goji berries

20g blueberries

150g whole oats

2 tablespoons cinnamon

2 tablespoons turmeric

2 tablespoons blueberry powder(optional)

2 tablespoons lingonberry powder (optional)

2 tablespoons date nectar

2 tablespoons Maple syrup

100g coconut oil
Instructions
Preheat the oven to 150°C (300°F).
Combine all ingredients in a mixing bowl and use a spoon to mix well. The coconut oil might be liquid or solid depending on the temperature of your kitchen. Warm it up slightly if it's solid.
Spread the mixture in a thin layer on a baking sheet and bake for 15 minutes, until very lightly toasted. Enjoy with milk or yogurt and fresh berries.

Copyright secured by Digiprove © 2020 The Anti-Cancer Kitchen