A perfect vegan crêpes recipe made with aquafaba. These plant-based thin pancakes pair beautifully with sweet toppings or savoury fillings alike.
There is no need to miss out on pancake day when following a plant-based diet. Vegan pancakes or vegan crêpes are very easy to make. We think that they are even better than traditional crêpes. On Shrove Tuesday we always opted for the French style crêpes rather than the fluffy American pancakes. They are wafer-thin and so light to eat as much of the fun is, as always, to see how many you can eat or to try with as many different toppings as you can. A thin golden pancake that was light and slightly squidgy because of the egg but crisp on the outside was a rare treat and unfair to be kept for just one day a year.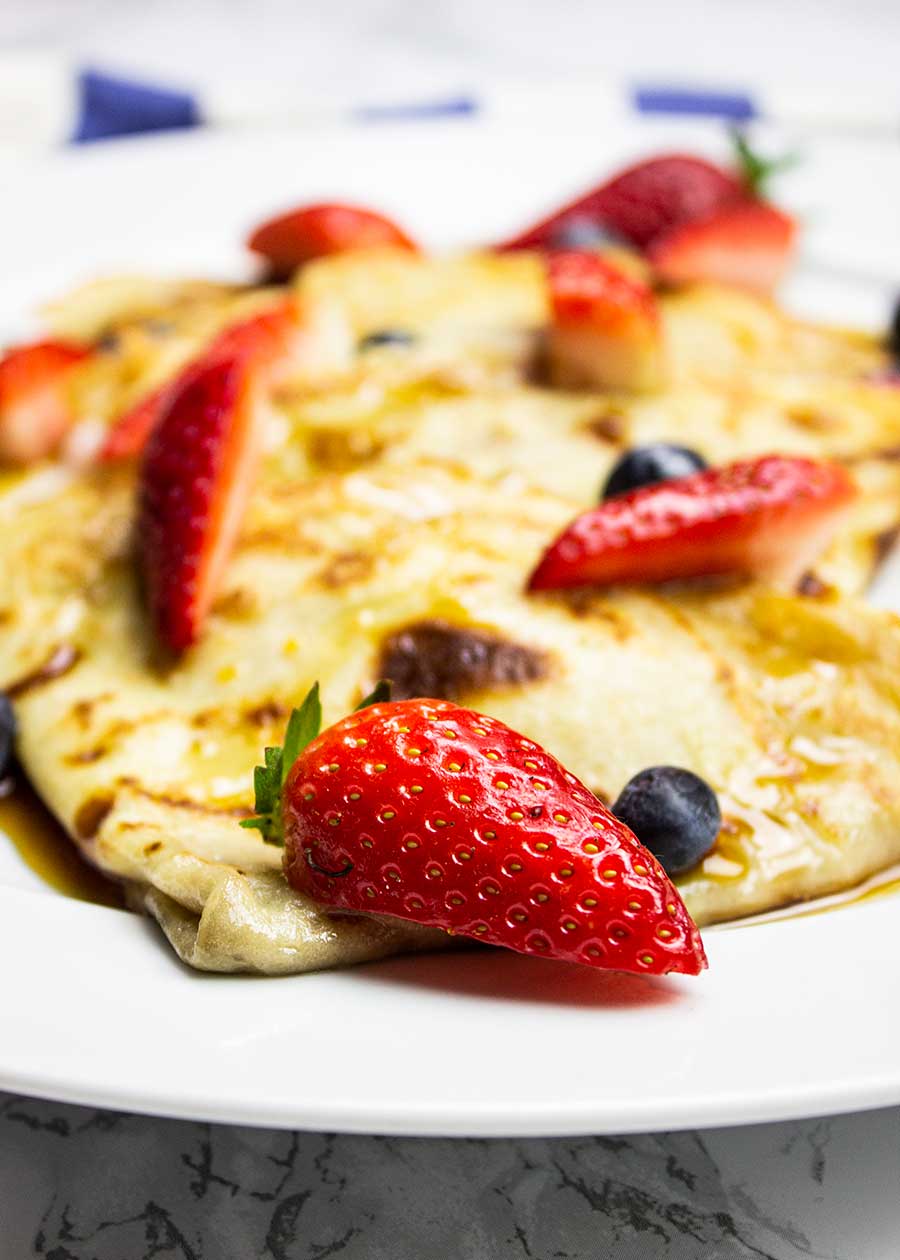 Delicious crêpes made with aquafaba
Making a classic crêpes recipe totally vegan means only finding a substitute for an egg which is easy as you just swap it for aquafaba, the water contained in a tin of chickpeas/garbanzo beans, and for the milk, you just use plant-based milk. We like oat milk but soy milk or cashew milk could work just as well. Then whisked altogether you end up with a wet batter that pours straight into a hot non-stick pan. They are only slightly more delicate than dairy made crêpes but there is a simple way to cook them so that they stay intact when turning which is just about timing. 
The texture of these amazing vegan crêpes is genuinely so like a traditional crêpe you would be hard-pressed to discern the difference. They have a wonderful batter flavour and they are light and crispy. They have a definite resistance to them as well. The aquafaba works very well to give them a bounciness and strength to them so that they don't fall apart or turn too soft. They are the real McCoy.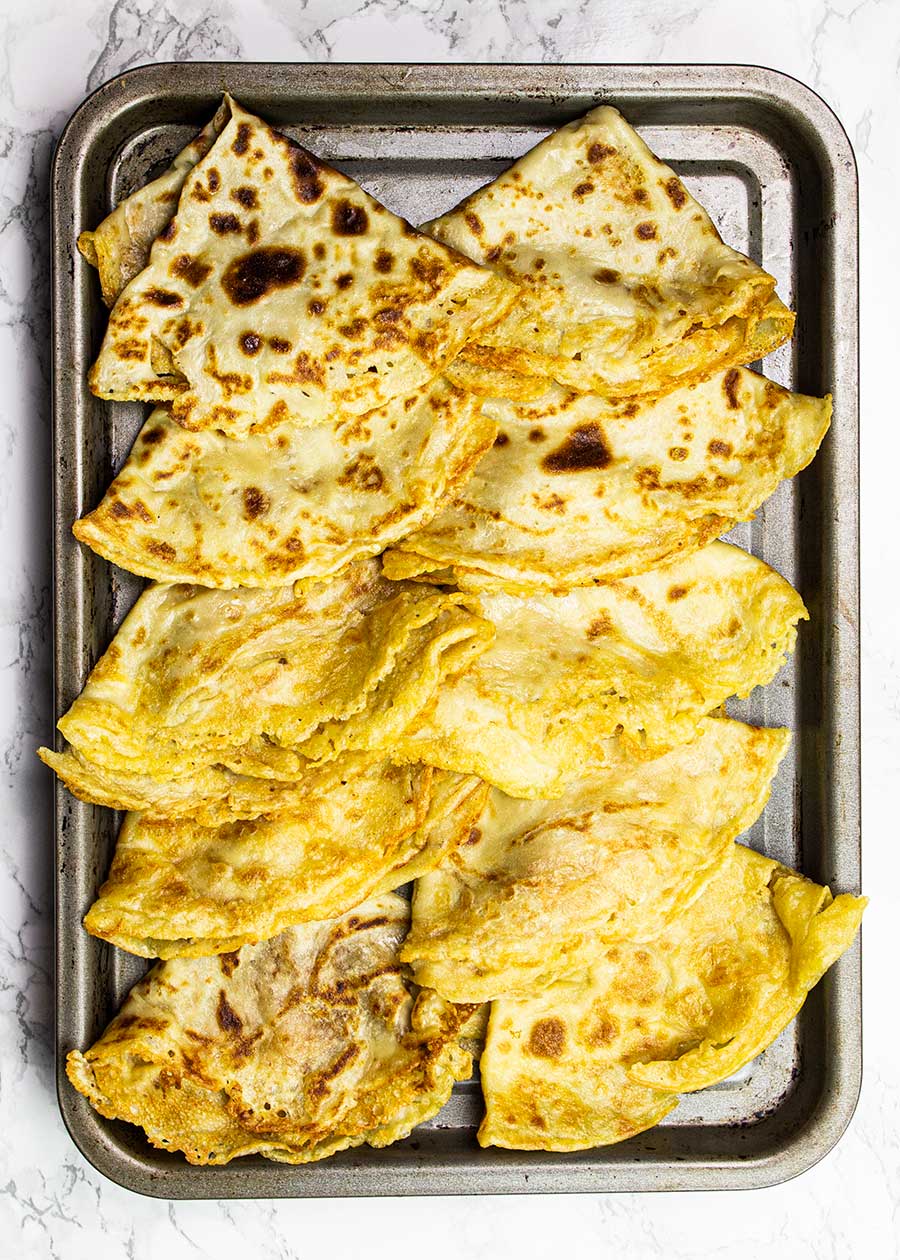 How to fry aquafaba crêpes
Cooking them does require vigilance and a hot pan and the right amount of oil each time you fry one. The hot pan is important but that is all to do with the pan maintaining equal heat. Every time you start to make pancakes, you know that the first one is not the best. This could be that you have lost practice with the first one and get better towards the end but towards the end your pan will retain its heat better. Always use medium heat on the stove, too hot and your batter fries too quickly, stop you from swirling the batter around the pan and then burn. Not hot enough and your pancakes will tear. So, keep the pan on medium heat to heat up for a bit longer than you normally would. Then pour half a tablespoon of olive oil in the pan and on the heat swill it around. Now, take the pan off the heat and use a ladle to pour the batter in. Pouring the batter in with a ladle will keep your pancakes exactly the same size each time. Pouring it in off the heat allows you to swill the batter evenly around the pan before it starts to set. Then put it back on the heat. An important stage of making vegan crepes is to just leave them. Don't be tempted to start lifting up the sides to check when it is ready to toss onto the other side. Just time 1 minute and 45 seconds then with a palette knife or spatula gently slide it under the pancake to the middle and turn over. Cook on the other side for another 1 minute 30-45 seconds. Then it is done. You can keep them in an oven set at 70℃/158°F until you have cooked them all.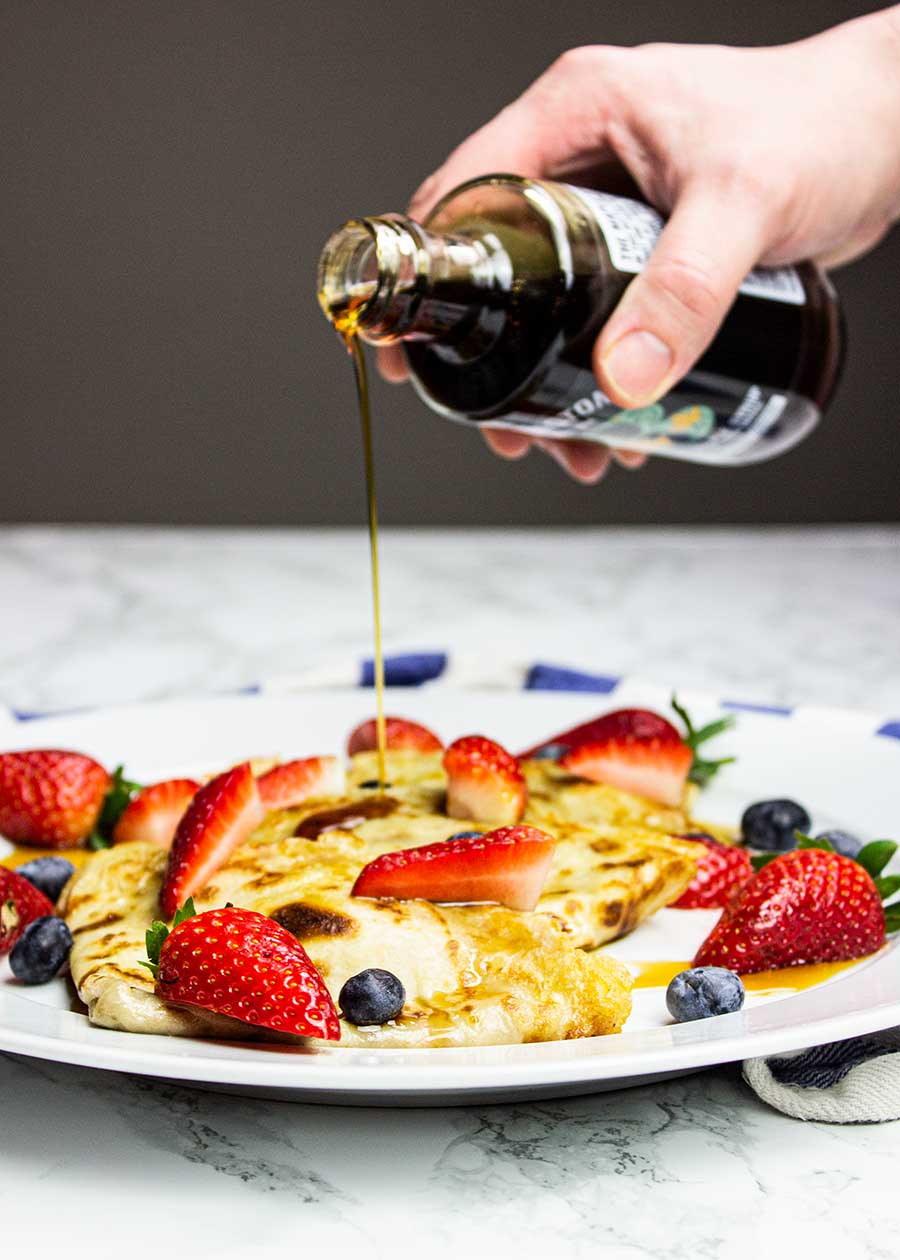 Toppings? Well that is up to you. However, in our kitchen, we do like antioxidant-rich berries for a little bit of health as the nutritional value of a pancake is not particularly much. However a little of what you crave can give you a mental boost. If sweetness is what you desire then a good aged organic maple syrup would be the recommendation.
Have you made our vegan crêpes recipe with aquafaba?
We'd love to see your food creations! Please leave a comment below, share or tag using @anticancerkitchen on Instagram and hashtag it #anticancerkitchen.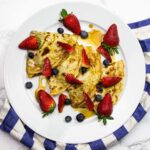 Ingredients
1 ½ cups / 240g of strong white flour

640ml (2.7 cups) of oat milk

½ a cup of aquafaba/chickpea water from a can of chickpeas (store the chickpeas/garbanzo beans in the fridge for another recipe)

½ teaspoon of salt

Olive oil for cooking (½ a tablespoon for each crêpe)
Instructions
Sift the flour into a mixing bowl with the salt. Make a nest in the middle and start pouring in the oat milk and whisking with a long wire whisk. Gradually pour in the milk and whisk until it is all combined to a smooth batter. Pour in the aquafaba and whisk again to fully incorporate.
Place a non-stick frying pan on medium heat and leave it there for a couple of minutes to bring it up to temperature. Pour in half a tablespoon of olive oil and swirl it around the pan.
Take the pan off the heat and use a ladle to pour in the batter. Tilt the pan in a circular motion so that the batter coats the bottom of the pan. Return the pan to the heat and time 1 minute and 45 seconds before gently putting a spatula or palette knife under the pancake to turn it over. Cook the other side for another 1 minute and 45 seconds or until nicely crisp and lightly browned.
Keep the crêpes/pancakes in a warm oven at 70℃/158°F and repeat the process.
Step-by-step images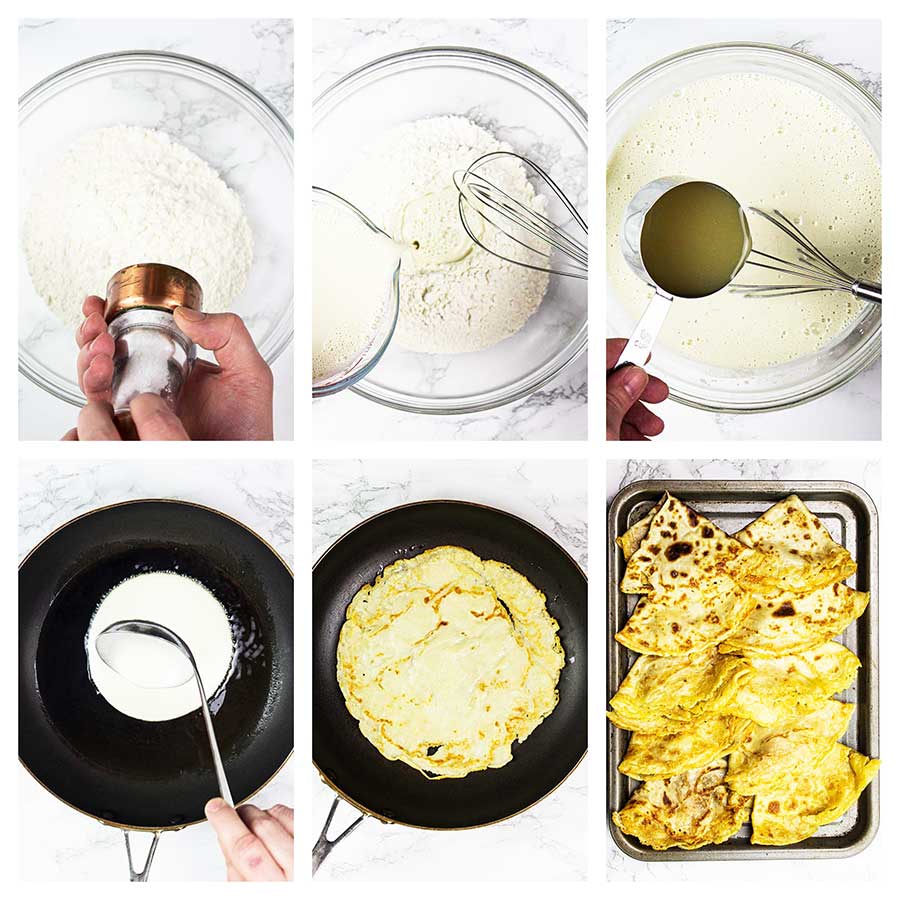 Copyright secured by Digiprove © 2021 The Anti-Cancer Kitchen