A hearty, warming, filling, detoxifying vegan green stew recipe that is packed with pure green goodness.
You often see green smoothies or soups and they are very popular. You see many side dishes that are compiled of just greens too but you rarely see fully-fledged main courses by themselves. Only a handful come to mind and their popularity are astonishing such as a Thai green curry or a Sag curry. In fact, curries do tend to monopolise this colour bar perhaps the odd Italian dish such as a primavera pasta or pea risotto, yet even then the other ingredients are only coloured by the greens themselves. So, we have put together a small list of green vegetables that sit in wonderful blitzed garlic, herb and spinach sauce that sing together perfectly. The only other noticeable colour we add is that of zesty blood orange. These ingredients have such amazing health benefits too (much like their smoothie counterparts) this stew is great helping the body to detoxify too, so, as such, we have our very own vegan green stew.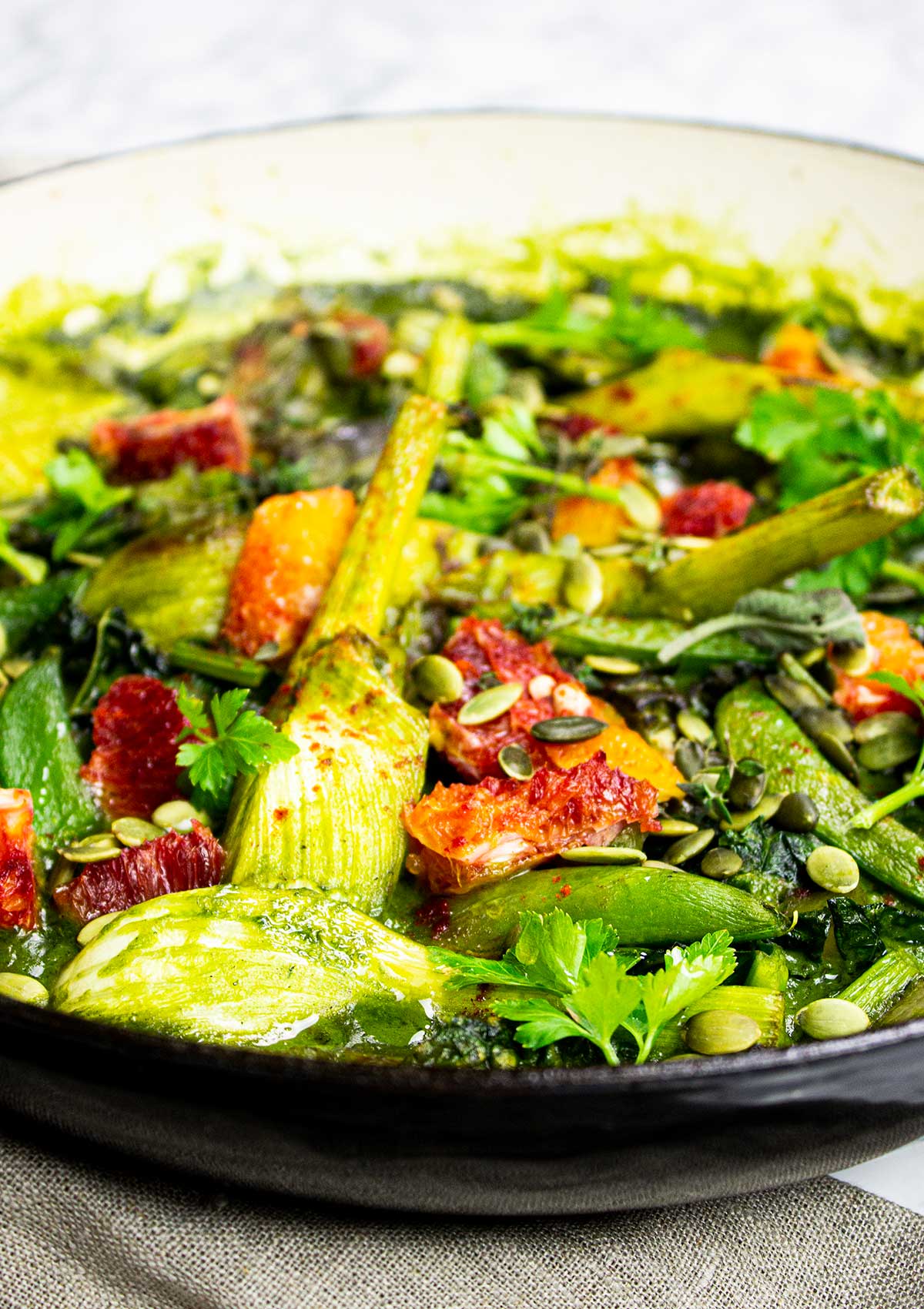 The inspiration for this does come from our favourite green dishes which there seems to be a massive lack of. Also, we wanted to create a flavoursome green stew that is instantly identifiable as a Mediterranean dish and one which is extremely healthy. Many classic Mediterranean fish dishes are accompanied by braised fennel with orange, so with this in mind, we thought we'd optimise the greens in this classic combination, add some more texture and flavour and Voila! A very exciting new look recipe that is easy to throw together in your kitchen in no time and serve to the ravenous hordes. The greens from kale to spinach release phytochemicals that satiate your hunger and with slow-releasing carbohydrates from the staple potato and potent antioxidants from the addition of the super ingredient turmeric that help nourish every part of you as well as vitamin B, C and K to help your body fight inflammation, your own body's natural toxin defenses will definitely thank you. Your gut will be healthy with all the fibre and your liver, which is one of our more well-known detoxifying organs will be boosted with the addition of artichokes.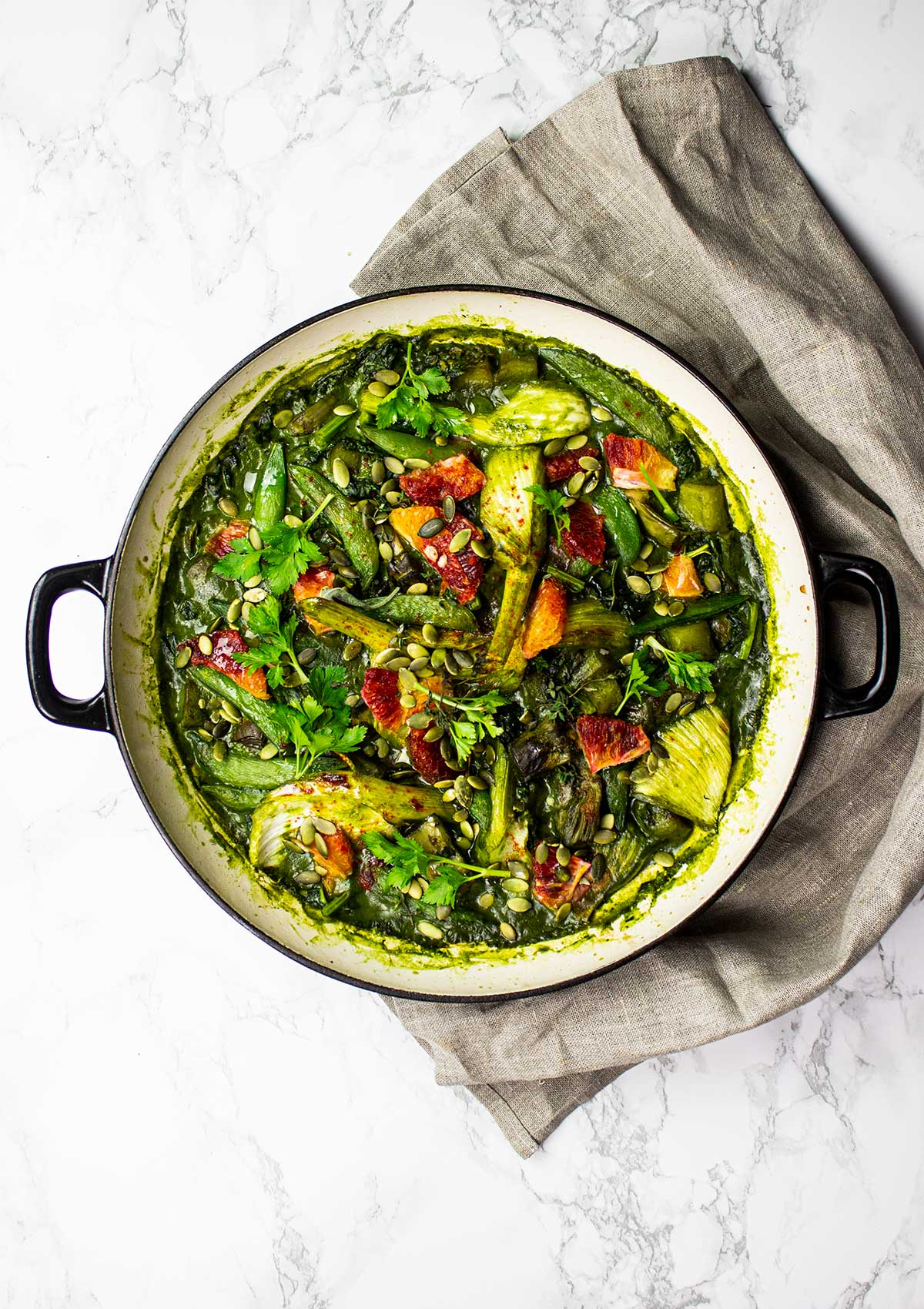 The perfect detox stew
When it comes to detoxing there is quite a minefield of information including which regime or diet to follow. There are also numerous ingredients and ways to consume them that are labelled as detoxifying which leads to misconceptions about how to actually detox. 
Our bodies are designed to detoxify themselves through the natural processes of particular organs such as the liver, kidneys, skin, lungs and digestive system. As such, detoxing would be best described as consuming foods and creating habits that will optimize these particular organs to work and to cut down on the habits and consumption of substances that will give them a struggle. 
These habits such as reducing your alcohol intake, your sugar intake and processed food intake will naturally see your body start to work better. Other activities to focus on that will too help you detox are getting adequate amounts of exercise and adequate amounts of healthy sleep. Drinking plenty of fluids will help your body flush out toxins, but with this delicious green stew recipe, we have combined many easy-to-source ingredients that will aid all of these organs to work better in one very tasty and satisfying dish.
With this simple but vibrant green stew, we braise some wonderful healthy and nutritious ingredients all together in one pot. With the use of incredibly healthy ingredients such as: 
Kale / Cavolo Nero

– which contains anti-cancer and antioxidant compounds such as vitamin K for healthy kidneys. High in fiber, they also help lower cholesterol.

Artichokes

– which helps the body produce bile to remove harmful toxins and maintain a healthy liver

Garlic

– to help cleanse harmful bacteria.

Fennel

– which contains potent antioxidants that have been linked to supporting liver function and has antimicrobial, anti-viral and anti-cancer properties too.

Spinach

– which contains kaempferol and quercetin that are compounds that lower inflammation and blood pressure that also have links to combating cancers

Blood orange

– that delivers a healthy amount of Vitamin C that has a whole host of health benefits from antioxidant capabilities to creating collagen for healthy skin

Turmeric

– which contains curcumin, notable for many health benefits including optimising lung health

Sugar Snap

– perhaps one of the best guilt free sweet foods as they contain retinol which is a potent form of vitamin A that helps boost the body's immune system 

Potato

– Which is another fiber packed vegetable that help aid a healthy gut as well as containing vitamin B and folate which help repair damaged cells
Detox labels often just get attached to juices, smoothies or soups. Liquids help flush out toxins quicker but maintaining a healthy gut is paramount too. The feeling of being satisfied but not overly full or bloated comes from fibre. Not only does fibre bind to toxins and cholesterol, it helps us feel satiated which has a knock-on effect of helping maintain a healthy weight which is key to helping the body optimise on working efficiently. This super green stew really does satisfy totally whilst allowing the phytochemicals contained in the ingredients to start to impart their potent antioxidant properties too. 

How to make a green stew
As for the preparation, you will need a large casserole dish or frying pan and a blender. The sauce is the first aspect to prepare and it really is simple. Fry off some garlic and a couple of small shallots, add some turmeric, dried mixed herbs (or chopped fresh herbs) and spinach and wilt in the heat and stir. Add some decent vegetable stock and simmer for just a few minutes so that the flavours come out. For the stock, you can use good organic vegetable stock but more and more available there are great stocks that add more umami or a garlic and herb flavour, so it's up to you. Then, just blend to a smooth sauce using a stick blender or high-speed blender.
The next stage is to prepare the vegetables. Start by peeling and chopping the potatoes into cubes. It is best to blanch the potatoes in boiling water for 1-2 minutes before frying in olive oil for about 9 or so minutes, but you could miss out blanching to keep time down. Next, add the fennel. This is a wonderful aniseed-flavoured vegetable that accompanies so well with many different ingredients. It is nice to keep a bite to fennel so it is recommended to chop it up into larger pieces. Braised fennel is such a classic way of cooking. It is simply adopting two ways to cook it. First with direct heat such as frying followed by adding a liquid. With our braising liquid we will use the super green garlic and spinach sauce. Once the fennel has been browning in the hot pan for about 6 or 7 minutes then add the super smooth garlic, turmeric and spinach sauce. The sugar snaps, orange and artichokes (with which we use pre-cooked from a jar, deli-style) will only take a few minutes to heat through so they are thrown in as the last stage. Then it is ready to serve. You can jazz it up with fresh herbs and seeds such as sunflower or pumpkin seeds or just another drizzle of healthy olive oil.
The end result though is not only a visual treat it is very healthy and very tasty.
Tip, if you prefer other green vegetables, broccoli, asparagus, mange tout are also great additions. Instead of orange, another classic partner to fennel is a nice pink grapefruit.
Have you made our vegan green stew recipe?
We'd love to see your food creations! Please leave a comment below, share or tag using @anticancerkitchen on Instagram and hashtag it #anticancerkitchen.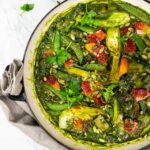 Ingredients
1 potato (240g) peeled and cubed

1 fennel (240g) roughly chopped

80g of kale or cavolo nero

100g of sugar snaps

80g of cooked artichoke hearts (from a can or deli jar)

1 blood orange, peeled and chopped into half segments

For the sauce:

150g of fresh spinach leaves

2 garlic cloves, chopped

2 cups or 500ml of vegetable stock

2 shallots, peeled and diced

½ a teaspoon of turmeric

1 tablespoon of dried mixed herbs
Instructions
Add half a tablespoon of olive oil to a pan or shallow casserole dish and on medium heat add the garlic and shallots. Fry for 1 minute then add the turmeric, herbs and spinach. Wilt in the pan for up to 2 minutes then add the stock. Simmer and stir then pour into a blender to process to a smooth liquid, set aside.
Optional *(Bring a pan of water to the boil and blanch the cubed potato for 1-2 minutes. Drain and then let the potatoes steam for a minute or so). 
Add another tablespoon of olive oil to the pan and add the cubed *(blanched) potatoes. Fry in the oil for 9 minutes turning occasionally to stop them sticking and burning. Add the fennel and fry for a further 6-8 minutes so that the fennel browns.
Pour in the green sauce, stir and bring to a simmer. Add the sugar snaps, artichoke hearts and chopped orange segments and simmer for up to 4 minutes or until the sugar snaps are cooked but still al-dente.
Garnish with fresh herbs and seeds and serve.

Copyright secured by Digiprove © 2021 The Anti-Cancer Kitchen