This is a vibrant warm Asian kale salad that uses the tastes of the orient to really bring out the best flavours and textures. Packed with nutrient-rich ingredients, this Asian kale salad recipe with crispy chickpeas is incredibly flavoursome and will brighten up your lunch or dinner any day of the week. 

Delicious, nutritious kale
Kale is a very nutritious ingredient but really has only been identified as such fairly recently. Due to rationing during world war II it was used as part of the dig for victory campaign to help give people more nutrition whilst having to go without many other foods. Even though this cabbage which is part of the brassica family is highly nutritious it was still used mainly for decorative purposes in the garden up until the 1990s where it became much more popular as a food item. 
Kale has many varieties which are easily found in your local supermarket but what do you do with it? In Portugal they use it in caldo verde, a green soup that uses it in a broth with potatoes, in fact, many European countries use it with potatoes such as Ireland which sees it stir-fried with mashed potato in their classic "colcannon", the Netherlands cook it with potato and in Germany they cook it with bacon and eat it very much as comfort food.
One of the more exciting uses of cabbages such as kale however has to go to Chinese cuisine where it is wok-fried to become wonderful and crispy, and with the addition of some Chinese five-spice you end up with what many takeaways lovingly call Chinese crispy seaweed. For years and years, we're sure this dish was thought to be seaweed by the masses but of course, it has been diced and fried cabbage all along.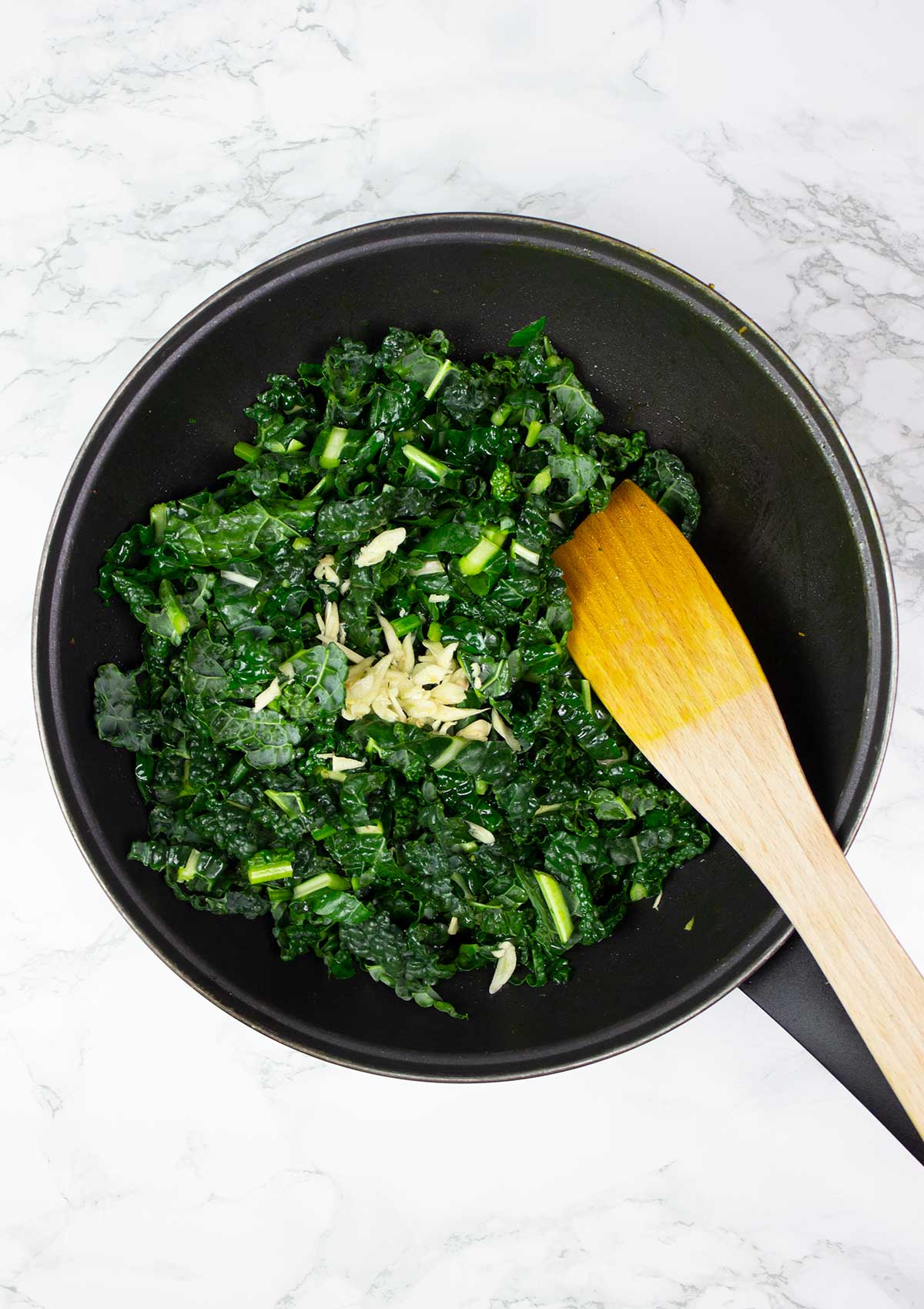 One great aspect to having this ingredient fried is the fact that there is minimal loss to the nutritional content of the cabbage. Unlike boiling, which loses lots of phytochemicals and vitamins and micronutrients, frying keeps the cooking time down to a minimum which not only helps us to get the most of the health benefits, it also helps us create a nutritional salad in a nice and short amount of time. Also, the texture is great. There is a crispy satisfying crunch, but afterwards, there is a real sense of texture that sees us having to pulverise these leaves with our back teeth giving us a little mouth workout normally set aside to more meaty foods. This feeling leaves you feeling full in a nice way, which is potentially why it is used as a comfort food ingredient the world around.
The perfect Asian kale salad recipe
With this wonderful Asian kale salad, we embellish this fantastic Chinese crispy seaweed dish with more textures and flavours of chickpea/ garbanzo beans which have also gone through the flash-frying process before roasting to crisp them up along with some baby sweetcorn which not only gives added sweetness it also adds another visible dimension too. Our super delicious Asian kale salad also benefits from a hit of fresh red chilli right at the end. Use as much or a little as you want, but together these ingredients make a real treat for dinner. 
An amazing zingy dressing 
Following on with our Asian salad theme, our dressing incorporates some beautiful and simple oriental flavours. We mix a little bit of black bean sauce with some juice of a blood orange (a normal orange will do if a blood orange is not available) with a little olive oil and sesame oil and just a little bit of Chinese rice vinegar. When this dressing hits the hot kale, chickpeas and baby corn it is a match made in heaven. Also, just as we like to eat our leftover Chinese takeaway the next day, this salad is just as good the day after too.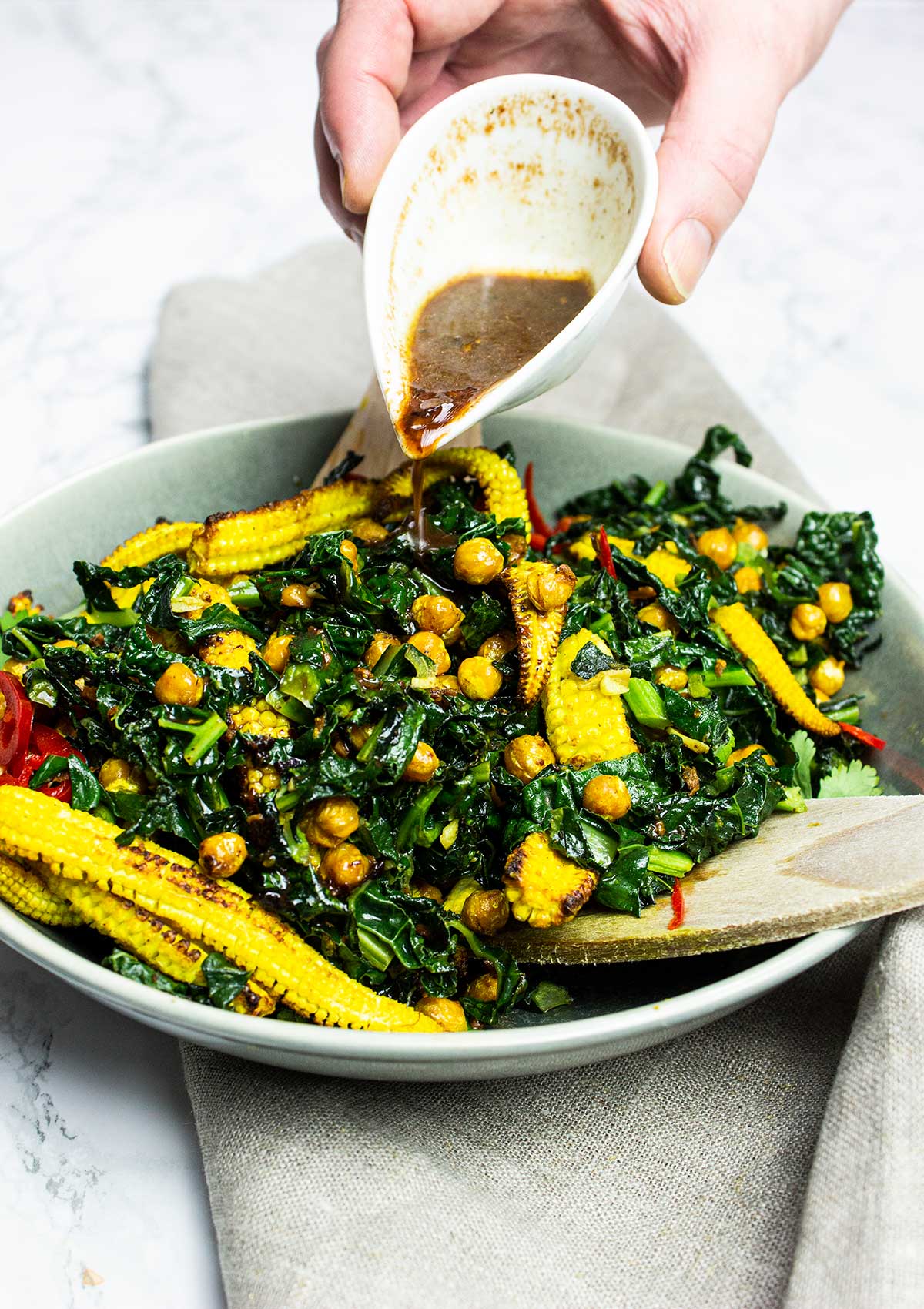 How to make this delicious warm salad
For our kale, we have used the wonderful dark almost purple-green leaves of the cavolo nero which is also known as Tuscan cabbage. This brassica is high in many nutrients and plant chemicals which get studied for their potential health benefits. Kale as well as other similar leafy vegetables such as broccoli have phytochemicals known as glucosinolate compounds that lead to the formation of sulforaphane which could potentially be used to fight diseases such as cancers. Kale also has about 3 times the daily value of vitamin K and is also a great source of vitamin A, vitamin, C, vitamin B6, folate and manganese.
Cavolo nero has a rich minerally flavour and when flash-fried with a little garlic and Chinese five-spice turns into a fabulous warm salad ingredient. Not too dissimilar from kale chips, although not cooked as crispy, but if you prefer that you could always fry them for that little bit longer. It only takes about 5 minutes in a hot wok to create these tasty crispy pieces.   
For our other main ingredients of chickpeas and baby corn, we have also flash fried them in a hot wok with a powdering of healthy turmeric to add a vibrant golden aspect to this striking kale salad. Adding black pepper to turmeric increases its healthy potency massively too. They then go into a hot oven to roast for 25 minutes until done.
Simply whisk the dressing ingredients together and toss through the fried cavolo nero, crispy chickpeas and roasted baby corn shreds. Splatter with red chilli and serve.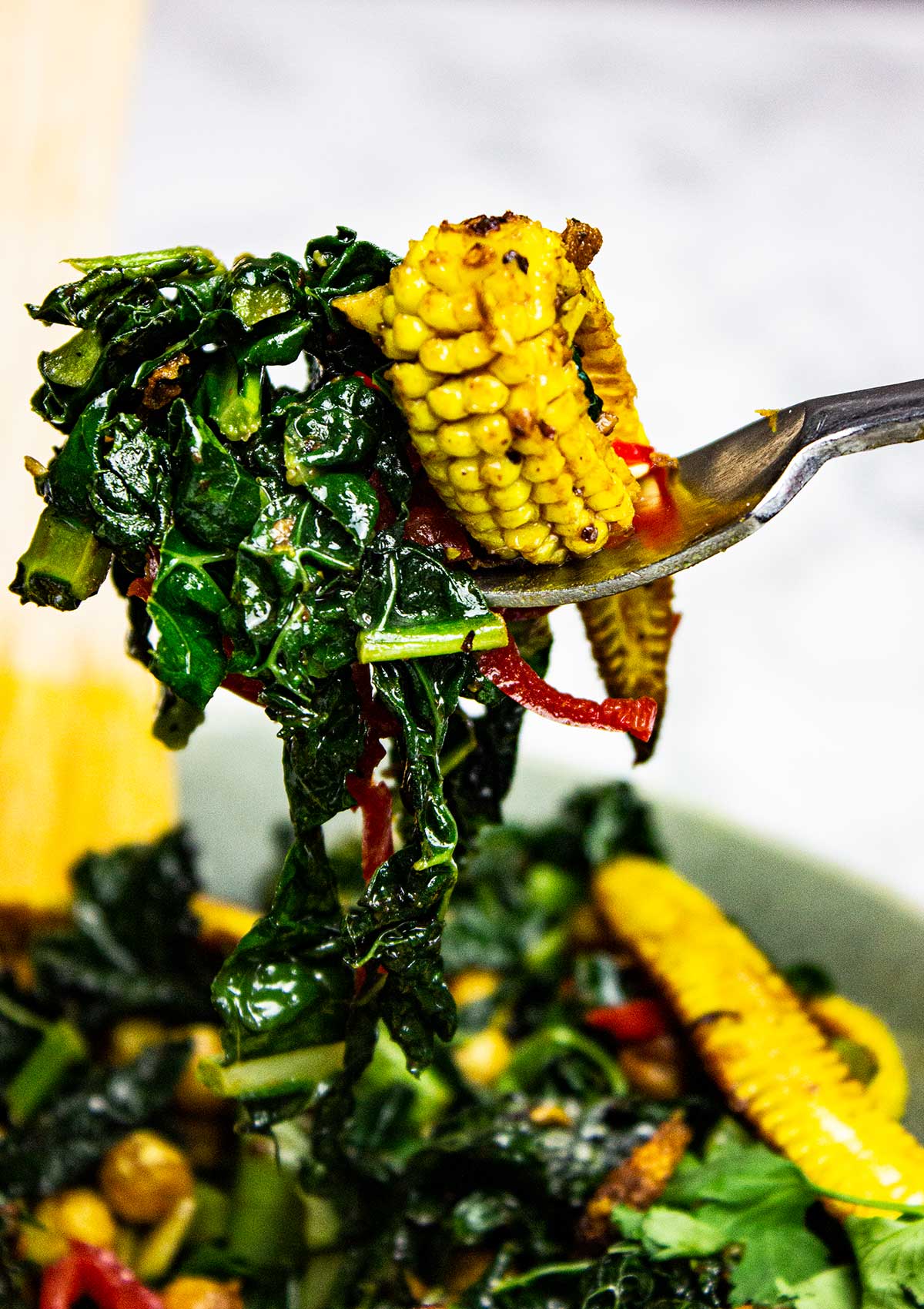 Have you made our Asian kale salad recipe?
We'd love to see your food creations! Please leave a comment below, share or tag using @anticancerkitchen on Instagram and hashtag it #anticancerkitchen.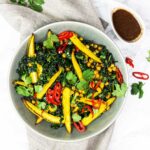 Ingredients
220g of kale, cavolo nero

240g (drained weight) of chickpeas/garbanzo beans

175g of baby corn, sliced lengthways

10g of grated ginger (fresh ginger)

½ teaspoon of turmeric

2 cloves of garlic, finely sliced

½ teaspoon mix of black pepper and Sichuan pepper

1 finely diced red chilli and some coriander (cilantro) leaves to garnish

For the dressing

1 ½ tablespoon of black bean sauce

Juice of 1 blood orange (normal orange would work too)

½ a tablespoon of olive oil

½ a tablespoon of sesame oil

½ a tablespoon of Chinese rice vinegar
Instructions
Add some wok oil to a hot wok and add the chickpeas. Fry for 5 minutes. Add the Chinese 5 spice, turmeric and pepper and the baby corn and stir fry for a further 3 minutes. Transfer the contents to an oven tray and place in a preheated oven at 220℃/428°F for 25 minutes.
Chop the kale / cavolo nero into shreds and stir fry with the garlic in a hot wok with a little oil for 5 minutes or until crispy as desired. Set aside.
Combine all the dressing ingredients in a bowl and whisk them together.
When the chickpeas and baby corn are roasted, toss together with the kale and dressing and garnish with red chilli and some coriander (cilantro) leaves.

Copyright secured by Digiprove © 2021 The Anti-Cancer Kitchen