This is a simple but perfectly satisfying and quick meal. Baked aubergine/eggplant slices topped with a sweet and tangy tomato sauce that has been forged in the Mediterranean that delivers a punchy flavour that isn't too rich but really tasty.
The easiest baked aubergine/eggplant slices recipe
This aubergine/eggplant dish is also very versatile. You can serve it as a side order with a Mediterranean feast or roast or simply as a straight-up as a starter or light lunch or dinner. All you need to do is dress it up with a few choice salad leaves and you're done. It actually looks very sophisticated when stacked on top of each other in a slightly disorganised way and drizzled with a touch of healthy extra virgin olive oil or even better, a smidgeon of sesame oil.
Flavour-wise, the dish has a lot of ingredients prevalent in Greek cuisine. Aubergines/eggplants, the main ingredient, is used a lot in Greece, and when dressed with a ripe tomato sauce sweetened with maple syrup (you can use honey, more favourable in Greece), smoked with paprika, spiced with a little mustard and given that Mediterranean kiss with lemon juice, red wine vinegar and oregano you could be transported straight to the blue domes of the Aegean coast.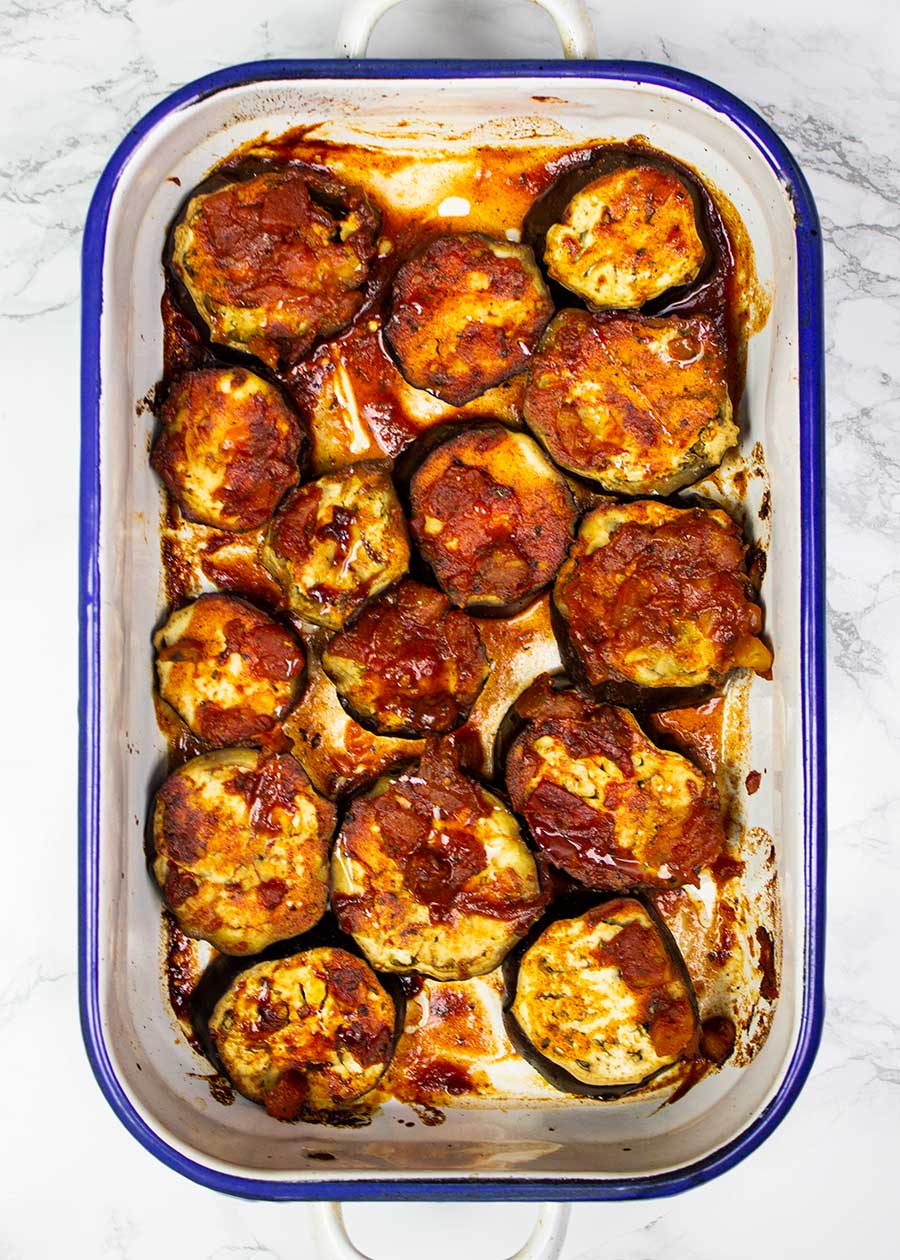 How to make baked aubergine/eggplant slices
The dish is put together in two very simple stages. Firstly the tomato sauce. Start with a tin of Italian chopped tomatoes. You only need half a tin to give you enough to coat a couple of aubergine/eggplants. Then add the sweetness which would authentically come from honey which we love, but to make this totally plant-based we have used maple syrup which works exceptionally well. Then add the trilogy of flavours that encapsulate Greece, oregano, paprika and cinnamon. next, add the sour hit of lemon juice and red wine vinegar and finally the spice of some mustard. English mustard adds more spice than Dijon but feel free to add your favourite classic mustard. 
A simple recipe
The aubergines to be cut in round slices of about 2cm in thickness. You will evidently end up with tapered sizes but this adds to the presentation at the end. Simply arrange them in an oven dish so that they don't overlap and season with salt and oil. You can use flavoured salts such as celery salt or garlic salt if you prefer or just with sea salt or Himalayan salt if you have it. Spoon over the tomato sauce evenly on top of each piece of aubergine/eggplant and put in a hot oven for 25 minutes. The texture of the flesh of the aubergine/eggplant breaks down just enough so that it is smooth but with a bite. If you want extremely meaty morsels then follow our recipe for oven-dried aubergine pieces then top with this sauce. However with this quick-cooking method, not only is it very easy to do, it brings something a lot lighter to the table. An oil with a decent flavour then just adds that extra dimension. Try chilli oil for a bit spice or lemon or garlic oil for an even more Mediterranean feel. You won't be disappointed with a classic and healthy extra virgin olive oil but we particularly like the nuttiness of sesame oil.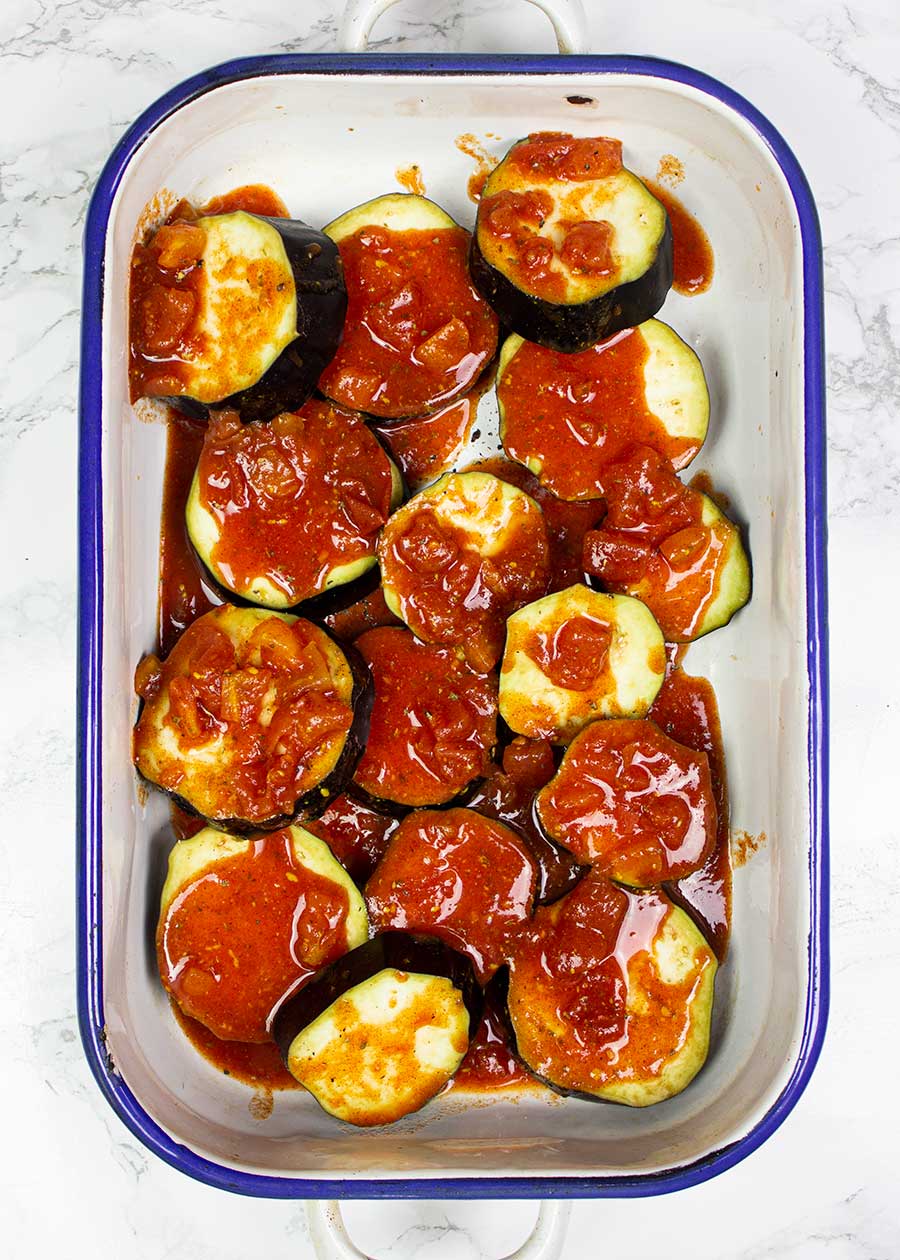 Health benefits of our baked aubergine/eggplant slices
On the healthy side Cancer Research UK recommends eating a diet high in vegetables, grains, pulses and this baked aubergine/eggplant slices dish certainly gives another string to your bow with a mix of vegetables high in antioxidants such as tomatoes which are high in a very potent antioxidant, Lycopene and aubergine/eggplant which are loaded with antioxidants from pigments such as anthocyanins and especially one called nasunin which have been linked to reducing harmful free radicals in the body. 
Aubergines/eggplants also contain another compound solasodine rhamnosyl glycosides (SRGs). Test tube studies have shown that these compounds have been shown to stimulate apoptosis which is the programmed death of cancer cells. Certain studies have also suggested that they can help keep certain cancers at bay.
Lycopene is the red pigment found in fruit and vegetables and namely tomatoes. It is not essential for humans, however studies have suggested that there is a strong link between tomato intake and blood lycopene levels alongside the reduced risk of many cancers. Cooking tomatoes can release up to five times more lycopene than you would get by consuming just raw tomatoes. Slow cooking is the best way to concentrate these lycopene levels. A tin, which is used here has been cooked for you already, so sometimes convenience can be healthy.
Lycopene is also a powerful antioxidant and is about three times more potent than Vitamin E. It has been studied that consuming just one serving of tomatoes can reduce oxidative stress to our bodies by as much as 50% within one day. Antioxidants help reduce damage caused by free radicals at a cellular level in our bodies. Free radicals are produced thousands of times a day in the body as a result of our metabolic reactions, muscle contractions during exercise, drinking, smoking and exposure to uva sunlight. Whilst these reactions are normal and essential and therefore unavoidable it is the antioxidant protection against excessive free radical damage that provides the benefits. Antioxidants come from fruit, vegetables and nuts in our diet and the correlation between people who have a high intake of fruit and vegetables and the reduced risk of high blood pressure, diabetes and cancer is encouraging.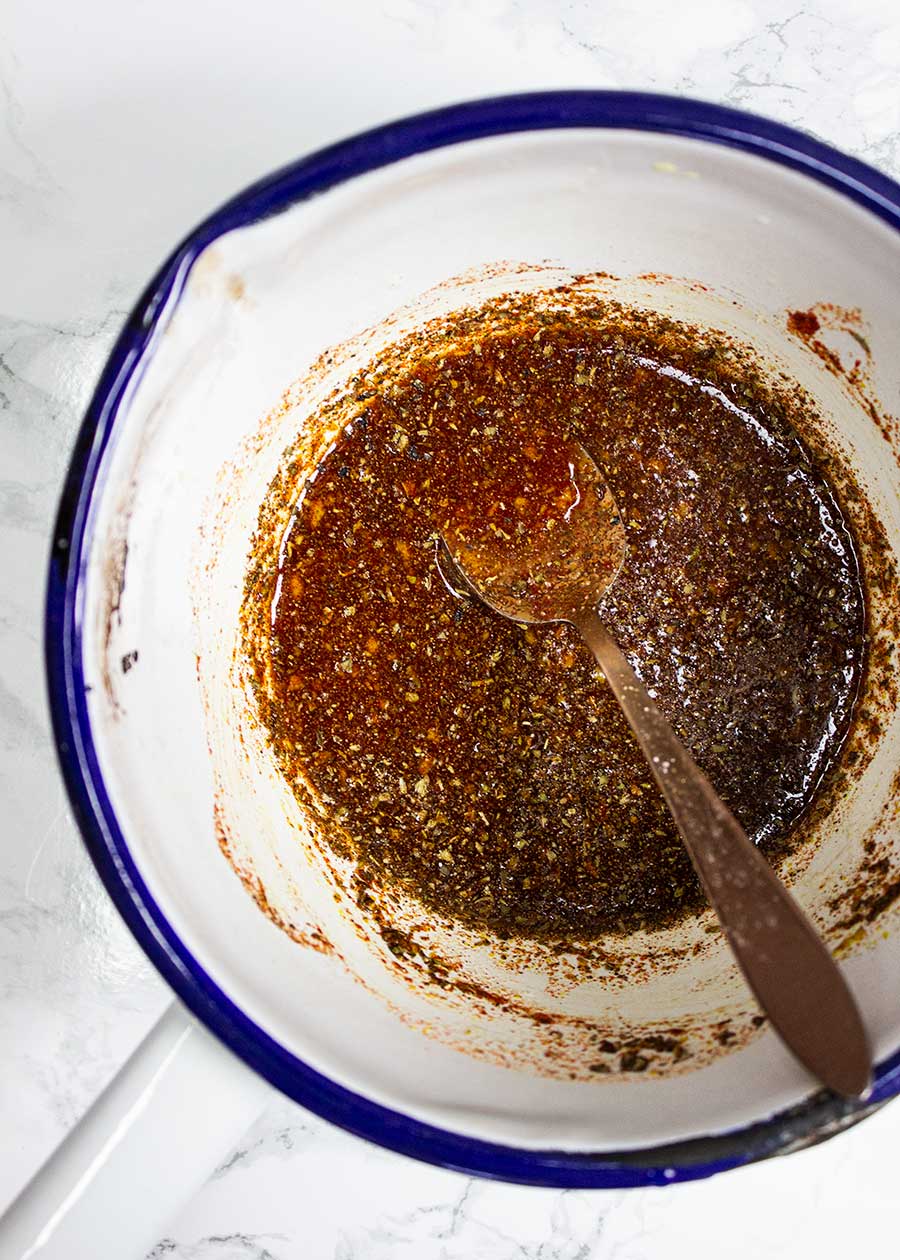 A quick meal such as an easy baked, sliced aubergine dish is an easy dish to make, and an ideal one to remember for those times when you are craving something sweet and savoury but don't have too much time on your hands.
kalí̱ órexi̱. (Greek for bon appetit). 
Have you made our baked eggplant/aubergine slices?
We'd love to see your food creations! Please leave a comment below, share or tag using @anticancerkitchen on Instagram and hashtag it #anticancerkitchen.
More eggplant/aubergine recipes on the blog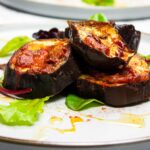 Ingredients
2 aubergines/eggplants cut into 2cm rounds

Salt

Extra virgin olive oil or a flavoured oil

For the tomato sauce:

200g of tinned tomato

25ml /1 ½ tablespoons of maple syrup

Juice of a small lemon

1/2 teaspoon of red wine vinegar

1 teaspoon of English mustard

1 teaspoon of oregano

1 teaspoon of cinnamon

1 teaspoon of paprika/ pimenton
Instructions
Arrange the rounds of eggplant/aubergine on a roasting dish and season with the salt and a glug of olive oil.
Mix all the tomato sauce ingredients together and spoon over the eggplants/aubergines
Roast in a 200°C (390F) oven for 20-25 minutes. Serve with fresh salad leaves and dress with a little extra virgin olive oil or flavoured oil.

Copyright secured by Digiprove © 2021 The Anti-Cancer Kitchen