This is a great Mediterranean vegetable stew recipe that uses tasty sun-kissed Mediterranean vegetables that are packed with plant compound nutrients that are antioxidant-rich and full of health benefits.
The preparation is very simple using a great cooking hack that keeps time down and locks in all the goodness and fresh flavour without compromising on taste or texture. Our colourful Mediterranean vegetable stew is a real crowd pleaser which we have based on a traditional French ratatouille which is a classic rustic dish prepared with juicy tomatoes, crisp courgette/zucchini, ripe aubergine/eggplant, soft mellow onions and sweet peppers. Arguably, a simple ratatouille cannot be bettered but we have given it a little bit more substance and flavour by preparing the stew with a mirepoix first and then by giving it a depth of flavour with umami filled rich organic vegetable stock. Also known as a Provencal stew, this classic staple originated in Nice using vegetables prevalent in the area that grow in the hot Mediterranean sun. However, using a mirepoix which is the basis of many soups, stews and casseroles, the addition of a mirepoix, which is chopped carrots, leeks and celery not only help pack this with even more healthy vegetables but also adds more flavour and texture.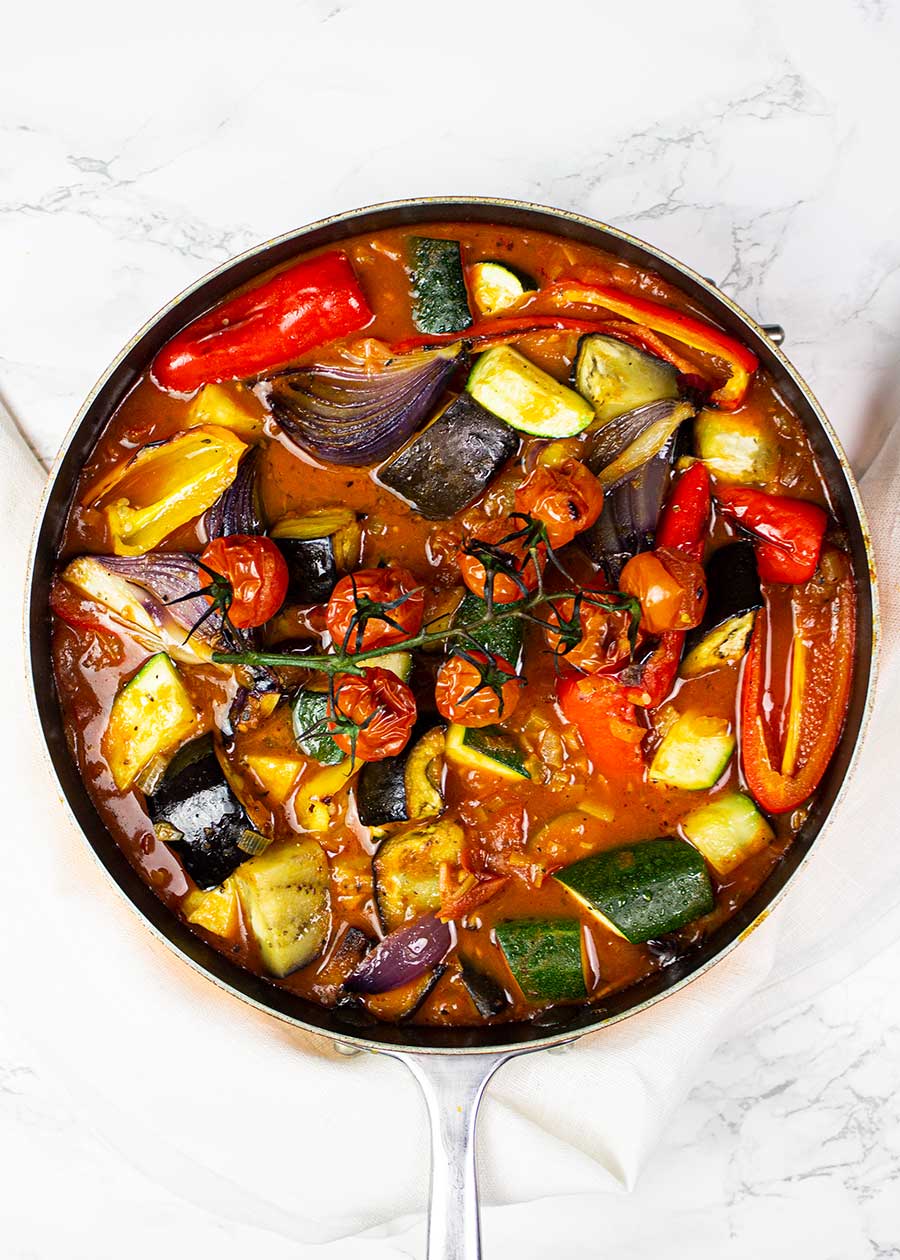 Perfect all year round
Even though a vibrant Mediterranean vegetable stew that is born in the heat of the south of France it is fresh and juicy enough to eat in the hot months, but there is something very warming and hearty that makes this an ideal filling meal for the colder months too. Moreover, this is not a slow-cooked stew that will gently bubble away for hours, we use a flash grilling technique to cook the vegetables which make this quick and very convenient to make too.
Set your grill/broiler to the highest level and place your chopped vegetables dressed in some healthy extra virgin olive oil under it. You only need to cook them for 10 minutes for them to be beautifully charred but with a slight al-dente bite. This really keeps them very tasty. By cooking them in this method you will also help them retain much of the nutrients contained within the Mediterranean vegetables that will have greater health benefits. 
The sauce does, however, require a slightly longer time to cook. Reducing the tomatoes and stock intensifies the flavour. The carrots, leeks and celery flavours will also meld into the stew too. For the tomato aspect, we like to use tinned tomatoes. You could use a passata or chopped tomatoes, but we have found tinned whole Italian cherry tomatoes which just seem to explode with flavour. Start the sauce by adding a glug of olive oil to a pan and add the chopped leeks, carrots and celery over medium heat. Add a couple of cloves of chopped garlic and stir-fry them for about 4 minutes. Pour in the tinned tomatoes, 400ml of good organic vegetable stock and a tablespoon of tomato puree. The sauce will only need to bubble away for about 15 minutes. Then all that remains is to add the grilled vegetables and warm them through with a lid on for a few minutes. Serve this gorgeous stew with some crisp ciabatta slices slathered with tasty olive tapenade or your favourite mash.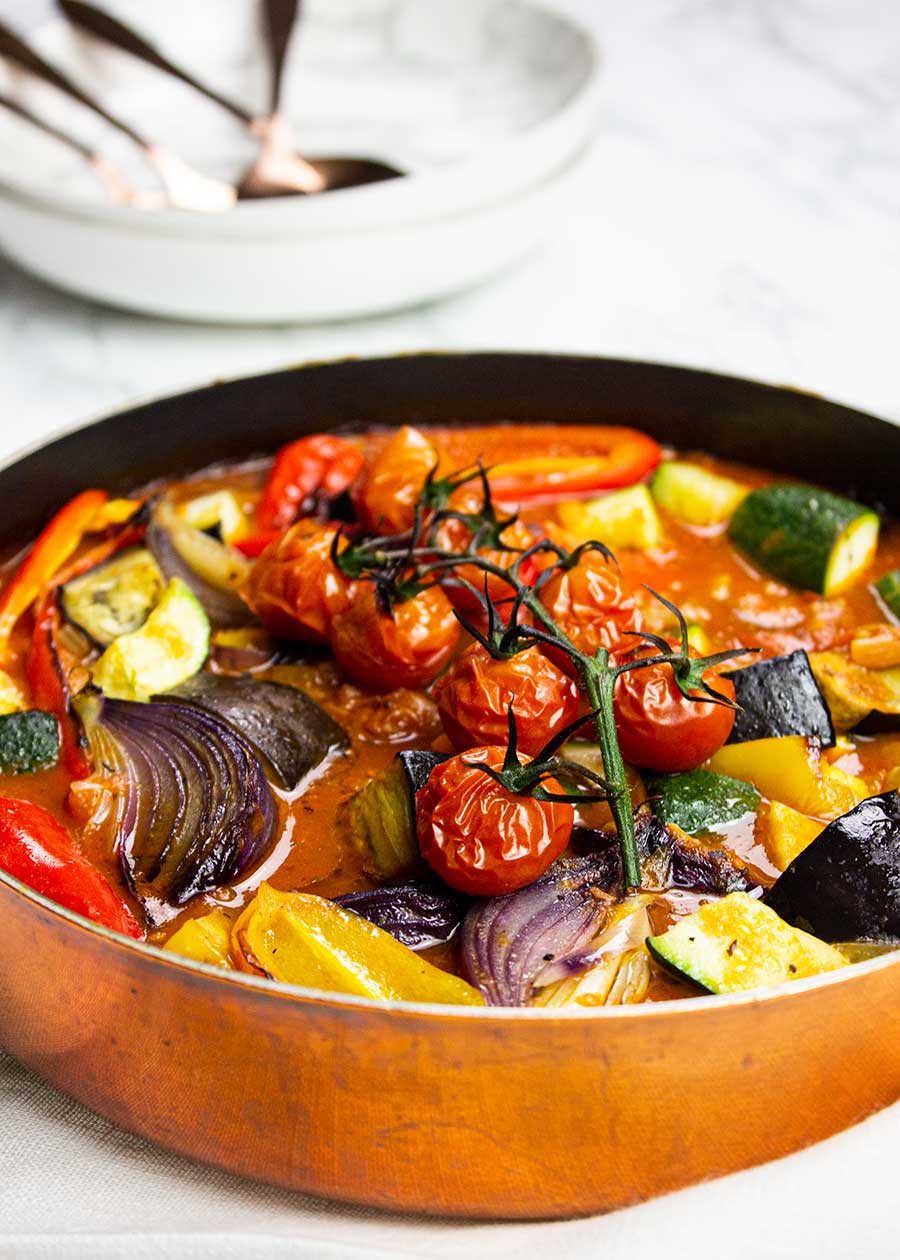 An easy stew recipe that is high in antioxidants 
With the bulk of the vegetables being cooked very quickly so that their nutritional content is maximised, the cooking however of the tomatoes to intensify their flavours actually intensifies one of the antioxidants they contain too. Lycopene is a potent antioxidant contained in tomatoes. It is an important dietary carotenoid which makes up around 50% of all carotenoids found in the body. It is the red pigment found in fruit and vegetables, namely tomatoes but also grapefruits, watermelons, guava and papaya amongst others. Cooking tomatoes releases five times more lycopene than you would get by consuming just them raw. Although Lycopene is not essential for humans, studies have suggested that there is a strong link between tomato intake and the reduced risk of many cancers. Whether or not this correlation of eating tomatoes is directly associated with reducing the risk of cancer, in fact, it is certainly a marker as eating a tomato-rich diet would certainly sit alongside a lifestyle choice of generally being healthier.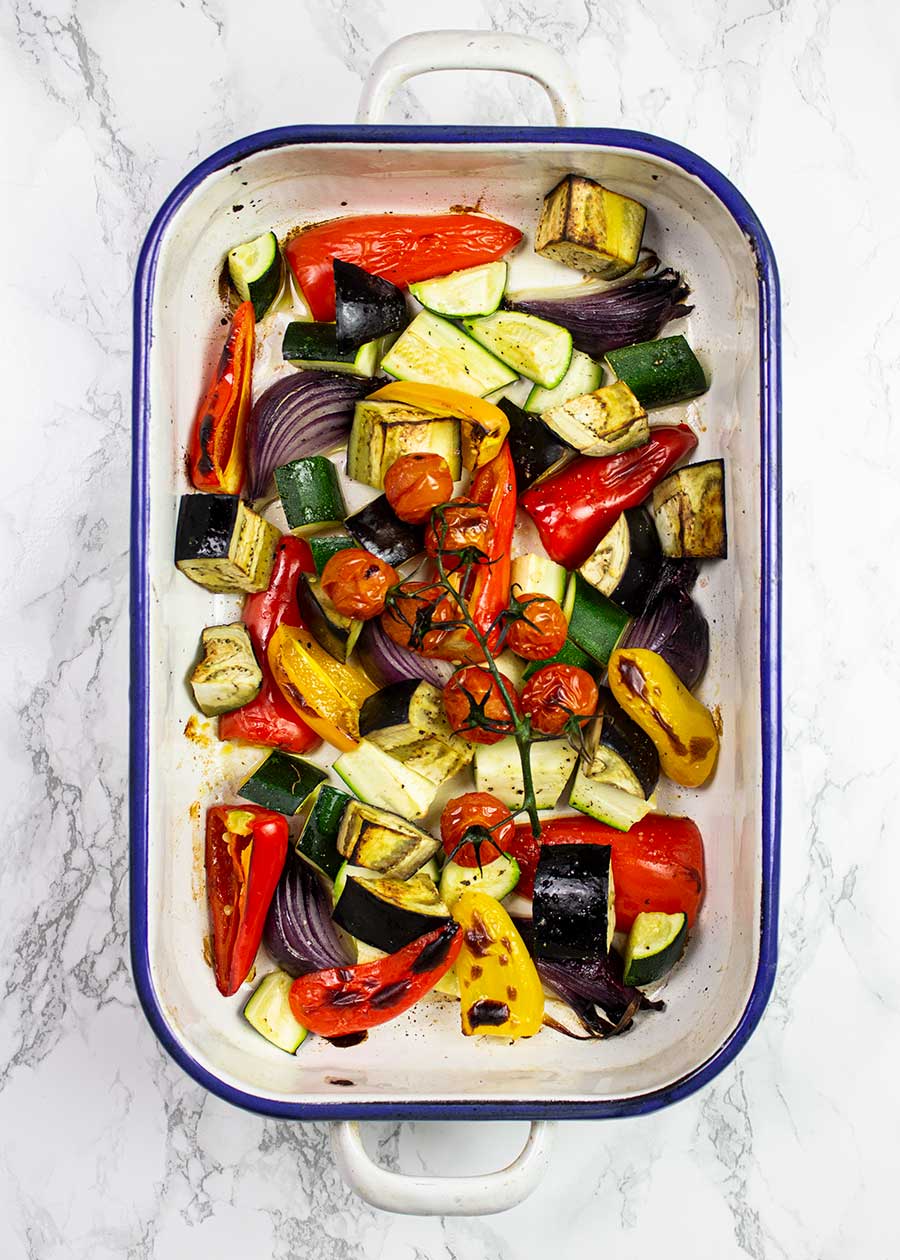 Our other vegetables are also incredibly healthy too with the plant compounds they contain. Aubergines/eggplants contain solasodine rhamnosyl glycosides (SRGs). Test tube studies have shown that these compounds could potentially stimulate the programmed death of cancer cells. The skin also contains a compound that protects the vegetable called nasusin which also has potent antioxidant capabilities too.
Courgette/zucchini contains a whole host of antioxidants too including lycopene, beta carotene and lutein. It also has high water content and is a great vegetable to aid weight management. 
Onions are bulbs from the allium genus and are related to garlic and leeks which we also use. These vegetables have been used medicinally for millennia as it has been long known that they can stave off illness due to their high vitamin C concentration. 
They also contain anthocyanin, the pigment responsible for giving red onions their colour which is also a potent antioxidant that fights inflammation at a cellular level in the body. 
Onions are also high in vitamin B which is essential for metabolism and nerve function and potassium which is vital for aiding proper kidney functions. Quercetin contained in onions is also being studied for its potential capability of impairing tumour growth as is a compound known as onionin A. 
Red capsicum peppers are not only sweet and crunchy they also add to the melee of health benefits too. They are high in vitamin C which as an antioxidant helps boost your immune system to fight microbes. The A and Beta carotene content also aid your white blood cell count too.  
These ingredients start to look like a list for the pharmacy, but Hippocrates did say "let food be thy medicine".
Have you made our Mediterranean vegetable stew?
We'd love to see your food creations! Please leave a comment below, share or tag using @anticancerkitchen on Instagram and hashtag it #anticancerkitchen.
More Mediterranean vegetable recipes on the blog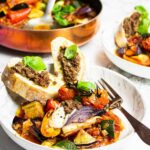 Ingredients
150g of sweet peppers (approximately 4-5 baby peppers)

150g of red onion (1 medium-sized red onion)

100g of vine tomatoes

150g of courgette/zucchini (1 courgette/zucchini)

150g of aubergine/eggplant (1/2 aubergine/eggplant)

50g of leeks (approximately 10 cm of leek)

50g of carrots (1 medium-sized carrot)

50g of celery (1 celery stick)

2 garlic cloves

400g tin of tomatoes

400ml of organic vegetable stock

1 tablespoon of tomato puree

1 tablespoon of dried herbs de Provence
Instructions
Finely chop the carrot, celery, leek and garlic and add them to an oven to table pan with a lid with a little olive oil. On medium heat stir-fry the chopped vegetables for 4 minutes. Add the stock, tinned tomatoes, herbs and tomato puree and simmer for 15 minutes.
Cut the sweet peppers into bite-sized pieces and remove the seeds. Cube the aubergine/eggplant and courgette/zucchini into similar sizes. Remove the skins of the onions and cut in half through the stalk then cut each half into wedges. Place the chopped vegetables with the vine tomatoes and dress in some extra virgin olive oil. Season and arrange the vegetables in a roasting dish so that they are skin side up. Place under a hot grill/broiler for 10 minutes. Remove and set aside
When the sauce is ready add the grilled provencal vegetable mix and stir through. Place a lid on the pan and place in the oven at 200℃/392°F for 10 minutes. Or simply warm through over the hob.
Serve with ciabatta and tapenade or mashed potato.  
Mediterranean vegetable stew step-by-step pictures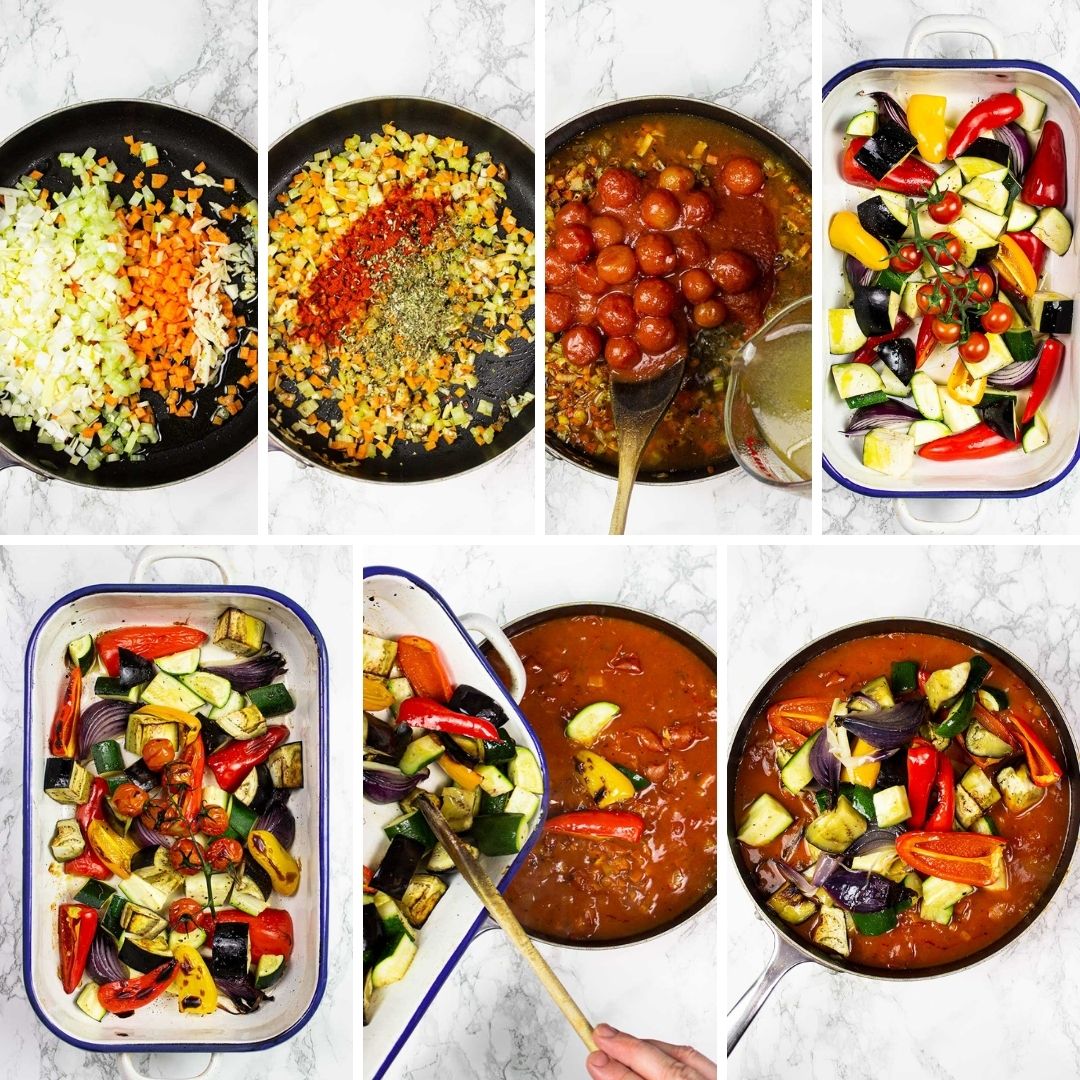 Copyright secured by Digiprove © 2021 The Anti-Cancer Kitchen