Tuscan bean stew that is hearty, easy, full of flavour, vegan, family-friendly – aka your kids will love it, nutritious and utterly delicious. All done under 30 minutes.
Beans are an excellent source of protein for vegetarians and vegans. They are really easy to prepare as they most often are bought in tins and generally need to be just reheated.
This makes beans a healthy nutritious ingredient that can feed a family in minutes. With a firm texture that compliments soupy sauces they make hearty filling stews whilst at the same time not sitting in your stomach, they are the ideal food to eat all year round. 
Beans are eaten everyday all over the world
Just think, what are the most famous bean recipes? Baked beans, Chinese black bean, Mexican refried beans or bean chili, French cassoulet, Jamaican rice and peas and Tuscan bean stew or Tuscan bean soup! All hearty dishes and predominantly from warmer climates. Interesting really as stews would normally be associated with winter and the cold. 
Most of these dishes are absolute classics and like many foods hail from peasant origins. With our best ever Tuscan bean stew recipe, this is no different.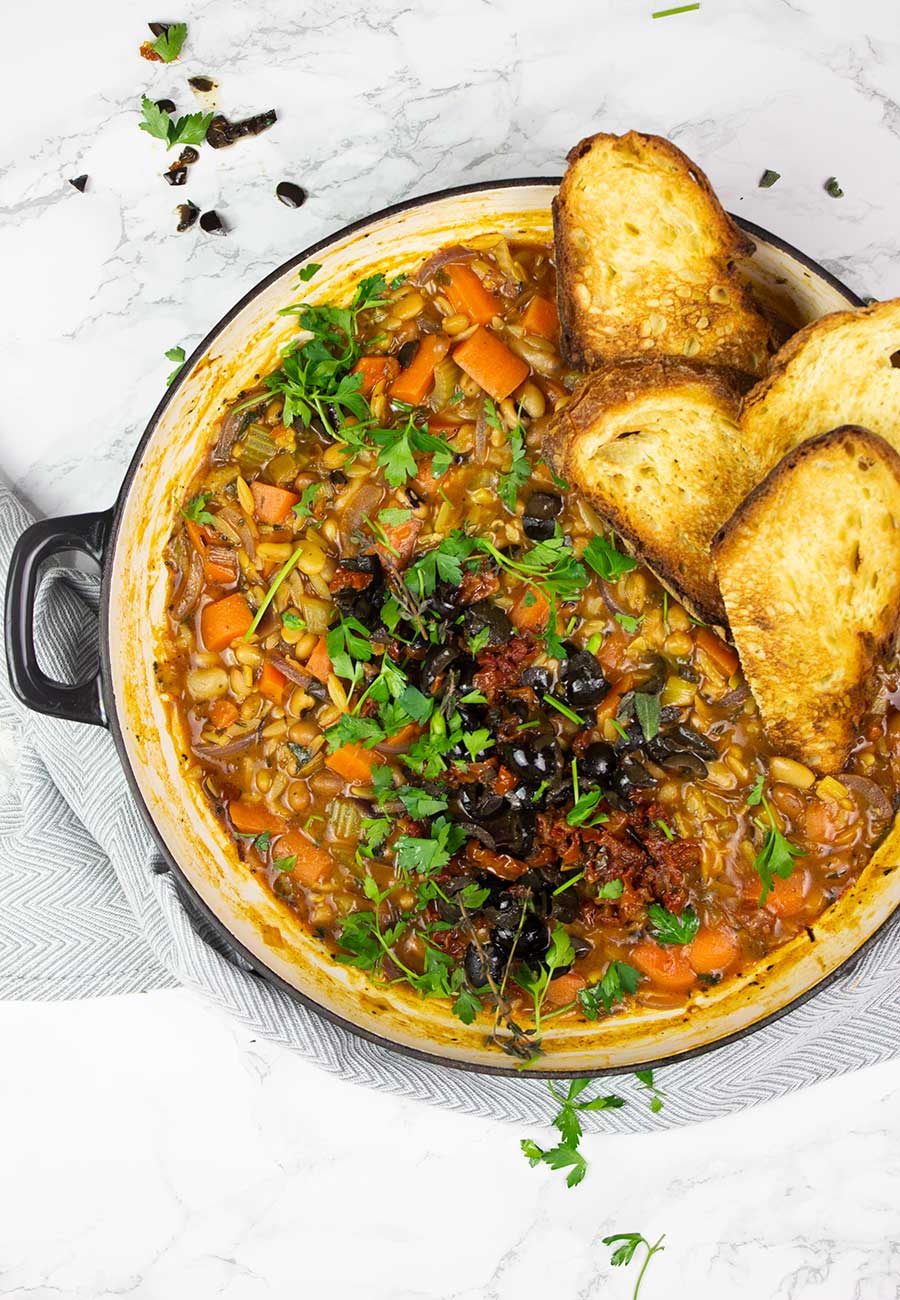 Easy bean stew
With a myriad of easily sourced vegetables, simply chop some carrots, leeks, celery, garlic and onions and quickly sauté in some healthy olive oil, then add a vegetable broth with some added  yeast extract and simmer. Add a tablespoon of tomato paste and your beans along with a cup or Orzo rice pasta and cook until the pasta is ready. Add some choice herbs and maybe a few olives and sun-dried tomatoes to garnish and here you have it a Tuscan bean stew that is: 
Wonderfully flavoursome
Comforting and filling
Nutritious being high in protein and fibre 
Quick and easy to do 
Won't break the bank
A really effective way to introduce more vegetables into your daily diet
Something to prepare all year round
How to make Tuscan bean stew – step-by-step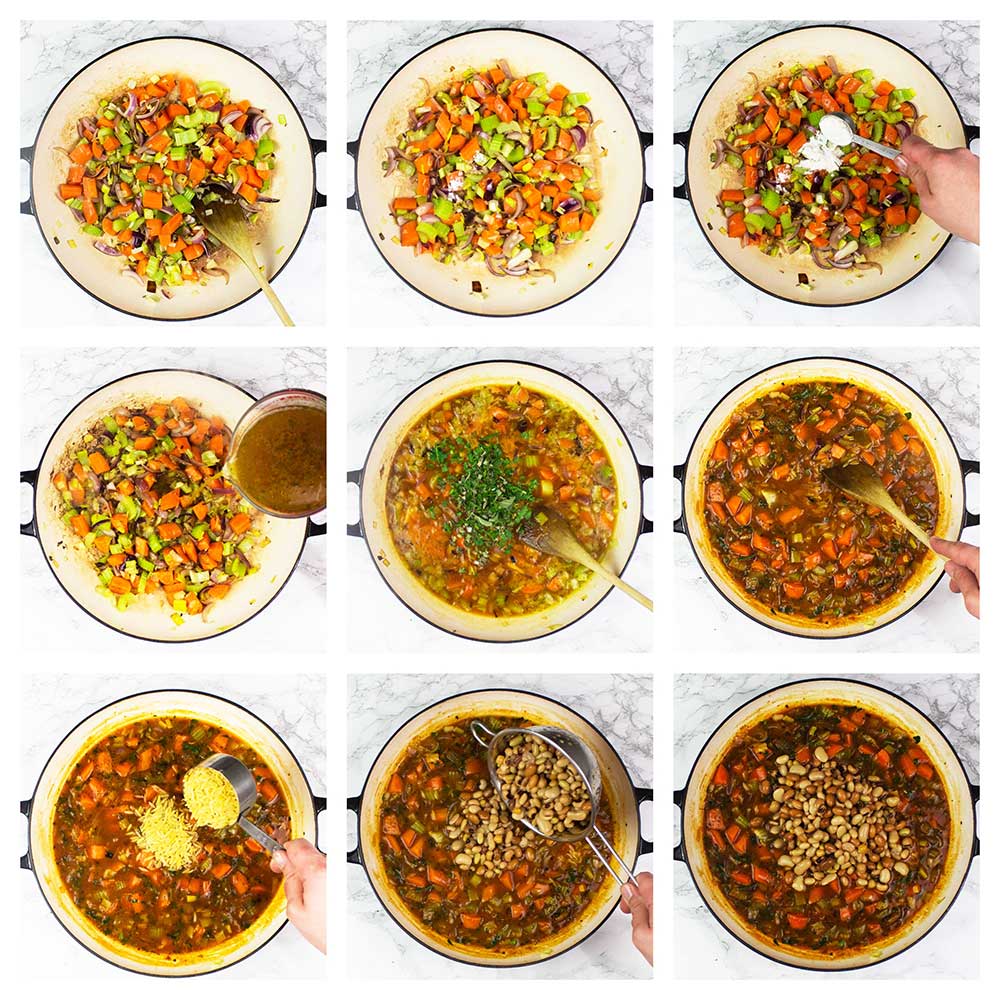 Humble origins
Beans are a resilient legume and can grow in a wide range of climates and because of this tolerance they are a reasonably easy pulse to grow and would have been cultivated in poorer areas and remain readily available. Hence a lot of these dishes' peasant origins. Like most peasant origin dishes, Tuscan bean stew or Ribolitta as it is known in Tuscany, has stood the test of time and become firm family favourites. What's more is that there is no rule to how to make this stew. You'll be hard pressed to find two recipes the same. Some include greens such as kale or spinach, some like to add mushrooms, some like to include bread in the stew like another classic Tuscan dish called Panzanella, (we like sour dough on the side) and some of course like to add specialty meats such as sausages like chorizo. Our Tuscan bean stew recipe of course is totally vegan adding all that plant-based goodness into your diet, it is simple to prepare and easy to expand on if you want to add your own twist. Along with the beans added to the classic base of carrots, leek, celery and onion in a rich vegetable stock we have flavoured these with some beautiful Tuscan herbs such as sage, parsley, fennel and thyme. However, experiment yourself with different additions but follow this easy recipe for a nutrient dense meal that hopefully have you making this time and time again.
Beans beans, good for the heart!
There are numerous varieties of beans from around the world they are very healthy to eat. First of all they are an excellent source of protein which is vital to repair and maintain the body. Proteins are made up of amino acids and there are 20 different types of amino acid and 9 of them are essential. When a food contains all 9 essential amino acids they are known as complete proteins and when they do not contain all 9 they are known as incomplete proteins, the other 11 amino acids are synthesised in the body. Animal proteins such as meat dairy and eggs are complete proteins but with all the hormone content and unknown genetically modified food introduced into their diets it is wise to follow a predominantly plant-based diet to maintain health whilst either battling or trying to stave off chronic disease which have associated links to diet. 
There are plant foods that are complete proteins such as quinoa, buckwheat, hempseed, algae and soy beans (which work in this recipe). Most beans have nearly all the essential amino acids so by adding certain foods such as nuts and grains you can create the full amount necessary. 
When substituting beans for animal fat proteins, it has been researched to have a decreased impact on cardiovascular illnesses and heart attacks as well as preventing a fatty liver, so the saying Beans beans, good for you heart is true. Beans also increase the amount of beneficial bacteria in the gut and improves the intestinal barrier function so the rest of the sentence is also true.
The addition of beans into your diet, not only as a substitution for animal protein but because they are genuinely a great tasty food, can also impact beneficially on preventing other chronic degenerative diseases such as cancer as they are full of antioxidants and anti-inflammatories. A high amount of antioxidant activity comes from the isoflavones in beans, these are plant hormones that attach to sugars to form glycosides and when broken down in the large intestine to release the active forms called genistein and daidzein. These act similarly to human hormones called oestradiol although much weaker, but they do have a normalising effect on oestrogen levels. That is they act both as an antagonist by blocking the receptors in the body from interacting with strong human oestrogens and as an agonist by stimulating receptors. The benefits of this have been seen to reduce breast cancer tumours, especially in Japan for example where the consumption of soybeans is much higher. Not only are the instances of breast cancer over half of the UK, the mortality rate from breast Cancer is also three times lower. 
Genistein has also been seen to reduce prostate cancer growth (in laboratories) by inducing apoptosis which is the programmed death of cells. Beans are certainly a healthy food.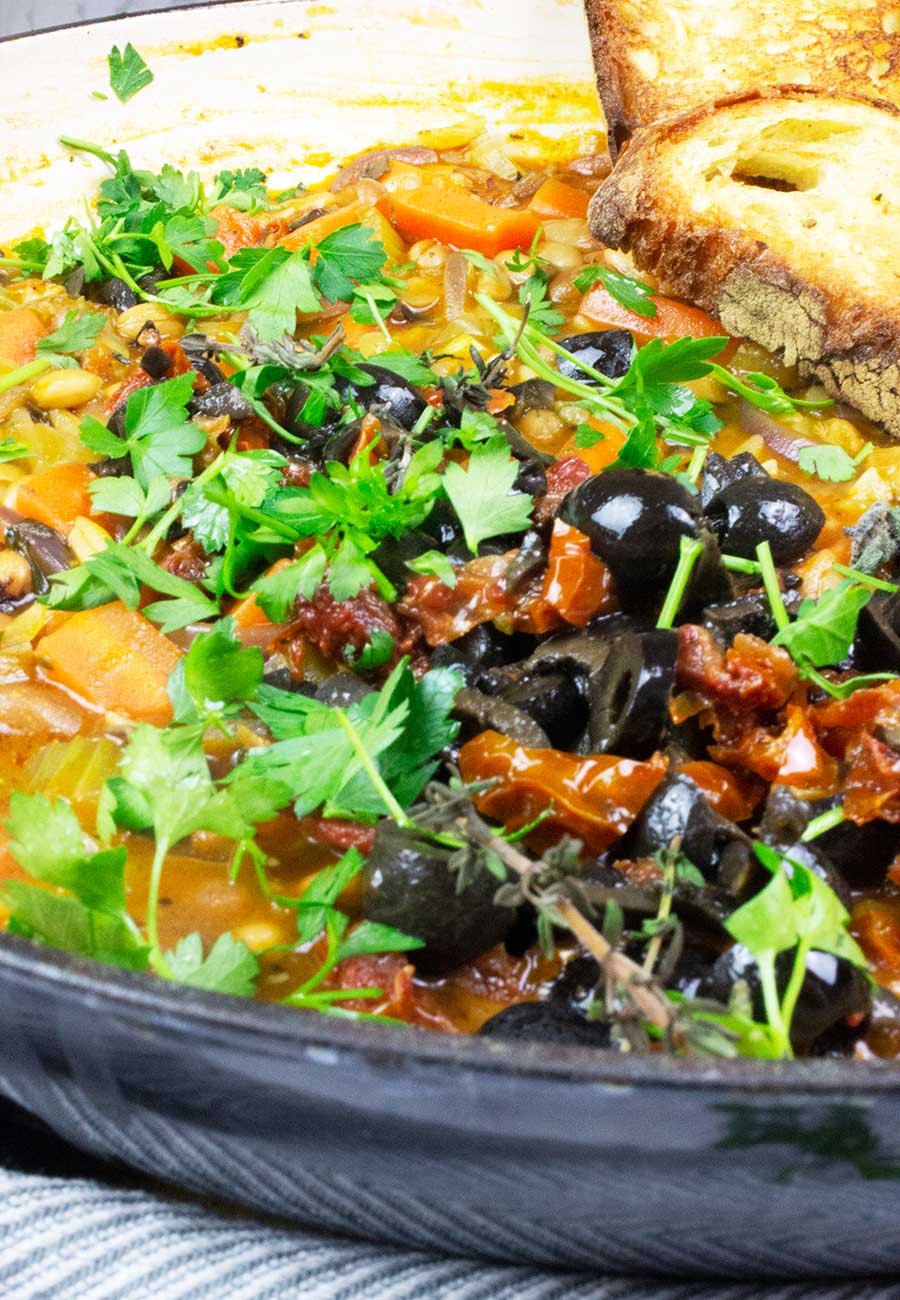 Risks
There are risks to eating beans too for certain people. As a legume, as are nuts, some people can have an allergic (anaphylactic) reaction to them. For people on monoamine oxidase drugs (MAOs) which treat depression then this can mix with the drug and cause high blood pressure. 
When beans are in their dried state they contain high amounts of purine which can cause gout. It is therefore always recommended to soak them thoroughly before cooking and to rinse canned beans more than once.  
Bean varieties to use in Tuscan bean stew           
Beans are classified as legumes along with peanuts, peas and lentils. They are the seeds grown in a pod from the flowering plant of the Fabacea family. 
There are many varieties and many are known by different names in different countries and also by different names at different stages of their growth.
For this recipe traditional Italian beans are used such as Borlotti, Butter beans and Cannellini Beans. Here is a list of beans to choose from. 
Borlotti beans: a type of cranberry bean bred in Italy. It has a brownish colour and slight nutty flavour
Butter beans: a fully grown lima bean that as per its name has a buttery taste, a great addition to soups and stews.
Cannellini beans: A classic bean used in Italian cooking, sometimes referred to as a white kidney bean it is full of nutrients and works well cooked in a soup or equally mashed or made into fritters.
Haricot beans: goes by other names such as Navy beans, Boston bean or white pea bean. They are a staple in baked beans as they absorb lots of flavour. The flageolet bean is a small haricot bean.
Pinto beans: meaning "painted" in Spanish this refers to its pink striped appearance. They are great in refried bean dishes and stews alike.
Soybeans: are the fully formed white bean that makes tofu. The young bean is an Edamame bean and typically eaten out of the pod. A soybean is a complete protein and a great addition to any dish with beans.
Kidney beans: These red coloured beans score the highest on the ORAC score (oxygen Radical Absorbance Capacity) which is how potent its antioxidant capabilities are. This means that kidney beans are one of the best cancer fighting ingredients out there.
Garbanzo beans: also known as chickpeas, these beans are most commonly known as the ingredient in Hummus and is high in dietary fibre. Simply toasted however with a dressing is a great snack by itself.  
Ready to serve
This Tuscan bean stew doesn't need to simmer or reduce for hours to get the flavours they are there from all the wonderful vegetables already. The dish is amazingly rustic and looks absolutely great in the middle of a table ready for everyone to dig in. You can garnish your Tuscan bean stew too with any antipasti you like. We have simply chopped black olives up with some sun dried tomatoes but you can also make your own salsa verde or sweet roasted red peppers to go on top.
Buon Appetito!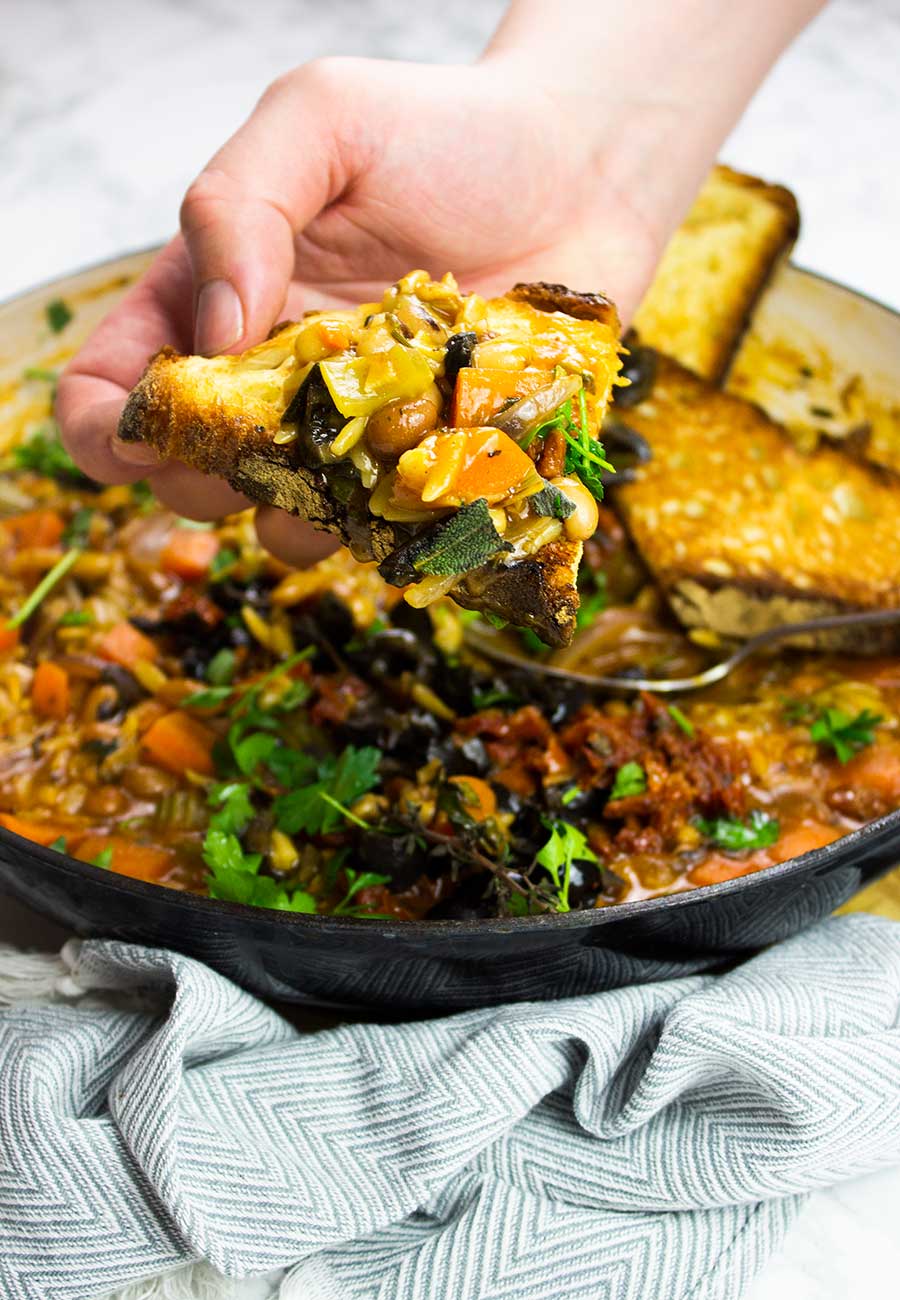 Other family-friendly Italian recipes on the blog
Have you made this Tuscan bean stew recipe?
We'd love to see your food creations! Please leave a comment below, share or tag using @anticancerkitchen on Instagram and hashtag it #anticancerkitchen.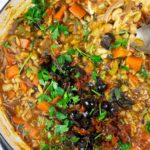 Ingredients
400g tin of washed mixed beans or cannellini beans (drained weight 270g)

1 leek, chopped or diced

1 celery stalk, chopped or diced

2 carrots, diced

1 red onion, diced

1 garlic clove, grated

1 tablespoon of flour

750ml of vegetable stock enriched with yeast extract

½ cup of Orzo pasta

5g or 6 large fresh sage leaves, finely chopped

1 teaspoon of fennel seeds

5g of fresh parsley

5g or 6 stalks of fresh thyme

1 tablespoon of tomato puree
Instructions
In a large oven to table pan heat some olive oil for a minute on medium heat. Add the fennel seeds and fry for 2 minutes.
Add the leek, celery, carrots, onion and garlic and lower the heat and sauté for 5 minutes.
Stir in a tablespoon of flour and turn the heat up for 1 minute to brown.
Pour in the stock enriched with the yeast extract and the tomato puree. Turn the heat down low and simmer the broth for 6 minutes. Add the herbs, reserving a little to garnish.
Add the orzo pasta and the washed beans and gently simmer, stirring occasionally for 12 minutes  until the pasta is cooked.
Garnish with the leftover herbs and (optionally) chopped black olives and sun-dried tomatoes.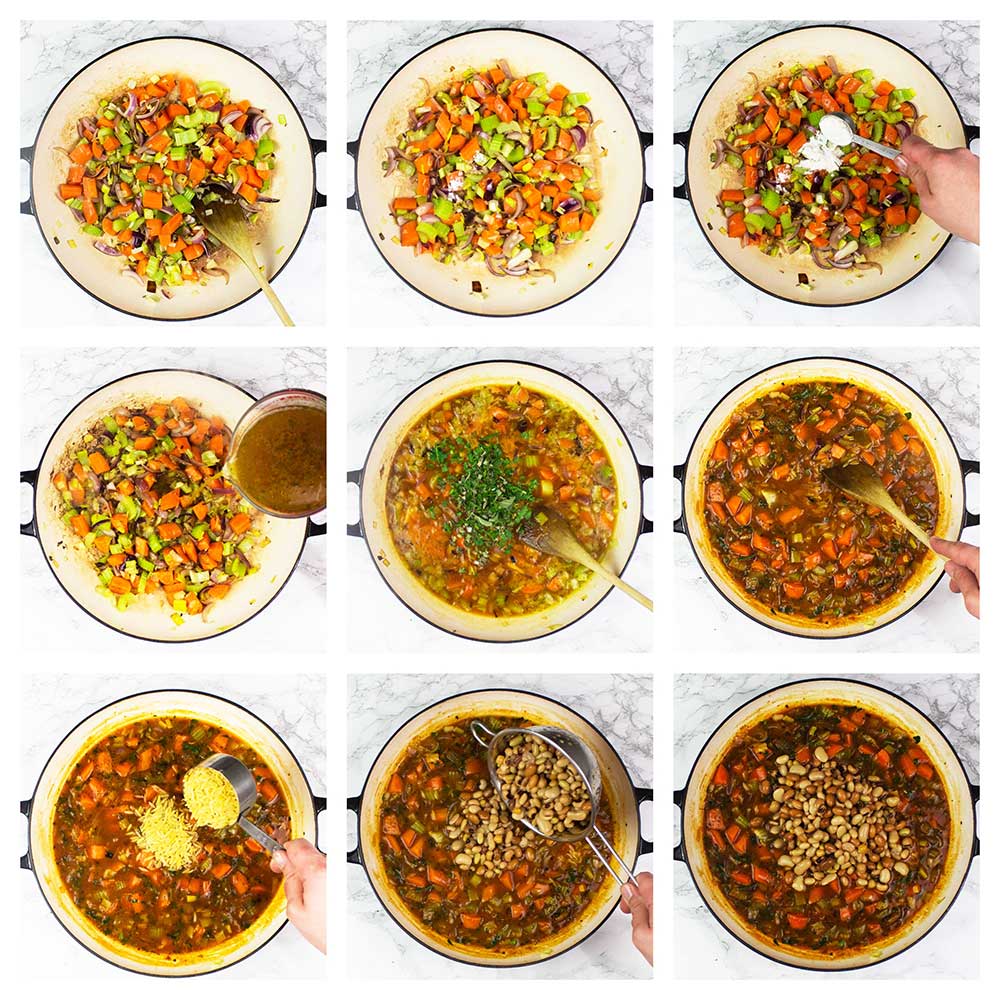 Copyright secured by Digiprove © 2020 The Anti-Cancer Kitchen