Nothing says hearty and satisfying like a delicious vegan pasta bolognese. This recipe is incredibly nutritious, protein-rich, packed with antioxidants and full of that traditional Italian ragù flavour.
We have been making bolognese for years and our children absolutely adore it, in fact it's probably their favourite meal. At first we were a bit sceptic making this tasty sauce meatless as – it's bolognese right? However after experimenting and adding more vegetables and veganising bolognese we have all (including our 3-year-old and 4-year-old) changed our minds. Now we are making all kinds of different versions of vegan pasta bolognese. Sometimes it's with a mix of grains, sometimes it's just with lentils or chickpeas and sometimes with mushrooms and soy. And, all these versions are absolutely delicious and full of flavour. In this vegan bolognese recipe we are using both grains and lentils as they are anti-cancer protein-rich foods we need in our diet to fuel our energy levels and health.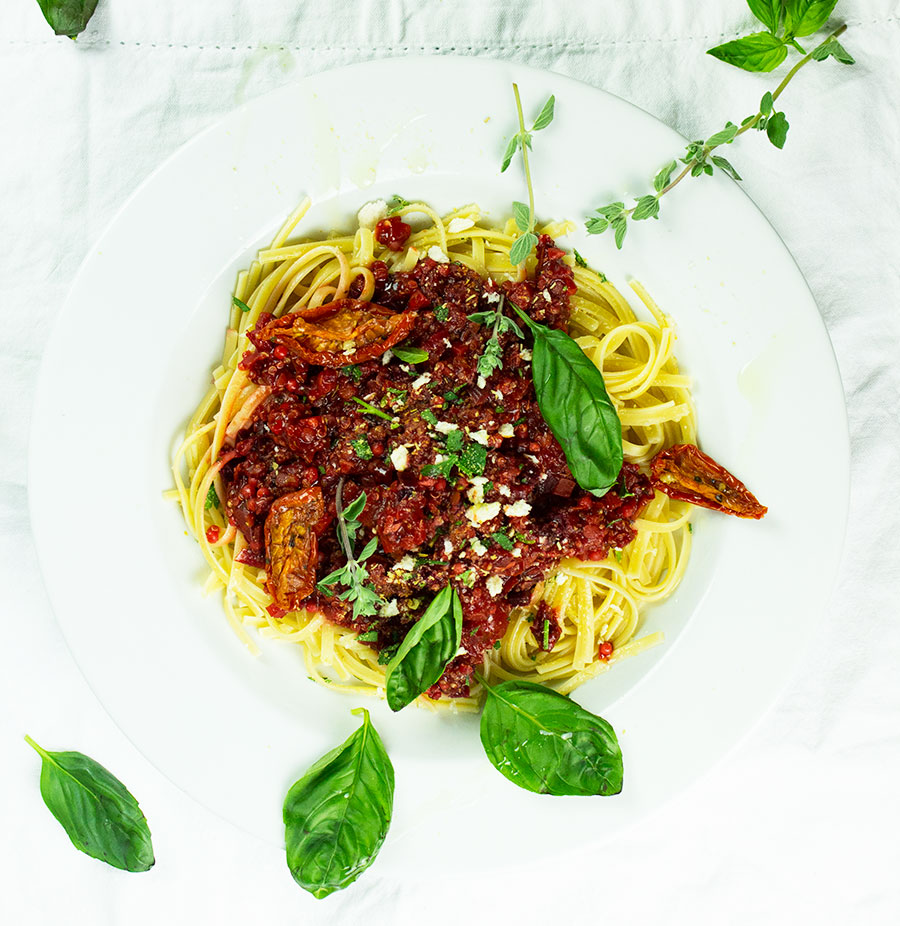 Lentils are a great source of plant-based protein. Lentil also have a number of health benefits such as reducing blood sugar, improving bowel function and helping heart health by reducing bad cholesterol and increasing good cholesterol. Lentils are also low in calories, but incredibly rich in iron and folate.
What is pasta bolognese?
Pasta bolognese or as the Brits sometimes call it 'spag bowl' is a dish consisting of spaghetti or pasta served with a tomato and meat sauce. Spaghetti bolognese is an Italian dish also known as ragù alla bolognese. The traditional bolognese sauce is a slowly cooked sauce and its preparation involves several cooking steps such as sweating, sautéing and braising. And the ingredients include carrots, celery and onion, mince (beef or pork), white or red wine, tomatoes and Mediterranean herbs. Then this is all gently simmered until the sauce is gorgeously thick. So why the name Bolognese? Well, the earliest documented recipe for a meat-based sauce served with pasta comes from late 18th century  in a place called Imola which is near Bologna.
How to make best vegan pasta bolognese recipe
So a good and traditional bolognese should always start off with a classic base of carrots, celery, onion and garlic.
In our easy vegan pasta bolognese recipe we have added beetroot, not only as it contains betacyanin which has been linked to suppressing cancer cells but it adds a beautiful rich colour too. The next important flavour comes from an enriched vegetable stock. If you want you can also add a cup of organic red wine.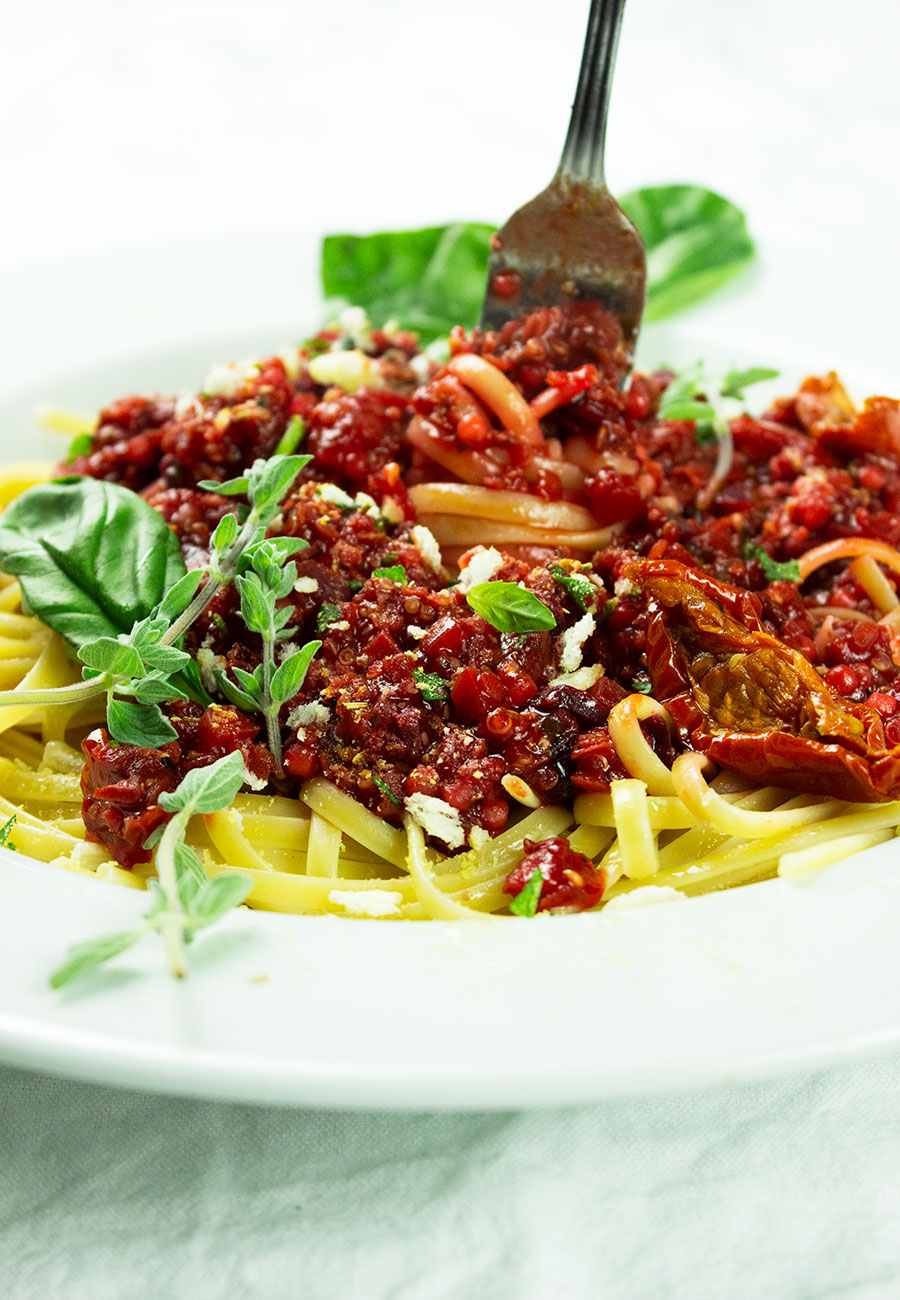 And lastly, we have used ancient grains and lentils for the bite, remember, Roman armies marched on this. These nutrient-rich grains soak up the sauce and cook much like a risotto, however as you are making a sauce you don't have to worry about adding ladles full of stock at a time you can just put it on the hob and simmer – giving you time for other things.
Plant-based bolognese full of flavour and protein
To make this bolognese with protein-rich grains and lentils flavoursome it's important to cook with fresh ingredients like garlic and onion. Another good tip is to use a combination of fresh and dried herbs to give it a boost in flavour. When adding the dried oregano, try rubbing it between your palms, if you do this you will release maximum flavour. And lastly,  if you simmer the sauce for longer you will add a deeper flavour to your vegan pasta bolognese and it will taste richer and more flavoursome.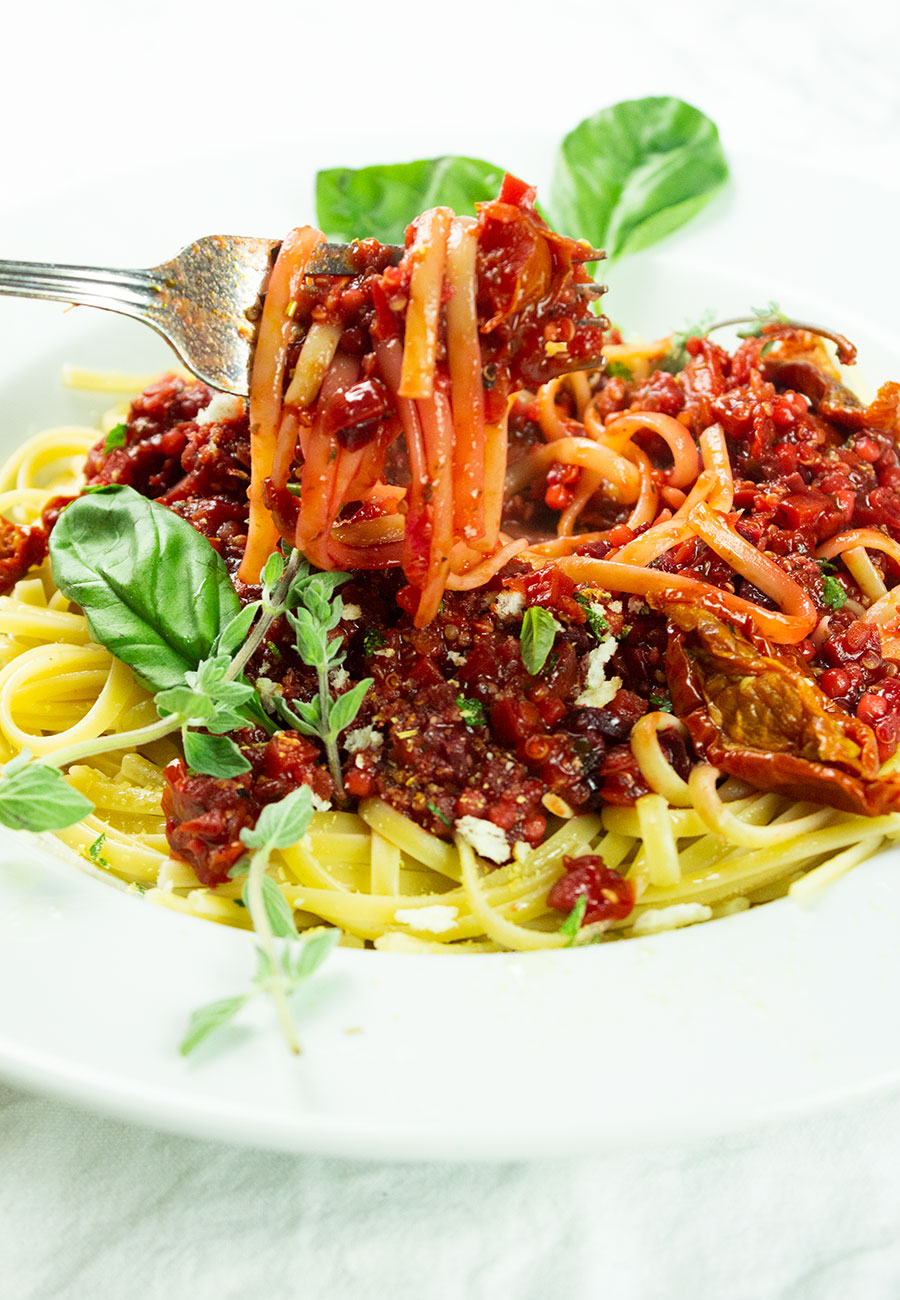 This is the perfect dish to make ahead and freeze. To freeze this vegan bolognese sauce, put the sauce in an airtight, freezer safe container and freeze up to three months. Remember,  once defrosted, it cannot be frozen again.
Have you made this tasty vegan pasta bolognese recipe?
We'd love to see your food creations! Please leave a comment below, share or tag using @anticancerkitchen on Instagram and hashtag it #anticancerkitchen.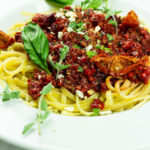 Ingredients
¼ cup of red lentils

¼ cup of quinoa

¼ cup of large grain bulgur wheat/ giant couscous

1 carrot finely diced

½ a fresh beetroot diced

1 celery stalk finely diced

1 red onion peeled and finely diced

2 peeled and crushed cloves of garlic

1 cup of tinned tomatoes

1/3 cup of sun-kissed tomatoes chopped

600ml (approximately 2.5 cups) of organic vegetable stock enriched with ½ teaspoon of yeast extract

1 tablespoon of soy sauce

2 teaspoons of dried oregano

1 teaspoon of thyme

1 teaspoon of parsley

1 teaspoon of agave nectar

2 teaspoons of balsamic vinegar

280g of dried egg-free spaghetti

Olive oil for frying and salt and pepper to season
Instructions
Heat the oil in a large frying pan on a high heat and add the carrot, beetroot and celery and stir to fully coat in the oil. Add the agave and balsamic vinegar and stir-fry for 5 minutes.
Add the onion and garlic, the herbs, and the lentils and quinoa and stir-fry for 2 minutes.
Pour in 400ml (just over 1.5 cups) of the vegetable stock and the tinned tomatoes and soy sauce and turn the heat down to medium and simmer for 15 minutes stirring occasionally.
Finally add the bulgur wheat, chopped sun-kissed tomatoes and the remaining stock and simmer for a further 10 minutes until all the grains are cooked. Season with salt & pepper.
For the pasta, simply boil in salted water for about 9-10 minutes, drain (reserving some liquid aside to add to the sauce if needed) and stir a little olive oil through and serve.
Plate up and (optional) garnish with fresh basil and oregano and sprinkle some vegan parmesan on top (find out how to make the best vegan parmesan here).

Copyright secured by Digiprove © 2020 The Anti-Cancer Kitchen