How to make the best (vegan) olive oil mashed potatoes so that you can add your own flavour combinations such as fresh horseradish and rosemary.
This may not be an obvious recipe to think to look up but it is easier than you'd expect to not get a totally plant-based mashed potato correct. With this olive oil mashed potatoes recipe, we add a wonderful flavoursome warmth with the spice of some freshly grated horseradish as a special extra but the simple process to start off with will see you create an easy fail-free plant-based olive oil mashed potatoes that you can adapt to your own flavours time and time again.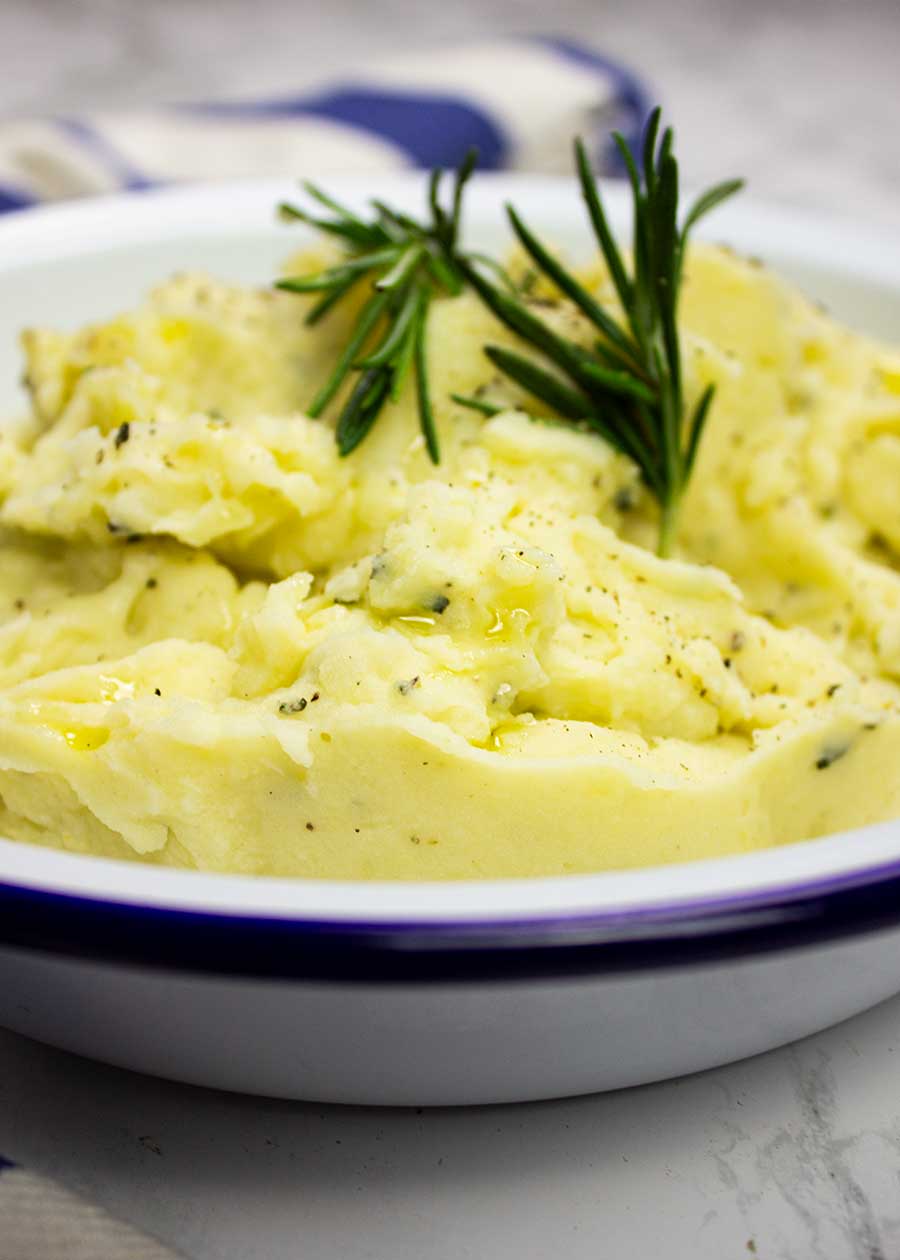 Best potatoes for mashed potatoes
It is very common these days to see people wanting to lead a carb-free diet and that you should cut down on potatoes. However complex carbohydrates are essential to supply slow-releasing energy to us in a healthy way. Potatoes remain one of the largest vegetable crops in the world and as such are economical and easy to get. No wonder that they are made into so many different things from chips and bakes to a wonderful vegan mash that people the whole world overeat on a day to day basis. There are different nutritional advantages to how you cook them too. You will lock more goodness into the potato when they are baked whole or steamed with the floury inside scooped out, which you can do for this mashed potato recipe but to keep the time down to a minimum we gently boil the potatoes.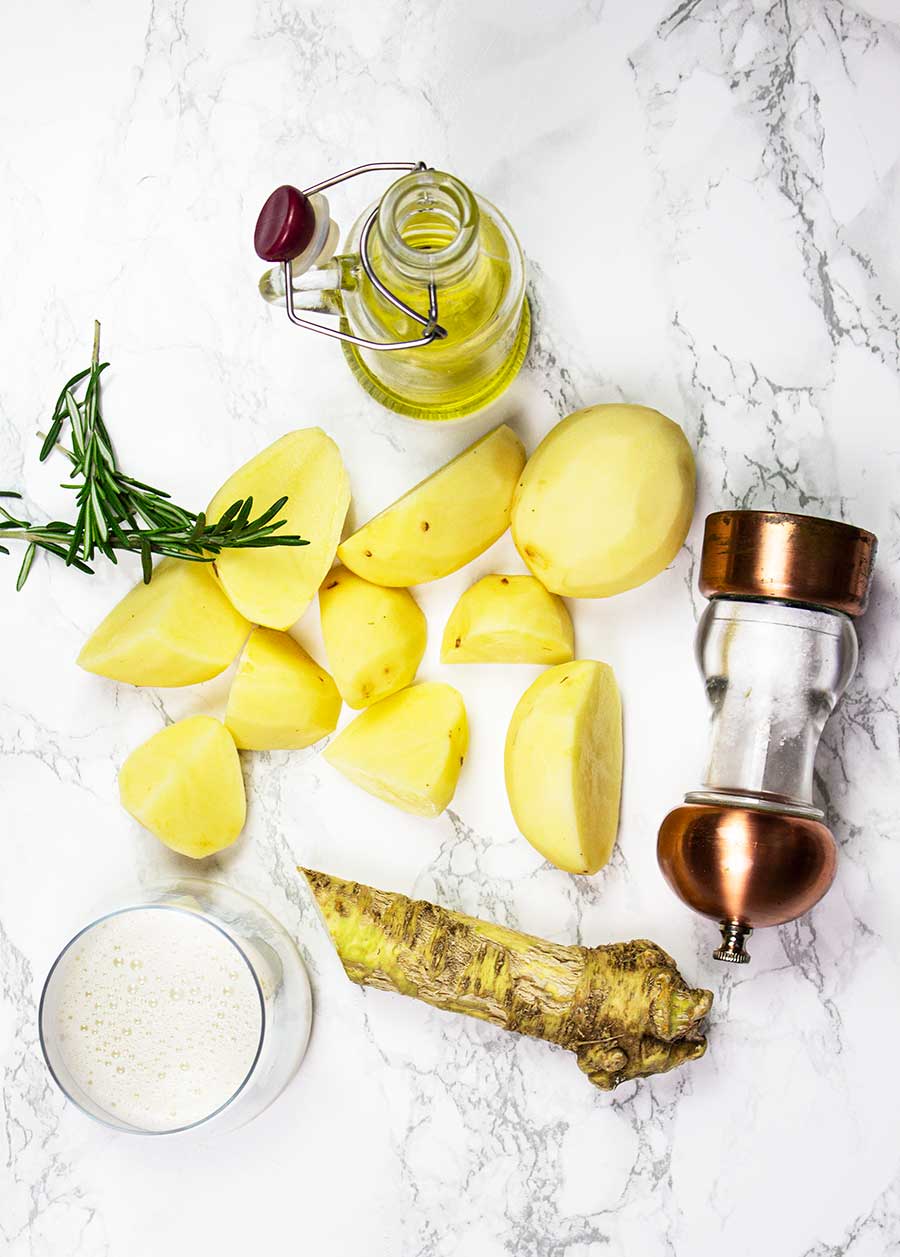 It is this fluffiness that is essential for a good olive oil potato mash, we like red potatoes, Maris Piper or King Edward potatoes as they are the lightest and fluffiest when cooked. We want to avoid starchy potatoes that can get gloopy or lumpy. No one likes lumpy or gluey mashed potatoes. This is a foolproof method of delivering a light fluffy potato mash every time. 
How to make the best olive oil mashed potatoes + common mistakes
If you want to bake or steam the potatoes then do so, but boiling is so much quicker.
First, chop each peeled potato into 8 equal sizes and boil for 16 to 18 minutes until they are soft enough to prod a fork through. You must, once you have drained them from well-salted water through a colander, let them steam under a lid for 4-5 minutes. This is such an important part of getting a good mash as it allows the potatoes to be mashed evenly avoiding unwanted lumps. And when it comes to the mashing part, you do it straight after steaming without adding any liquid or oil.
This is a common mistake which adds the moisture straight back into the potato which can directly ruin your ability to make a smooth mash. Once the potato has been thoroughly mashed, (you can use a ricer at this point too) it is at this point that you introduce the liquids and oils that will make your mash the most flavoursome and creamy mash ever. First the oil. A good extra virgin olive oil will do the trick. You can use margarine but olive oil we find adds not only great flavour but great texture which would add a more healthy Mediterranean aspect too. It is a bit cheffy too which we love, but not too cheffy as you should really have a bottle of decent extra olive oil in your larder. A good glug needs to be added. Ditch the masher at this point. A good mash now needs to be stirred with either a wooden spoon or spatula. Now to finish off the last aspect to make a classic perfect mashed potato minus embellishments is adding the plant-milk. We like oat milk as the flavours work well with classic mash. If you are making mashed potato to go with Asian flavours then perhaps look to use coconut milk instead. The common mistake at this point is to not add enough liquid, too little and you end up with a dry mash, believe or not but it takes more plant milk than you'd think to add before a mash gets wet. We recommend 150g of potato per person, 15ml of oil per person and 25ml of plant-milk per person. Just slowly stir to incorporate the liquid into the potato.
Once you are at this stage, it is time to add your embellishments. You can add whatever herbs and spices you like to compliment your meal you are serving your mash with. Here we have used freshly grated horseradish which adds such great heat and flavour with a simple splattering of sea salt, black pepper and fresh rosemary. Simple yet very effective. No reason now to ever serve lumpy mash.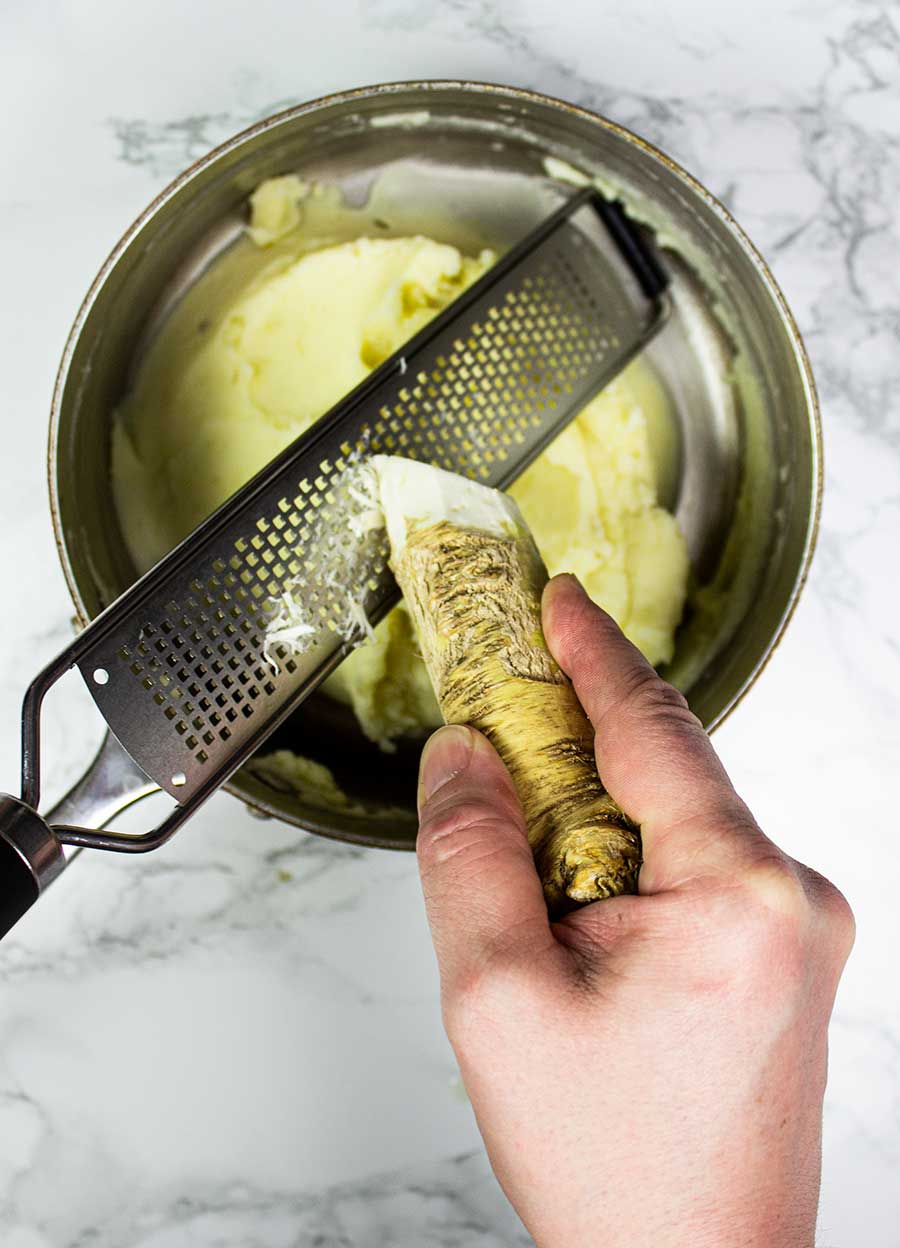 Healthy aspects of potatoes for a cancer-fighting diet
Potatoes are tubers and are a staple the whole world around due to how easy they are to grow are actually healthy. They are high in Choline which helps us to absorb fats correctly. Maintaining a healthy weight is important for all-round health and absorbing the correct fats in our system can aid in weight loss too. The amount of fibre contained in potatoes helps with weight management too as dietary fibre will help you with feeling fuller for longer reducing the want of excessive eating. Potatoes also contain good amounts of folate which help with the maintenance of DNA helping healthy cells from mutating and causing potential cancers and potassium with which a regular intake has been shown to reduce heart disease.
It isn't commonly thought that potatoes are a good source of vitamins but they contain vitamin B, C and antioxidants such as quercetin which studies have linked to the body's defence against cancer cells too. 
Have you made the best olive oil mashed potatoes recipe?
We'd love to see your mashed potatoes made with olive oil! Please leave a comment below, share or tag using @anticancerkitchen on Instagram and hashtag it #anticancerkitchen.
More delicious recipes with potatoes on the blog

Ingredients

150g of floury potatoes such as King Edward or Maris Piper

15ml or 1 tablespoon of extra virgin olive oil

25ml or slightly less than 2 tablespoons of plant-based milk

Sea salt

1 tablespoon of grated fresh horseradish

2 sprigs of fresh rosemary

Instructions

Peel the potatoes and cut them in half and quarter each half to make 8 equal-sized pieces.

Bring a pan of well-salted water to the boil and add the potatoes and gently boil for 16-18 minutes.

Remove from the heat and drain through a colander. Keep the potatoes in the colander and cover with a lid or towel and let the potatoes steam for at least 5 minutes.

Return the potatoes to the pan through a ricer or mash with a potato masher. Pour in the oil and stir with a wooden spoon or silicone spatula to fully incorporate. When smooth and free of lumps, add the plant milk and stir to incorporate once again. Do this stage gently to avoid splashing.

Add the grated horseradish and salt. Chop some of the fresh rosemary and add and leave some whole sprigs to garnish.

Step-by-step instructions


Copyright secured by Digiprove © 2021 The Anti-Cancer Kitchen