This is an original Mexican black bean soup recipe that takes inspiration from the flavour of black beans and the many complimentary ingredients often partnered with it. Of course, this soup and especially black beans have roots in Mexico where it is often served with spices, peppers and tortillas and avocado.
Delicious black beans
It is certainly by no means solely Mexican. The beans also partnered with spices and green peppers make a very traditional Chinese sauce seen on Asian menus the world around. This classic Cantonese dish sees these flavours married with garlic and onions which are great ingredients by themselves. Cooked slowly, garlic, onions and peppers create a wonderful depth of flavour to give a soup such as this black bean soup a very hearty feel. However, when left raw or cooked very gently, they are very refreshing and clean tasting, such as when they are prepared in a summer green gazpacho. The zing of the fresh garlic with the sweetness and spiciness of the peppers and onions are just amazing. This got us thinking, why don't we mix the hearty thick soup of the Mexican style with the freshness of the gazpacho style soup these ingredients works ever so well in, whilst at the same time highlighting the great individual flavour of the black beans so well captured in Chinese cooking. What's more, the appearance of the soup seems to feel more appealing rather than the traditional blackish-grey thick soup so often seen. This is a thinner soup permeated with a mixture of crispy fresh and cooked peppers and onions that give not only a contrasting flavour but a contrasting texture as well. The black beans themselves are also whole and blended in stock to showcase a host of ways for them to be consumed, all in one soup.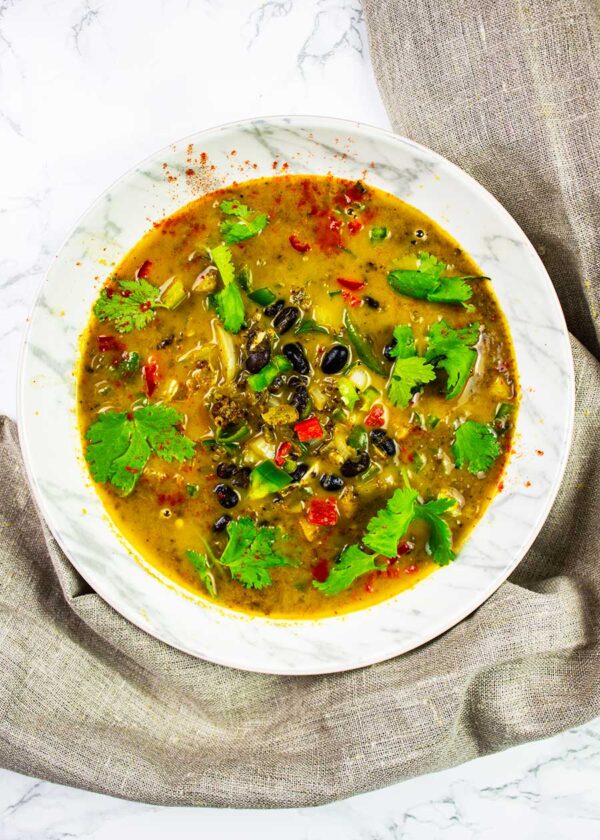 Healthy black beans
Black beans are also very nutritious. They contain micronutrients that have many health benefits from helping to maintain a healthy heart and blood pressure to potentially being able to fight against cancer. Black beans are high in calcium, magnesium and copper, all of which not only help keep strong healthy bones but to help to naturally lower high blood pressure.
Many of these micronutrients also act as potent antioxidants. In particular, black beans are high in selenium. This important nutrient is considered as one of the most important trace elements in your diet and a powerful antioxidant. Selenium is needed for normal cell growth and also enhances the potency of the liver enzyme P450 which detoxifies carcinogens in the body. Countries that have low levels of selenium in the soil have been documented to have higher incidences of cancer. Other foods known to have high levels of this amazing nutrient include walnuts, mushrooms and algaes. Apart from mushrooms, not really everyday ingredients. The fibre content of black beans are also an important part for more ways than one too. Firstly fibre plays an important part of your digestion as it helps take away toxins. As such, black beans have been linked to a diet that could potentially lower colorectal cancer. Fibre also helps us feel fuller for longer which will help you maintain a healthy weight. Certainly makes a good case for at least one tin of black beans to be included in your weekly shop.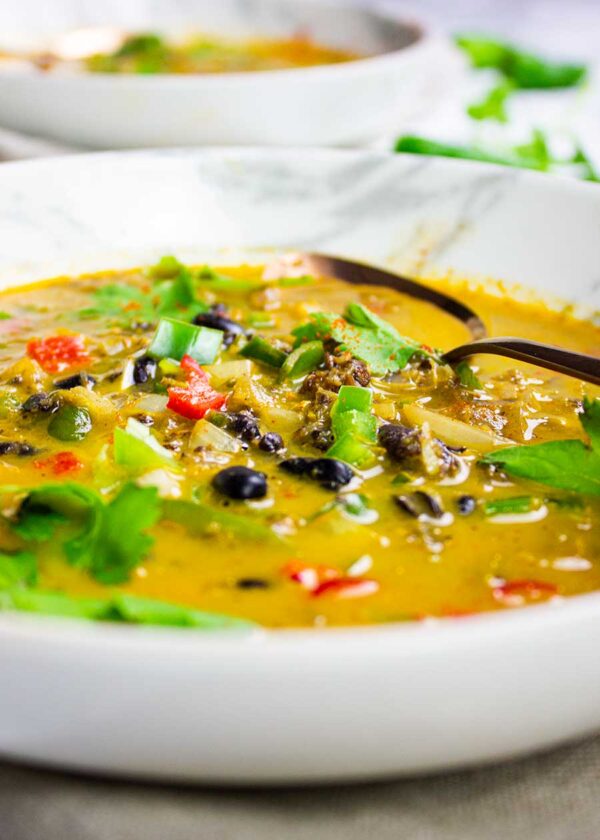 A Mexican black bean soup that is very easy to prepare
The way to create this exceptionally flavoursome Mexican black bean soup that has all the deep flavour and spice of a traditional black bean soup with the fresh and clean tasting zing of gazpacho is all about separating the ingredients at different points of the process. It probably sounds more complicated than it actually is. Firstly, our ingredient list is quite small. 1 tin of black beans, (if you like a thicker soup, by all means, double up on the black beans) then green capsicum peppers. We also love the flavour of Padron peppers (pimiento de padrón) if you can find them as they add a chilli flavour to the soup without the heat. Then a nice sweet yellow Spanish onion and quite a bit of fresh garlic for that gazpacho punch. The spice list and hits of flavour come from only a handful of ingredients too which are the bold but simple Mexican flavours of cumin, cinnamon, paprika, chilli, coriander (cilantro) and lime.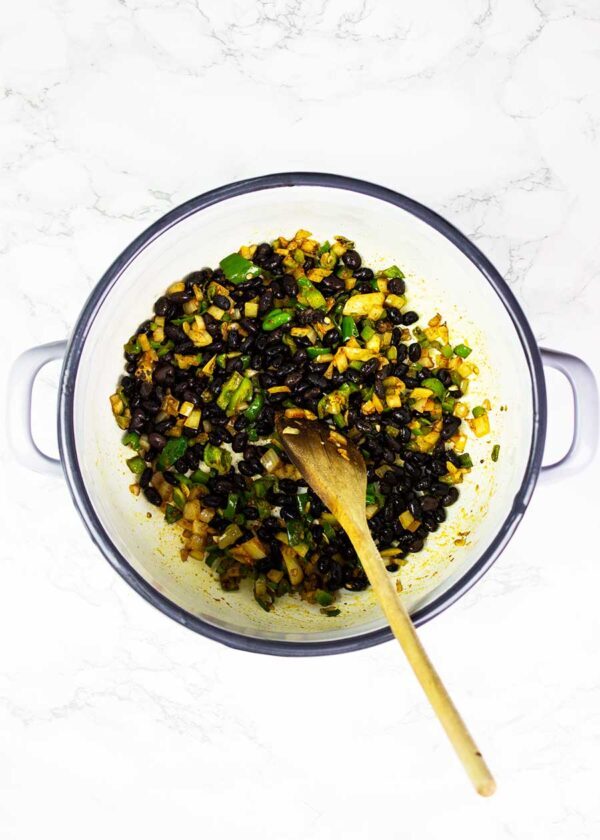 The peppers just need to be chopped finely as do the onions and the garlic. Separate about ⅓ of a cup of the peppers and about a tablespoon of the chopped onions and reserve them for later. Then with the rest of the peppers, onions and garlic, fry them with the spices in some olive oil for about 2-3 minutes so they start to cook but are still al-dente. Remove half of the peppers with the onion and garlic from the pan to stop it from cooking and set that aside. Continue cooking the other half and add ⅔ of the black beans, reserving ⅓ of the beans to add at a later stage too. What you will have at this point is the same ingredients all cooked at different stages, some raw for a really fresh bite, some slightly cooked for a deeper flavoured but still firm-textured finish. The ingredients left in the pan will now cook further and be infused with a wonderful vegetable stock which will create our full-flavoured soup. Just add the final flourish of some chili paste and some lime juice then simmer for between 8 and 10 minutes. To finish, use a stick blender or processor, blend until totally smooth.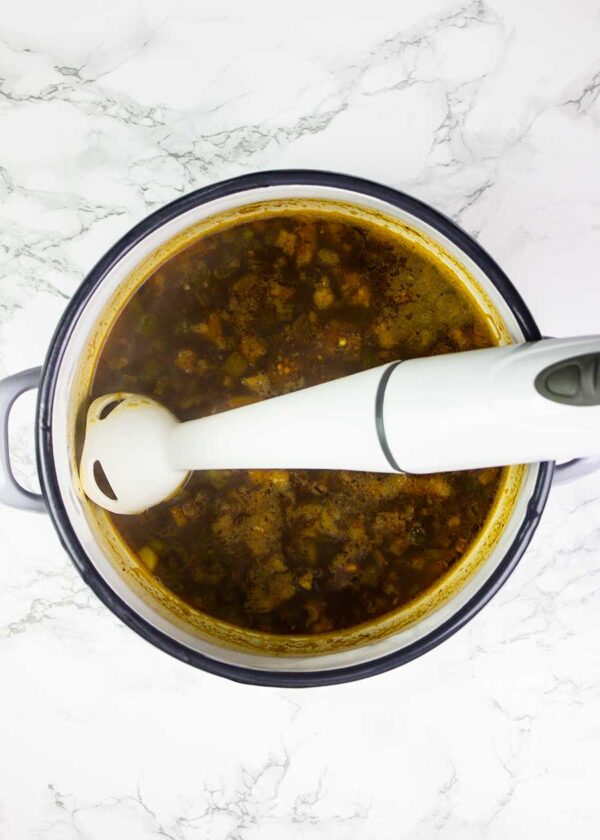 Add the partially cooked peppers, onion and the remaining black beans to the soup to warm through then serve in bowls and garnish liberally with coriander leaves and chopped red chilli.
Other delicious soup recipes on the blog
Have you made our homemade Mexican black bean soup recipe?
We'd love to see your soup creations! Please leave a comment below, share or tag using @anticancerkitchen on Instagram and hashtag it #anticancerkitchen.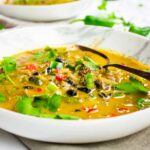 Ingredients
3 cups or 750ml of vegetable stock

240g (drained weight) of black beans

2 green capsicum peppers or 1 pepper and 100g of padron peppers, finely diced

1 yellow Spanish onion, finely diced

4 garlic cloves, finely chopped

Juice of 1 lime

1 tablespoon of ancho chili paste

1 teaspoon of cumin

1 teaspoon of cinnamon

1 teaspoon of paprika

Garnish of a handful of fresh coriander leaves, chopped red chili
Instructions
Chop the peppers and onions and reserve a ⅓ of a cup of the peppers and 1 tablespoon of the onion to set aside. 
Heat some olive oil in a large pan and add the rest of the green peppers, onion, garlic, cumin, cinnamon and paprika and stir fry for 3 minutes. Take off the heat and spoon out half of the mix and set aside in a bowl. Return the pan to the heat and add two-thirds of the black beans reserving one-third for later. Fry for 1 minute. Add the stock, chili paste and lime juice and simmer for 8-10 minutes.
Take the pan off the heat and using a stick blender process the soup until it is smooth.
Return the soup to the heat and add the partially cooked green peppers, onions and garlic and the remaining black beans. Warm through for a minute.

Copyright secured by Digiprove © 2020 The Anti-Cancer Kitchen