A warming, hearty, plant-based winter vegetable stew with herby dumplings recipe done in under 40 minutes.
During the winter and the colder months, the supermarket shelves are full of colourful squashes and root vegetables. It is easy to stock up on these nutritious vegetables especially if you have a few simple dishes in mind to prepare. We have used half a large celeriac for an impressive Sunday roast or half a cauliflower which we marinate and serve as a crowd-pleasing centrepiece as a cauliflower steak. Turnips and swedes make incredible mashes which you can pepper up to the hilt for really tasty sides for plant-based sausages or vegetable loafs for example. There are the staples that normally fill vegetable baskets and fridges too, such as bright orange carrots, spicy leeks, crispy celery and of course onions or shallots which are the base of so many sauces, soups and stews. Sometimes only a half or a quarter of these vegetables get used so like most we end up with leftover fresh vegetables. Of course, you can just use them up individually on the side of your usual dinner options or blend them together, with or without leftover cooked vegetables, to make wonderful winter soups. With this winter vegetable stew recipe, we have made the ultimate nutritious winter warmer with a hearty vegetable stew with added easy and quick to make dumplings. Proper nice!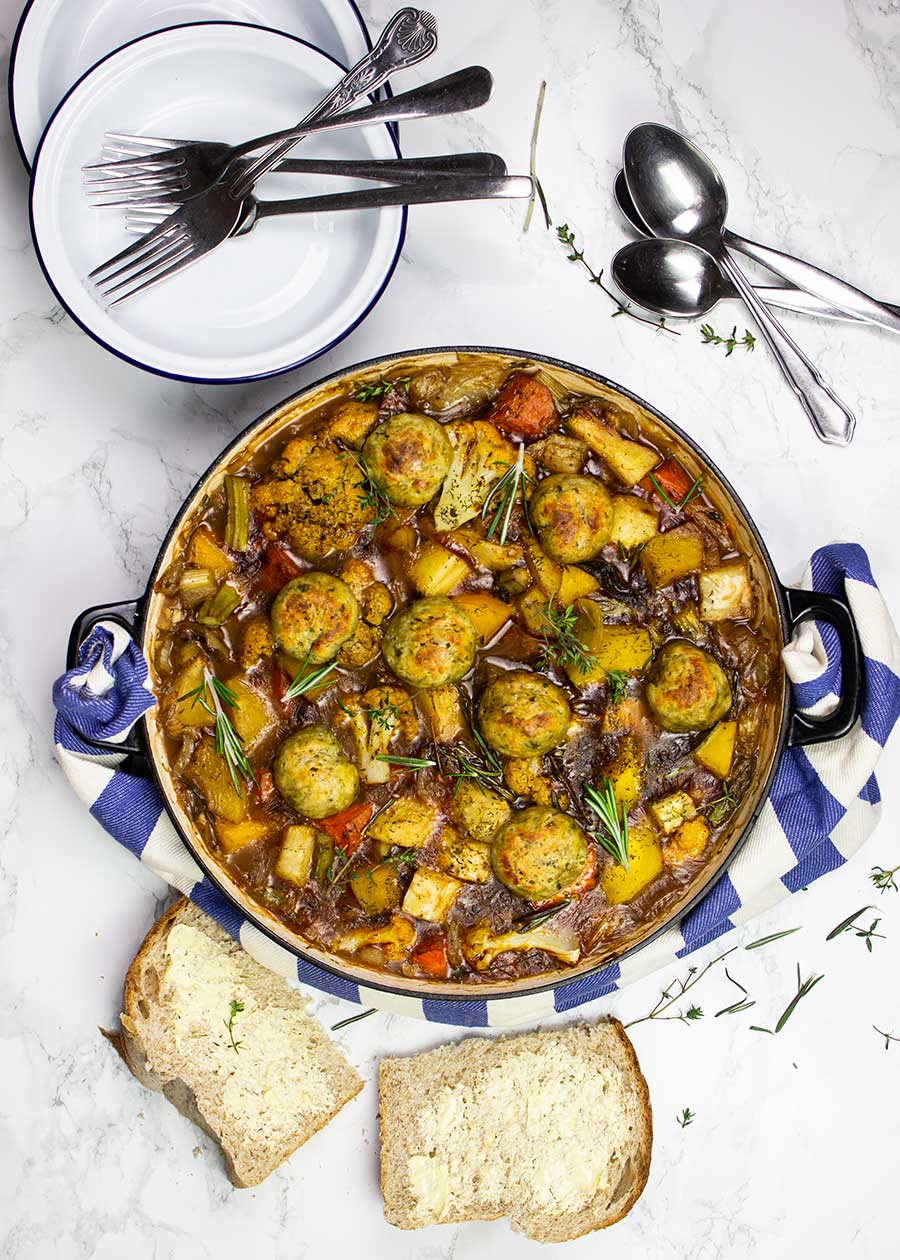 A perfect vegan family stew recipe
To make a real plant-based treat which will feed a family of four easily for lunch or dinner, with a little leftover (which can be blended to make a great soup) you will need about a kilo and a half of winter vegetables so don't be alarmed with the number of vegetables in the ingredients list, you'll either have them already or, the beauty of this is that all these vegetables can be interchangeable depending on what you have in the fridge and your vegetable baskets.
Of course, you may be just bringing all of these roots from your garden, so feel free to choose your favourites. This is a winter vegetable stew, so try to avoid fresh Mediterranean vegetables such as bell peppers, tomatoes or aubergines and globe artichokes as these will alter the feel of your winter stew and won't cook well enough either to showcase their best flavours and qualities. The beauty of cooking with similar winter vegetables in the same dish is that they will cook nicely at the same time.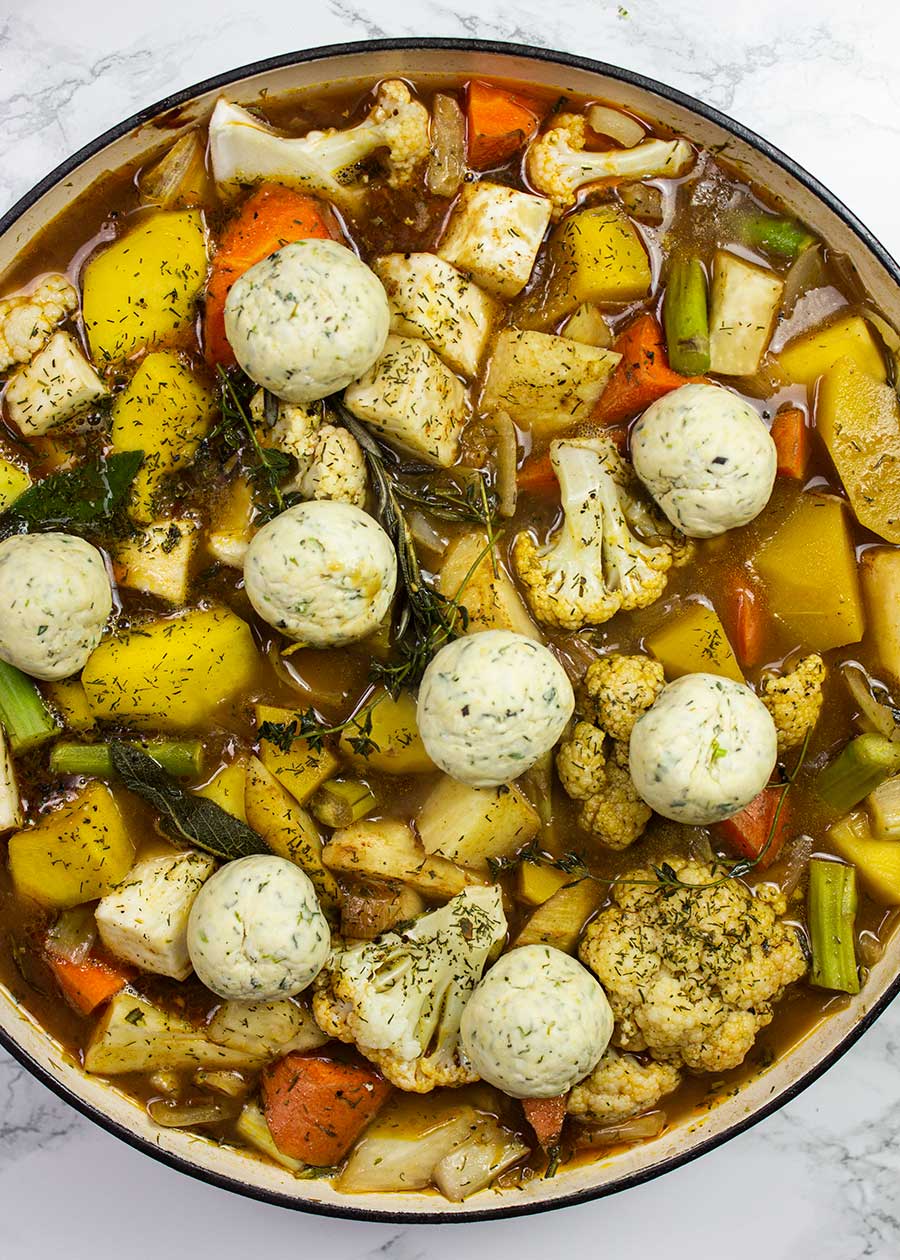 How to make the best winter vegetable stew with herby dumplings
To start though we make a simple and tasty batch of dumplings. We add 50g of vegetable suet, chopped herbs, salt and nutritional yeast to 100g of plain flour and bring it together with a little cold water to make a dough. Cut in half and each piece in half twice more to get 8 equal pieces which you then roll between cupped hands to make into bite-sized spheres.
As well as the winter root vegetables, we have the classic mix of onions, leeks and celery to roughly chop into small pieces to fry off in some oil in a heavy-based casserole dish. Because we are using celeriac which adds much of the light aromatic flavour, we have opted to add an aniseed flavour using fennel instead of celery, but as we've said before many ingredients are interchangeable. This classic combination of vegetables, known as a mirepoix is the base for many French dishes, the carrot is sometimes added for colour but as we are using larger cut carrots for texture we do not need them at this stage, although we do add a little garlic. Once translucent and slightly browned we stir in a touch of tomato puree and yeast extract which will add a depth of flavour to the finished stew and also a nice deep rich colour. As we are relying on the sauce to thicken naturally rather than with the addition of gelatin that would come from meat proteins in a non-plant-based stew we need to add a roux made from margarine and flour at this point. Then in goes some decent vegetable stock and a glass of red wine. A little simmer for a few minutes is all that is required before adding the chopped root vegetables. At this point, arrange the dumplings over the stew and put the heavy lid on top. Place in a pre-heated oven for 10 minutes with the lid on then a further 10 minutes with the lid off. This way the dumplings and vegetables poking out of the luscious gravy will brown but the vegetables will cook perfectly.
For a cancer-fighting diet, we have researched that it is advisable to introduce nutrients that act as antioxidants in the body. Although alcohol is widely regarded as a no go, in fact, red wine contains a very potent antioxidant called resveratrol. Antioxidants such as this help the body combat oxidative stress which happens at a cellular level in the body through hundreds of natural processes. Even though oxidation is a natural everyday bodily occurrence the stress that can be caused from certain functions such as digestion of acidic or sugary and fatty foods or even red meat can cause a chain reaction where negatively-charged molecules or free radicals that are unstable can cause serious repetitive damage. This damage is said to be the precursor of diseases such as cancers. Consuming as many fruit and vegetables and other foods high in antioxidants and minimising other foodstuffs previously mentioned, as is with this healthy winter vegetable stew, it could be possible to massively reduce our risk of acute diseases.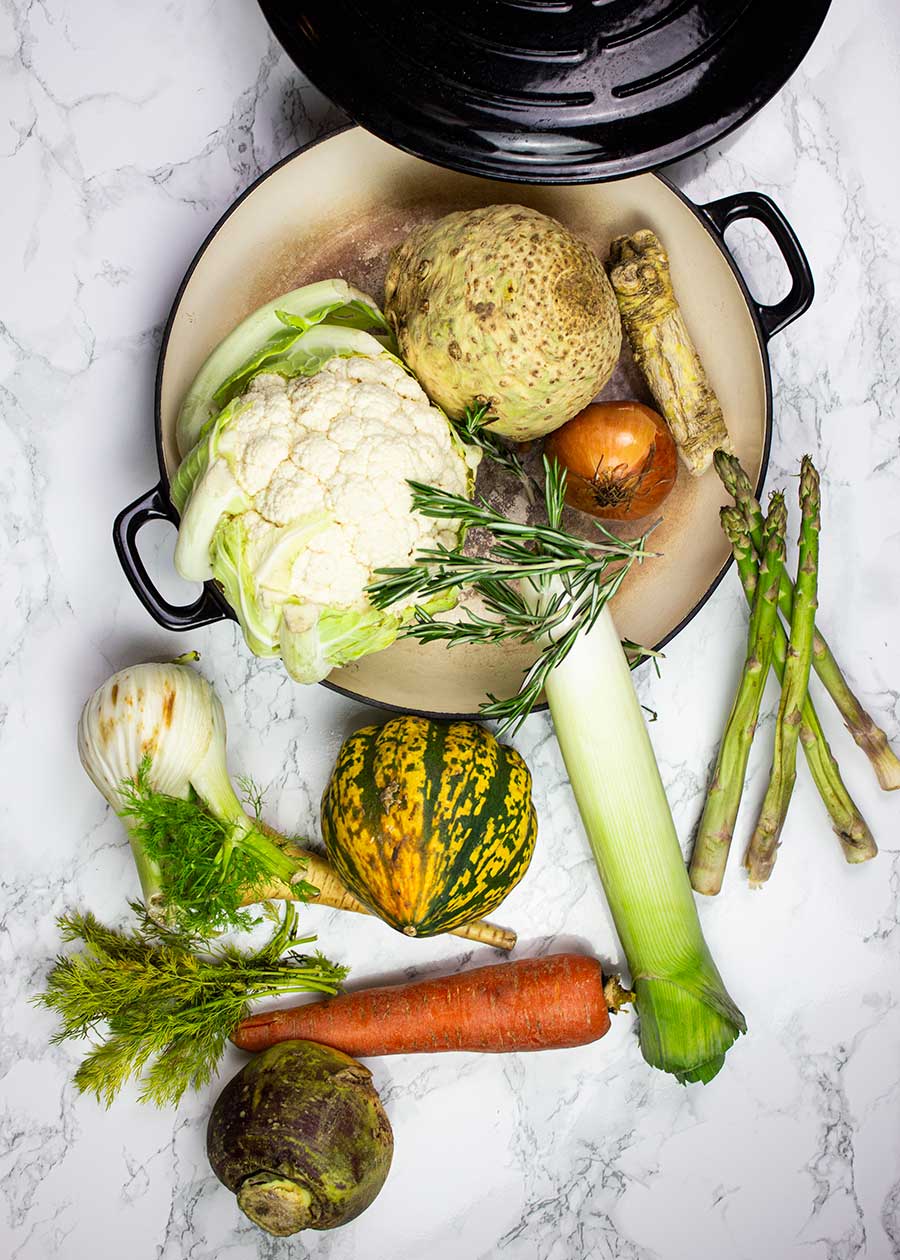 A winter stew that is packed with nutritious vegetables
Our stew contains many healthy and nutritious winter vegetables, cruciferous vegetables and legumes. 
Our list starts with a winter squash which is high in beta-carotene which is responsible for giving orange vegetables their bright colour. It is also a sign of a healthy nutritious vegetable that when consumed aids health in many ways from lowering the risk of cancers, high blood pressure and diabetes. Squashes bright in colour are high in vitamin A which is good for your skin and hair too.
Cauliflower is high in fibre and contains many detoxifying compounds called isothiocyanates. Cruciferous vegetables such as cauliflower and turnips which contain these compounds have also been shown to offer protection against cancers. 
Carrots are known to be one of the most nutritious root vegetables offering up a huge amount of vitamin C and K as well as beta-carotene which can also help lung health.
Parsnips are high in fibre and heart-healthy as well as offering an impressive list of antioxidants from nutrients such as kaempferol, quercetin and apigenin. These antioxidants can also help boost your body's immunity. 
Onions, perhaps the most well-used root vegetable due its massive versatility has also been reported by PubMed central, a trusted medical list from the national institutes of health that links higher consumption of onions to a lower risk of certain cancers.
The compound anethole in fennel, responsible for its aniseed characteristic flavour has also been studied to show that it can aid the metabolism of carbohydrates to lower blood sugar levels. Good for managing weight and for diabetes.
Another benefit of Vitamin K which is also found in high amounts in celeriac can help with the viscosity of our blood and help with normal clotting.
Leeks are also high in Vitamin C and are also a very good diuretic as is asparagus which help the body expel water and extra sodium. They are also good for macular health and fat-free too.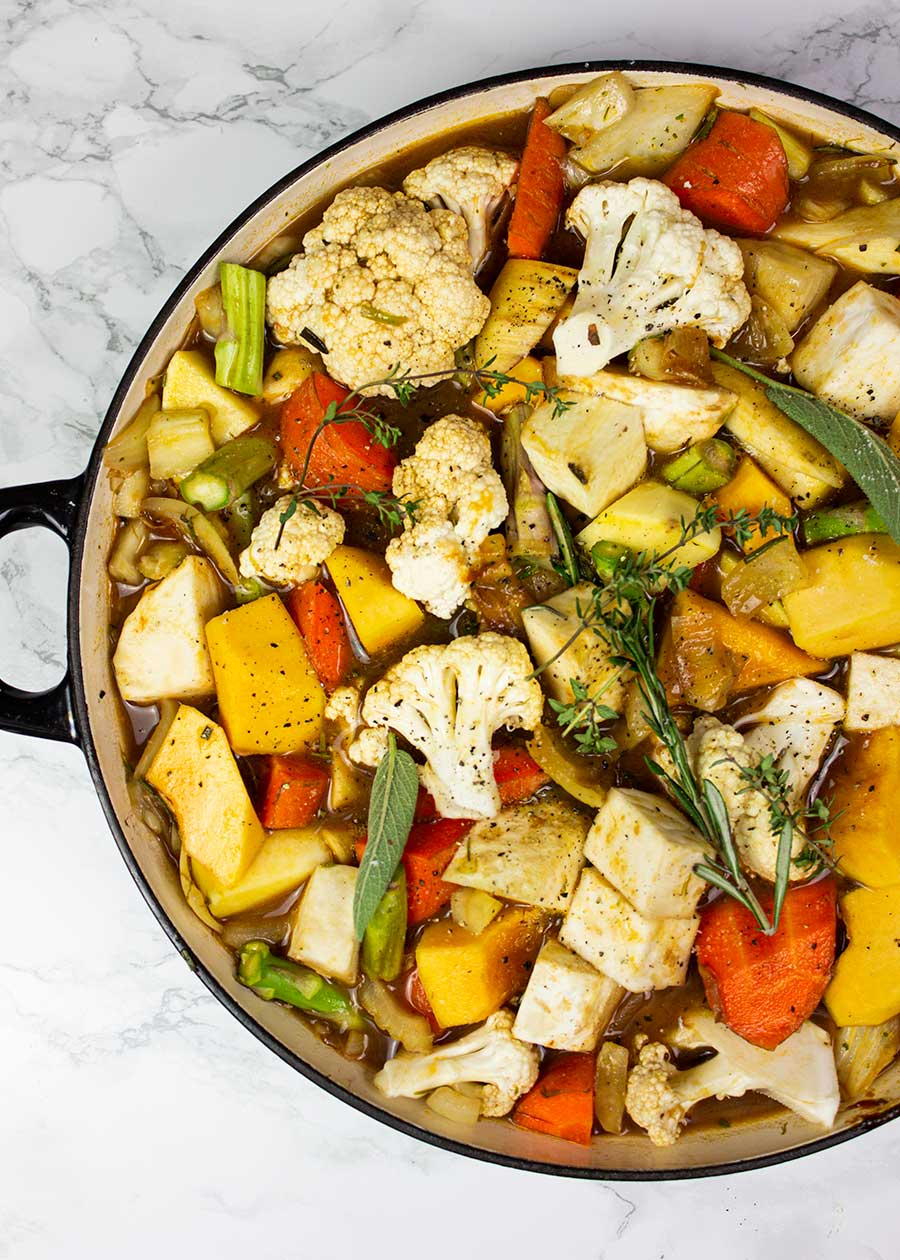 What other vegetables can be used and variations
If you don't have access to all of these vegetables then, by all means, use either normal potatoes or sweet potatoes or a mix of both. You could add beetroots which will create sweetness and deep colour. If you added radishes you could turn up the spiciness and adding Jerusalem artichokes, for example, would bring a luscious smoothness to the stew. As long as you follow the cooking instructions and cut the vegetables into bite-sized pieces and take care to remove any tough skin and stalks you will end up with a hearty, healthy stew with taste and texture. And remember, if you have leftovers, then you can simply add a little more stock and blend together for a super warming bowl of soup. This is a dish that will keep on giving.
Have you made our winter vegetable stew?
We'd love to see your food creations! Please leave a comment below, share or tag using @anticancerkitchen on Instagram and hashtag it #anticancerkitchen.
More stew recipes on the blog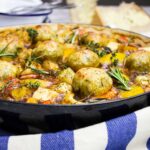 Ingredients
300g or 1 small winter squash, peeled weight about 200g

100g or 1 onion

200g of carrots

150g of parsnips

100g of asparagus

200g celeriac

200g or 1 fennel

200g of cauliflower

100g of leek

150g or 1 small turnip

2-3 garlic cloves, peeled and finely chopped

1 tablespoon of tomato puree

1 teaspoon of yeast extract

750ml / 3 cups of vegetable stock

200ml of red wine

3 tablespoons of flour

2 tablespoons of margarine

A few sprigs of fresh rosemary, sage and thyme (alternatively, use 2 tablespoons of dried herbs)

For the dumplings:

100g of plain flour

50g of vegetable suet

5 tablespoons of cold water

1 tablespoon of nutritional yeast

½ teaspoon of salt

1 tablespoon of chopped rosemary, sage and thyme

(an optional tablespoon of grated fresh horseradish)
Instructions
For the dumplings
Sift the flour into a mixing bowl and add the salt, nutritional yeast, herbs, horseradish and suet. Stir together then add 5 tablespoons of cold water and combine together to form a firm dough.
Divide into 8 equal pieces and roll into balls. Set aside. 
Step-by-step herby dumplings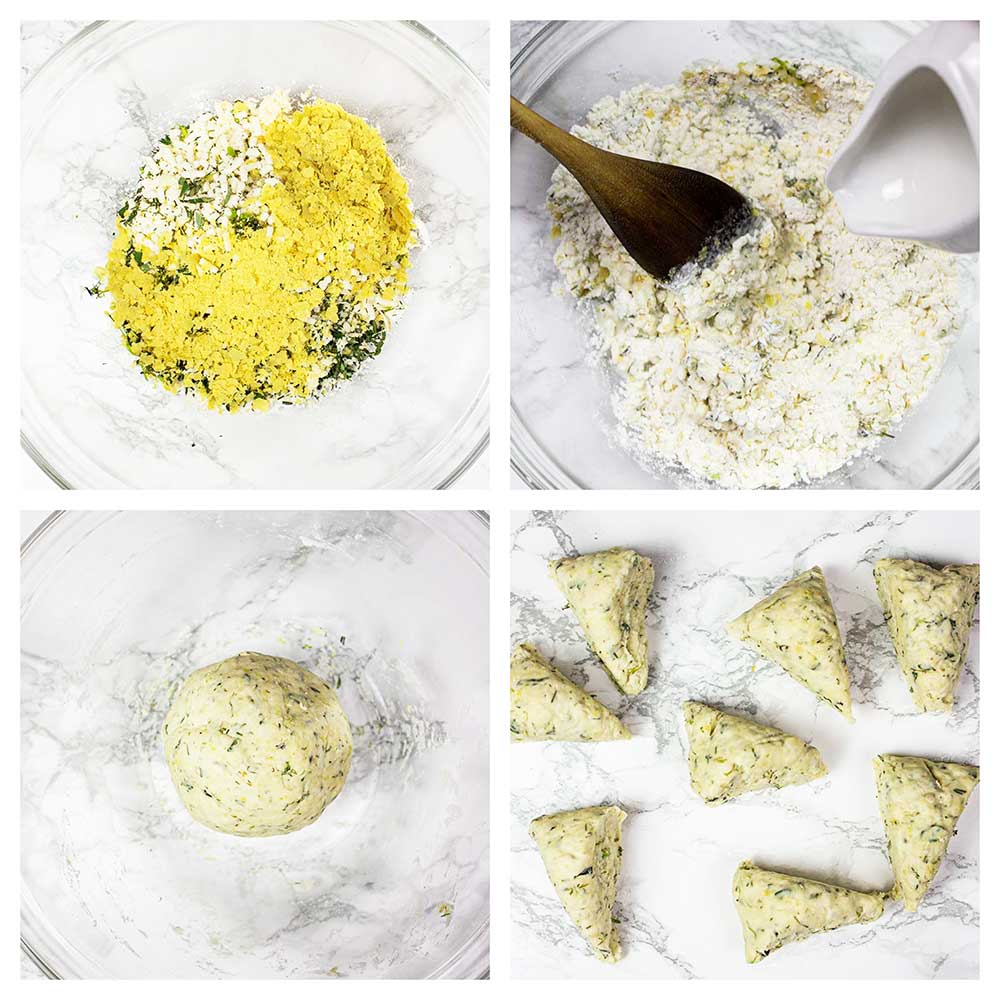 For the winter vegetable stew
First, peel all the vegetables, remove any seeds and stalks and chop them into rustic bite-sized pieces. Dice the onions, leeks and fennel more finely.
Add the onions, fennel and leeks to a heavy-based casserole dish with a little olive oil and fry for 5-6 minutes until slightly browning. Add the garlic and stir in the tomato puree, yeast extract and cook for another minute. Add the flour and margarine and stir in thoroughly. When the vegetables start to stick together add the red wine and whisk to stir out any lumps. Bring the wine to a boil and add the stock and herbs and add in all the chopped vegetables and simmer for 5 minutes. 
Take off the heat and arrange the dumplings over the stew. Place a heavy lid on the casserole dish and place it into a pre-heated oven at 200℃/392°F  for 10 minutes. After 10 minutes remove the lid and place it back in the oven for a further 10 minutes.
Step-by-step winter vegetable stew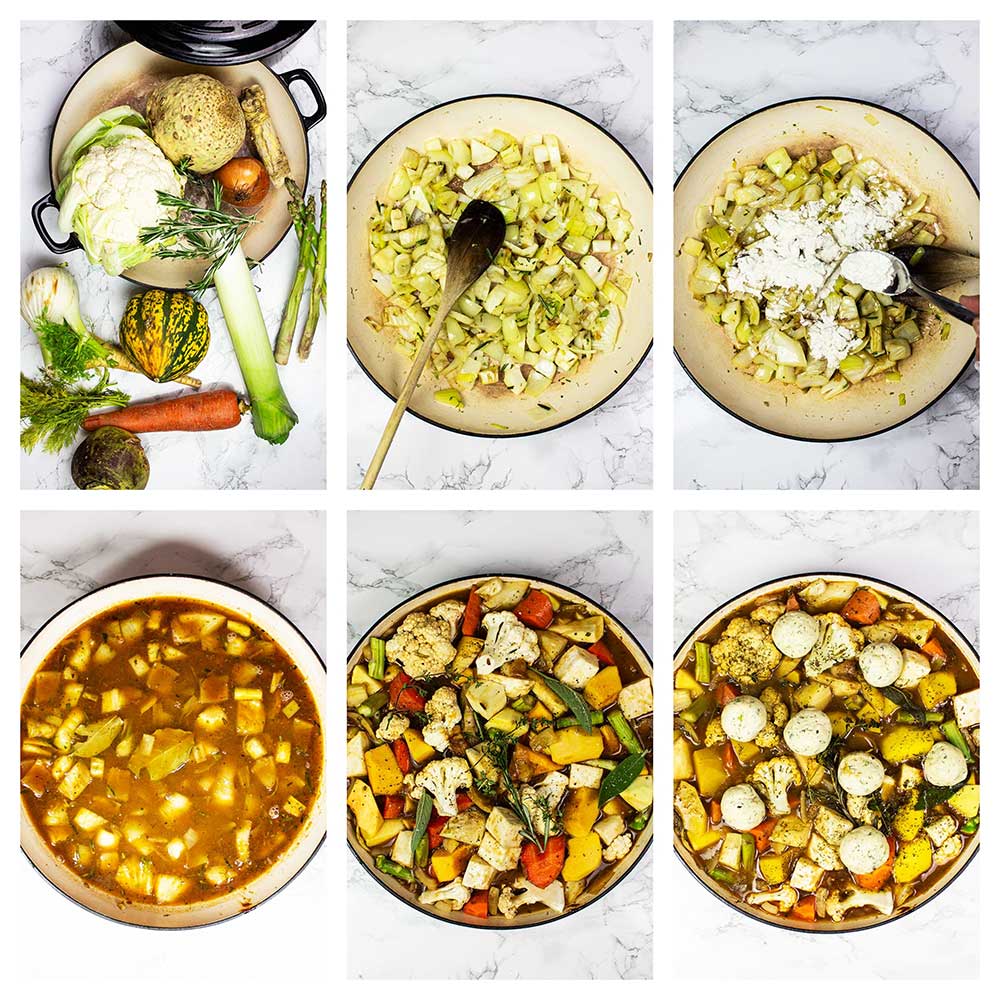 Copyright secured by Digiprove © 2021 The Anti-Cancer Kitchen