A vegetable tagine is a North African / Middle Eastern dish that is named after the earthenware dish it is cooked in. Traditionally the dish is highly flavoured with meat, sweet fruit and spices. Typically the conical shape of the lid was designed to circulate the moisture back down to the bottom of the food so that in places with little water you could still prepare this magnificent feast. As lamb or poultry was the traditional base of this dish the earthenware pot was cooked above charcoals that kept their heat and was perfect for slow cooking so that the meat would be melting and tender.
One of the benefits of making our tastiest vegetable tagine is that the cooking time can be reduced making it easy to cook any day of the week. We have found that by cooking a mix of carrots, onion, celery and red peppers with chickpeas in stock and tomatoes only takes about half an hour. A further 15 minutes is all that is required to perfectly cook some torn aubergine so that they keep a wonderful texture but also sops up all that rich, sweet and spiced sauce. Just serve with some couscous and throw over some pomegranate seeds and coriander with a little dukkah (a blend of roasted chickpeas with herbs and spices) or some herby Zaatar ( a blend of oregano, sesame, cumin and sumac) and you have one amazingly flavoursome, authentic tagine that as soon as it is placed in the middle of the table doesn't last very long at all.
Gorgeous Moroccan flavours
The sauce is the key to a great vegetable tagine. Traditionally as it would have been a slow-cooked dish, the fresh ingredients got to intensify with their flavours. Because we use an iron cast pan we're able to cook the ingredients firstly on high heat to char them before we put a heavy lid on and simmer on low heat. This reduces cooking time but still allows for a proper reducing time which not only still intensifies the flavour but also thickens the sauce to a wonderful thick sauce. Our vegetable tagine is not too dissimilar from a curry which really it essentially is but is the North African spices that give it its truly unique exotic flavour.
North African spice mix
First of all the main mixture of herbs that give this dish its allure is Ras El Hanout. This blend is commonplace in the supermarkets and is made up of a traditional curry spice mix of cumin, coriander, turmeric, cardamom and chilli. Added to this to sweeten it and to make it more fragrant, cassia, ginger, nutmeg and rose petals are added. Rose is very much a flavour of Middle Eastern and North African cooking and Harissa Paste which is a blend of red peppers, spices and rose is also added to impart an incredible authentic flavour too. Another typical ingredient found in North African cuisine is Sumac. This spice comes from a tangy dried red berry and has a rich content of polyphenols and flavonoids which adds a powerhouse of antioxidants too which makes it a must as a staple in for every spice cabinet.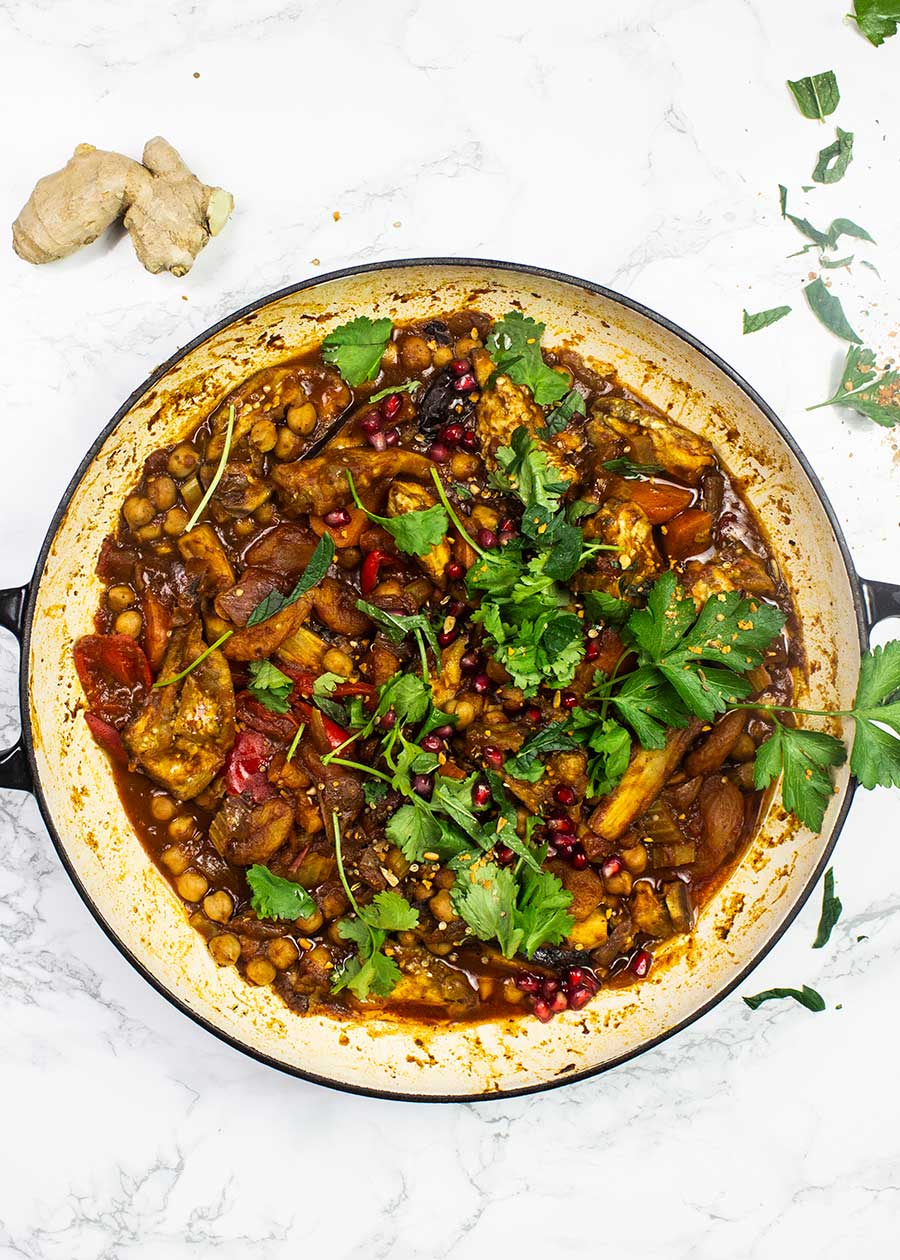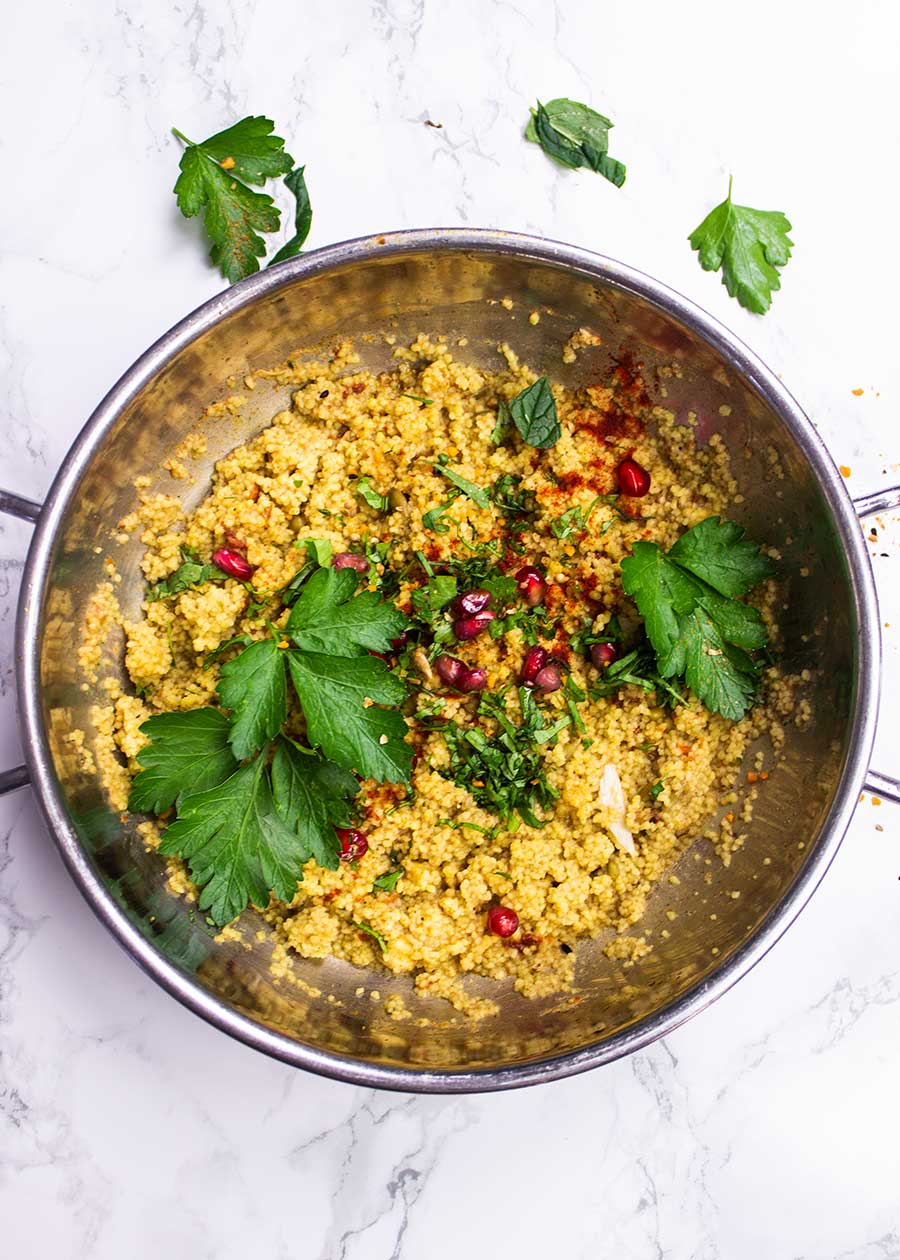 Sweet and spicy vegetable tagine
The classic pairing of sweet and spicy go really well together in a tagine. Along with those beautifully aromatic and fragranced herbs and spices a tagine will always have a fruit of some description. Whether you use prunes, apricots or dates the sweetness and texture is key to a well-rounded dish. Dried fruits are eaten all year round and we especially like a mix of dried apricots and pitted medjool dates. The key is to add them for the last 15  minutes of cooking to rehydrate them ever so slightly in the gorgeous sauce so that they do not disintegrate.It is this last period of time where we manage to cook a firm fleshy eggplant/aubergine too.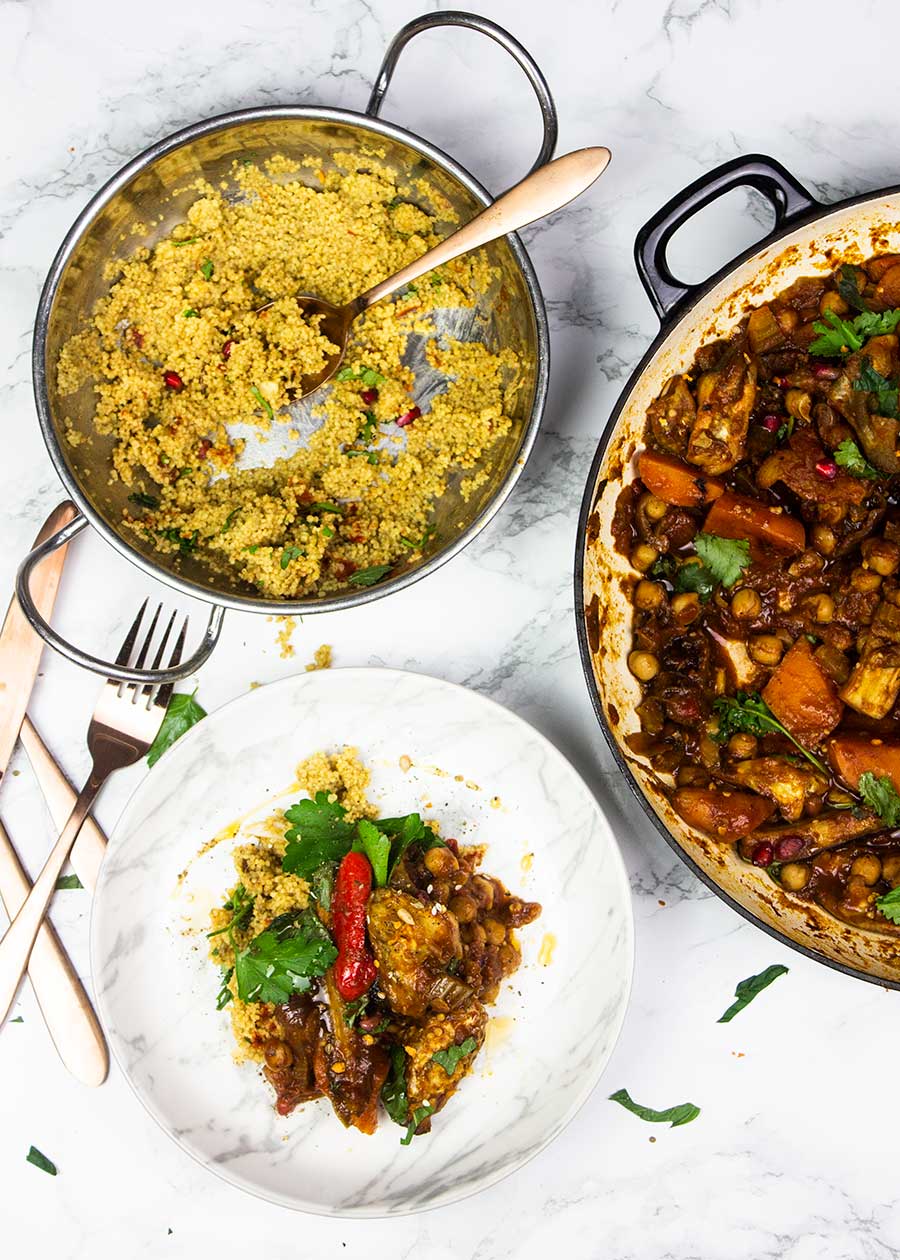 Texture sensation
Juxtapositions are key in most amazing dishes. Just like the sweet and savoury taste of this vegetable tagine, or the salted sweet aspect of popcorn or chocolate, opposites often go very well together. Opposites in texture also work well together. For a luscious velvety sauce, you need some bite too. The last thing we want is overcooked vegetables that turn to mush in the pot. The texture that the traditional lamb tagine that we have based this recipe on comes from would have had, is replicated really well with torn eggplant/aubergine which is only softened by the circulating savoury steam on the top of the tagine. By scoring a few lines with a sharp knife on the eggplant you can then tear it into nice bite-sized pieces. Because you are not cutting straight through the flesh and making completely flat edges the pieces cook with a stranded texture which is quite reminiscent of a slow-cooked piece of meat. Of course, the flavour is also lovely and sweet and savoury too.
Adding more texture, we add the crisp burst of some bittersweet pomegranate seeds and the crunch of some roasted chickpea (garbanzo bean) Dukkah and rich sweet woody Zaatar. 
A beautiful Morrocan dish
Vegetable tagines are also traditionally painted and can sometimes be quite extravagant in their presentation. Even if we have opted to cook this in a heavy iron oven pot with a lid this is a striking dish when presented to the table anyway. We're not saying that this would win awards for how it looks as it is not fussy and intricate, it is however vibrant and mouth-wateringly tempting to look at. With a rich tomato sauce that covers morsels of orange carrots, bright red peppers and chunks of eggplant/ aubergine that is then peppered with bright green leafy herbs, golden turmeric dyed seeds and bejewelled with ruby pomegranate seeds.
Satisfying and healthy vegetable tagine recipe
When you try to maximise on what is good for you and minimise on what is bad for you.
This is a great turn to dish too as following what Cancer Research Uk recommends, which is following a diet high in vegetables, grains, pulses and this vegetable tagine recipe contains a lot of vegetables high in antioxidants such as tomatoes which are high in Lycopene which is a pigment that makes the tomato red. It also has amazing health benefits for humans too and especially when they are intensified through cooking. Other pigments such as anthocyanins in eggplants and especially one called nasunin have also been linked to reducing harmful free radicals in the body. We have optimised on grains with the couscous and plant protein-packed garbanzo beans/chickpeas. Chickpeas/garbanzo beans are a great North African ingredient and most commonly known as the ingredient in Hummus and falafel. They are high in dietary and also a great source of omega-3 oils that would generally come from oily fish and other plant sources such as flaxseed, walnuts and beans such as soy. They provide a large amount of protein too which for people who don't consume animal produce can be harder to obtain in your diet.
Making this tagine totally plant-based also helps to reduce the foods that we need to minimise for a cancer-fighting diet such as processed foods, sugars and red meat which of course is often used in traditional tagines but certainly not missed here.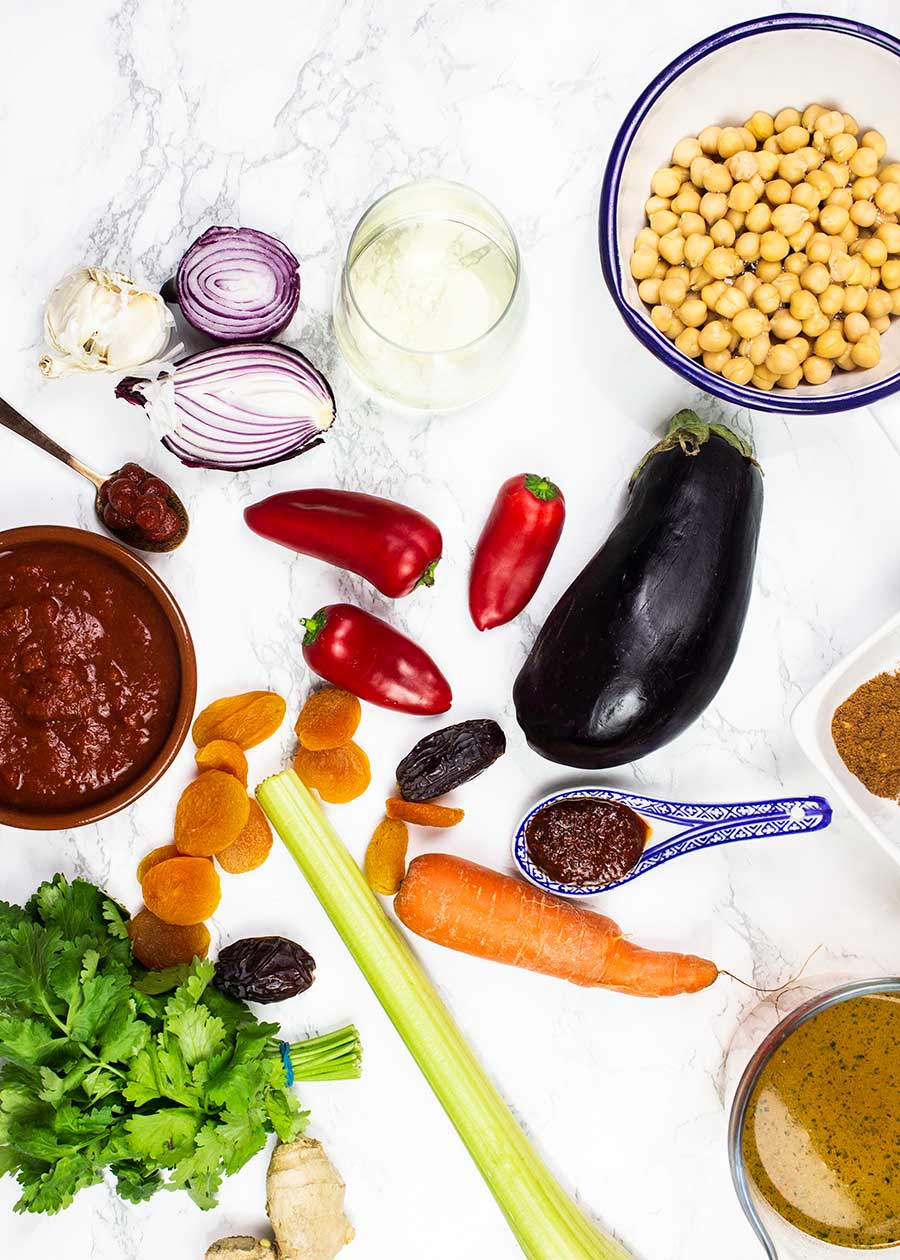 Eggplants also contain another compound solasodine rhamnosyl glycosides (SRGs). Test tube studies have shown that these compounds have been shown to stimulate apoptosis which is the programmed death of cancer cells. Some studies have also suggested that they can help keep certain cancers at bay so reaching for a plump eggplant/ aubergine next time you may be tempted to eat meat may be a good thing. 
With other antioxidant laden ingredients such as fresh coriander (you can throw on fresh mint and parsley too if you like) and the flavoursome hit of the Morrocan Herbs and spices this dish will provide you about 8 of your 5 a day of fruit and vegetables. It only takes around 45 minutes to recreate an authentic, full of flavour, full of health, vegan vegetable tagine.
Other Mediterranean recipes on the blog
Have you made this vegetable tagine recipe?
We'd love to see your shot creations! Please leave a comment below, share or tag using @anticancerkitchen on Instagram and hashtag it #anticancerkitchen.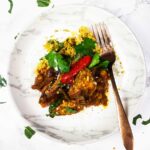 Ingredients
1 eggplant /aubergine, scored and torn into bite-size pieces

1 celery stick, halved lengthways and chopped

1 carrot, roughly diced

1 onion, diced

3-4 baby red peppers, de-seeded and sliced into thick strands

400g tin of chickpeas, drained

400g tin of chopped tomatoes

400ml of vegetable stock

150ml of white wine (optional)

1 teaspoon of Harissa paste

1 clove of garlic, crushed

1 tablespoon of minced fresh ginger

80g / ½ a cup of dried apricots and pitted Medjool dates

1 ½ teaspoon of Ras El Hanout

1 teaspoon of sumac

1 teaspoon of tomato puree

To Garnish: a handful of fresh herbs such as coriander, mint and parsley.

1 tablespoon of pomegranate seeds

A sprinkling of Dukkah and Zaatar.

Serve with couscous (follow preparation on the package) or flatbreads
Instructions
Use a hob proof tagine or heavy iron oven pot with a lid. Add oil and fry the carrots, onion and celery on high heat  for 4 minutes 
Add the garlic, ginger, red peppers, Ras el Hanout and sumac and cook for a further minute.
Pour in the stock, optional white wine, chopped tomatoes, tomato paste and harissa. Stir and turn down the heat to a low setting and place a heavy lid on top. Simmer for 30 minutes.
After 30 minutes, take the lid off and stir the stew. Add the torn eggplant/aubergine pieces and the dried apricots and dates and place the lid back on again and cook for the remaining 15 minutes.
Serve straight away with some couscous and garnish with Dukkah, fresh coriander leaves and pomegranate seeds.
Step-by-step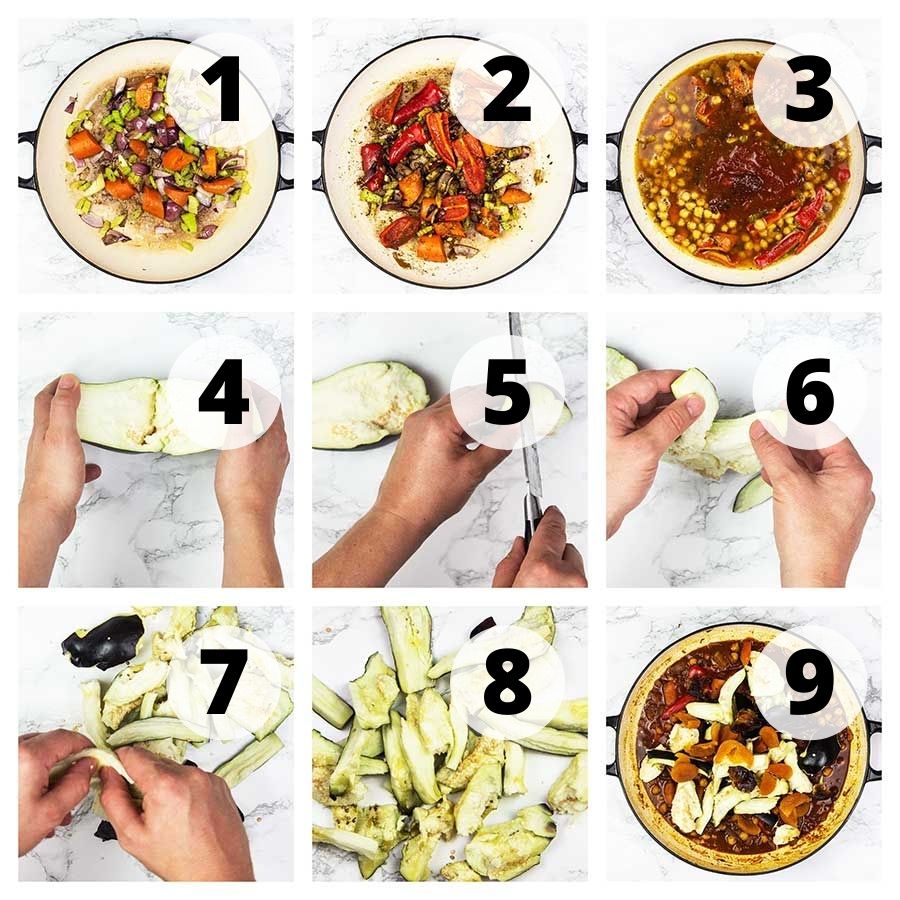 Copyright secured by Digiprove © 2020 The Anti-Cancer Kitchen