Easy paella recipe with green vegetables that is quick and simple one-pot wonder,  visually stunning, full of healthy green vegetables, authentic, perfect for al-fresco dining and totally plant-based.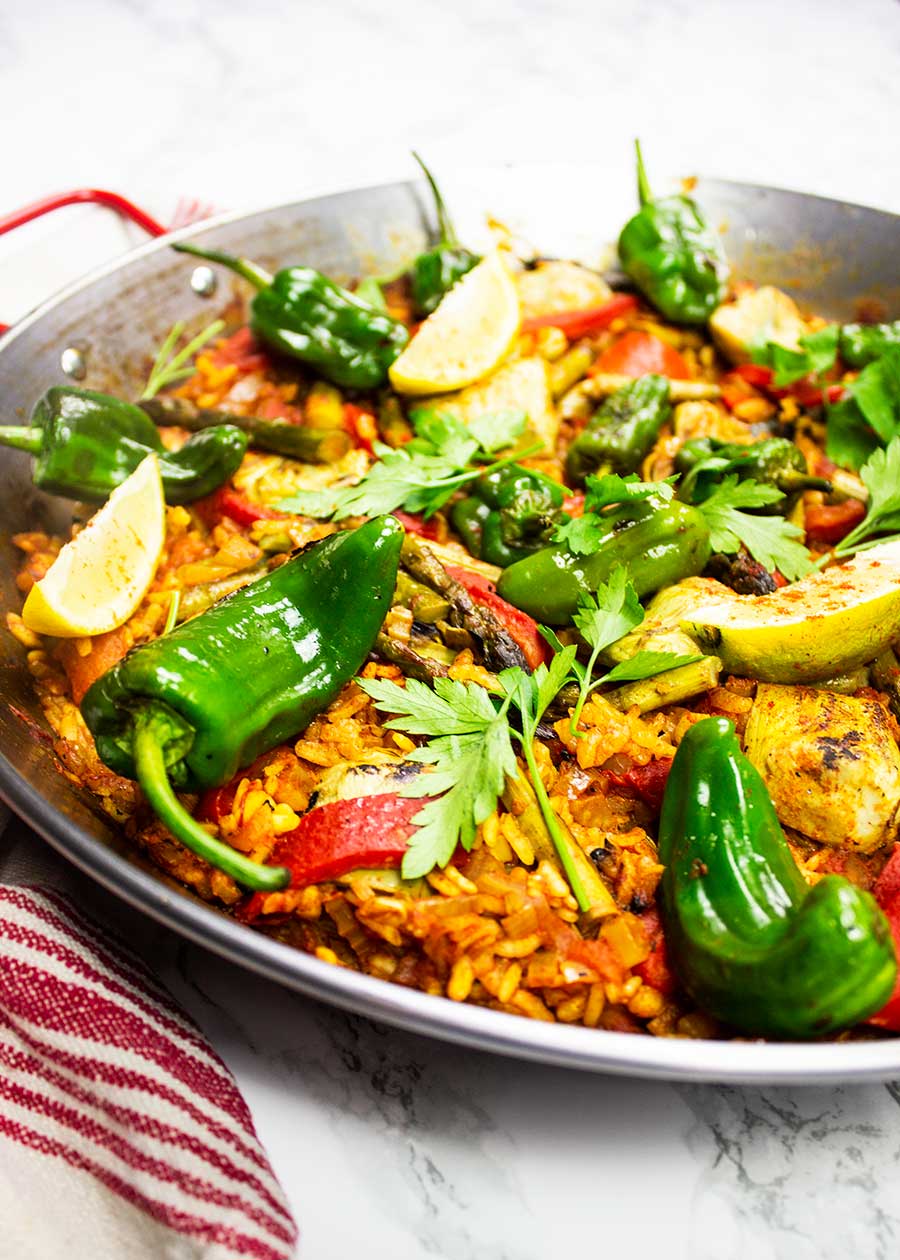 Easy paella recipe
Paella is perhaps Spain's most famous dish. Just like risotto though when making this there are some strict rules to abide by. This is our best purely plant-based easy paella recipe that follows these rules and creates a stunning centrepiece for any discerning al-fresco table. 
With as many recipes as there are Spanish villages who claim to have made the original paella you can end up with many variations of this amazing rice dish from the prawns and mussels version that many tourists will be familiar with because their holiday destination was on the coast, to the meaty versions that hails from the inner towns and villages that uses chorizo, chicken or rabbit. This easy paella recipe or paella verdura recipe as it's known uses firm textures of artichoke and asparagus with the sweetness of roasted red peppers and another of Spain's greatest ingredients, the pimiento de Padron. These incredible tasting peppers which can sometimes be hot add such flavour that really compliment the paella which in turn is flavoured with the classic combination of smoked paprika and saffron.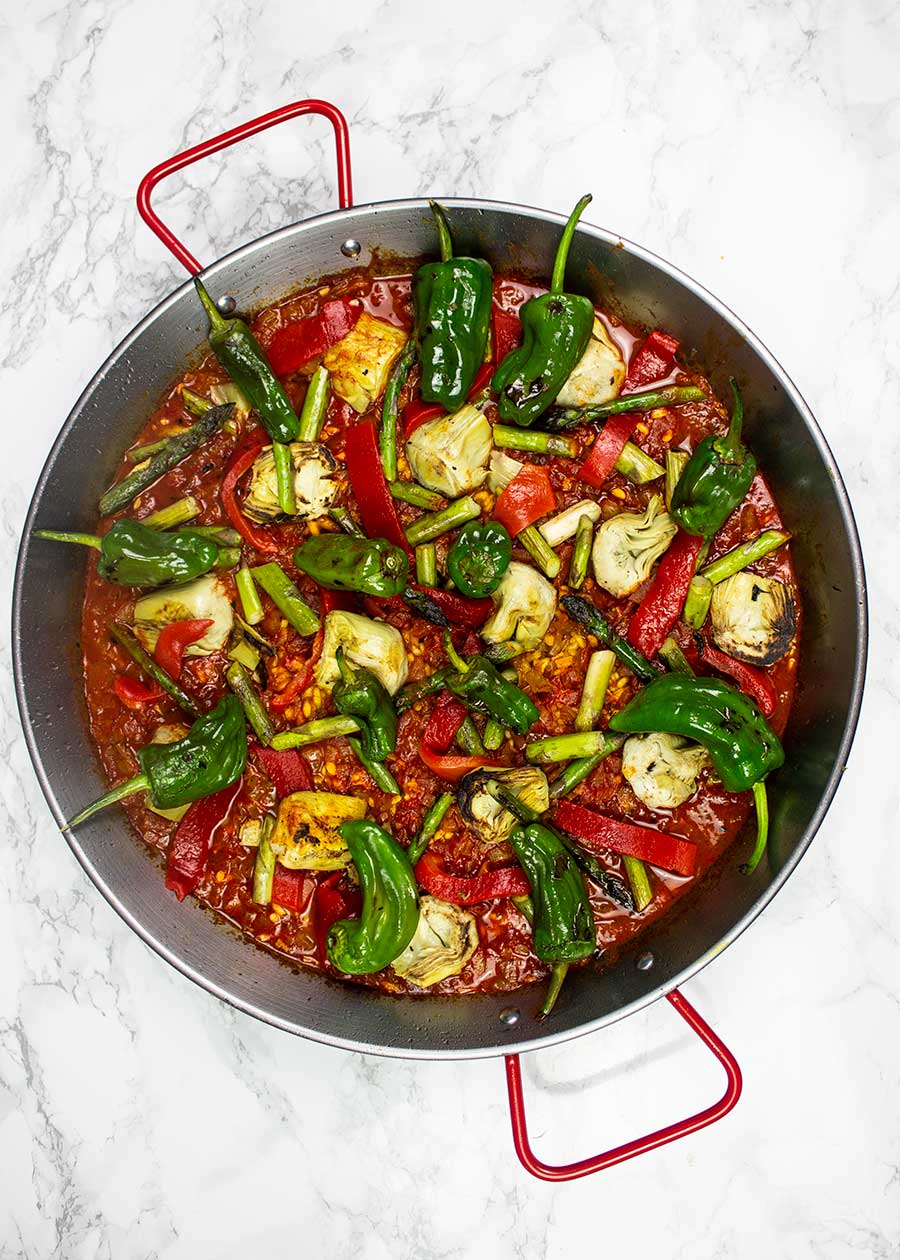 How to make easy paella recipe with green vegetables
The process is simple and is made in one pan. It is said that the best way to make a paella is outdoors over a wood fire to give an essence of smoke and in the shade of a blossoming orange tree. However romantic that picture may be, we like many I expect failed to have this idyllic location close at hand. We could cook it on our bbq but the hob works just as well. We start by charring the artichokes and asparagus in a large oven to table pan to give them a firm bite then add the Padron peppers and blister the skins before setting them aside to start with the rice.
The next step is to make the soffritto which would normally include peppers but as we have this as the main ingredient for the final presentation we use just white onion, garlic and celery. Simply chop up the vegetables and fry them for a few minutes to soften. This is the classic base for many Mediterranean dishes, then in goes the smoked paprika which is just the essence of Spain. Add some rich chopped tomatoes and a little of the vegetable stock flavoured with a few strands of saffron and simmer to bring out the rich flavour.
Then the rice.
You must use a short-grained rice and calasparra is the traditional rice for paella. Arborio and Japonica rice, better known as sushi rice, are equally as good. These grains are best because they absorb all the liquid and flavour whilst keeping the grain intact. They also give the paella an almost creamy nature. Mix the rice evenly in the pan and cover with the stock. At this point to stop this dish from turning into a risotto you must not stir the rice, this is the rule. This technique also gives another dimension to the dish which is called socarrat. Because you do not stir the rice like you would a risotto or pilaff which again this dish isn't the bottom of the rice next the pan becomes toasted and crispy. This part is savoured as a delicacy and a highly desirable aspect of any true paella. You only need to simmer the rice at this part for 10 minutes then you can arrange the vegetables over the top and cook for a final 8 minutes so the rice absorbs all the liquid and turns golden yellow. Bring the pan to the table and scatter some fresh parsley over the top and serve with wedges of lemons. The result, an easy paella recipe that is:
A quick and simple one-pot wonder

Visually stunning

Full of healthy green vegetables 

Authentic 

Perfect for al-fresco dining            

Totally plant-based

Energy-boosting paella rice
Whilst this is a rice dish and you'd expect that the main health benefits would come from the vegetables in fact short-grained rice such as calasparra or arborio rice contain just under half the nutrients and vitamins and minerals for your recommended daily intake. Rice is often known as the enemy to diets but healthy carbohydrates are necessary for energy. These small grains are also high in protein which can be difficult to maximise on plant-based diets. Consuming rice will give you energy and help repair body tissue and muscles. Adding vegetables to your rice will then help you maximise on the immune-boosting ingredients which in this dish there are many.
Asparagus is full of antioxidants
Asparagus, which you can get all year round is best in its season in Spring and perfect for warmer weather which makes it perfect for paella.
Asparagus is a low-calorie vegetable that is high in essential vitamins and minerals. The amount in this recipe will provide about a quarter of your recommended daily intake of Vitamin C which is vital for the body in numerous ways such as protecting against common illnesses and helping the body to maintain healthy cells and repair damaged cells. It will also provide the body with about half the recommended daily intake of Vitamin K which is an essential nutrient for healthy bones and blood. It is also high in folate which is essential for DNA formation and cell health.
Green vegetables such as asparagus contain phytonutrients (plant compounds) that help the vegetables survive when growing in their natural environment which also have healthy antioxidant capabilities for us when consumed. One class of phytonutrients known as flavonoids have exceptionally antioxidant potency. Asparagus is high in three flavonoids known as the flavonols, quercetin, isorhamnetin and kaempferol which have been linked to the prevention of chronic diseases such as cancer. Antioxidants balance the effects of free radicals in the body which are formed as the body metabolises the food we eat into energy. These molecules are negatively charged and as they try to lose this charge by crashing into other molecules in the body this has damaging effects at a cellular level which can then cause inflammation which is the precursor to chronic diseases.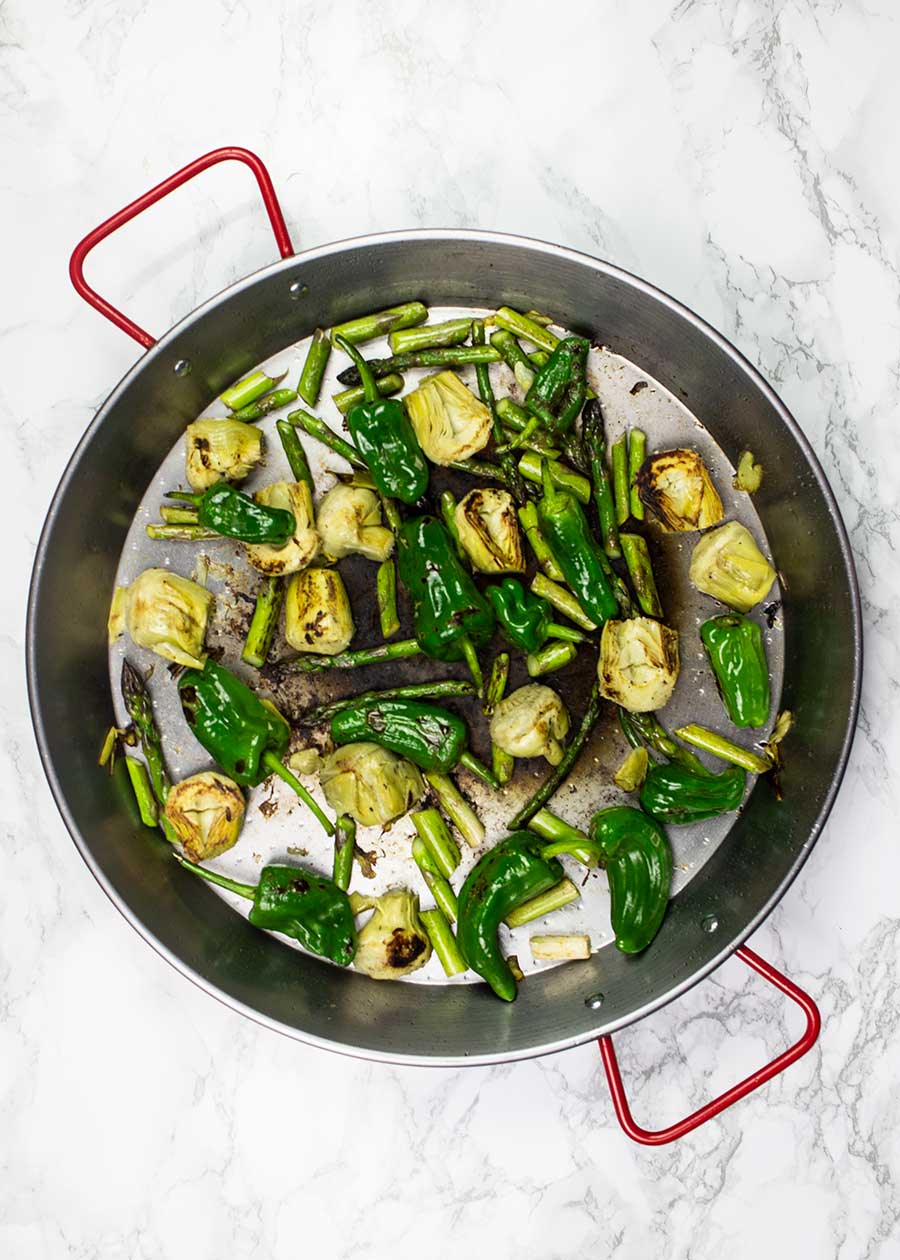 Artichoke hearts are one of the most antioxidant vegetables 
Artichoke hearts are the part in the middle of the large flower but thankfully they do come in tins so the preparation of them has been taken care of. Not only do they add a beautiful texture to this dish they are exceptionally healthy. Artichokes are especially renowned for their detoxifying effects and artichoke extract is used as a health supplement. Increasing your consumption of artichokes can have massive positive effects on your health. They aid the body produce bile in the liver which ferry toxins out of the body. They are also high in Vitamin C which is an important antioxidant in all body tissue and is needed for at least 300 metabolic reactions including producing collagen which is a major structural protein in the body. They are also high in vitamin K which is essential for healthy blood. 
Artichokes are also high in the plant compounds quercetin, silymarin and gallic acid which have been shown to have tumour inhibiting effects. 
There is no paella without saffron
The most distinctive flavour of a paella dish comes from the mix of paprika and saffron. Carotenoid plant-compounds are responsible for giving dark red fruits and vegetables their colour. These antioxidants are also extremely healthy for us. The phytonutrients crocin and crocetin in saffron which are carotenoids are particularly effective at protecting neurological cells against inflammation which could potentially help stave off diseases such as Alzheimer's. The particular taste of saffron is accredited to the compound safranal which is also linked to positive brain function and could help your memory and mood.
These compounds have also been studied in laboratories with their potential tumour inhibiting effects and their abilities to kill certain cancers including colon, breast, prostate and lung. Whilst turning these compounds actually into drugs may be far off, upping your consumption could be a positive step.     
So this easy paella recipe is not only tasty, authentic and visually stunning, it is loaded with energy, antioxidants and feel-good compounds. This is happy food at its best.
Have you made this easy paella recipe?
We'd love to see your paella creations! Please leave a comment below, share or tag using @anticancerkitchen on Instagram and hashtag it #anticancerkitchen.
More healthy rice recipes on the blog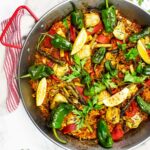 Ingredients
1 cup of short-grain rice

150g of artichoke hearts halved

150g of chopped asparagus

150g of Padron peppers

1 roasted red pepper (from a jar) cut into strips

1 white onion chopped

1 celery stalk chopped

3 garlic cloves chopped

1 cup or 250 ml of tinned chopped tomato

2 ½ cups or 600ml of vegetable stock with 1 teaspoon of yeast extract 1 tablespoon of pimento / smoked paprika

1 large pinch of saffron, about 8 strands

1 teaspoon of fennel seeds

Lemon wedges and fresh parsley to serve
Instructions
In a large oven to table pan or paella pan (we use 30cm), heat some extra virgin olive oil and fry the artichoke hearts and asparagus on medium-high heat for 4 minutes. Add the Padron peppers and fry to blister the skin for a further 4-5 minutes. Remove the vegetables from the pan and set aside.
Pour a little more olive oil in the pan and add the onion, garlic, celery, and fennel seeds and fry for 5 minutes. 
Prepare 600ml of vegetable stock with added yeast extract and add the saffron to infuse.
Add the pimento/ smoked paprika to the pan and stir it into the mix.
Pour in 100ml of the stock and the chopped tomato. Turn the heat up and cook for 6-8 minutes. 
Turn the heat back to medium heat and stir in the rice and spread evenly in the pan.
Pour over the rest of the stock. Cook for 10 minutes. Do not stir.
Arrange the roasted red peppers, artichokes, asparagus, and Padron peppers and push into the rice.
Cook for a further 8 minutes.
Garnish with lemon wedges and parsley.
Step-by-step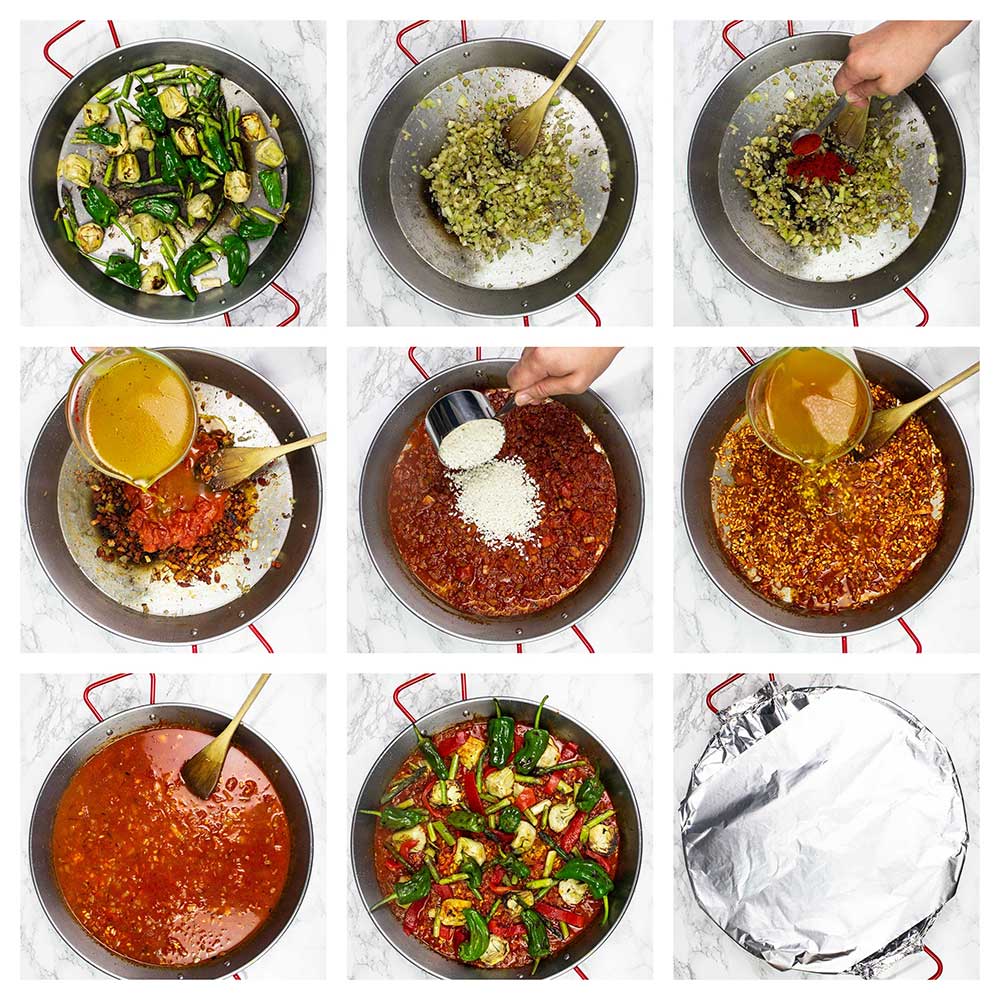 Copyright secured by Digiprove © 2020 The Anti-Cancer Kitchen