Craving mushroom fried rice? So did we, so we have created this delicious mushroom fried rice recipe that is simple, nutritious and full of flavour.
A bowl of rice is the most ancient of comfort foods. Healthy grains simply steamed or boiled then stir-fried with some vibrant vegetables. With this pure plant-based mushroom fried rice recipe we have added wonderful aromatic and hearty shiitake and porcini mushrooms that create a beautifully textured and deeply flavoursome dish.
Both of these mushrooms can be found fresh or dried and with this recipe we have used a mix of both as a re-hydrated mushroom can have an even firmer bite.
The preparation is simple and with the addition of some stock we created a nutritious bowl of food that keeps the simplicity of an easy mushroom fried rice yet adding a little velvety creaminess of a risotto too.        
Rice is the most abundant crop staple in the world making up about 20% of the world's dietary energy supply and there are over 40,000 varieties to choose from that will give different flavours, textures and nutritional benefits to your dish.
Mushrooms are also extremely easy to come by and deliver a great flavour with varying appearances, colours and aromas. Rice and mushrooms is as much a match made in heaven as two peas in a pod. We add a little pizazz and health with a little antioxidant called curcumin with the addition of turmeric and some far eastern flare with Chinese 5 spice.  Altogether, preparing our best ever mushroom fried rice couldn't be easier.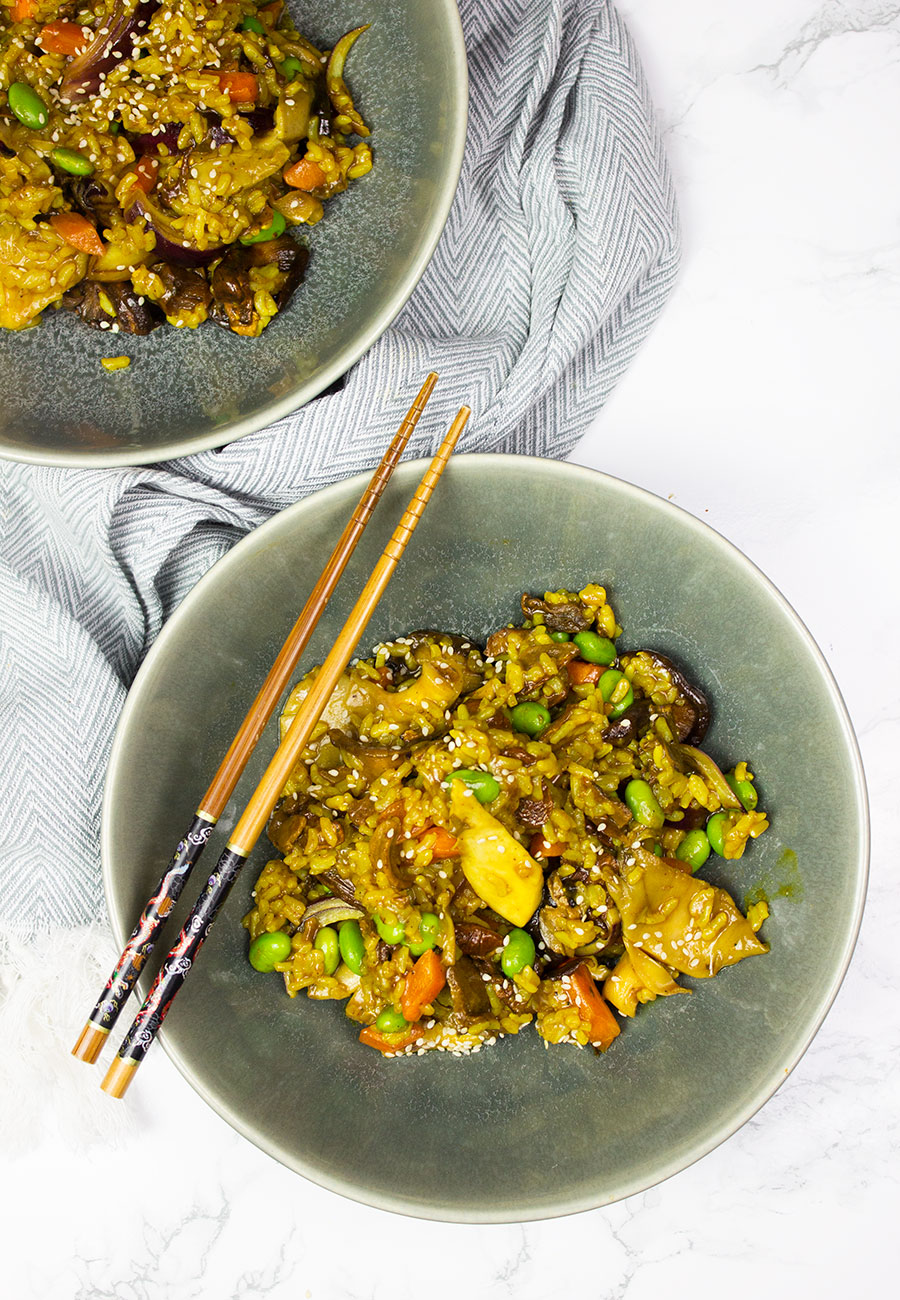 Choose your rice
For this recipe we have opted to use a short grained rice most used in sushi better known as Japonica or sushi rice. The reason we have opted for this rice is that we have wanted to continue with a home comfort theme. The overall texture of this dish is for a fried rice that sticks together soaking up flavour but keeps its distinct grain intact. Sushi rice sticks together much more easily which means we can give this stir-fried rice dish a dimension more seen in a classic risotto or paella. The asian flavours burst through and it's easier to use chopsticks so it goes down very quickly. If you want a much creamier texture then using arborio rice would be the choice grain to create more of a risotto. Another short grain rice we could recommend would be a calasparra or paella rice which is the rice generally used in a paella which has a very similar texture to Japonica and absorbs liquids in a similar way.  
There are further rice varieties to use such as a fragrant basmati rice which would offer you a lower glycemic index. This means that basmati rice is lower in saturated fat, fibre and protein with the starch taking longer to digest. When carbohydrates are harder to digest the body has an easier time regulating your blood sugar levels which is great for dieters and diabetics.
Jasmine rice similarly to basmati which is predominantly used to accompany many curry dishes and particularly in Thai cuisine. This is also a good variety to use for this stir-fry as it takes on flavours of the sauces it is served with. You'll often see this rice as an accompaniment to soupy curries such as a Thai Green Curry. 
A very healthy and nutritious option would be to use wild black or red rice which are much sturdier grains. Not technically rice but grass seeds  the antioxidant levels in these grains are higher than most varieties of rice and contain more fibre. It is the soluble fibre content of a food that when consumed will cling on to free radicals which cause inflammation in the body and flush them out of your system. Free radicals are negatively charged chemicals in the body that are molecularly unstable that set a chain reaction off with damaging effects to the cells of your body. These damaged cells can then turn cancerous. Upping your fibre consumption could potentially help lower the risk cancers and of breast cancer in particular as they will bind onto oestrogen hormones. However as these grains are more fibrous they also have a much firmer bite and do not take on other accompanying flavours so well, however they will retain a very unique grassy flavour that is very tasty.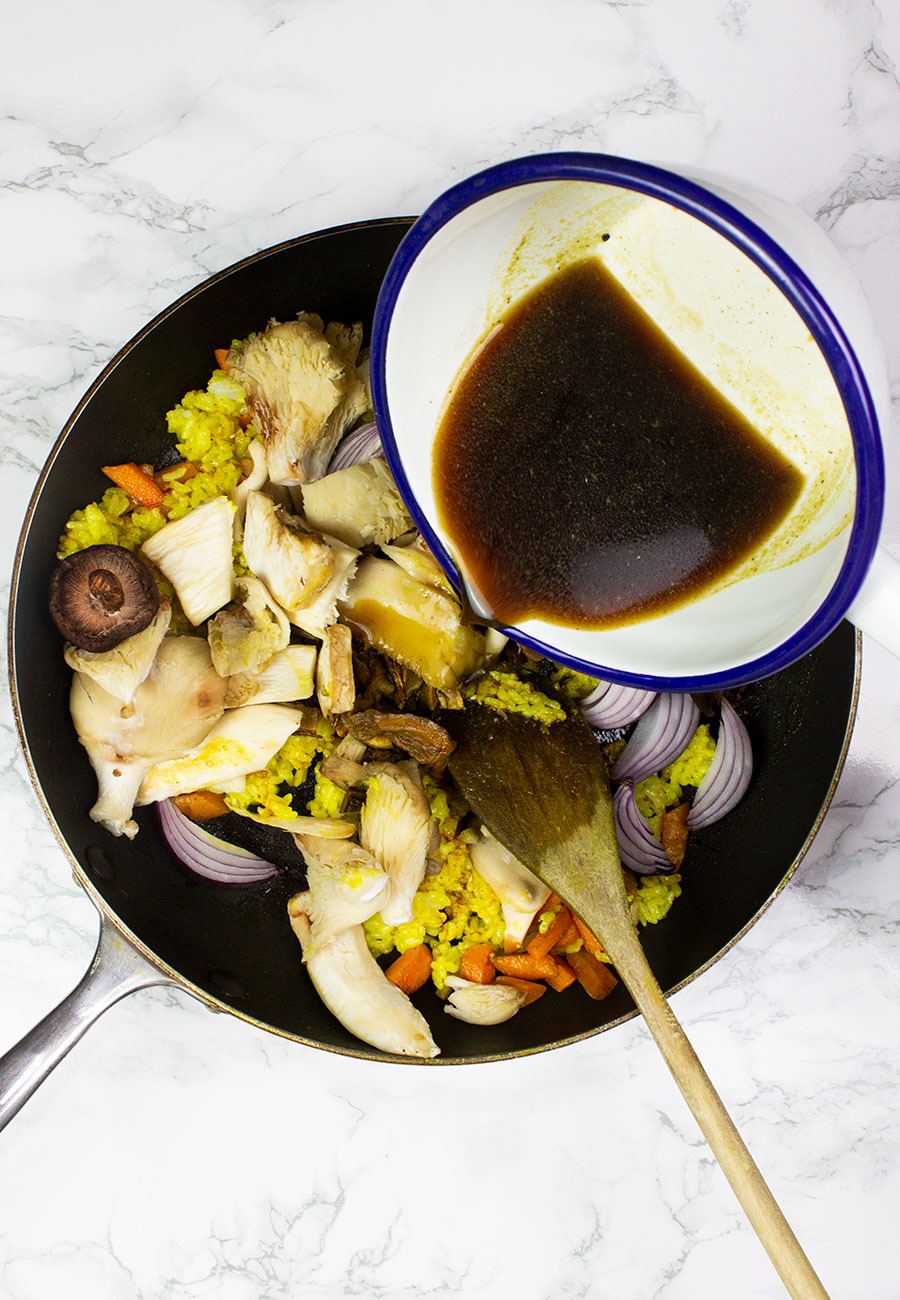 Mushrooms
There are a huge amount of mushrooms to choose from and all offer up a different delicate or earthy flavour or meaty or spongy texture. The health benefits are varied too. Pairing up mushrooms for a classic stir-fried mushroom rice would generally call for an asian variety but it doesn't have to. With this easy vegan recipe the porcini / cepe mushroom partners the exotic shiitake mushroom and they compliment each other really well. Both are firm to the texture and both have deep rich flavours that showcase the best of what mushrooms have to offer and it is these qualities that these mushrooms have are what is best for this dish. Both varieties are readily available in the shops too. Porcinis or cepes as they are called in France are an absolute staple and also host an impressive list of health benefits. Shiitake and porcini (as well as most mushrooms) contain the very important trace element selenium that is required in your diet. The major role selenium has to play for our bodies is that it helps regulate normal cell growth and repair and even "apoptosis" which is the programmed death of abnormal cells. The amount of this cancer fighting compound in food depends on what quantity is contained within the soil the crop is grown in. In parts of the world where selenium levels in the soil are low as much as six times the amount of cancer instances have been reported. Foods rich in this compound include algaes, Brazil nuts, mushrooms and whole grains.
Another amazing compound found in these mushrooms is a compound called 'lentinan' which studies have shown to have encouraging anti-tumour effects. The compound derived from certain fungi including shiitake is also administered by injection to cancer patients in Japan. 
Other mushroom varieties would work very well but some are quite hard to come by. If you can then try using these: 
Lion's Mane, which grow in clumps on the sides of trees, they have a meaty and stringy flavour and texture not too dissimilar to lobster or crab which is perfect for a stir-fry.
Hen of the woods resembles a cluster of oyster mushrooms and are prized for their medicinal advantages. When flattened and cooked this type of mushroom is often prepared as the vegan version of a steak, again though it is hard to come by.
Portobello mushrooms are the fully grown version of a button mushroom and are much meatier. They are however quite dark and tend to dye the food black if they are not rested after cooking.
King oyster mushrooms are beautifully firm to the bite and exhibit excellent flavours as does its smaller counterpart the oyster mushroom but does not become so wet when cooked so is also an excellent option.
Chanterelles have a unique flavour and are perhaps the most prized of all mushrooms. With their sweet, peppery flavour these mushrooms need to be treated as the star of the show rather than adding all the flavour of a dish like this.
Morels are also prized in culinary circles. They have a deep flavour and spongy texture and generally used to accompany dazzling dishes, their coral like appearance also captivate so you would be very lucky indeed to be able to use this fungus in a home comfort food.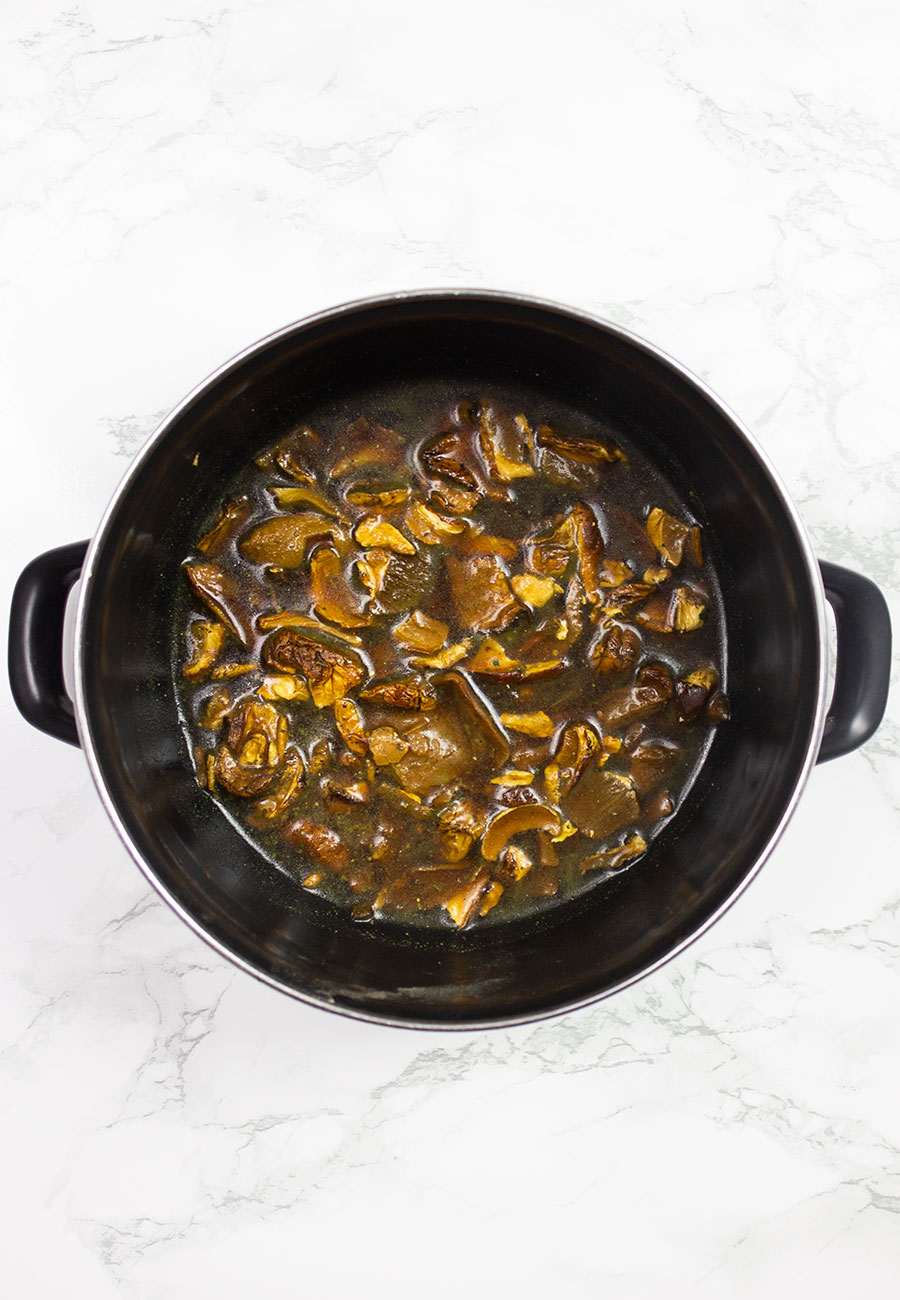 How to prepare mushroom fried rice
Rice
This is not a dish that needs slow cooking or patience to expertly execute its preparation. Once you have chosen your rice, simply cook it per its instructions and leave it to cool. The general rule of thumb is to measure your rice out, wash it and drain and use twice as much liquid to cook it in. Then bring it to a boil then cover and simmer on a very low heat until all the liquid has been soaked up.
Oil
Use an oil with a high smoking point. Peanut oil, soybean oil are traditionally used in asian stir-frying. Sesame oil too is very good but it is highly flavoured which could dominate the flavours of the mushrooms and spices otherwise used, in small quantities sesame oil is perfect for injecting another taste dimension so it is our recommendation to just drizzle a small amount to add flavour. Vegetable oil will always work and would tend to be the most prevalent in your kitchen cupboard if you don't have the other oils.
Frying
When your frying pan/ wok is hot add your vegetables and spices and flash fry tossing them in your oil. This is a quick process designed to heat your mushrooms and vegetables but not over cook them so that they become soft. You want a crunch and a firm bite after all and retain the fresh flavour.
Texture
Once your rice has cooled, fluff it up with a fork and add some rice vinegar as this will impart a wonderful asian flavour you would be used to in your sushi. Add this to the pan and incorporate in the oils. At this point is optional to add stock as to whether you want to create a creamier texture or leave the grains more distinct.
In our opinion, the more velvety the finished product, the more of an individual dish it is by itself rather than an accompaniment. Then that it is. Serve up and enjoy.
Step-by-step

Have you made this recipe?
We'd love to see your mushroom fried rice creations! Please leave a comment below, share or tag using @anticancerkitchen on Instagram and hashtag it #anticancerkitchen.
More healthy rice recipes on the blog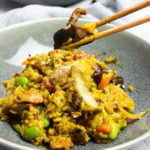 Ingredients
200 grams of fresh shiitake mushrooms (or mix of exotic mushrooms)

15g of dried porcini/ cepe mushrooms

1 cup of boiling water with 1 vegetable / mushroom stock cube to rehydrate the porcinis

1 carrot diced

1 onion diced

⅓ of a cup of shelled edamame beans

½ a cup of sushi rice

½ a teaspoon of turmeric

1 teaspoon of Chinese 5 spice

2 teaspoons of rice wine vinegar

2 tablespoons of wok oil

1 teaspoon of sesame oil
Instructions
Put the dried mushrooms in a bowl and cover with 1 cup of boiling water with the stock cube. Leave for 20 minutes to rehydrate, drain and reserve the stock
Put the rice in a pan and cover with warm water to soak for a minute then drain. Pour in 1 cup of fresh water over the rice and place on a medium heat and bring to the boil. Immediately the water boils turn the heat down to the lowest level and put a lid on the pan and cook the rice until all the liquid has been absorbed. Remove from the heat and stir in the rice wine vinegar and set aside to cool.
Add your wok oil to a large frying pan or wok and bring to a high heat. Add the mushrooms, carrot and onion and stir-fry using a wooden spoon to constantly move the vegetables around in the oil. Add the turmeric and Chinese 5 spice and fry for 2-3 minutes.
Stir in the rice, edamame beans and sesame oil followed by the stock (optional for a creamier texture) and fully mix through and serve immediately.

Copyright secured by Digiprove © 2020 The Anti-Cancer Kitchen