This vegan Thai green curry paste recipe is absolutely perfect. So green, so spicy and full of flavour. You won't get more authentic Thai flavours at home than this.
An authentic paste
Thailand is of the most interesting destinations for the food-conscious we've ever been to, especially after eating Thai food in cities around the world and eating Thai cuisine here at home. The food was outstanding from the street markets such as Chatuchak to the Goliath shopping mall food halls and the authentic local restaurants. Matt has brought a lot of exotic pastes home to replicate the experience however we have always found that something was missing. First of all, we don't think the freshness of a Thai curry paste travels well and secondly even though we can buy lots of South-East Asian ingredients here we don't think we use all of them to the best effect. Many of our local Thai takeaway restaurants, in fact, do not even produce an authentic curry, why?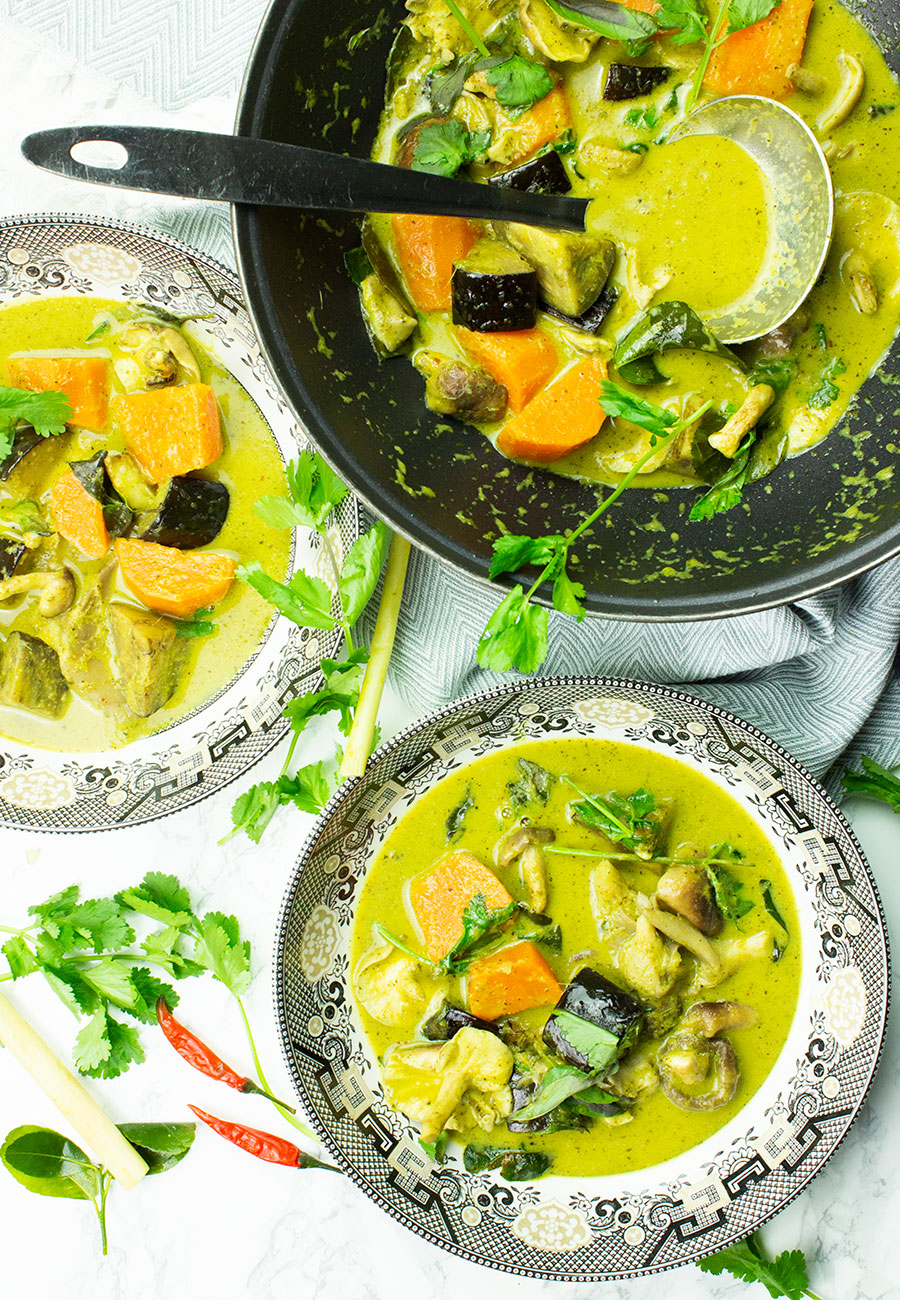 We've seen a lot of blogs and recipes trying to tell you how to make a good Thai green curry at home and to be honest most of them fail miserably. At The Anti-Cancer Kitchen, we focus on plant-based recipes, so if we can't even find an authentic Thai green curry recipe which is not plant-based that works how do you go about conjuring up a plant-based recipe that will not only work but be healthy, tasty and replicable.
It's not really acceptable to pass off recipes first of all that do not contain at least the majority of the correct ingredients. We see too much westernising such as adding avocados, green peppers or spinach to make a sauce greener, and too many recipes even missing out ingredients like Thai holy Basil or lime leaves because they might be a little harder to find. Of course, some recipes out there are good because most of what we need is actually easily available not least to say in the majority of good supermarkets but in the smaller Asian supermarket that are really not that rare.  We just don't think most go far enough and the best recipes are kept secret. It is the lesser-known key ingredients such as Thai Holy Basil, galangal (a root not too dissimilar to ginger), lime leaves and tamarind that are most important. Everything else is well known should be easy to source. Without these key ingredients don't even bother to attempt an authentic home-made Thai green curry no matter whom you found the recipe from.
Perhaps the reason we don't commonly find great curries here unless you dine in great restaurants is to do with the more unusual ingredients not really used in western cuisines such as fermented fish sauce and fermented prawn paste. These really give curries their unique flavours, purists would also say that the technique used makes all the difference too. It would seem that a lot of Thai condiments are scary as they are so pungent, so we just omit them which is obviously a mistake. It is, however, these flavours we have to replicate if not use to make an authentic curry. The fermentation process that gives this flavour is in a few other very good products though that can be used in a plant-based curry. Kimchi, for example, which is a fermented cabbage dish used in Korean cuisine and miso paste which is a well known fermented soy bean paste as well as nutritional yeast. Kimchi has it happens is under research just as olive oil was when the Mediterranean diet was seeing people living longer as it has been estimated that South Koreans (who eat Kimchi on a daily basis) will live longer than anyone else by 2030. Not only does this superfood contain healthy gut bacteria that convert sugars and carbohydrates into lactic acid it is also made with other ingredients such as onion, garlic, ginger and chillies which researchers believe multiplies its potency. Look however for vegan versions as some kimchi is prepared with fish sauce.
How to make a vegan Thai green curry paste
A classic Thai Green curry already uses Thai basil which is a nutrient-rich anti-inflammatory and turmeric which is perhaps the most well-known of the cancer-fighting ingredients. So, used in conjunction with this superfood kimchi (billed to help people live longer) there is a massive reason to make your own Thai green curry paste rather than reaching for your run of the mill paste or follow an online vegan recipe where would it be fair to say wouldn't know how to re-create a flavour or texture normally found in non-plant-based proteins. Trust us, if you want 100% vegan without having to compromise on flavour then you will like this better than the alternative.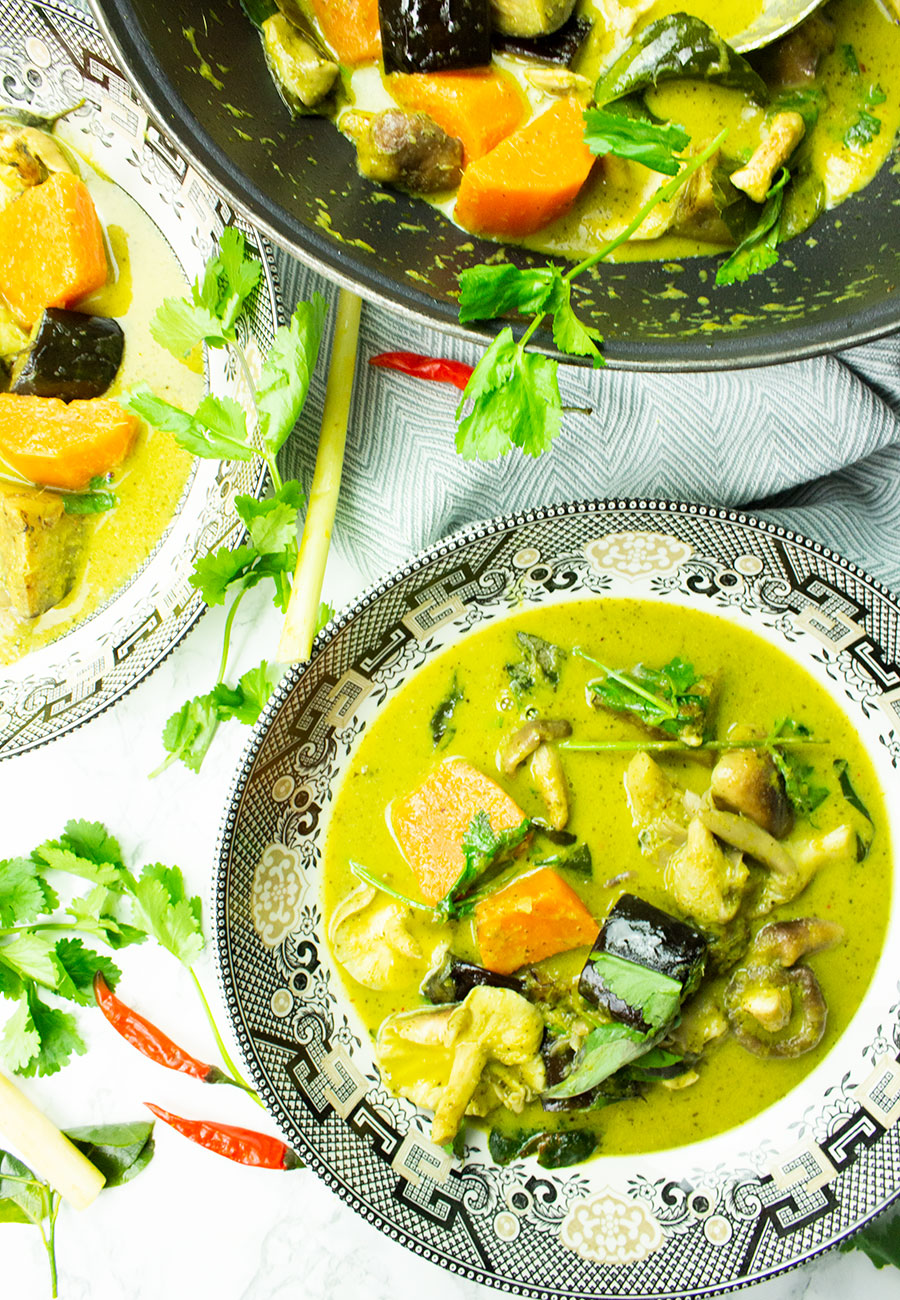 Other delicious curry recipes on the blog
Have you made this Thai green curry paste recipe?
We'd love to see your food creations! Please leave a comment below, share or tag using @anticancerkitchen on Instagram and hashtag it #anticancerkitchen.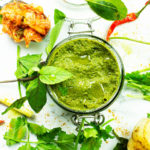 Ingredients
20g of coriander leaves and stalks or root

20g of Thai Holy Basil

25g of galangal (you can use ginger as an alternative)

20g of kaffir lime leaves

2 stalks of lemongrass (chopped)

2 peeled and chopped garlic cloves

2 tablespoons of vegan kimchi or nutritional yeast

1 tablespoon of miso paste

1 peeled and chopped banana shallot

Juice of ½ a lime

½ teaspoon of dried Thai chilli flakes

1 teaspoon of tamarind paste

½ teaspoon of turmeric powder

1 teaspoon of olive oil
Instructions
Simply combine all the ingredients and either blend with a hand blender or if you have a large heavy pestle and mortar pound the ingredients to a paste.

Copyright secured by Digiprove © 2020 The Anti-Cancer Kitchen