A morning ginger shot is an easy and effective way to stimulate and invigorate the senses. The simplicity of combining two very easy to source ingredients such as apples and ginger not only pair up for a formidable flavour that is strong, sweet and spicy it delivers an intense nutrient blast instantly into your system. This ginger shot recipe with apple is quick and simple to prepare without having to overthink ingredients and flavours, it is designed as a quick and healthy pick me up and easy to add to an everyday hassle-free routine.
To create the ideal mix of sweet and spicy without being sickly or blowing your head off we have found that the ratio of 6 parts apple to 1 part ginger works perfectly.
Why should you juice 
Juicing is really easy and helps use up fruit from your fruit basket, especially if they are nearing past their best. It has been suggested that juicing can deliver the fruit's nutrients straight into your system and therefore absorbed quicker and more easily. The juice of fruit and vegetables do contain the most phytonutrients, vitamins and minerals. By potentially giving these nutrients a more direct route into the body these concentrated plant compounds could then potentially lower the risk of chronic diseases such as cancers.
To help you detoxify and boost your immune system consuming the whole fruit or vegetable is certainly recommended as you keep in all the fibre but of course, juicing is another way to add fruits and vegetables to your diets and especially helps children who may not normally like to eat fruit. 
Another reason to juice is to create amazing flavours easily consumed that is simply not possible by blending or eating the whole food. With this two-ingredient ginger shot recipe you will certainly get a hit of sweet flavoursome and juicy apples and the spicy aromatic punch of ginger in no time at all.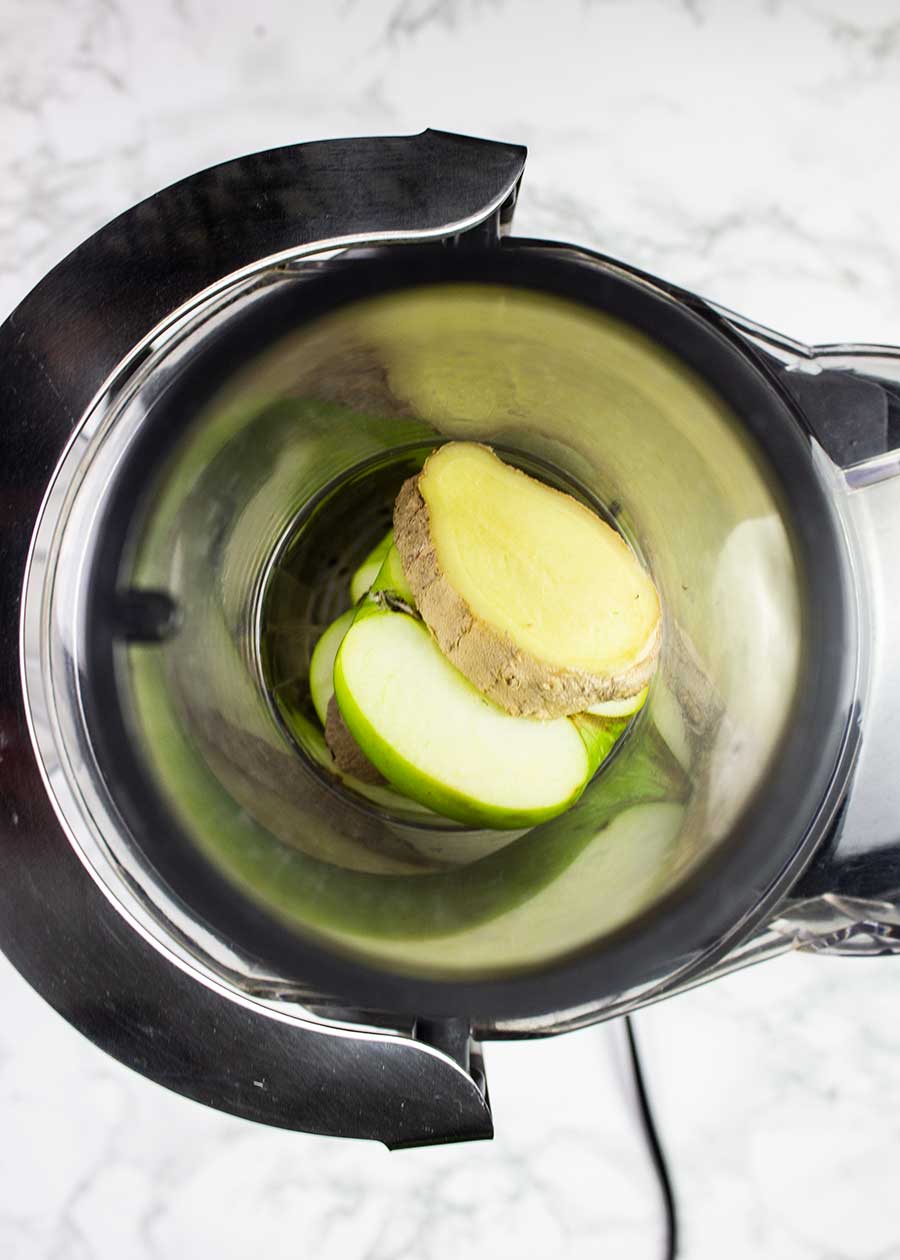 An apple a day keeps the doctor away
Apples are one of the easiest fruits to have on a daily basis. There is no need for peeling so you can just pick it up and eat it on the go. For this easy shot you don't need to peel it either, just discard the core. 
Apples come in many varieties too that will give a different dimension to your shot. For example, red apples contain more antioxidants and appear higher on the ORAC score which is the Oxygen Radical Absorbance Capacity score where each fruit and vegetable is graded on its antioxidant potency. Here is a quick guide to some apples and their differing flavours
Golden delicious – soft and subtle

Mutsu – very juicy and great for smoothies

Gala – sweet and crisp, perfect for snacking

Pink Lady – sweet with a soft but firm bite, great for pies

Cox – a honey aroma with a good balance of sweet with a firm bite

Granny smith – intense tart flavour and very crisp

Jazz – fairly tart but very juicy with an almost pear aroma

Red delicious – soft but juicy, not good for cooking but amazing to snack on.
Whichever apple you choose they all contain lots of vitamins and nutrients.
Apples have also been linked to good neurological health as they are high in a plant compound flavanol called catechin which is a potent antioxidant that can protect cells such as brain cells against oxidative stress. Catechin which is also high in green tea, as well as apples, has also been linked to the reduction of cancers due to this antioxidant capability too. 
Oxidative stress which can lead to inflammation will also affect the body's resilience to other chronic conditions such as diabetes and stroke so consuming more apples a day really could keep the doctor away.
Ginger power
Ginger has been used for centuries for its medicinal properties. It is a flowering plant native to China but it is the root that is used for its powerful sweet and spicy flavour. Traditionally it has been used to treat infections, colds and sores. It has also been shown to relieve pain and especially menstrual pain. 
Ginger is related to turmeric and likewise has a whole host of health benefits. The essential oil gingerol it contains is a powerful antioxidant and inflammatory that can lessen nausea from morning sickness, seasickness and even potentially relieve sickness for patients undergoing chemotherapy.
Another very welcome effect that ginger can deliver is the ability to ease sore muscles and fight chronic indigestion. So not only is this very tasty, it can be very relaxing to consume if not slightly spicy as with this ginger shot recipe.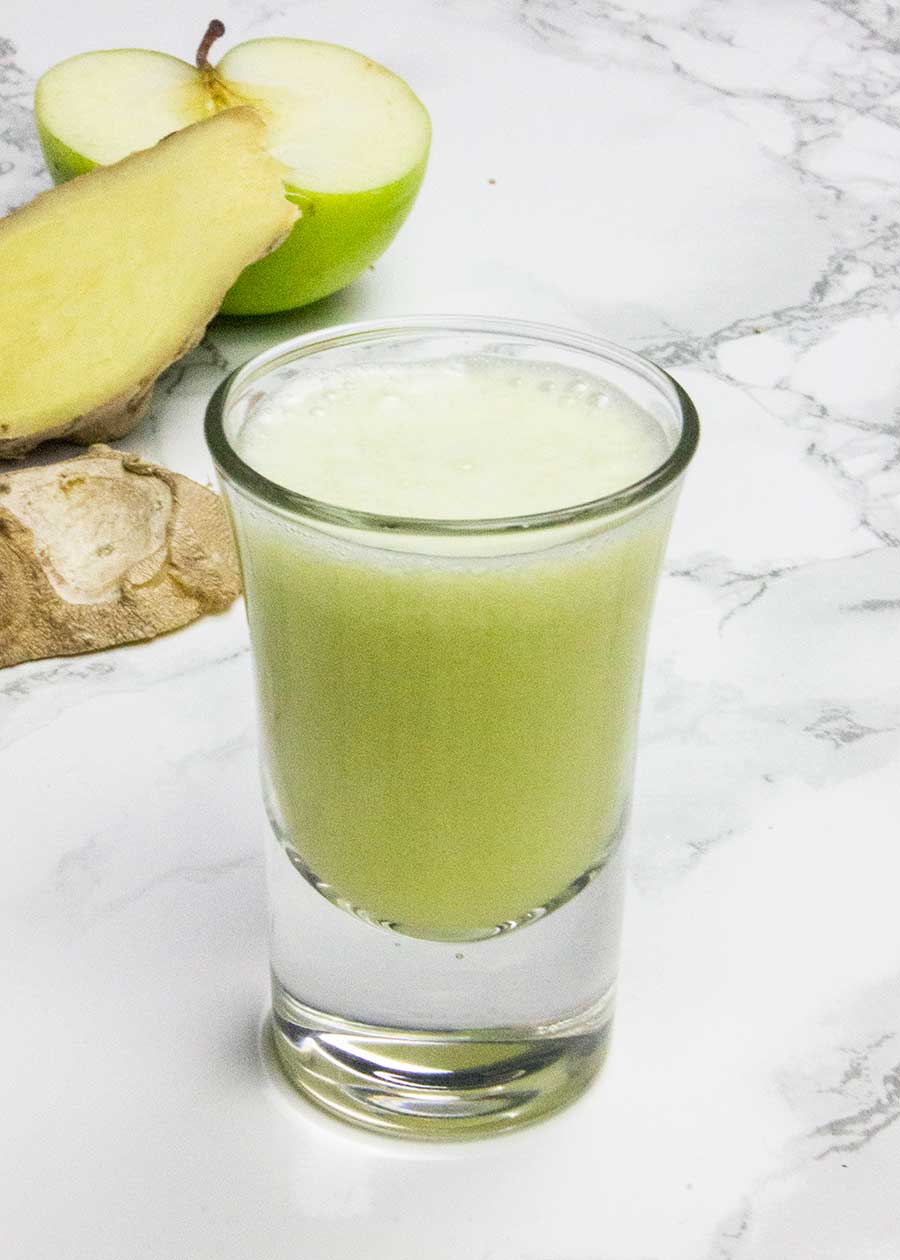 When to take and how to store this ginger shot
Like most fresh juices this shot is best enjoyed straight from the juicer. You can leave it for up to 2 days in the fridge but it will start to discolour almost instantaneously. Also as it is so powerfully flavoured instead of using in a shot it can also be added to your normal breakfast juice to add more oomph to awaken the senses. Of course, you can add more ingredients such as turmeric for an even more antioxidant hit. Check out our other morning revitalising juice shots such as our turmeric and apple shot. Also, use this for times when you feel weak and tired and need a small homemade boost.  
Other healthy wellness drinks on the blog
Have you made this ginger shot recipe?
We'd love to see your shot creations! Please leave a comment below, share or tag using @anticancerkitchen on Instagram and hashtag it #anticancerkitchen.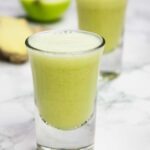 Ingredients
1 fresh apple cut into pieces that will fit through your juicer

Fresh ginger root (1/6 of the size of your apple)
Instructions
Wash all the fruit.
Press the apple pieces and ginger through your juicer.
To get the most flavour out of your ginger, sandwich the ginger root between the apple quarters, then press through the juicer.

Copyright secured by Digiprove © 2020 The Anti-Cancer Kitchen