My go-to breast cancer fighting juice is incredibly simple. Just juice carrots, apples, beetroots and ginger and there it is – a delicious cancer fighting drink that you can sip on throughout the day.
Being a cancer fighter is not easy. Breast cancer is everywhere! I am totally breathing it, eating it, dreaming it and totally obsessing over it. When will it ever get easier and will life ever go back to what it used to be? It's been 9 months since my diagnosis, 4 months since my last chemotherapy and almost 3 months since I had my surgery. People are saying, "soon you can go back to normal".  Well, what is normal now then? Cancer is not a flu or a bug that goes away after a week or so, cancer is like a parasite that is invading your body and mind.  Cancer changes you.
It has been 9 months and it's still in the centre of my life. Countless letters from the doctors and so many more appointments to attend and treatment days to do. But I am getting through it right? I am getting better. The distressing part is though, as soon as I am starting to feel a little bit like my self again, boom, something else happens and I am back in that doctor's cabinet again discussing early menopause and allergic reactions. I am trying not to obsess over it but I am not going to lie it is very hard to not think "what is happening to me" and all the"what ifs".
This month is the breast cancer awareness month and my heart goes out to all these brave ladies (and men) that are amazing cancer fighters and thrivers. Well done and keep on fighting and thriving. I am trying for sure.
Breast cancer fighting juice recipe
This month's juice is a breast cancer fighting juice and I am drinking it a lot.
Not only is it deliciously deep pink but also recommended for prevention of breast cancer as it is incredibly antioxidant and anti-inflammatory. It helps suppress the growth of cancer cells and stops cell mutation. It contains only four ingredients and they complement each other beautifully. The ingredients are: 
Beetroot
Carrot
Apple
Ginger
Beetroots are wonderful vegetables as they can increase oxygen within the blood and help to eliminate waste products. Moreover, beetroots are an excellent source of calcium, iron, vitamins A and C, folic acid, manganese, potassium and betaine. For more cancer fighting juice recipes, click here. 
Have you made this recipe?
We'd love to see your juice creations! Please leave a comment below, share or tag using @anticancerkitchen on Instagram and hashtag it #anticancerkitchen.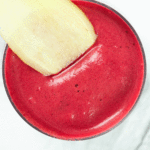 Ingredients
4 carrots

4 apples

4 beetroots

5 cm ginger
Instructions
So, all you need is a juicer and juice the four ingredients.

Copyright secured by Digiprove © 2020 The Anti-Cancer Kitchen