Vegan bacon recipe for those who crave a good old bacon sandwich. Our vegan bacon is a healthier alternative and does not compromise on taste and comfort.
Delicious bacon adds a unique, sweet, smokey, salty flavour to numerous dishes. Cooked in differing methods it can either be soft and chewy to crispy or even crispy and chewy. Dependent on what dish you are looking to prepare will depend on which type of bacon you want. For vegan bacon dishes finding the right ingredient to start off with is important, as well as which point to add it into your dish too.
How to make the best vegan bacon recipe
What you want from vegan bacon is a mouthful that is smokey, salty and full flavoured and either crispy or slightly chewy. Whilst techniques remain similar such as marinating and drying, plant bacon can be made from varied plant sources that will have different end results. Vegetables can have a higher water content for example and a more individual original flavour. Carrots for example taste unmistakable of carrots, as do aubergines and mushrooms taste of aubergines or mushrooms. Other plant-based foods such as tempeh, tofu or even rice paper will have a limited flavour to start with but can be a good choice for very crispy plant-based bacon pieces but sometimes lack the extreme flavour that is really the intrinsic nature of bacon. 
With the flavour in mind and especially in relation to vegetables, what you can either do is add some bacon flavour and texture to the vegetable so that the original flavour is accentuated with bacon or try to replace the flavour entirely by taking away its water content and ergo its distinct taste and replacing it with new moisture provided by a marinade. This process requires lengthy treating via dehydration and rehydration methods, most of which most of us neither have the equipment or predisposition to do. One way to create vegan bacon is to brine the vegetables. This way the salt in the brine through the process of osmosis replaces much of the original moisture in the vegetable with salt. Then, with the addition of a few carefully selected ingredients which add sweetness, smokiness and more umami you will end up with vegan bacon that tastes of bacon.
Vegan bacon rashes made with eggplant/aubergine
Using the initial vessel of an aubergine/eggplant you can create the almost perfect habitat for a new bacon flavour and texture. You can also alter the finish of the eggplant/aubergine bacon to be either representative of a soft rasher of bacon or nice a crispy such as what you would expect to find in a sandwich or burger. 
What you need:
Peeled eggplant/aubergines, which you then cut into 1cm thick slices. You can cut the slices in half lengthways if you want a more streaky bacon look.

A good marinade/brine made of 1 tablespoon of salt dissolved in 500ml of water with added soy sauce and tamarind paste for umami, garlic granules, onion powder, fennel to bring a savoury roundedness and paprika to add smokiness. If you have smoked garlic then use that in place of garlic granules. Last of all maple syrup adds not only sweetness but a hint of maple that is often used to cure traditional bacon. Molasses works as does agave syrup.


The simple aspect of this vegan bacon recipe works well but you just need time, as you would if you were to marinate vegetables for a bbq. The best way is overnight but certainly a minimum of a couple of hours. Add the marinade ingredients to a large pan and bring to the boil. With this recipe using a base of water for the brine not only does the flavour distribute nicely throughout the eggplant/aubergine pieces but it creates a nice colour.
This is especially important in the finishing process as marinades which don't include a brine can all too often create a nice deep colour, but when you need to crisp up the bacon for certain recipes then the colour goes even darker and sometimes burnt looking which is then unappealing.
Once the brine is boiling then arrange the slices of eggplant/aubergine around and simmer for a minute and then the heat off. This allows the eggplant/aubergine to soften up appropriately and then take on the flavours of the marinade better.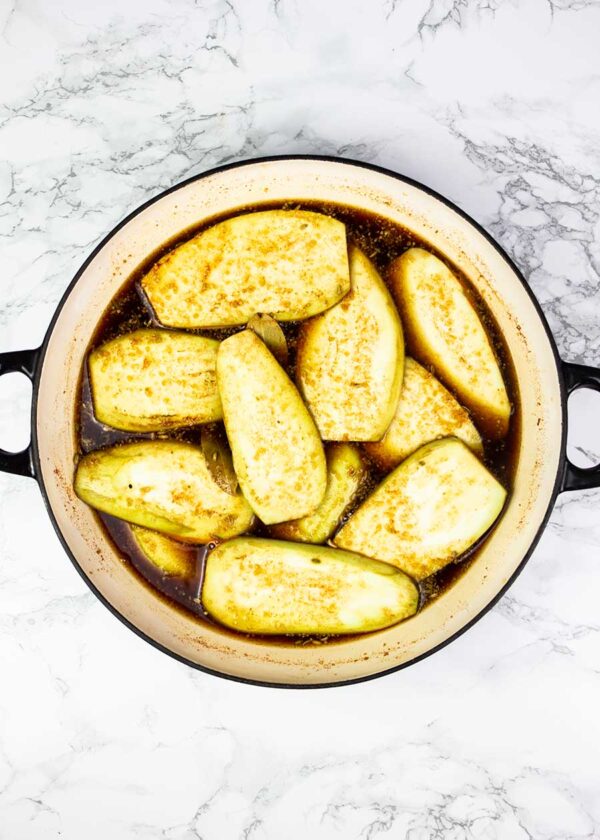 Once cooled, place the slices and the marinade into a sealable freezer bag and store in the fridge overnight. You can get away with 2 hours but the longer the better.
Once nicely marinated, remove the eggplant/aubergine and arrange on a rack to place into a fan oven at 248°F/120℃ for 1 ¼ hour.
The fan helps the eggplants/aubergines to dry and create a firm meaty texture. Once cooked at this process you can store the aubergine bacon rashers in the fridge until you need to use them. As they are you can add them to stews as they are powerfully flavoured with a nice meaty texture, or you can fry them in oil and really crisp them up. This is perfect for a sandwich such as a classic bacon sarnie with tomato or brown sauce, a club sandwich or BLT or for topping burgers, salads or to use in a fantastic vegan coq au vin.
The taste is amazing and the feel of these best-ever vegan bacon slices certainly feel as naughty as the originals. However, they are totally plant-based and far healthier than their original counterparts too. 
Cancer Research UK recommends eating a diet high in vegetables, grains and pulses Adding vegetables high in antioxidants such as eggplant/aubergines into our diet to take place of processed foods and especially red meats are a great way to augment your health regime.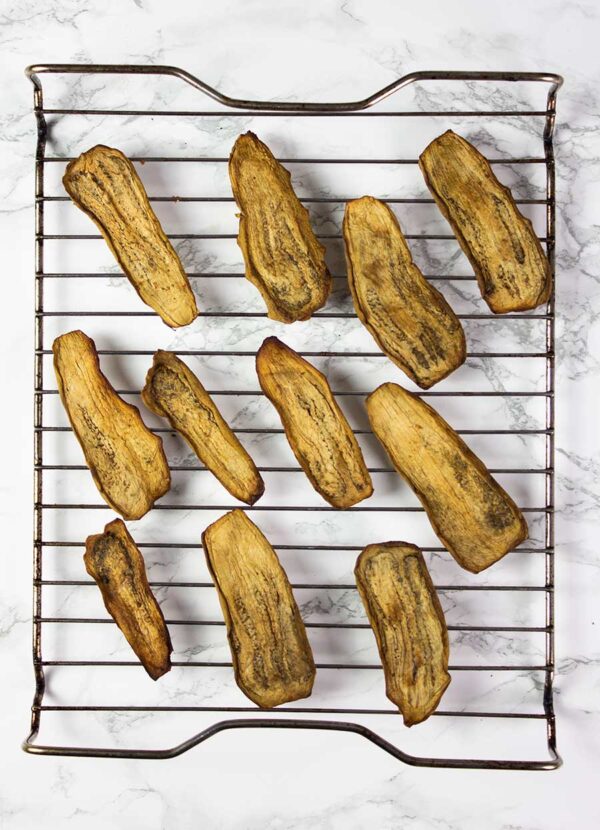 Healthy pigments such as anthocyanins in eggplants and especially one called nasunin have been linked to reducing harmful free radicals in the body. Vegan bacon that truly tastes great help us to reduce the foods that we need to minimise for a cancer-fighting diet. Processed foods such as bacon, in particular, have been placed in the risk to health category. When a product tastes so good such as bacon, it would be a good idea to find a replacement for it  
Eggplants/aubergines also contain another compound solasodine rhamnosyl glycosides (SRGs). Test tube studies have shown that these compounds have been shown to stimulate apoptosis which is the programmed death of cancer cells. Certain studies have suggested that they can help keep certain cancers at bay which would make our plant-based eggplant/aubergine bacon a firm favourite alternative.
Other meat alternatives on the blog
Have you made our vegan bacon recipe?
We'd love to see your food creations! Please leave a comment below, share or tag using @anticancerkitchen on Instagram and hashtag it #anticancerkitchen.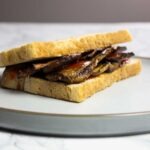 Ingredients
2 eggplants/aubergines peeled with a potato peeler

For the marinade/brine:

2 cups or 500ml of water

1 tablespoon of sea salt

⅓ of a cup or 80ml of dark soy sauce

3 tablespoons of maple syrup

1½ tablespoons of smoked paprika

1 teaspoon of fennel seeds

1 teaspoon of (smoked) garlic granules

1 teaspoon of onion granules

1 bay leaf
Instructions
Add all the marinade brine ingredients in a large pan and bring to a simmer.
Chop the top and a little off the bottom of each eggplant/aubergine and peel and discard the skin. Slice each eggplant/aubergine into 1cm thick long slices and place in the simmering brine for 1- 2 minutes. Turn the heat off and leave to cool.
Transfer into a freezer back or sealable container and leave in the fridge overnight or a minimum of two hours.
Drain the eggplant/aubergine slices and place on oven racks in a 248°F/120℃ fan oven for 1 ¼ hour.
Step-by-step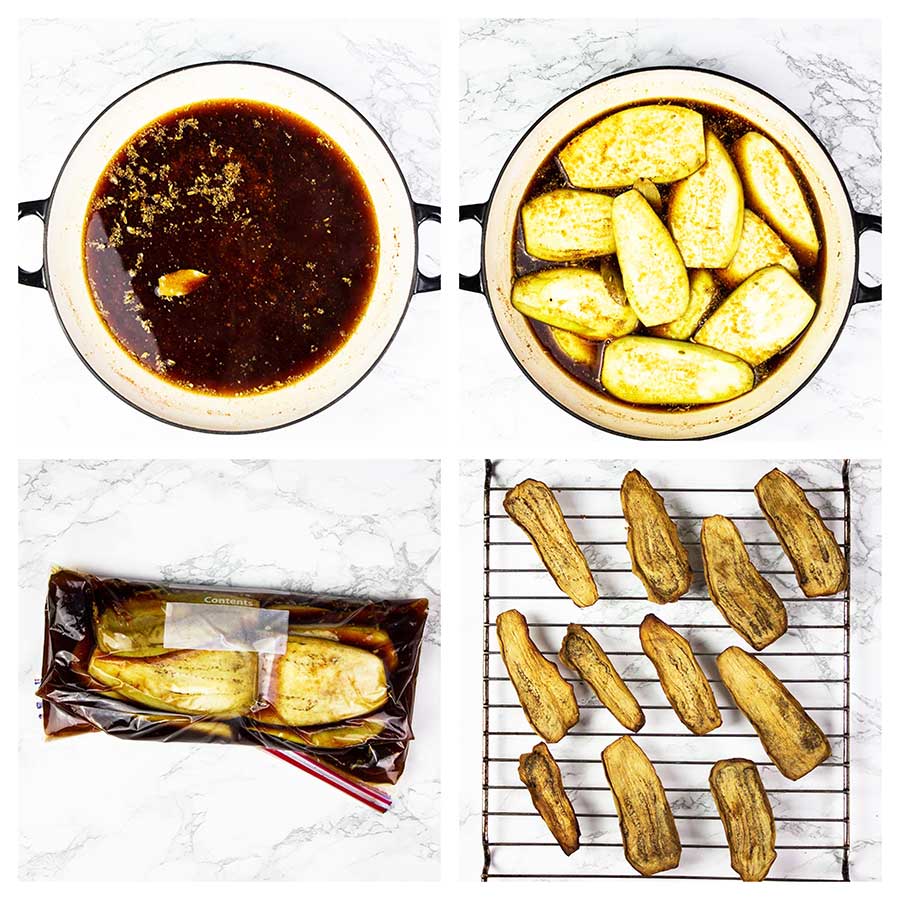 Fry in some olive oil for 2 minutes to crisp up and serve.

Copyright secured by Digiprove © 2020 The Anti-Cancer Kitchen