Healthy vegetable stir fry packed with green vegetables is the perfect quick dish any time of the week.
We have created this noodle recipe with a few factors in mind. First of all, we wanted to create something quick and easy. A stir-fry is certainly a quick meal to put together. It is also a great way to maximise your nutritious vegetable intake. Just slice and dice your favourites and pack them into a hot wok. What's more is that by cooking healthy vegetables with this method, they don't take a long time to get hot and therefore retain much of the goodness that often gets lost when cooking for longer periods of time.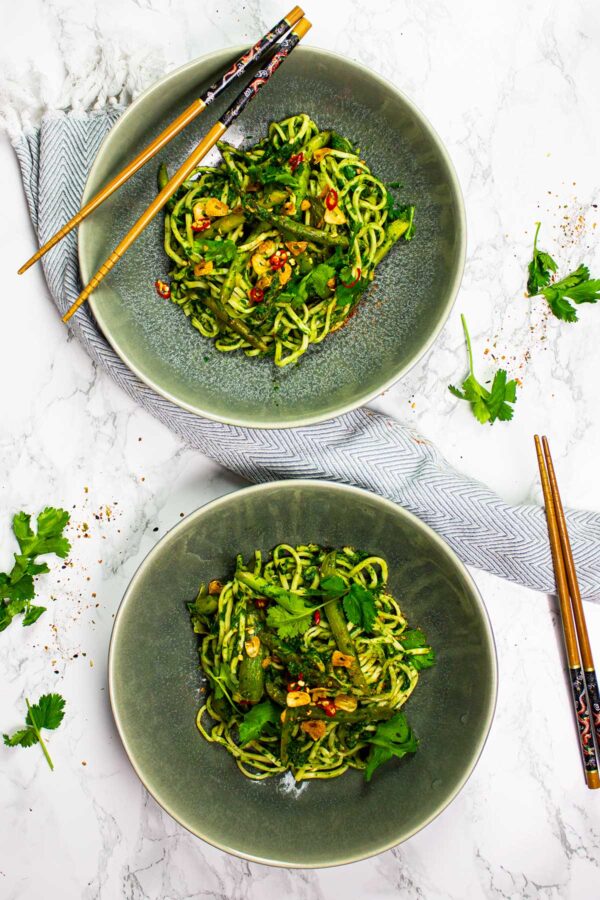 Homemade vegan stir fry that is healthy
Stir-frys, and especially the sauces can be quite often full of starch and sugars. It is these ingredients that when you are looking to transition to a plant-based diet that is unfortunately abundant in vegan and vegetarian foods. Perhaps it is the mis-association of vegetables, pulses and legumes and blandness that leads to this. Or perhaps it is the lack of enterprise when creating plant-based meals that end up with an over-addition of unhealthy sugars. In fact, many vegan restaurant menus and indeed vegan recipe books are full to the brim with fast food items and a lot of shop-bought sauces. If you are going to cut out meat and eat plant-based for your health then don't make the mistake of thinking just because it is not meat it must be healthy. And if you are feeling lazy, you definitely don't need to reach for a takeaway menu or microwave dinner. 
It is also this deliberation over what to cook or not cook and get a take away that is another factor in the creation of this healthy vegetable stir fry. A classic Chinese stir fry is often a choice favourite for an evening meal. However this stir fry is different, this is loaded with nutrition, taste and vibrancy and omits unhealthy ingredients. It is something we'd love to see on our local take out menu, but as we can make one so quickly that is amazing, would we ever order it?
We absolutely love Chinese food, but previously much of our old favourites were either meat or shellfish. Apart from the odd vegetable spring roll, recalling a favourite vegetable dish is quite difficult. This healthy vegetable stir fry does break the mould.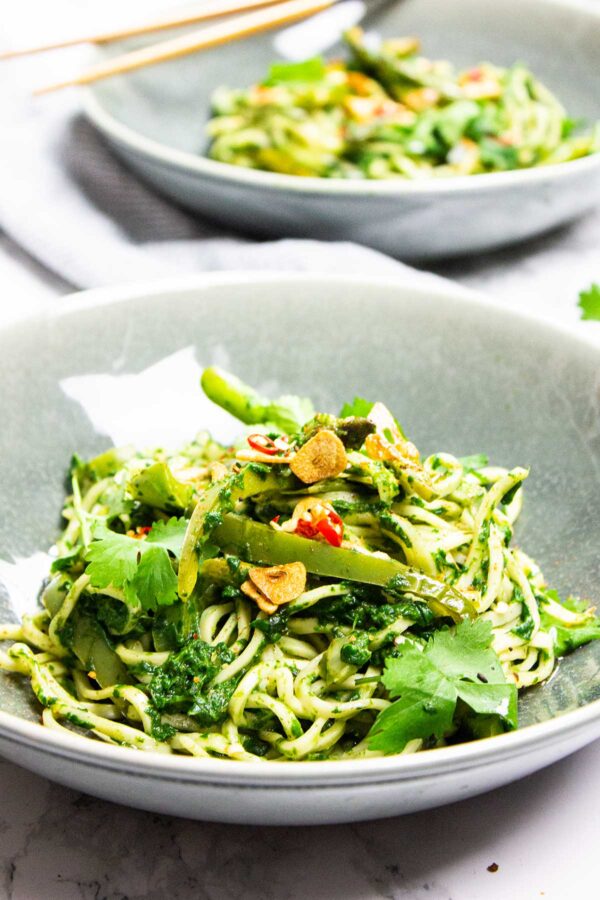 Noodle dishes (we use vegan noodles) don't usually get the plant-based treatment like a pasta would. It is this thought process that leads us on to the last factor we had in mind on the creation of this really quite easy to prepare, flavoursome meal. Noodles are essentially eastern ribbons of pasta and if you think about plant-based pasta dishes then there is a world of inspiration. Spicy tomato sauces, fresh pestos with whatever herbs and spice mixes you want, there are hundreds of smooth vegetable fillings inside tortellinis or raviolis such as pumpkin or beetroot. For every meat or cheese sauce, there is a vegetable equivalent. A primavera sauce is just a wonderful fresh mix of vegetables. What's more, is that it is very seasonal too. Eating seasonal food is also great for many reasons too. Not only will it help your local economy as you will be buying produce that will be from local producers and that produce will, of course, be fresher. Also, eating seasonal food is actually more likely to increase your food repertoire as throughout the year, differing vegetables will come into season giving you another opportunity for dishes to cook, rather than the same old meals many of us have been guilty of only cooking time and time again. So, in the wintertime when hardy vegetables are grown you can pack your noodles full of greens such as crisp cabbages, broccolis, nutritious kales and leeks for example. In the spring, you have new season soft asparagus, crunchy carrots, chives, aromatic fennel and pulses. For summer, all those fresh, vibrant vegetables often associated with a Mediterranean diet are harvested such as plump tomatoes, sweet peppers, fresh cucumbers and sweet and peppery red onions. If you want you could add berries too. Then in the autumn/fall you have loads of squashes from turnips to butternut and also lots of cruciferous vegetables like cauliflowers. 
So, making a simple primavera sauce for noodles or pasta at different times of the year will give you not only a satisfying answer as to what to cook, not only as it will be satisfying for what you are yearning for as often the seasonal produce at that time is what we are craving in our diet but it is satisfying in the fact that these vegetables will be packing the shelves of your shops and make it a very easy choice of what to buy.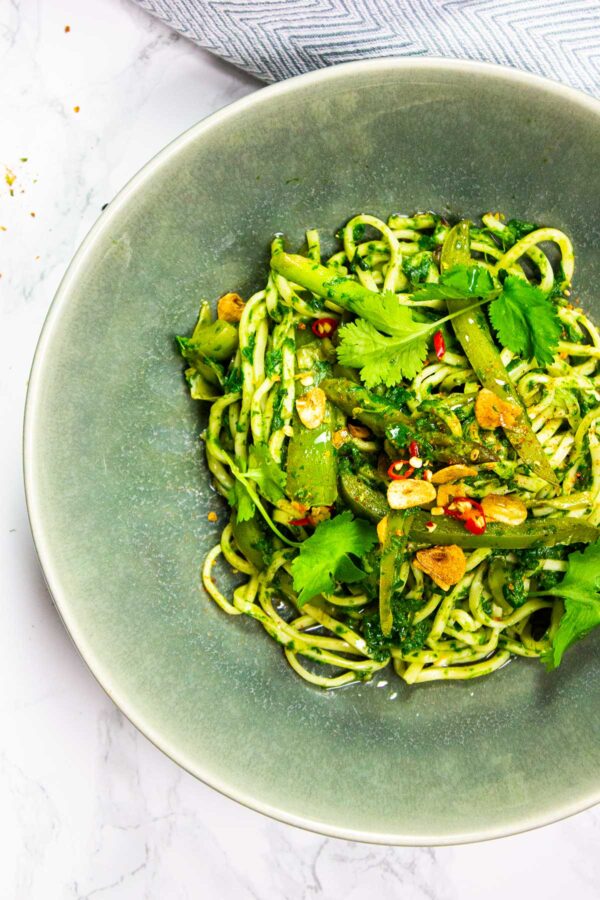 How to make the best-ever healthy vegetable stir fry
With this noodle dish, however, it isn't just putting pasta sauce with noodles! This is taking inspiration of both cuisines and creating a subtle fusion with minimal effort. Both in Italian cuisine and Asian cuisines, much of the same ingredients are used, spinach, green peppers, asparagus for example and garlic are prevalent in both as are herbs and spices such as coriander, and ginger. It is just the techniques that differ somewhat. There are also many interchangeable ingredients that will give a dish its identity hailing from one country or the other such as in Italy, white wine or a marsala wine is often used, simply swapping this for Chinese Shaoxing wine is an easy change for a tasty fusion dish.
For our vibrant, healthy super green sauce we start off with slicing 2-3 garlic cloves and frying them in olive oil until they firm up. This is the Chinese way. We then reserve this in two halves so that we can garnish the final dish with some for a tasty and crunchy Asian flavour and also so we can blend half with the sauce for an added garlic hit too. After about a minute of cooking the garlic and removing it, we add the spinach to the pan to wilt. At this point in Italian cooking you may add herbs such as oregano, fennel, basil, sage or rosemary and perhaps a little chilli (which does work in this dish if you like too) however at this point we add the Chinese flavours which are fresh coriander, Chinese 5 spice, a combination of fennel, black pepper, bay leaf, cinnamon (often seen in Italian food) and star anise then a little fresh or ground ginger and Szechuan pepper and finally a splash of Shaoxing wine. Once combined we add the stock and blitz together in a blender or food processor. You do not need to create a totally smooth sauce as a pesto-like texture we think looks better.
That is the sauce taken care of. The only thing left to do is to use your seasonal greens and slice them into long thin strands. We have used green pepper, asparagus and cabbage. For the noodles (bought) you only need to boil them in water for 4 minutes then drain. It is almost as easy to wok the vegetables. A wok oil or groundnut oil has a high smoking temperature which is good to fry with. It will only take about 5 minutes for this amount of vegetable in this recipe to cook to perfection which all you need to do is add the noodles and stir in your sauce at the very end. Other than garnishing your meal it is now ready.
More delicious and healthy Chinese recipes on the blog
Have you made our healthy vegetable stir fry recipe?
We'd love to see your food creations! Please leave a comment below, share or tag using @anticancerkitchen on Instagram and hashtag it #anticancerkitchen.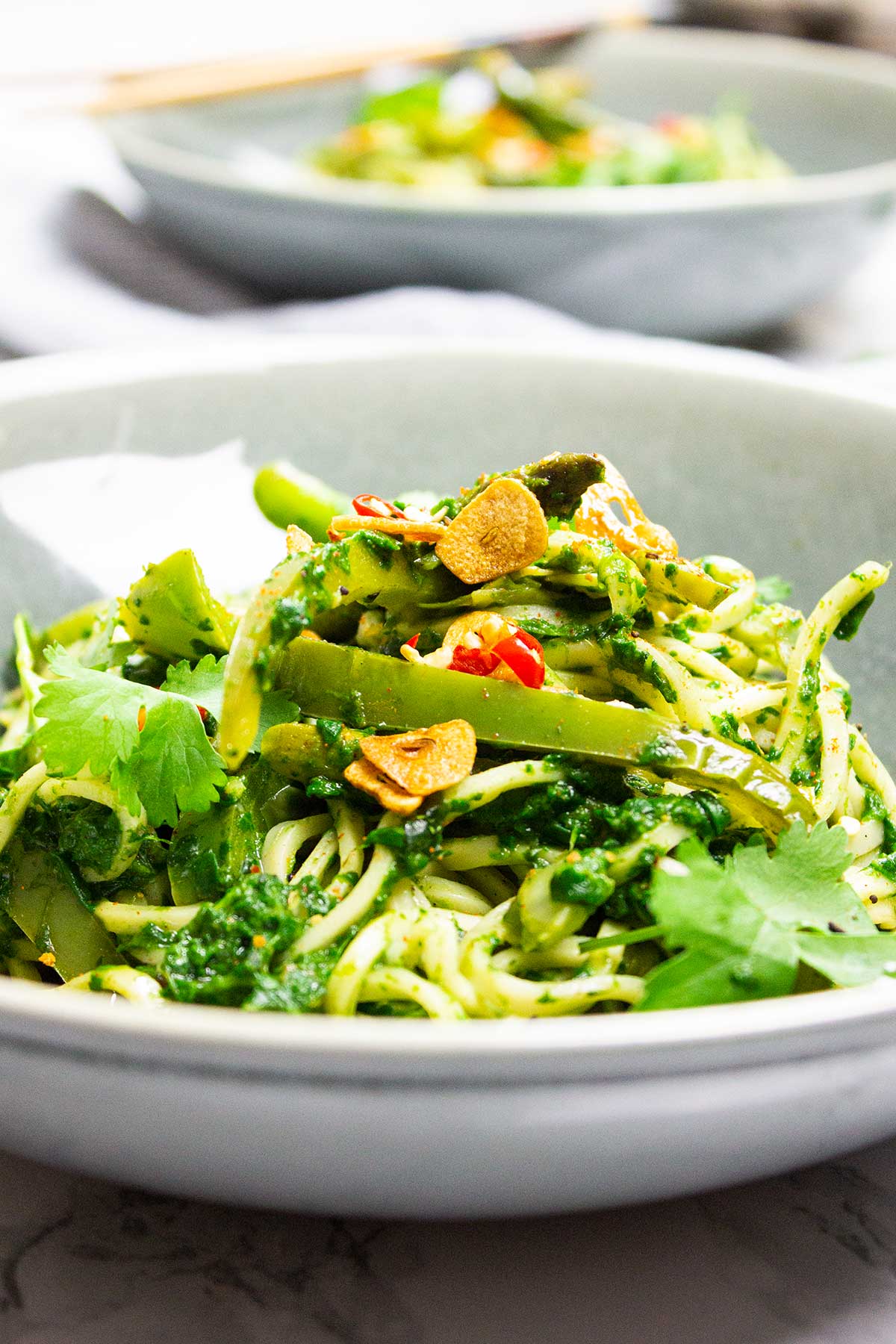 Ingredients
For the sauce:

2-3 garlic cloves

Roughly 4 cups or 200g of fresh spinach

½ a cup of loosely pack coriander/cilantro

2 teaspoons of Chinese 5 spice

1 teaspoon of Szechuan pepper

1 teaspoon of minced or ground ginger

1 tablespoon of Shaoxing wine

3/4 of a cup or 175ml of vegetable stock

Olive oil

For the stir-fry:

125g of medium noodles

1 green pepper, deseeded, cut into long thin strips

100g (10 stalks) of asparagus

75g of white or Chinese cabbage thinly sliced

1 tablespoon of a wok or groundnut oil

1 tablespoon of sesame oil
Instructions
Bring a pan of vegetable stock to a boil and simmer the noodles for 4 minutes. Drain through a sieve and reserve 175ml of the stock. Pour cold water through the noodles to stop the cooking process. Set aside.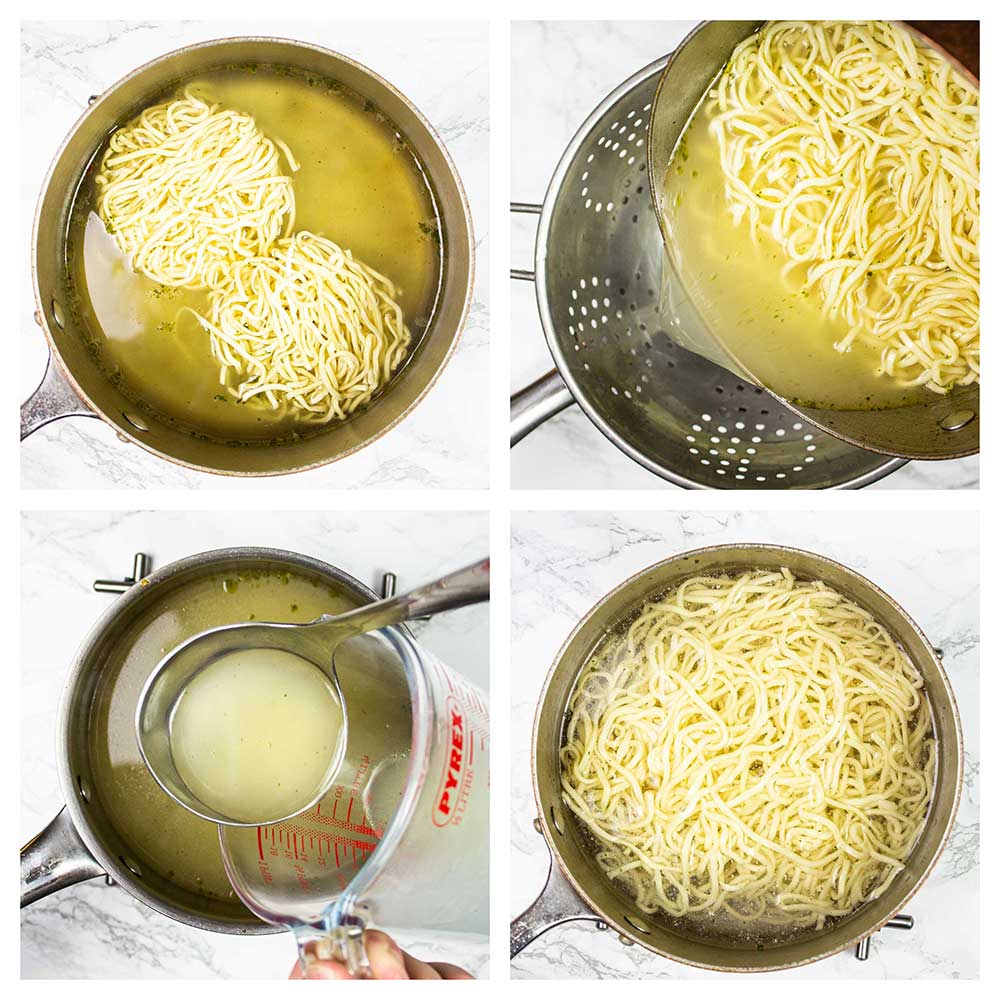 Using a wok or a pan, add a little olive oil on medium heat and add the sliced garlic. Fry for about a minute being careful not to burn them. They will be ready when they are firm and golden. Remove the garlic and place them on a piece of kitchen paper.
Add the spinach to the wok/pan and stir-fry until the spinach has wilted. Add the coriander, Chinese 5 spice, Szechuan pepper, ginger, Shaoxing wine and half the cooked garlic and stir through thoroughly. Pour in the stock and transfer to a blender or food processor. Process to a textured sauce. Set aside.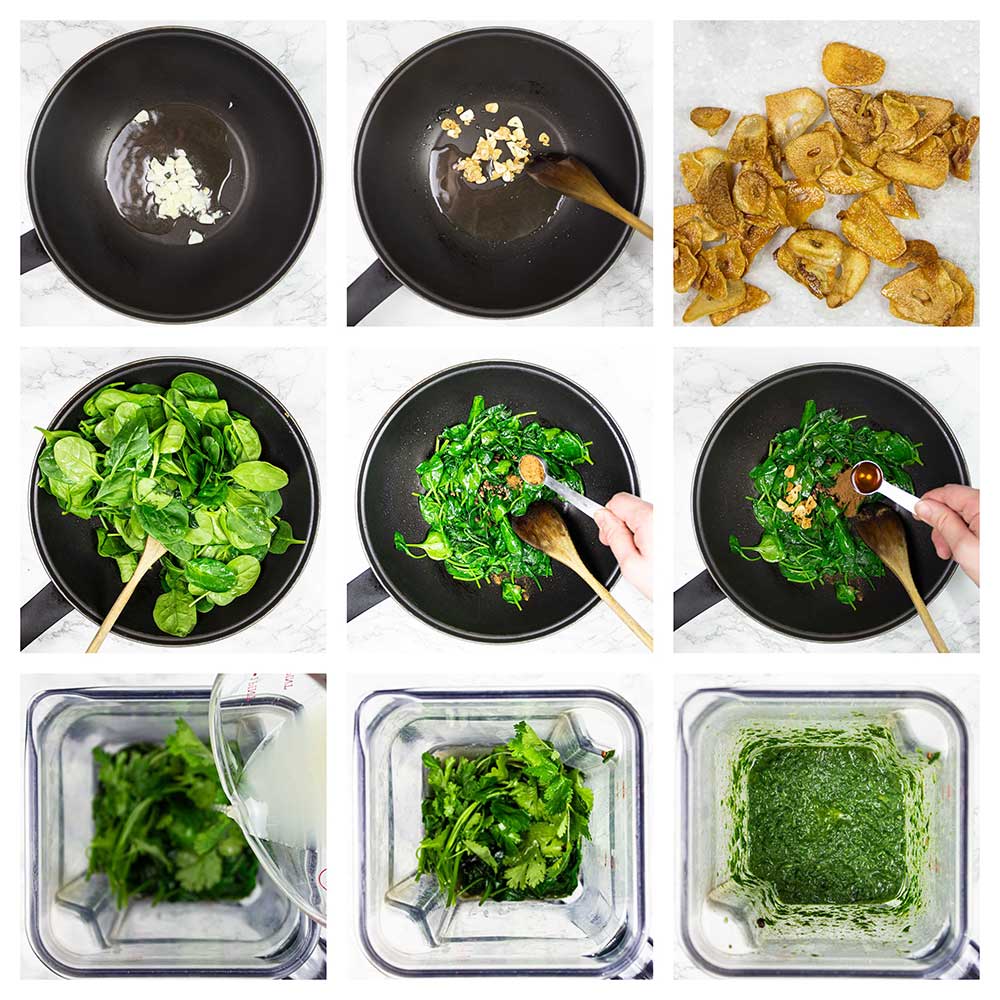 To stir-fry the vegetables, add the wok or groundnut oil to a hot wok and add the asparagus, green pepper and cabbage and toss over the heat with a wooden spoon for 5 minutes. Pour the sauce in along with the noodles and stir to fully mix together. Drizzle over the sesame oil and serve in bowls and garnish with the rest of the garlic and some coriander/cilantro and optionally a little fresh chopped chilli.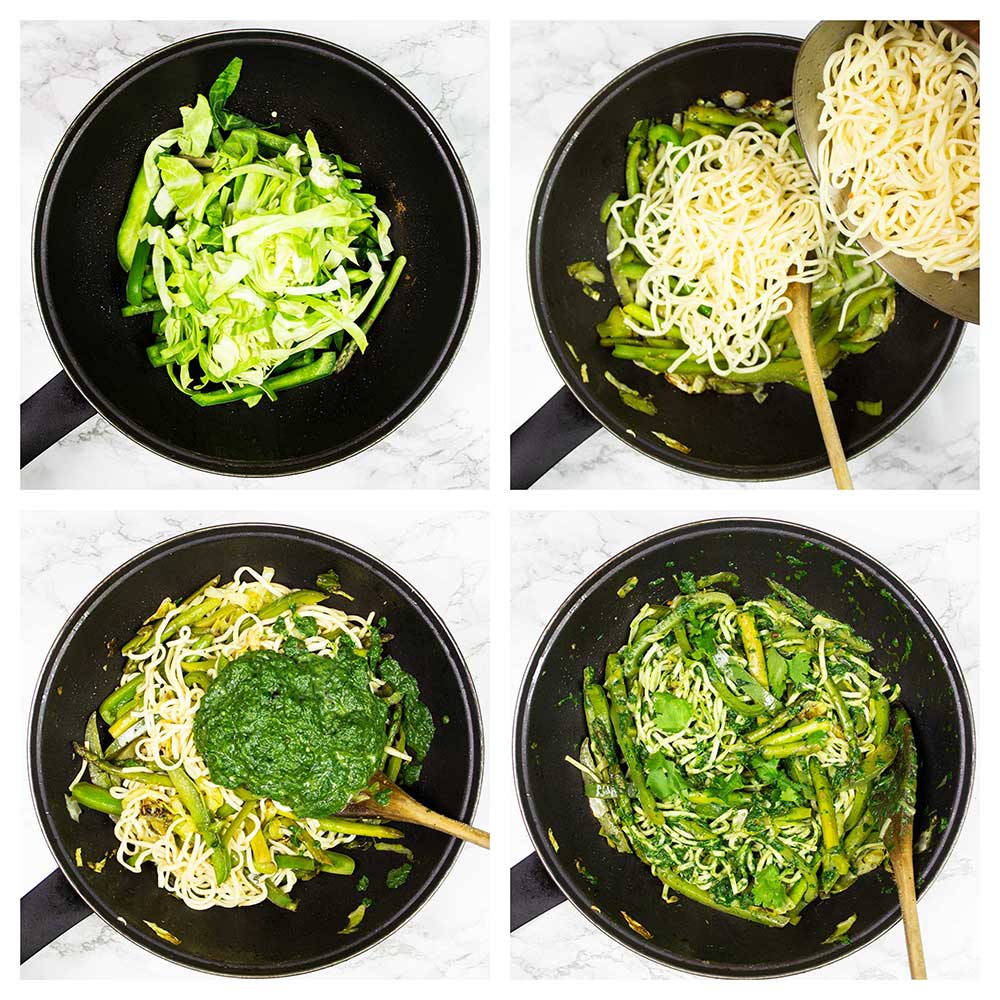 Copyright secured by Digiprove © 2021 The Anti-Cancer Kitchen