Soups are just amazing and an easy go-to for just about any occasion. Come rain or shine there is the perfect soup for any season. For spring, when you don't know whether you want a big or small meal, there is a soup, for summer, light and refreshing soups are the dish de jour, and for the autumn and winter months what can be better than hugging a warming bowl of hearty soup. What's more, soups are easy to prepare, easy to make flavoursome, and easy to make vegan. We think mushrooms stand out as one of the all-time best ingredients for soup and certainly an ingredient that makes one of our all-time favorite soups, a vegan mushroom soup!
Mushroom soup is especially great! There's something truly tantalising about these morsels, and we can't get enough of them in our recipes.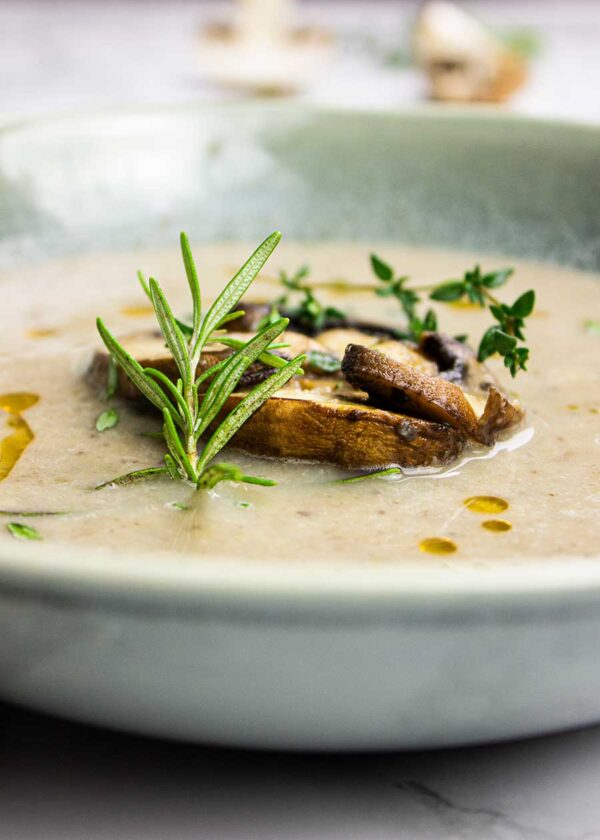 In this vegan mushroom soup recipe, we decided to go for chestnut mushrooms. Not only are they cost-efficient they are also delicious and high in vitamin D which we lack so much during the winter months. It's in these winter months when there's a chill in the air which doesn't quite seem to want to shift and sniffles and red noses are far too common, one remedy many people try first is a soup. Tasty and comforting, you don't even need to sit up to the table to enjoy as you can just pour it into a mug and snuggle away on the sofa. The warming properties start to take effect and the red noses migrate to your cheeks which then (hopefully) puts a big smile on your face.  
Of course, there are always a lot of health benefits to soups in general but with our best ever vegan mushroom soup, the ingredients in this recipe are especially potent.
First thing's first, mushrooms!
Mushrooms have recently been found to be powerful weapons in the ongoing fight against cancer. Principally, they're known to help a lot when ingested during the process of cancer treatments, in both chemotherapy and radiation therapy.
The way mushrooms help is by countering many side-effects of cancer. Namely, mushrooms can help by combating nausea, bone marrow suppression, anemia, and lowered resistance. Mushrooms could be so powerful in this way that a number of bioactive molecules, including anti-tumor agents, have been identified from mushrooms.
These bioactive compounds have been identified to help during the 'middle stages' of cancer. By this, we mean the stages between initial contact with carcinogens, and actually developing cancer. 
The compounds are rich in antioxidants, promote DNA repair and apoptosis, and contribute to a powerful and healthy immune system. All of these things are known to help in the fight against cancer. For example, some of the anti-cancer compounds from mushrooms are antimitotics. That is that they assist the immune system in preventing cancer cells from multiplying.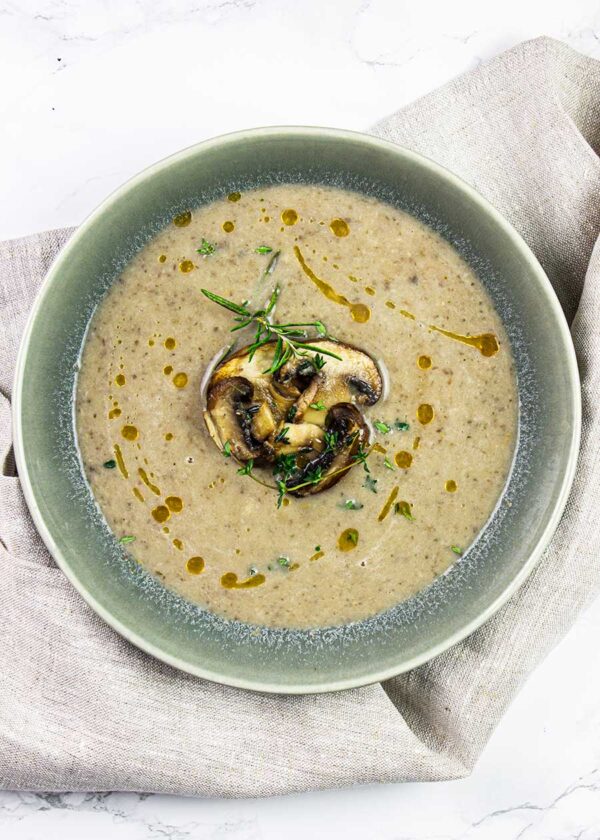 Being aware of the potential benefits of mushrooms, what about beans? This recipe actually uses the same amount of beans as mushrooms, and we suggest butter beans. We've opted for these in this recipe but cannellini beans, fava beans or haricot beans work just as well as they offer a good texture and taste to this vegan mushroom soup. 
Beans, and in fact pulses in general, have been shown to have significant anti-cancer properties. In scientific studies, scientists did a number of trials with different food groups and found that pulses, when eaten as part of a balanced diet, result in a great reduction in colorectal polyps. With time, colorectal polyps are likely to become a form of colorectal cancer, so a high-pulse diet could be more of a preventative measure.
As well as acknowledging the anti-cancer properties of a number of the ingredients in our recipes, we make sure that all of the recipes on our blog taste great. However, feel free to experiment by adding some of your favourite garnishes. A little simple sauteed leftover mushroom and some fresh herbs work a treat. 
Whether you opt to go for our little improvements or not, we're sure that you'll enjoy this healing vegan mushroom soup this winter, so give it a try!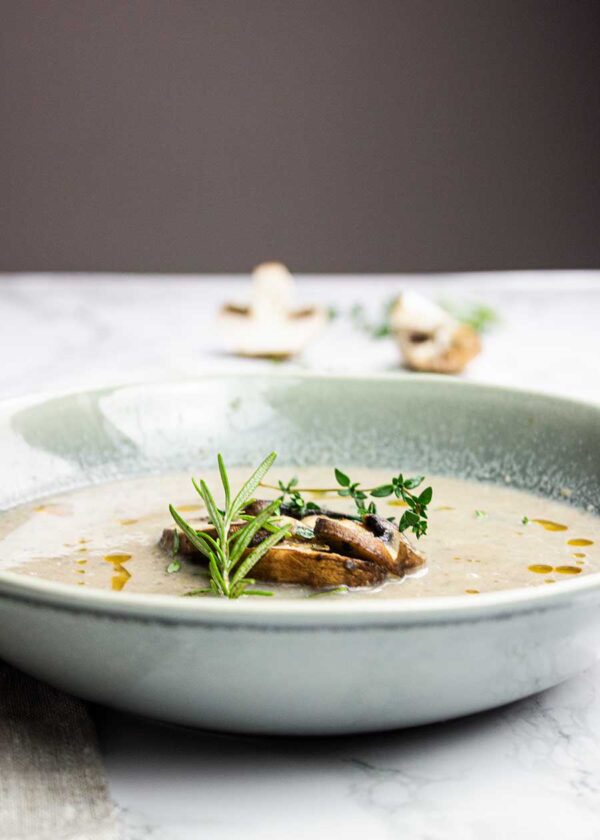 Have you made this vegan mushroom soup recipe?
We'd love to see your food creations! Please leave a comment below, share or tag using @anticancerkitchen on Instagram and hashtag it #anticancerkitchen.
More delicious vegan soup recipes
Update notes: This post was originally published on the 7 of March 2018, but was republished with new photos, health benefits information and step-by-step images in November 2020.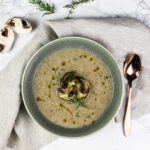 Ingredients
500g of chesnut mushrooms

400g or 240g drained butter beans

1 red onion chopped

1 tablespoon of dried rosemary

1 tablespoon of dried sage

1 tablespoon of dried thyme

4 garlic cloves

4 cups or 1 liter of organic vegetable stock
Instructions
Fry the onion, garlic and mushrooms in a dash of olive oil and herbs for about 5 minutes, then add stock and beans. Simmer for 10 minutes. Use a blender to puree.
Garnish with sauteed leftover mushroom slices and some fresh herbs such as rosemary and/or thyme and finish with a drizzle of sesame or truffle oil (optional).  Enjoy!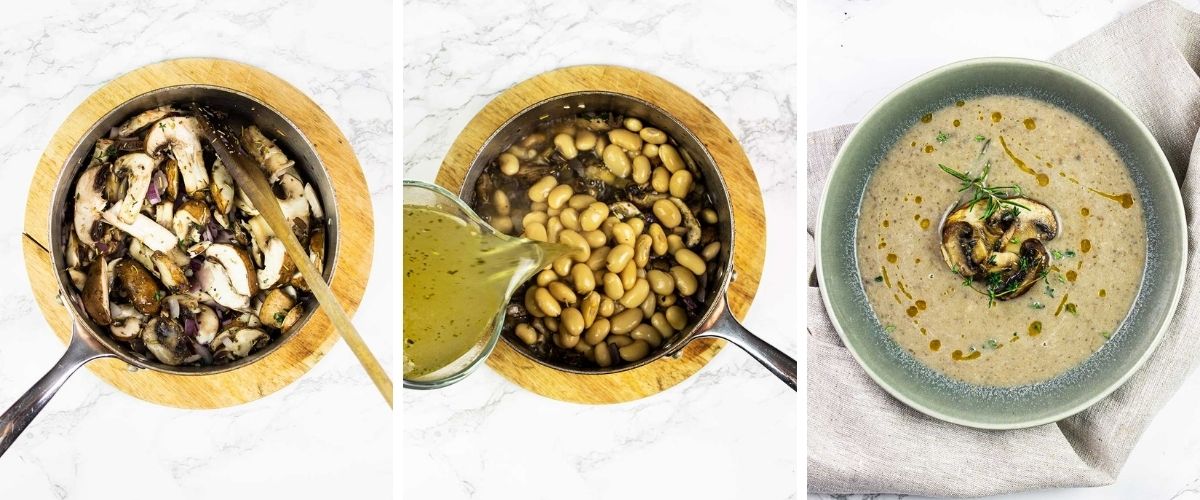 Copyright secured by Digiprove © 2020 The Anti-Cancer Kitchen