Tasty Mediterranean bean salad that is nutrient-dense, full of flavour and easy to prepare. This is THE bean salad recipe you will make now and forever!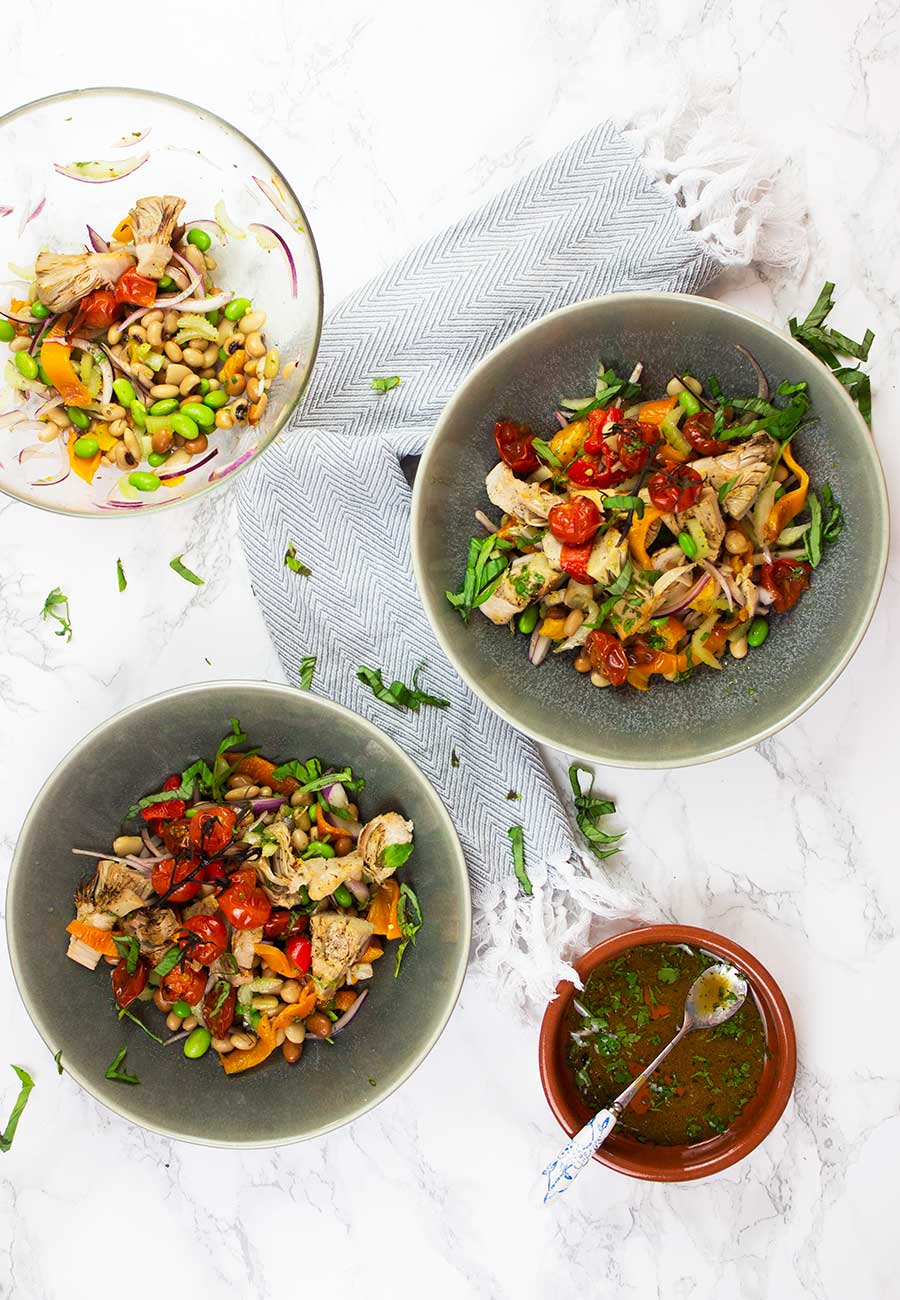 A healthy bean salad recipe
Beans come in all shapes and sizes and are an excellent addition to lots of incredible meals as well as being the star of the show by themselves. In the Mediterranean, which can boast some of the healthiest cultures in the world, there is wonderful produce from luscious fruit and vegetables and nutrient dense healthy olive oils to amazing seafood and of course beans. In Italy, beans are a staple and showcase some exceptional dishes that are not only simple but full of flavour and nutrition. Tuscany has a tradition with their famous bean stew and here we have put our take on another classic, a Mediterranean bean salad.   
A plant-based spin on Tonno e fagioli 
Tonno e fagioli, is a classic Italian tuna and bean salad eaten up and down the country. It showcases cannellini beans with sweet pepper, celery and onion topped with meaty tuna. For our take on this tasty recipe we have introduced some firm jackfruit simply seasoned with some umami rich nutritional yeast in place of the tuna and my goodness does it work.
The texture of a jackfruit is often described as meaty and is commonly used in place of meat in many plant-based recipes. Vegan "pulled pork" with bbq sauce or shredded jackfruit with hoisin sauce and pancakes makes a classic Chinese starter something to die for. When squeezed to reduce the moisture content and some of the fruitier flavour then grilled, this jackfruit firms up and tastes just amazing.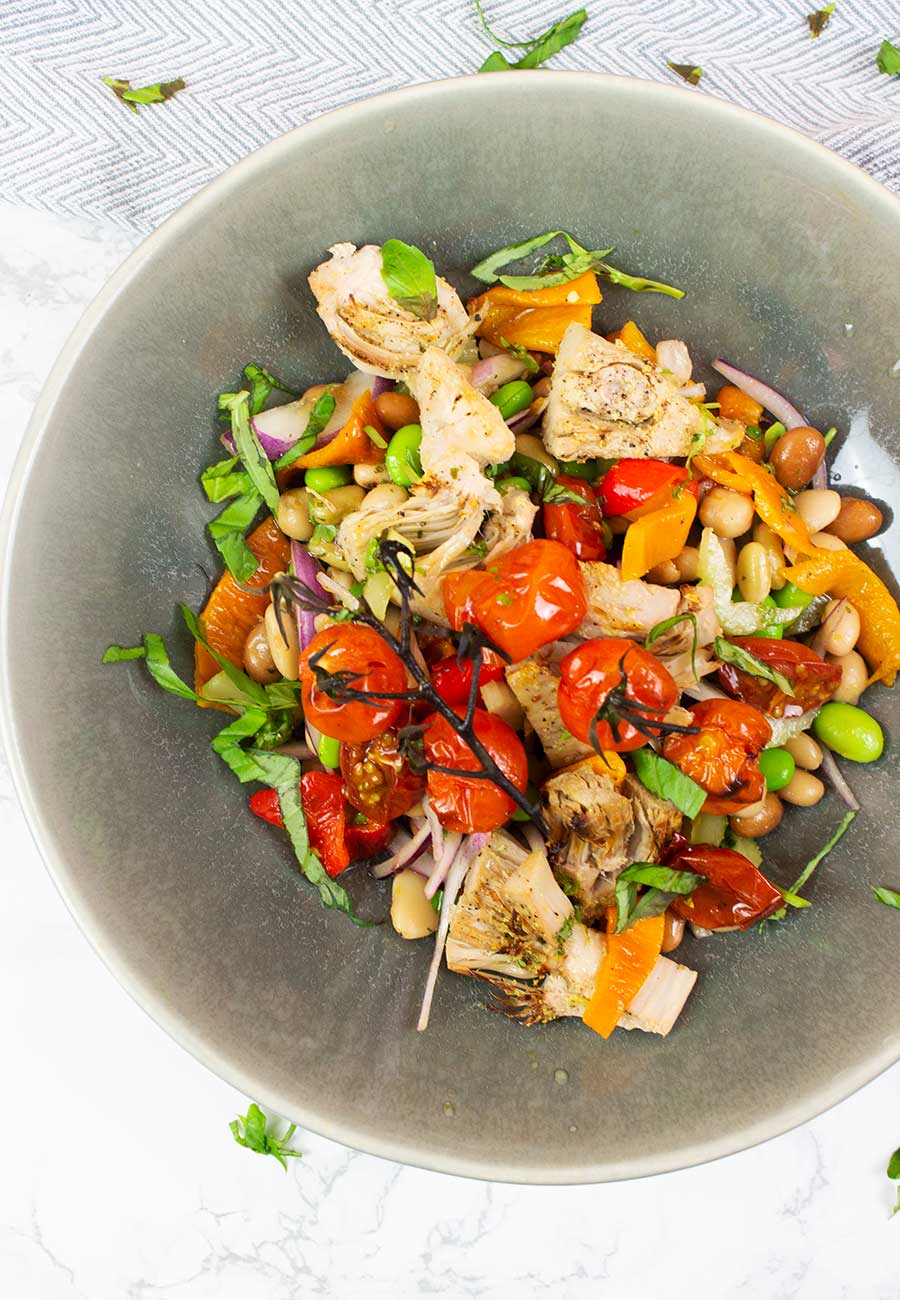 Delicious Mediterranean bean salad
With our best ever Mediterranean bean salad we go one step further and pack in as many varieties of bean we can get our hands on. Thankfully many shops provide a can of bean salad already. All beans are an excellent source of protein for anyone who doesn't consume animal proteins and are simple to prepare even if not bought in tins as they just need to be soaked. 
A can of beans is healthy and nutritious and can feed a family in minutes. With a firm texture that compliments soupy sauces they make hearty filling stews whilst at the same time not sitting in your stomach, they are the ideal food to eat all year round. This vegan bean salad of course is perfect for summer and al fresco dining. Simply add a zesty and herby dressing and you are good to go.
Why beans?
Well, they are eaten all over the world and just in the Mediterranean. They are so tasty they make english baked beans a classic for breakfast, Chinese black bean sauce a memorable Asian dish, Mexican refried beans, pinto and kidney beans for an amazing chili and French cassoulet wouldn't be the same without them and so on and so on. All these hearty dishes and predominantly from warmer climates which is great as beans make wonderful partners for salads too.
Humble origins
Beans are a resilient legume and can grow in a wide range of climates and because of this tolerance they are an easy pulse to grow and would have been cultivated in large numbers to feed workers who would not have been able to afford much more. Some of the best dishes in the world come from humble origins. Known centuries ago as peasant food dishes like Tonno e fagioli, Ribolitta and a simple bean salad have stood the test of time and become not only family favourites but restaurant favourites too. What's more is that there is no rule on how to make this salad, some like to include bread like another classic Tuscan dish called Panzanella, others use certain beans or like us you can fill it to the brim with any bean you can find. Another bean added to our best ever bean salad is an edamame bean which is a young soybean and incredibly healthy. This asian staple also inspired us to give the dressing a little asian influence too by adding some soy sauce and sesame oil to a classic honey mustard dressing with fresh herbs that would traditionally be drizzled on this salad. However, experiment yourself with different additions but follow this easy recipe for a nutrient dense meal that hopefully will see you making this flavoursome Mediterranean bean salad time and time again.
Beans are heart healthy 
There are numerous varieties of beans and are all very healthy to eat. First of all they are an excellent source of protein which is vital to repair and maintain your body. Proteins are made up of amino acids. With 20 types of amino acids, 9 of them are essential which mean your body is not capable of synthesising them by itself so they have to be introduced via diet. Some foods contain all 9 essential amino acids and are known as complete proteins, other foods that do not contain all 9 are known as incomplete proteins. Typically, animal proteins such as meat dairy and eggs are complete proteins but with all the hormone content and unknown genetically modified food that can be introduced into their diets, it is therefore wise to follow a predominantly plant-based diet to maintain health whilst either battling or trying to stave off chronic disease which have associated links to diet. 
There are plant foods that are complete proteins such as quinoa, buckwheat, hempseed, and soybeans. Most beans have nearly all the essential amino acids so by adding certain foods such as nuts and grains you can create the full amount necessary. 
Research has shown that when substituting beans for animal fat proteins, there is a decreased impact on cardiovascular illnesses such as heart attacks as well as preventing a fatty liver. Beans beans, good for your heart is certainly a true statement. Beans also increase the amount of beneficial bacteria in the gut and improves the intestinal barrier function so the rest of that sentence is also true.
Beans are anti-cancer
The addition of beans into your diet, not only as a substitution for animal protein but because they are genuinely really tasty and can also impact beneficially on preventing other chronic degenerative diseases such as cancer as they are full of antioxidants and anti-inflammatories. It is the high amount of isoflavones, a potent antioxidant that gives beans an impressive list of health benefits. These are plant hormones that attach to sugars to form glycosides that are then broken down in the large intestine to release active forms called genistein and daidzein. These act similarly to the human hormone, oestradiol although much weaker, however, they do have a normalising effect on oestrogen levels. These plant hormones act both as an agonist and an antagonist. This means they can both stimulate receptors in the body from interacting with strong human oestrogens and block these receptors too. The benefits of this have been seen to reduce breast cancer tumours, especially in Japan where the consumption of soybeans is much higher. Not only are the instances of breast cancer over half that of the UK, the mortality rate from breast Cancer is also three times lower. 
Genistein has also been researched in laboratories with impressive results fighting prostate cancer by inducing apoptosis which is the programmed death of cells. 
Some risks to be aware of
There are risks to eating beans for certain people. As a legume, as are nuts, some people can have an allergic (anaphylactic) reaction to them. 
For people on monoamine oxidase drugs (MAOs) which treat depression then this can mix with the drug and cause high blood pressure. 
When beans are in their dried state they contain high amounts of purine which can cause gout. It is therefore always recommended to soak them fully before cooking and to rinse canned beans thoroughly.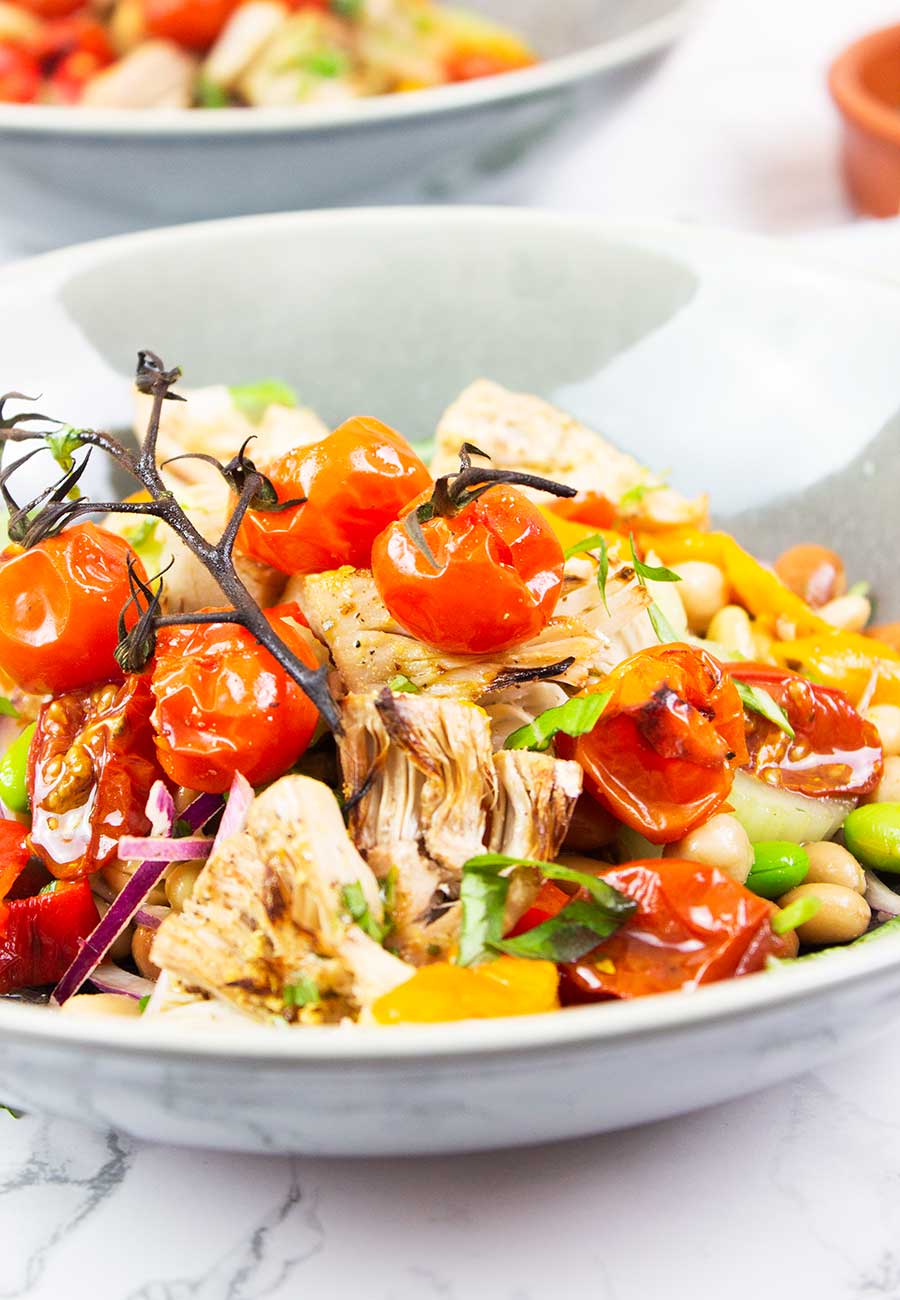 Beans we use in our Mediterranean bean salad         
Beans are classified as legumes along with peanuts, peas and lentils. They are the seeds grown in a pod from the flowering plant of the Fabacea family. 
There are many varieties and many are known by different names in different countries and also by different names at different stages of their growth.
For this recipe traditional Italian beans are used such as Borlotti, Butter beans and Cannellini Beans. Here is a list of beans to choose from. 
Borlotti Beans: a type of cranberry bean bred in Italy. It has a brownish colour and slight nutty flavour
Butter Beans: a fully grown lima bean that as per its name has a buttery taste, a great addition to soups and stews.
Cannellini Beans: A classic bean used in Italian cooking, sometimes referred to as a white kidney bean it is full of nutrients and works well cooked in a soup or equally mashed or made into fritters.
Haricot Beans: are also known as Navy beans, Boston bean or white pea bean. They are a staple in baked beans as they absorb loads of flavour. The flageolet bean is a small haricot bean.
Pinto Beans: meaning "painted" in Spanish this refers to its pink striped appearance. They are great in refried bean dishes and stews alike.
Soybeans: are the fully formed white bean that makes tofu. The young bean is an Edamame Bean and typically eaten straight from the pod. These beans are complete proteins and a great addition to this mediterranean bean salad.
Kidney Beans: These red coloured beans score the highest on the ORAC score (oxygen Radical Absorbance Capacity) which is how potent its antioxidant capabilities are. This means that kidney beans are one of the best cancer fighting ingredients out there.
Garbanzo Beans: also known as chickpeas, these beans are most commonly known as the ingredient in Hummus and is high in dietary fibre. Simply toasted however with a dressing is a great snack by itself.  
Roasted red peppers
These are amazingly sweet and add vibrancy to any salad. They are easy to buy in a jar but also very easy to do yourself. When you firm up the jackfruit in this recipe just put some sweet peppers next to them and grill on a high heat for 15 minutes (turning halfway through) so that the skins blister. Then seal them in a freezer bag so that they steam. This is so the skins are then really easy to peel off. Voila! Some delicious peppers that you can use in anti-pasti or an addition to loads of different dishes. Just remember to slice them and remove the seeds.
How to make this vegan bean salad – step-by-step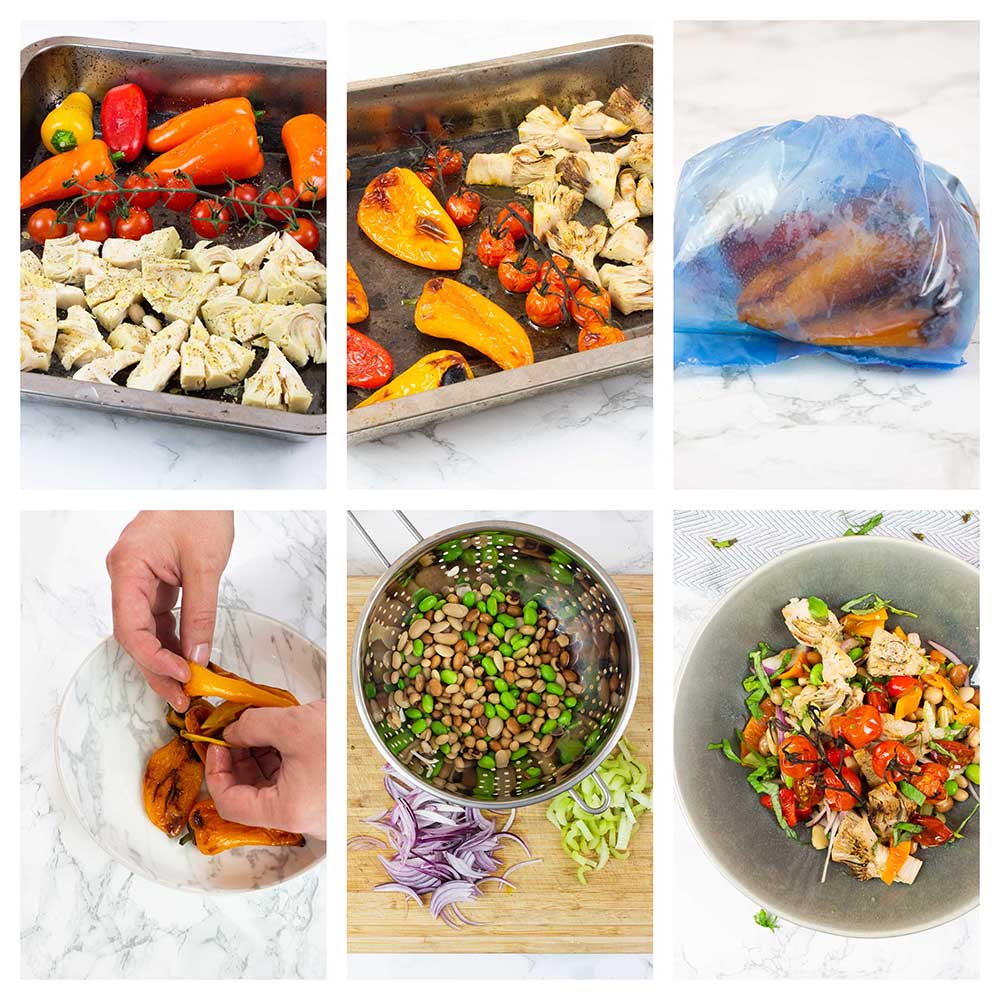 Have you made this Mediterranean bean salad recipe?
We'd love to see your bean salad creations! Please leave a comment below, share or tag using @anticancerkitchen on Instagram and hashtag it #anticancerkitchen.
More recipes with beans on the blog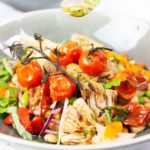 Ingredients
Salad:

300g (approximately 1 and 1/3 cups) of mixed beans (drained weight) including edamame

210g (just under 1 cup) of chopped jackfruit (drained weight from a can with water preferably brine)

150g (3/4 cup) of sweet peppers (optionally pre-prepared roasted red peppers)

1 vine of cherry tomatoes

2 celery sticks chopped

1 red onion thinly sliced

2 teaspoons of nutritional yeast

1 tablespoon of olive oil for roasting

Dressing:

Juice of 1 lime

½ a tablespoon of red wine or rice vinegar

½ a teaspoon of English mustard

1 ½ tablespoons of extra virgin olive oil

½ teaspoon of honey or date nectar

1 teaspoon of soy sauce

½ teaspoon of sesame oil

2 tablespoons of fresh cut herbs (we've used parsley and coriander/cilantro)
Instructions
Prepare the (tinned) jackfruit. First sieve and squeeze each segment to remove excess liquid. Place on a roasting tray and season with the nutritional yeast by rubbing the flakes through your fingers.
Prepare the sweet peppers and tomatoes, place them next to the jackfruit and drizzle with olive oil and season with salt and pepper.
Place the tray under a hot grill/ broiler and cook for 15 minutes turning the peppers half way through.
Set the tray aside and put the peppers in a freezer bag and seal. Leave the peppers until they are cool then remove the skins, slice the top off, cut in half and scrape the seeds out.
Mix the salad. Put the beans, celery and onions in a bowl and mix. Arrange the jackfruit, peppers and tomatoes on top and serve with the dressing. 
Dressing method
Simply combine all the ingredients together and whisk with a fork.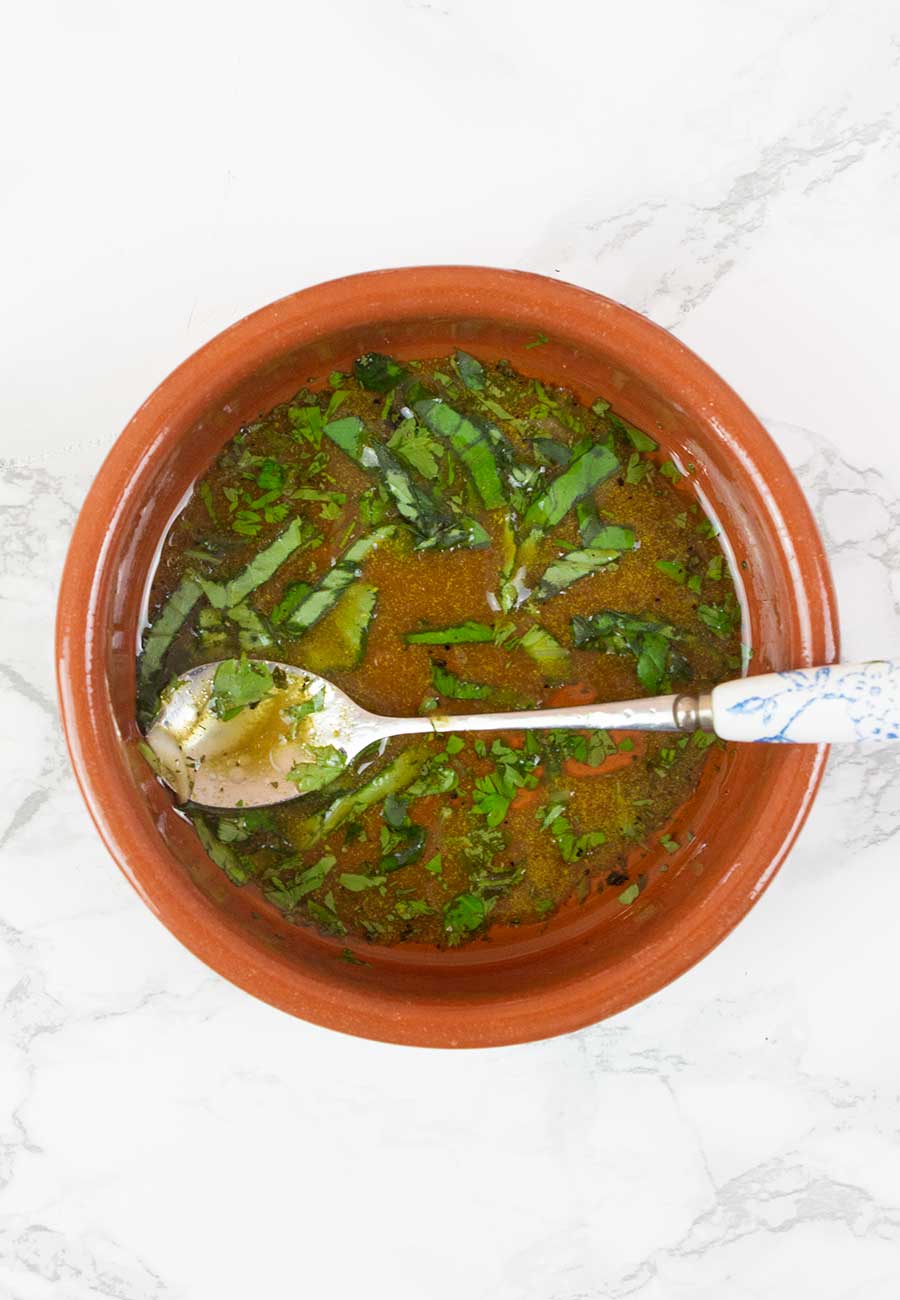 Copyright secured by Digiprove © 2020 The Anti-Cancer Kitchen