Making a super green risotto with peas and asparagus is very easy and it makes a wonderfully elegant dish for a light lunch or dinner and special enough for a dinner party.
This is totally vegan and being plant-based for nutrition reasons there is no white wine either. However, there has been no compromise on taste whatsoever. The stock, which is blended with sweet green peas and delicious bold basil, is flavour packed full of umami and garlic too. The arborio short grain rice which is a traditional grain used in a classic risotto sops up all this amazing flavour and with the addition of some vibrant golden turmeric, the intensity and vibrancy of this dish are beautiful. The tasty green peas and basil which create the green stock are also added whole to the risotto with some fine asparagus at the end to add texture, nutrition and flavour.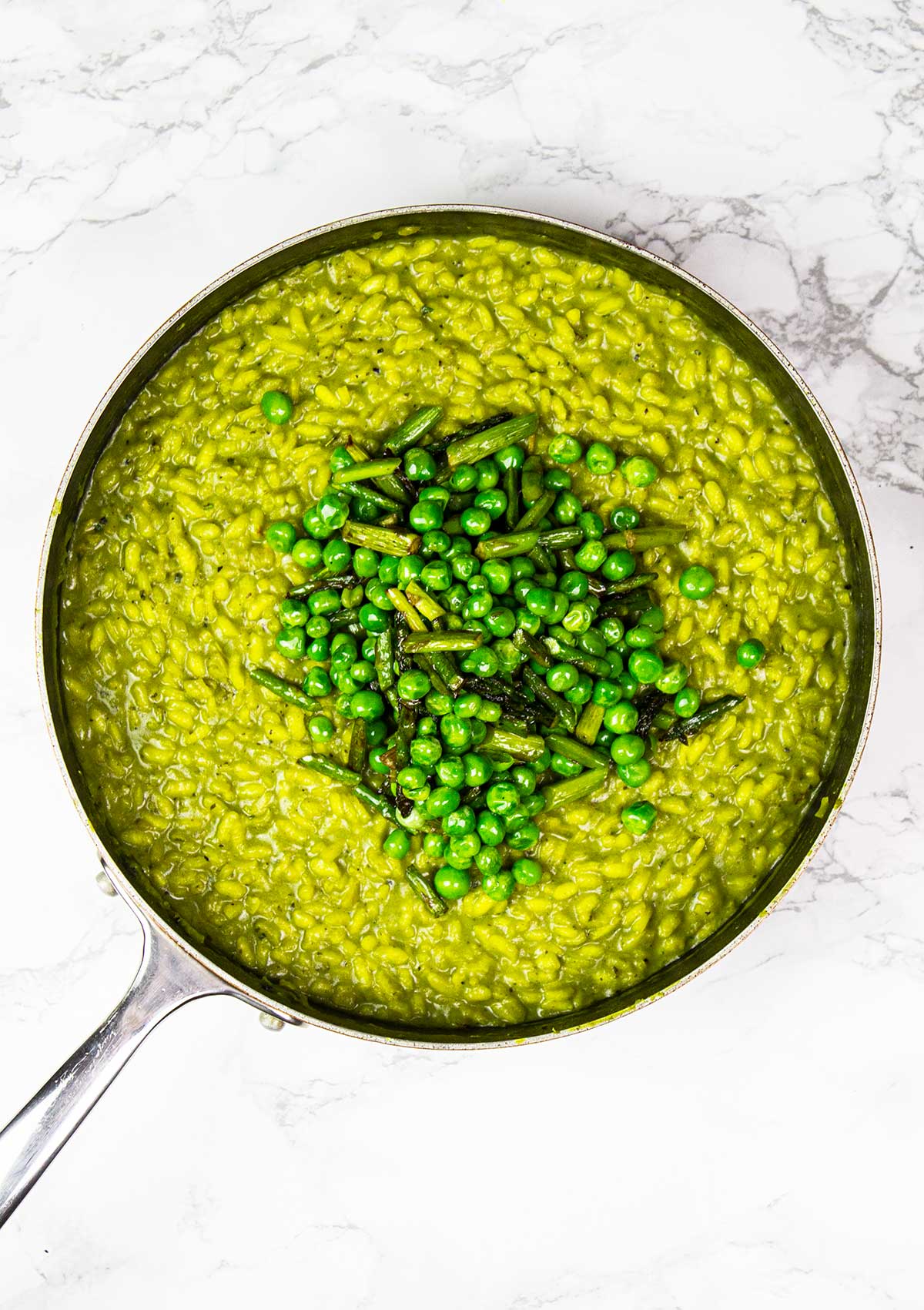 How to make green risotto
The cooking of risotto is very easy but it does require a modicum of care and attention. There is a traditional risotto from the north of Italy called Risi e bisi that is flavoured with fresh spring peas just like this recipe but is cooked in a broth that makes the dish almost as a very thick soup. It does just go to show that even if you use lots of stock you won't ruin your risotto. Of course, many chefs may argue with this notion but we just want to highlight that it is an easy dish to make that doesn't need to be approached with caution. 
Traditional risotto is made with short-grain rice that is high in starch, low in amylose and highly absorbent. Arborio rice is easily sourced in most supermarkets but if you are able to find other varieties such as carnaroli, maratelli and vialone nano, these are considered the best grains to use. Short grained rice differs from longer grained varieties due to the amount of starch they contain as when they absorb liquid, they release this starch into the surrounding sauce which gives risotto its familiar creamy texture even when there has been no cream introduced. Due to the nature of these rice varieties, you do need to monitor your risotto and regularly stir them. This action of each grain rubbing against each other allows the starch to create the gooey, velvety texture.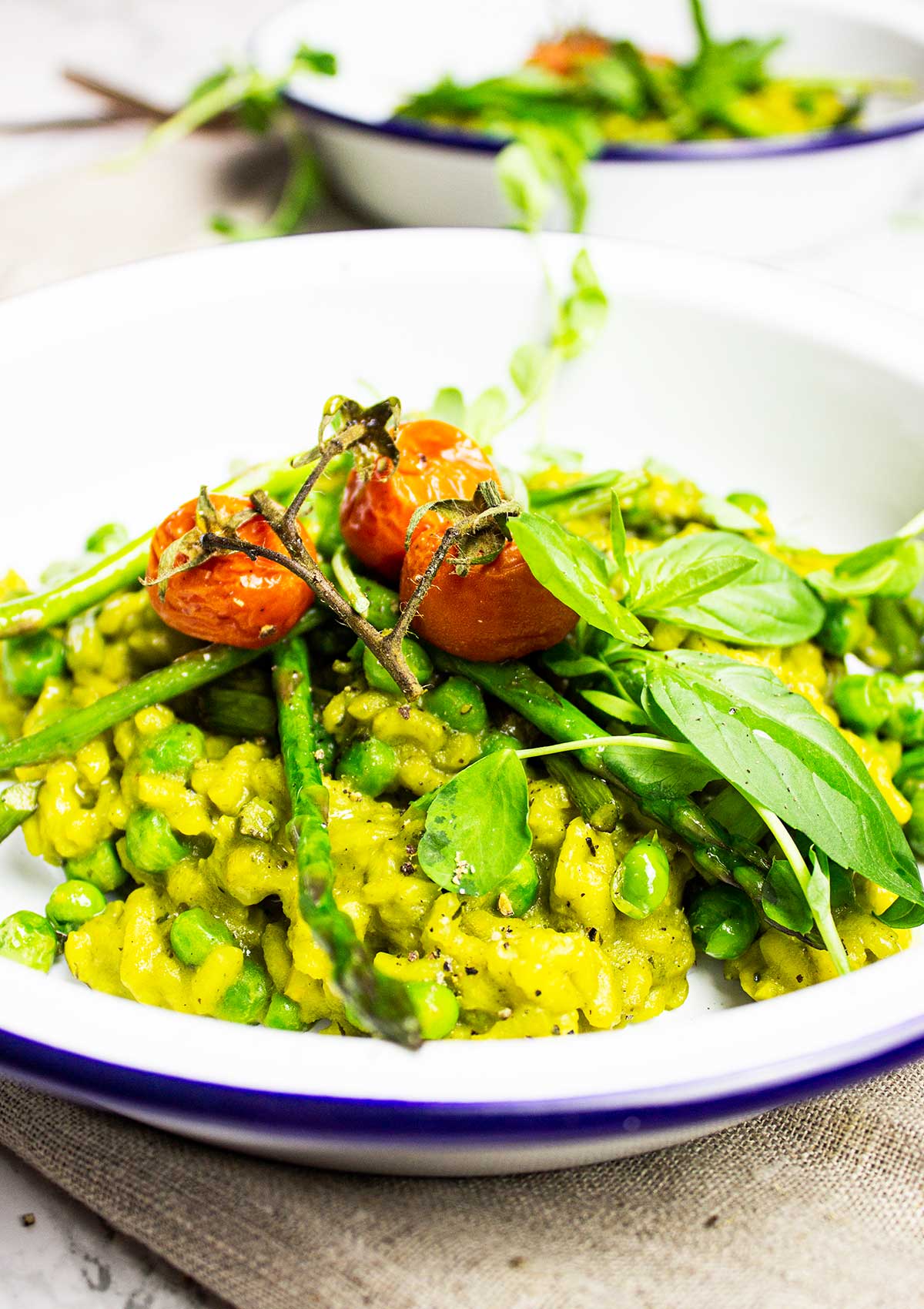 There are easy stages to follow which should see you create a beautiful risotto in around 20 minutes only.
First of all you need to create the stock which will flavour your risotto. Traditionally, in Italy saffron was added to create a signature yellow colour which can definitely be used in this recipe but we have given this particular assignment to turmeric as it contains a whole host of anti-cancer properties that boosts the nutrition levels of our super green risotto. Either will intensify the greenness of the end dish. You will need to find a good vegetable stock. We use a Kallo garlic and herb stock that works perfectly. You could instead use an organic vegetable stock with added nutritional yeast to enrich its flavour, not too dissimilar to how the addition of parmesan beaten into a traditional risotto (known as mantecatura) gives a boosted umami flavour as well as creating a silkier texture. Whichever stock you decide to use simply add whole green peas and a handful of fresh basil leaves and blender in a high-speed blender to create a luscious green stock.
The preparation for your green risotto rice starts with a good glug of olive oil in a pan on low heat. Throw in some chopped shallots and garlic and fry them off until the shallots look translucent. The low heat at this stage is key as you do not want to caramelise the vegetables as they can discolour your risotto. You then add the rice without washing them as you may generally do with other rice dishes. The starchier the better so that the risotto is rich and creamy. Stirring the rice in the oil so that there is a fine layer of fat over each grain known as tostatura will prepare the rice ready for the stock. Raising the heat at this stage encourages the rice to better absorb the stock which is ladled in small amounts at a time whilst constantly stirring to bring out the starches in the grains that give the dish its signature texture.    
Whilst you repeat this stage, stirring in the stock, small amounts at a time, put another frying pan on the heat and add some olive oil. Chop some fine asparagus into roughly 2cm lengths and fry them for a few minutes before adding the whole peas to warm through. Try to time this stage for when the risotto is almost done so that when you add the asparagus and peas to the rice they are already hot and ready to eat. Cooking the rice longer without adding more stock or leaving the risotto too long before eating can dry out the dish as the rice will continue to cook, which is what you don't want. The final texture of your dish should be what in Italian is called all'onda, "like flowing waves". Just garnish with some basil leaves and peas shoots and serve immediately.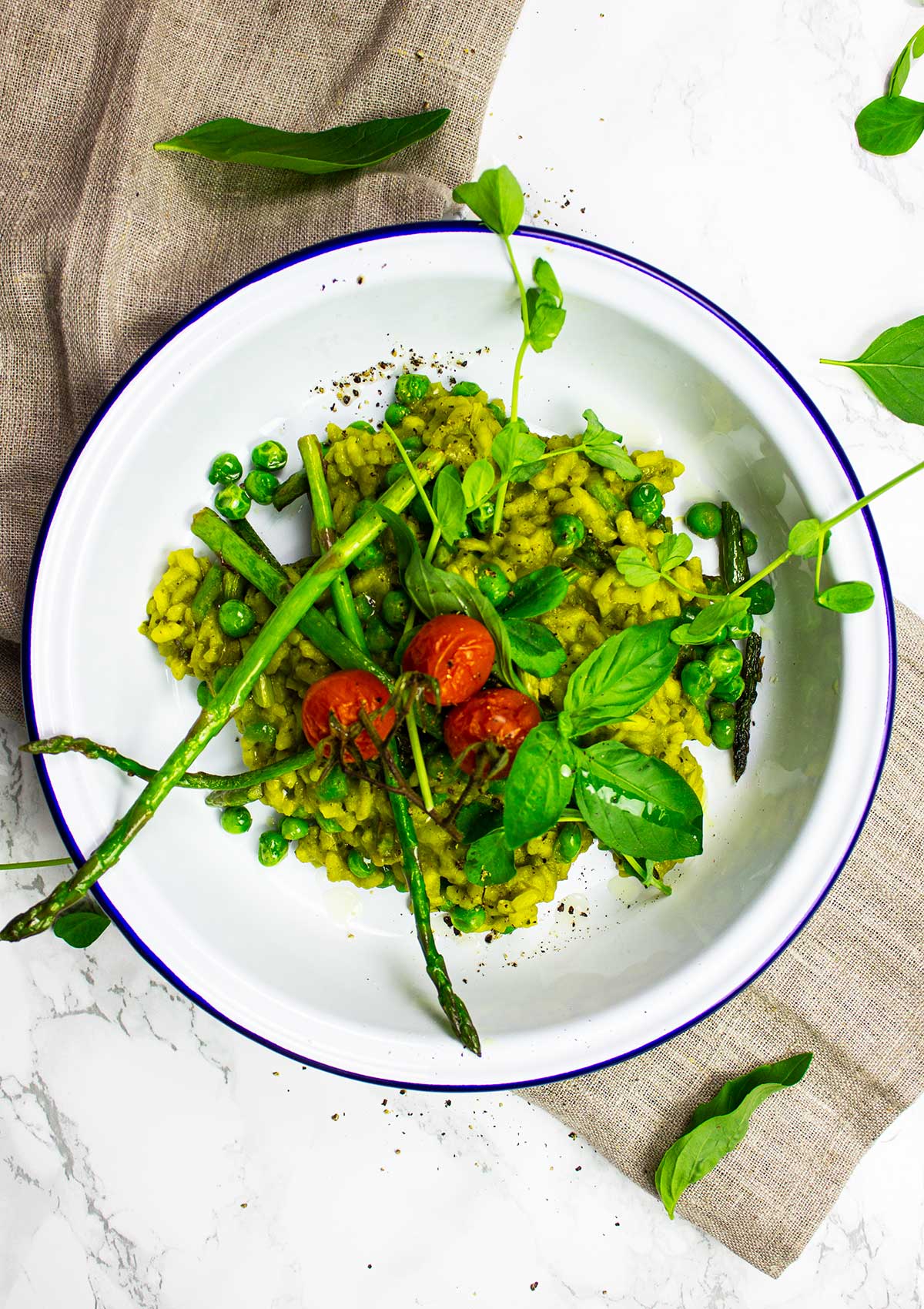 A healthy risotto recipe
It is important to eat healthily and important to consume foods that will give you energy too. Arborio rice is a good source of healthy carbohydrates that will slowly release energy that will help you overcome fatigue and stress. Rice is also a good source of vitamins and protein with roughly one cupful containing about half of your recommended daily intake of essential nutrients. Green vegetables, as well as green herbs, are well known for helping our bodies natural defence systems work and asparagus, peas and basil are no different offering up a good amount of antioxidants and phytonutrients to our diet. The addition of turmeric also gives this green risotto a massive boost of antioxidants too. This bright yellow root has been used in Ayurvedic medicine and Chinese herbal medicine for generations. It has well-known healing properties and has been used to treat indigestion, gallbladder pain, high cholesterol and recently it has been linked to anti-depression too.
Curcumin, which is the main active antioxidant in turmeric, is very potent at a cellular level. Research has shown that curcumin inserts itself into the cell's lining helping to stabilize them and boost the cell's integrity and resistance to infection and malignancy. Turmeric is also easily put in your everyday diet and with the addition of black pepper, the body's absorption of curcumin can be increased by up to 2000%. All of this means that a tasty plant-based super green risotto is real feel-good food.
Have you made our green risotto recipe?
We'd love to see your food creations! Please leave a comment below, share or tag using @anticancerkitchen on Instagram and hashtag it #anticancerkitchen.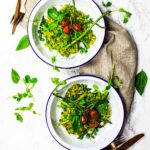 Ingredients
150g or ¾ of a cup of arborio rice or short grained rice

2 small shallots or 1 banana shallot, finely diced

1 clove of garlic, finely chopped

½ a teaspoon of turmeric

1 teaspoon of sherry vinegar / white balsamic vinegar

200g or 1½ cups of peas (frozen or fresh)

100g of fine asparagus

600ml vegetable stock (garlic & herbs or vegetable stock with a tablespoon of nutritional yeast)

10g of fresh basil

Pea shoots and roasted tomatoes to garnish (optional)
Instructions
Boil 600ml of water and add 1½ vegetable stock cubes to dissolve. Add half the peas and the fresh basil leaves (reserving a few leaves to garnish), blend with a stick blender or high-speed blender until smooth. (check your blender can work with hot liquids otherwise wait until your stock has cooled before blending, then reheat in a pan before using)
Add a decent glug of olive oil to a pan on low heat. Add the garlic and shallots and gently fry for 5-6 minutes being careful not to brown them. Add the turmeric and stir through. Add the rice and stir to fully coat each grain in the oil. Pour in the vinegar and raise the heat to medium-high.
Once the vinegar has fully reduced add a ladle of the warm stock and stir through with a wooden spoon until the stock has been absorbed. Repeat this stage until you have used all the stock and the texture is rich and creamy (approximately 20 minutes). 
Before your risotto is nearing being ready add some olive oil to another frying pan and place on high heat. Add the chopped asparagus and stir-fry for 3 minutes. Add the rest of the whole peas and cook for a further 1-2 minutes.
Add the cooked asparagus and peas to the rice and stir through fully. Serve immediately and garnish with the remaining basil, pea shoots and some roasted/sun-kissed or sun-dried tomatoes.
Step-by-step pictures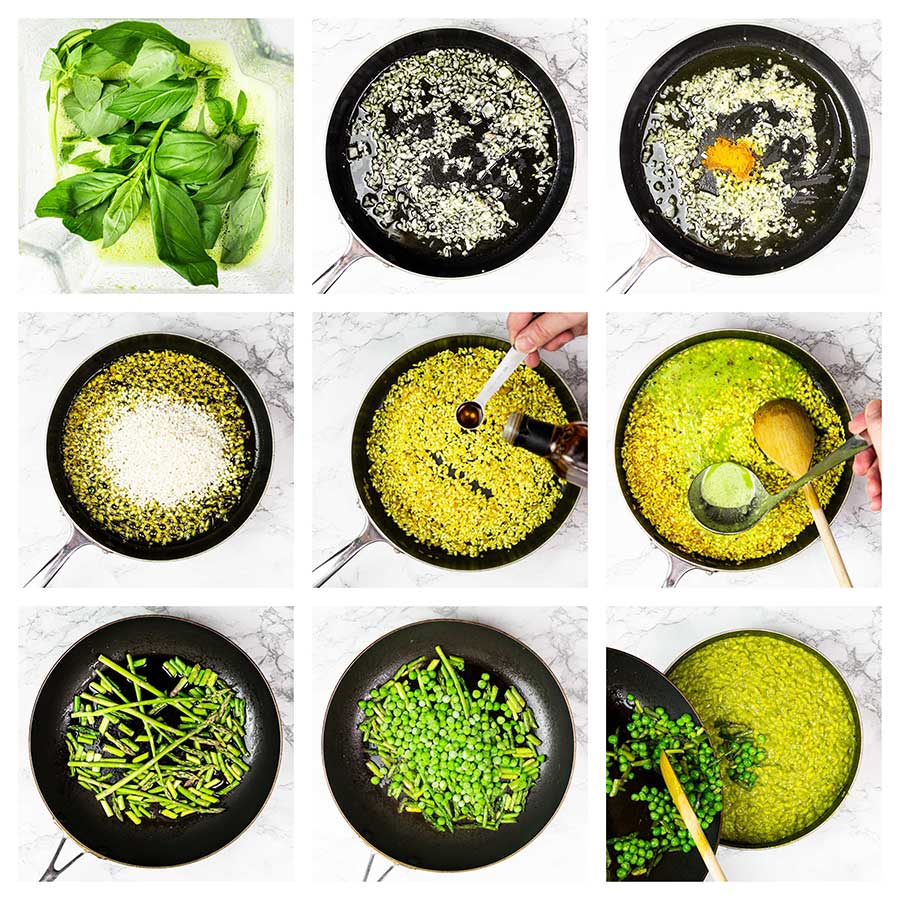 Copyright secured by Digiprove © 2021 The Anti-Cancer Kitchen