This is a seriously impressive vegan scallops dish that can be whisked up in minutes using the minimum of ingredients.
Vegan scallops, which are rounds of king oyster mushrooms glazed in an umami and citrus burst of red miso paste, lime and maple that just melt in the mouth and deliver a taste sensation. Don't underestimate the quality and flavour of these antioxidant-packed mushrooms as they really take on an incredible flavour of a natural juicy scallop whilst remaining totally plant-based. 
If you are looking to prepare some serious eats whilst optimising on the nutritional values as well as their flavour and presentation then this is the dish for you. Try these plant-based scallops at your next dinner party or to properly treat your partner on valentine's day or date night. Also, don't forget, although this dish looks the part, it is so easy to cook (and difficult to mess up too) you may just end up throwing this meal together on a weekly basis. Why save luxury just for special occasions.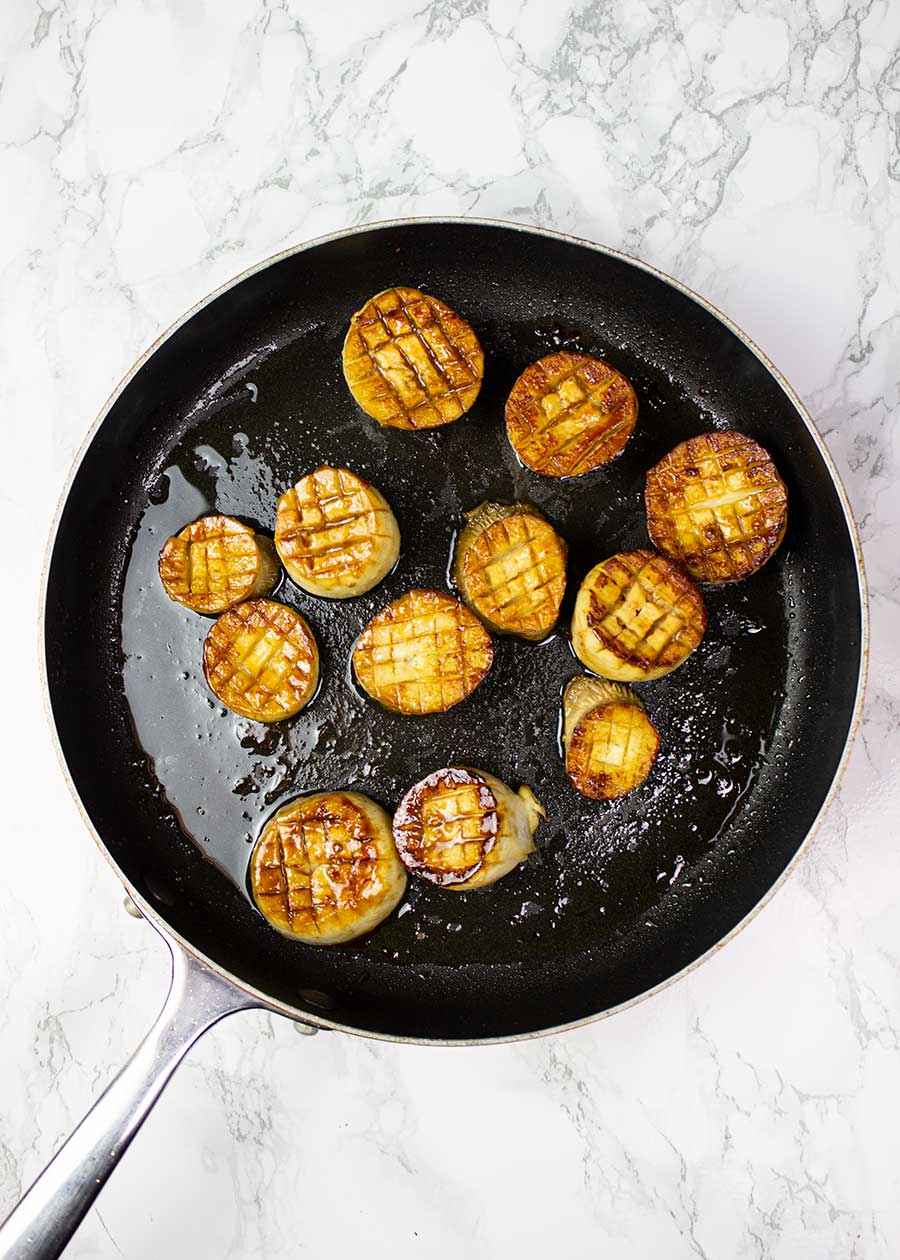 Vegan scallops – is this even possible?
Scallops are one of the most flavoursome, delicious and sophisticated ingredients to make a dish to impress. Simply cooked and served on a silky smooth puree with a drizzle of sauce they have adorned top restaurant menus for years. Their flavour is sweet and only subtly flavoured with the sea. The taste, believe it or not, is one of the easier aspects to recreate when following a plant-based diet. What makes a natural scallop a real treat is more to do with the texture. It is unmistakable in a coquille st Jacques which is gratinated in a bechamel sauce topped with breadcrumbs and cheese. They are soft yet firm, have chew yet smoothness of blancmange and extremely moreish. This texture of opposites is what is so alluring in this delicate sweet ingredient. 
King oyster mushrooms, firstly, have this firmness. Secondly, when they are lightly cooked in oil they then start to break down and create the soft silken texture that is actually very reminiscent of a real scallop. It is, of course, the natural flavour of the mushroom that stops you associating this texture with the scallop. However, that is where the additions of flavours and the creation of the physical shape of the mushroom which transforms them into chameleon scallops and almost tricks the senses. They look like scallops, they have the texture of scallops, they actually taste like scallops, so they must be scallops! The old adage "you eat with your eyes" is very true.
Of course, there is a certain trickery of the senses but the flavour combinations certainly remove the feeling that you're just eating mushrooms.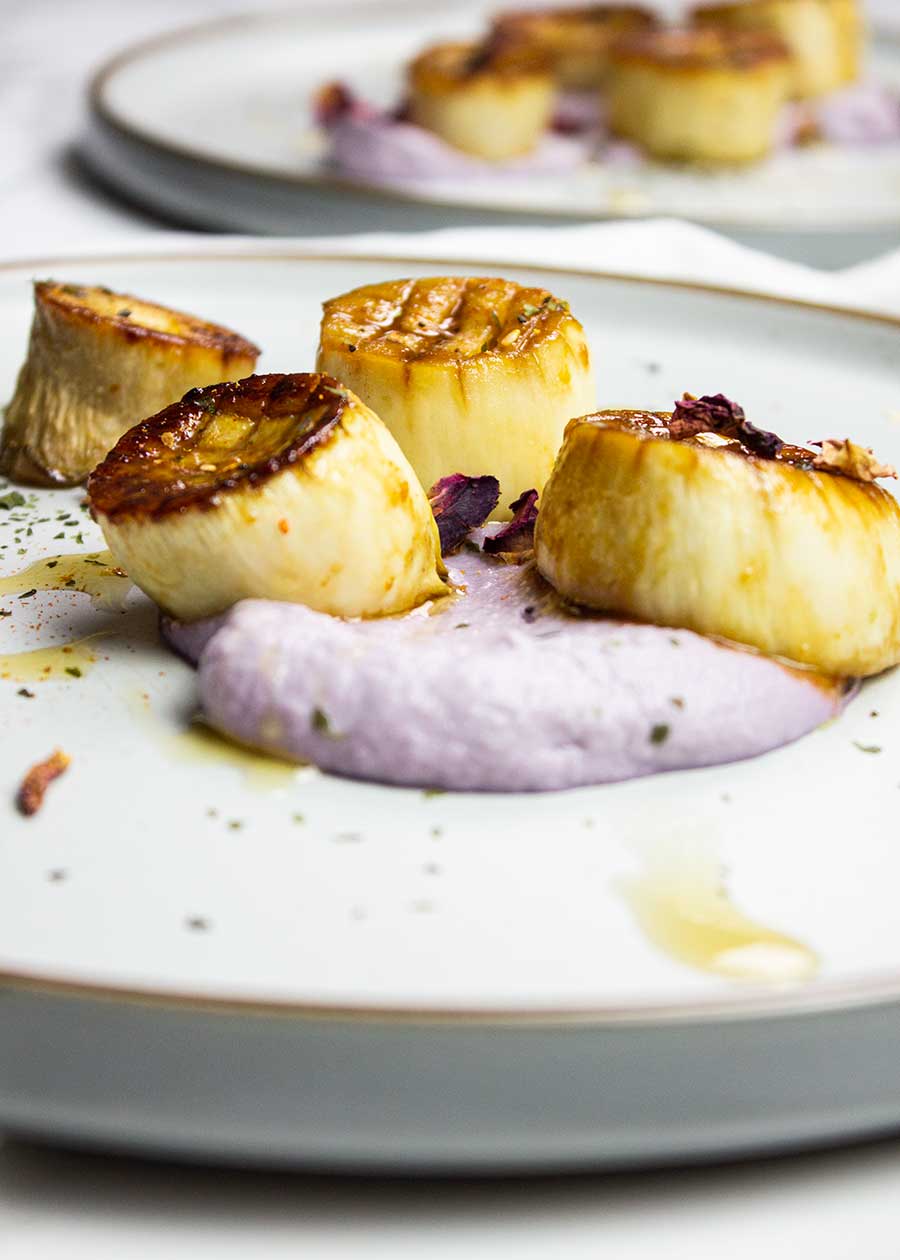 Seared vegan scallops on cauliflower puree
When preparing this dish whether for entertaining or just for pleasure, the presentation does play an important part. A very classic way of presenting a scallop dish is to serve it on a puree of sorts. This is where you can get adventurous or go for the basics. We have used a wonderfully colourful purple cauliflower. It certainly gives the dish a bit of romance but a normal cauliflower tastes the same and is much more readily available. All you need to do is to boil the cauliflower until tender, add a touch of plant-based milk and blitz in a blender or with a handheld blender. You can flavour this puree too. Some of them go to flavours such as truffle or a choice of herbs work well. If you like an Asian twist, add some tahini and rice wine vinegar too.
Other vegetables to puree can be simply a potato or some peas. Jerusalem artichokes often get seen on a menu as do fennel or celeriac. The choice is yours, just follow the same process of gently boiling in salted water until tender and blend with some plant-based milk such as oat milk or soy milk.
Once you have your puree, just leave it in a warm oven and then prepare your scallops. King oyster mushrooms have beautiful shapes and it almost seems a shame to dissect them. However, when you see the finished dish and the hungry look in the eyes of your guest/s it is definitely worth it. Start by thinly slicing the top off. You can reserve these, chop them up and cook them to garnish with at the end or you can just discard them. Now cut the mushrooms into roughly 3-4 rounds dependent on the size of the mushroom. You'll end up with scallop shapes of about 3-4cm in height. On one side of the scallop, score a checkered pattern of about 1cm intervals on top with a sharp knife about ½ a centimetre into the flesh of the mushroom. This is a classic pattern scored into scallops and will help our mushrooms look entirely the part.
How to make the perfect plant-based scallops
Before we start to cook, prepare the glaze. This not only gives this dish its unique and really tasty flavour, it also accentuates the top of the mushroom scallop to make it look like a real seared scallop that is golden brown and glistening. The glaze is very simple too made with ingredients readily available. 1 tablespoon of red miso paste to add a deep rich umami flavour, 1 tablespoon of naturally sweet maple syrup which caramelizes our vegan scallops, 1 tablespoon of olive oil which add shine to the surface and also helps bring out these opposites of texture by slightly crisping up the surface whilst helping the mushroom become soft and silky inside. Finally, juice of half a lime cuts straight through the miso just like a lemon would add to so many fish courses. A dash of soy sauce can also be added if you want an even richer colour and flavour. Mix all the glaze together ready to be brushed on to your scallops.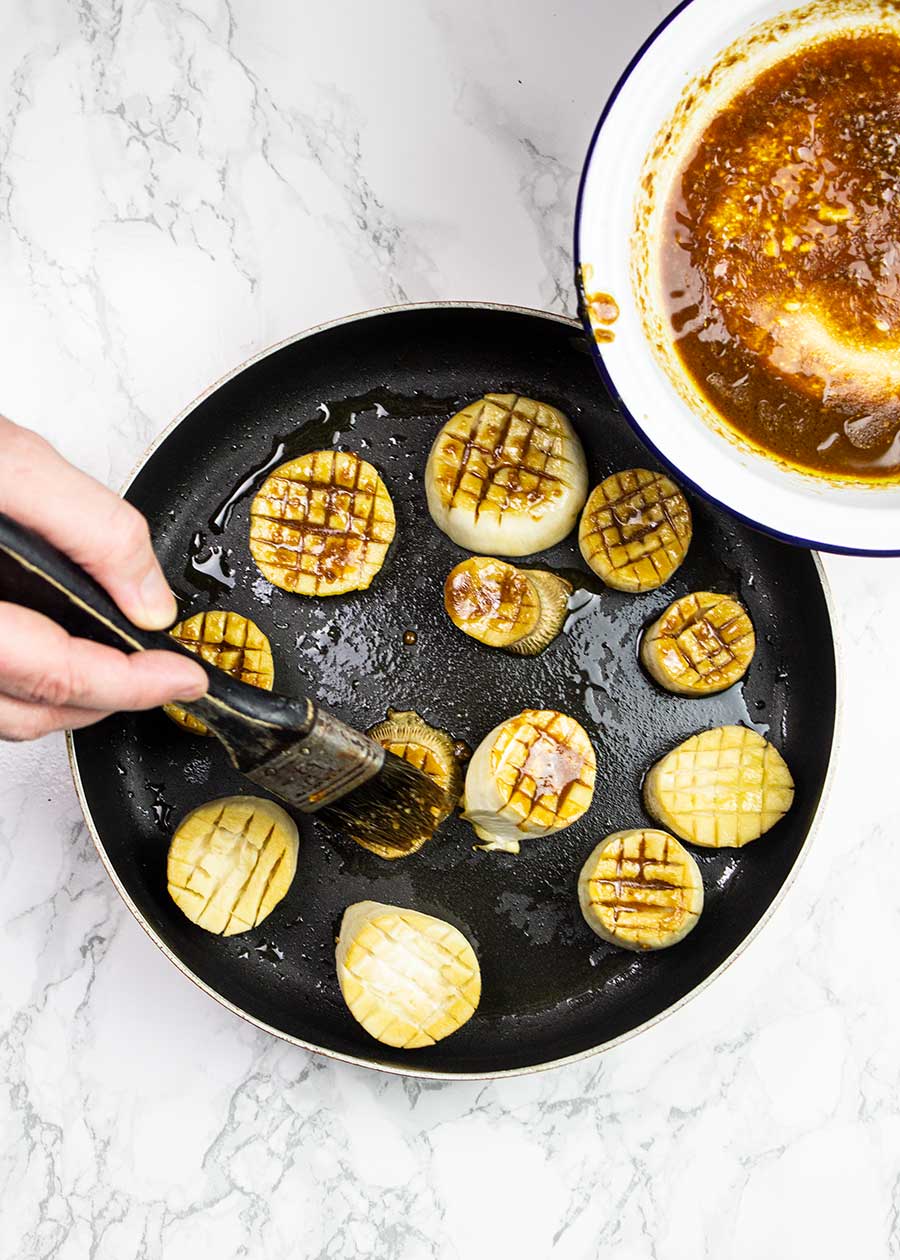 Perfect mushroom scallops
Now to cook the vegan scallops. Add a decent glug of olive oil to a pan on a medium-high heat. Place the mushroom scallops scored side down into the oiled pan. Fry this off for 1 minute. This will help cook the mushroom in a way that we get the texture of crisp on the tops and bottoms, slightly soft and silky towards the middle whilst retaining an ever so slight bouncy rawness in the middle, exactly how a real scallop should be.
Turn all the scallops over and liberally brush over the glaze into all the cuts that should now have started slightly opening. Cook this stage score side up for a further minute.
The last step is to caramelize the glaze. Simply turn the scallops back over so that they are glazed side down and cook for 1 final minute. The syrup doesn't take long to caramelize and when you turn the heat off and turn them around, they will be cooked to perfection.
Plating up and presentation
The plating up of this is ever so easy too. Spoon on a tablespoon-sized dollop of puree on the middle centre of your plate and spread or smudge to the other side. Simply arrange your scallops so that the beautifully caramelized glistening scored side face upwards on top of the puree. These are full of flavour and any leftover glaze can be splattered over. If you have a flavoured oil such as a lemon il which we would recommend or sesame oil then drizzle a bit over too. Season with salt and pepper and serve whilst they are piping hot.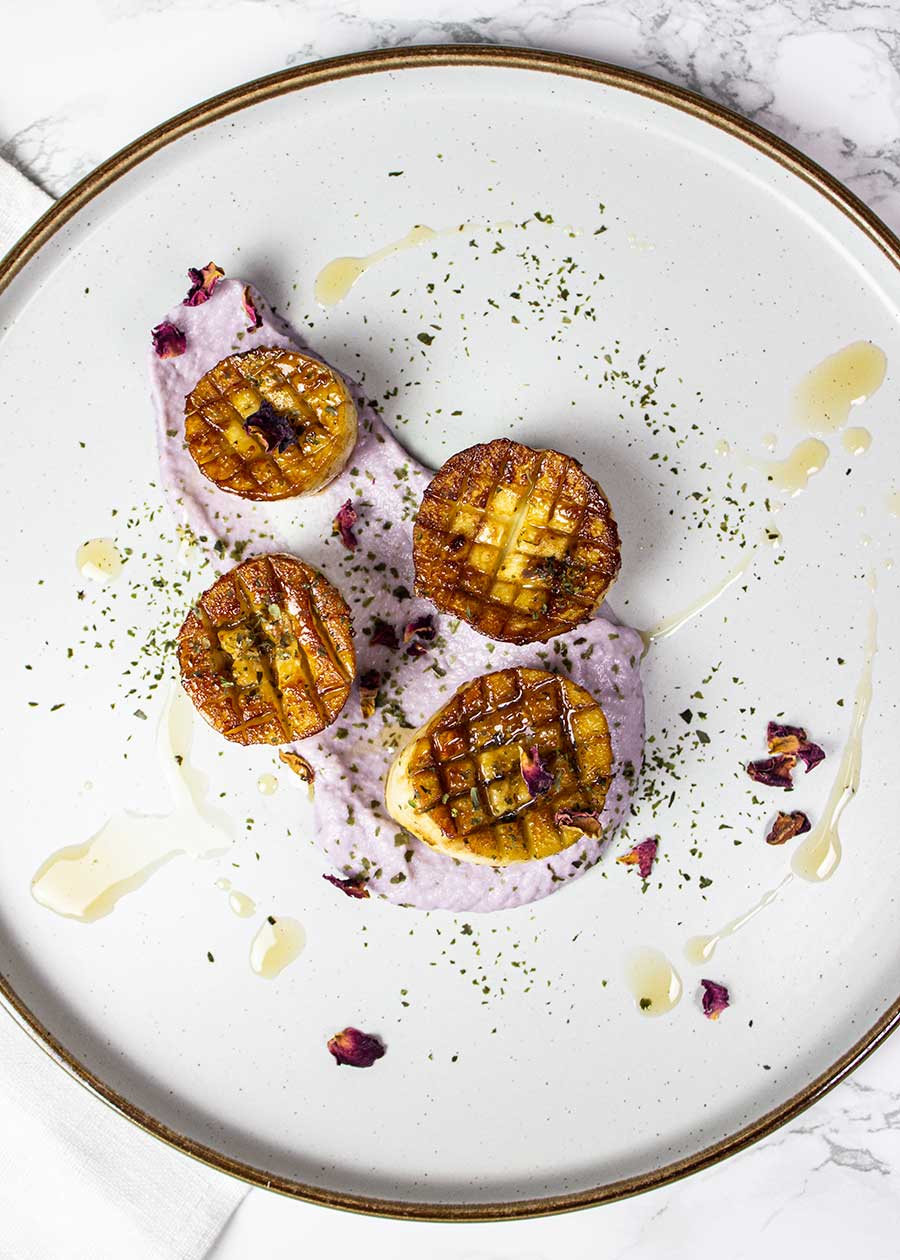 Incredible health benefits
Oyster mushrooms are a wonderfully healthy food that contains very potent antioxidants. In particular, selenium, which has recently been considered as one of the most important trace elements in your diet. Selenium is needed for normal cell growth and also enhances the potency of the liver enzyme P450 which detoxifies carcinogens in the body. In countries that have low levels of selenium in their soil where crops are grown have been documented to have instances of cancer increased by as much as six-fold. Oyster mushrooms also contain a powerful compound called Lentinan which is known to fight cancer-causing agents. 
These mushrooms are tasty and healthy and as we can see from our best ever vegan scallop recipe, ever so versatile too.
Have you made our vegan scallops?
We'd love to see your food creations! Please leave a comment below, share or tag using @anticancerkitchen on Instagram and hashtag it #anticancerkitchen.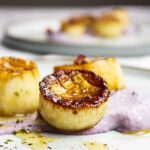 Ingredients
4 x king oyster mushrooms

200g (2 cups) of cauliflower florets (purple, if available)

¼ of a cup of oat or soy milk

A dash of rice wine vinegar

A dash of sesame oil or lemon oil

1 tablespoon of tahini (optional)

For the Miso glaze:

1 tablespoon of red miso paste

1 tablespoon of maple syrup

1 tablespoon of olive oil

Juice of ½ a lime

A dash of soy sauce (optional)
Instructions
Bring a pan of slightly salted water to the boil. Add the cauliflower florets and gently boil until tender. About 3-4 minutes. Drain through a colander and let steam for a couple of minutes.
Place the cauliflower florets and soy or oat milk in a high-speed blender or using a stick blender puree until smooth. At this stage flavour your puree. We use 1 tablespoon of tahini and a dash of rice wine vinegar. Leave in a warm oven.
To prepare the glaze, add the Miso paste, maple syrup, olive oil, lime and soy sauce together and whisk until smooth. 
Prepare the oyster mushrooms by slicing the tops off. Cut each king oyster mushroom equally into 3 or four pieces to about 3-4cm in height.
With a sharp knife score 3-4 slices vertically and 3-4 slices horizontally about ½ a centimetre deep to create a checkered pattern on one flat side of each mushroom scallop.
Cover a thin layer of olive oil in a frying pan and bring to medium-high heat. Place the mushroom scallops in the oil scored side down and fry for 1 minute. Turn the mushroom scallops over so that they are scored side up. Cook them for 1 minute whilst brushing over the glaze into the top. Turn all the mushroom scallops glazed side down for 1 final minute or until they have all caramelized to a golden brown colour.
Present each dish with a large spoonful of puree smudged across the plate and arrange your mushroom scallops on top. Drizzle with sesame oil or lemon oil and any left overglaze.   
Step-by-step images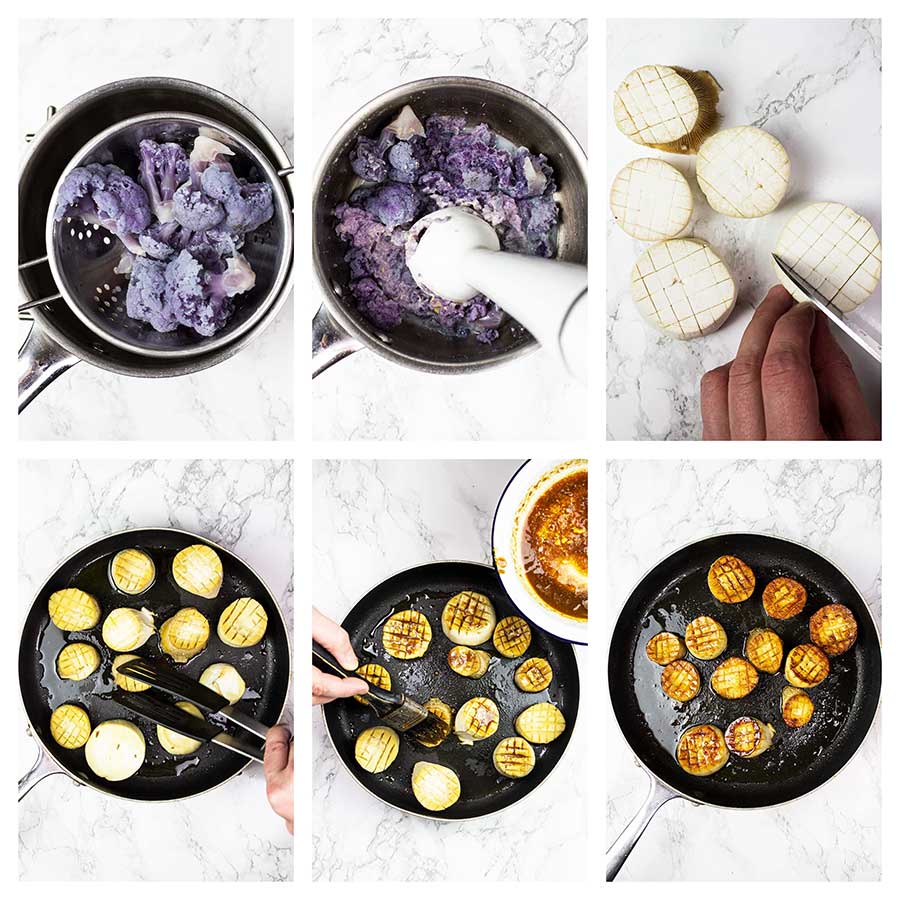 Copyright secured by Digiprove © 2021 The Anti-Cancer Kitchen