Quick turmeric shot recipe made with apple, turmeric and ginger that is spicy, nutritious and antioxidant. The only equipment you need is a juicer and 5 minutes of your time and you are good to go. This super easy turmeric shot recipe can be done in a batch and kept in the fridge for up to 3 days.
Turmeric shot recipe with apple and ginger
Our turmeric shot recipe is made in a shot and drunk in a shot. So, no more excuses – it's the most convenient way of getting those antioxidant and anti-inflammatory properties into your diet. Just juice apple, turmeric, ginger and add cinnamon and black pepper – that's it.  So simple, healthy and good for you!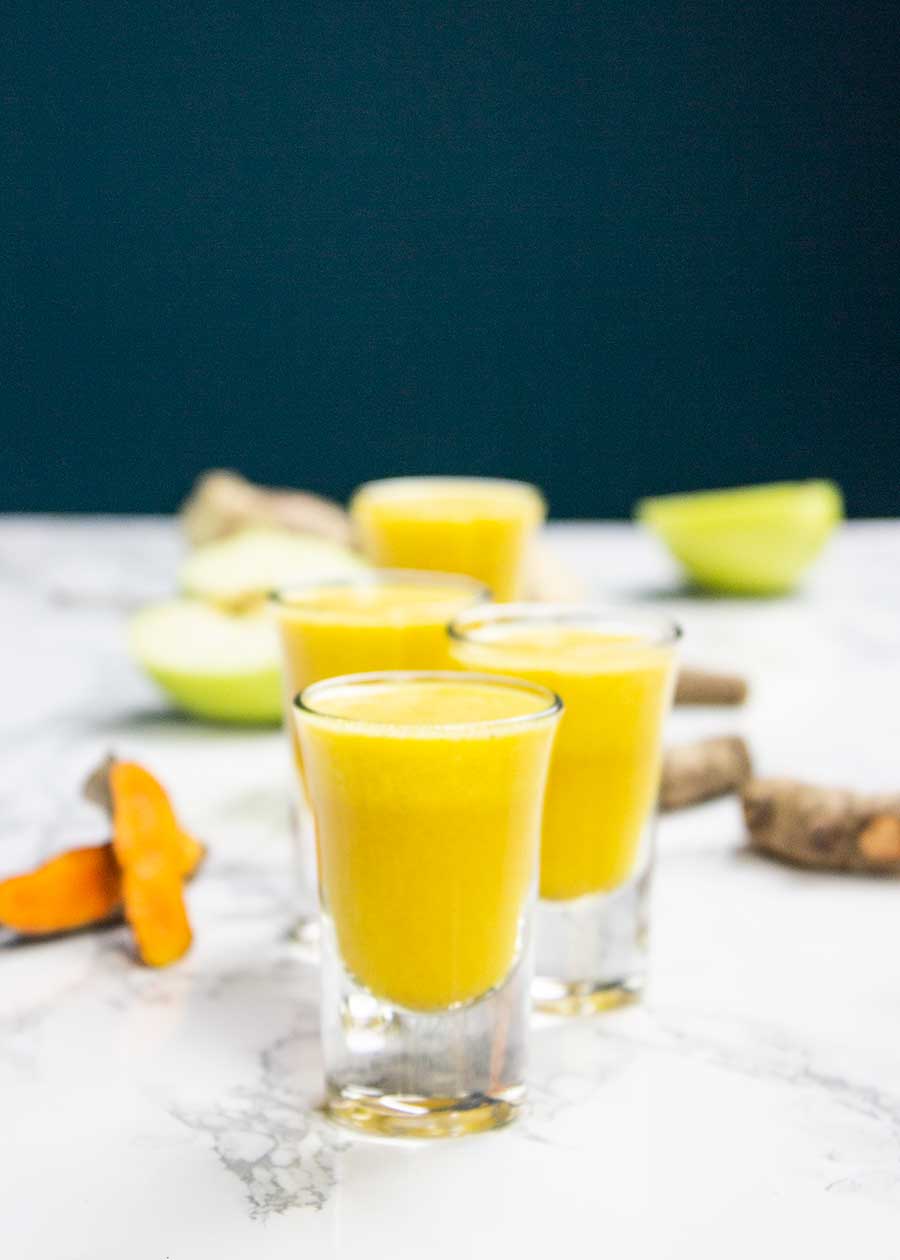 Powerhouse of health
This healthy turmeric shot will from now on kick-start your mornings. It's a perfect immune-system booster, cancer-fighter as it's packed with antioxidants our bodies' cells need to stay healthy.  Our turmeric shot recipe is a powerhouse of health as it:
Protects your body from free radicals
Helps prevent the growth of cancerous cells
help fight colds and flu
Curcumin in turmeric which is the natural powerful anti-inflammatory compound is as effective as many anti-inflammatory drugs. Our body's immune system has to cause natural inflammation so it can repair damaged cells and fight off pathogens, this is essential. Inflammation, on the other hand, can become chronic when at a low-level it constantly attacks our own bodies and it is this inflammation that scientists believe is present in the majority of chronic diseases such as cancer. Curcumin is present in turmeric but even at only 3% by weight it is important to include it in our daily diet. Adding black pepper in this turmeric shot will help the body absorb this amazing substance by up to 2000%.
Research has shown some very promising results in regards to turmeric being cancer-fighting. A phase one clinical trial looked at giving turmeric to 25 patients with precancerous changes in different organs. This study seemed to show that turmeric/curcumin could stop the precancerous changes becoming cancer. Studies have also shown that people that were eating about 100mg to 200mg a day over long periods of time could minimise the risk of developing cancer.
Ginger belongs to the zingiberaceae group, and is actually closely related to turmeric and galangal which is a version of a Thai ginger which is used in Thai cooking, see our Thai green curry paste recipe.  Ginger has for some time been used in various forms of alternative medicine. It has been used to help digestion, reduce nausea, and help fight cold and flu. One of the remedies you can do to fight cold and sniffles is to make our amazing turmeric tea recipe.
Moreover, ginger a natural cancer fighter as it's packed with antioxidants. Research has shown that the active compounds 6-gingerol and 6-shogaol exhibit anti-cancer properties against the gastrointestinal tract and helps in cancer cell death.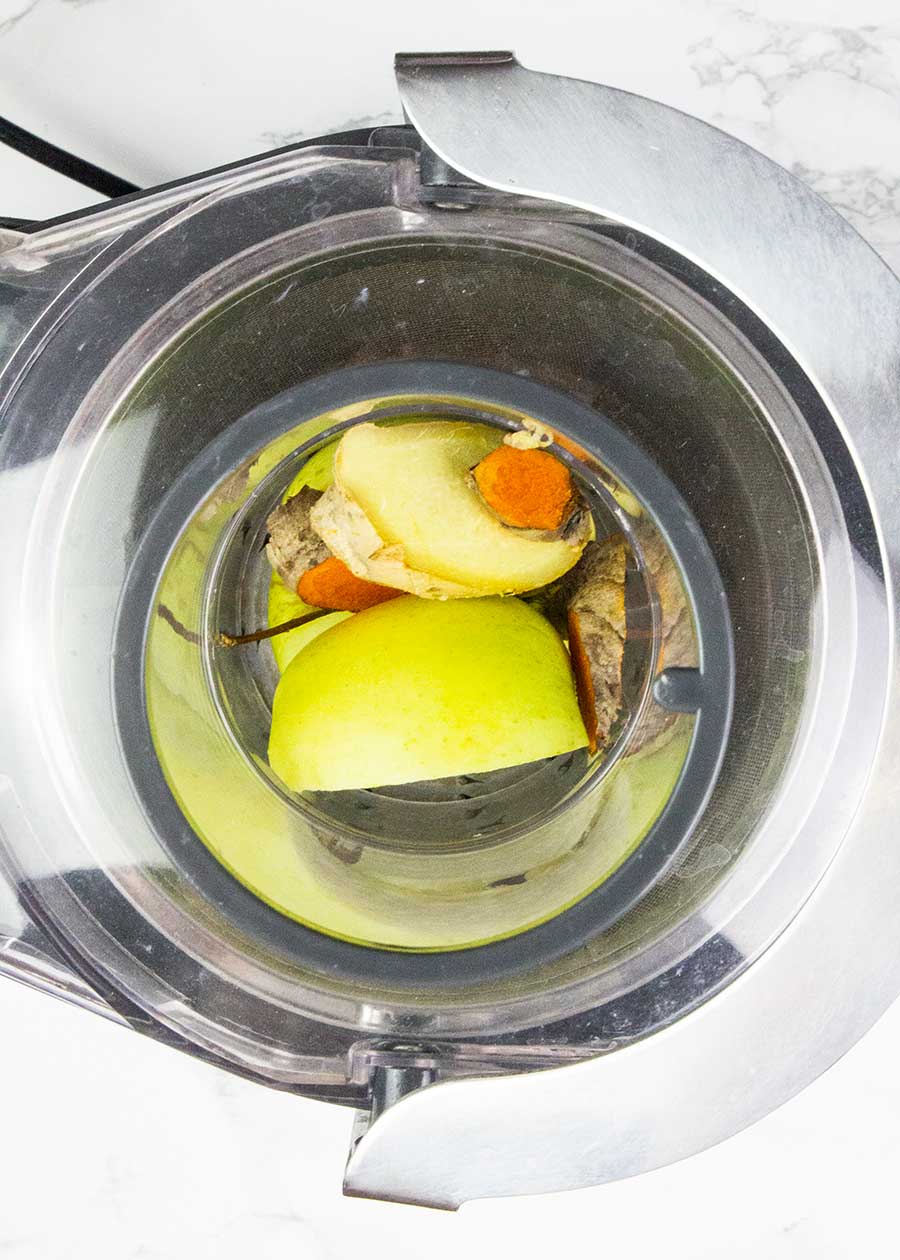 Apples and polyphenols
When they say that 'an apple a day keeps the doctor away', it is definitely some truth in that old saying. Apples are loaded with important nutrients, including crucial vitamins, minerals, and antioxidants. They are good for:
Boosting our brain health
Apples accelerate the acetylcholine production, which helps build a stronger communication between nerve cells and brain that further improve our memory and minimising our chances of developing illnesses such as Alzheimer's.
Lowering bad cholesterol levels
Polyphenols in apples, which are micronutrients that are packed with antioxidants, have been linked to reducing the levels of bad cholesterol and slow down its oxidation. This, in turn, helps reduce the risk of hardening of arteries, damaging heart muscles and blood vessels.
Fighting cancer
Additionally, these polyphenols that have promising anti-cancer properties as they protect our body from free radicals and produce a defence mechanism against stress factors. Polyphenols can inhibit the tumour growth, induce apoptosis in cancer cells and interfere in progression of tumours.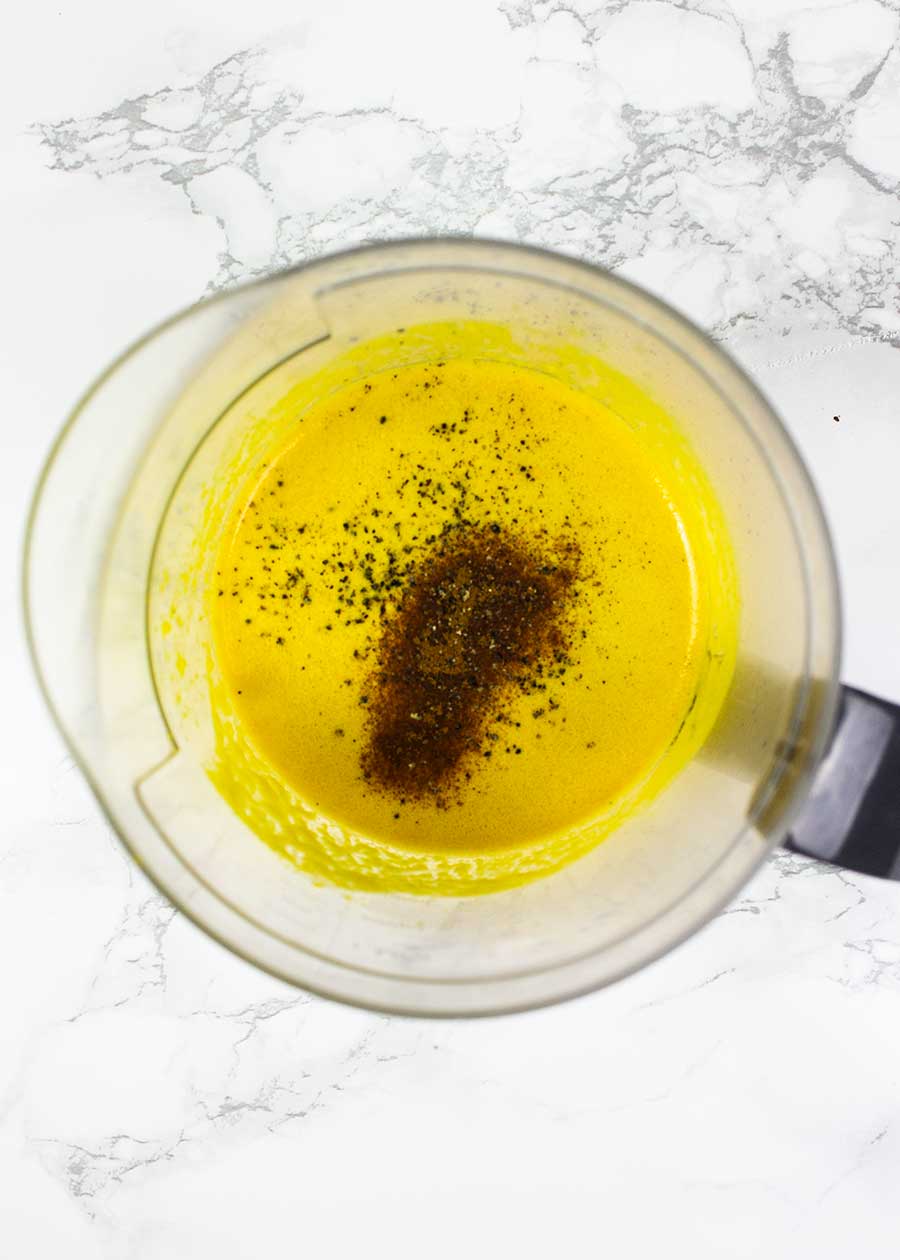 Other healthy wellness drinks on the blog
Have you made this turmeric shot recipe?
We'd love to see your shot creations! Please leave a comment below, share or tag using @anticancerkitchen on Instagram and hashtag it #anticancerkitchen.
Update notes: This post was originally published on the 24 of September 2017, but was republished with new photos, health benefits information and step-by-step images in August 2020.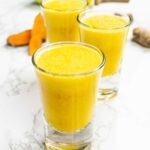 Ingredients
1 apple

5cm of fresh ginger

5cm of fresh turmeric or 1 teaspoon of turmeric (if you don't have fresh turmeric, you can use ground turmeric powder which you mix in after you have juiced apple and ginger)

1/4 teaspoon of black pepper

1 teaspoon of cinnamon
Instructions
So, all you need is a juicer and juice apple, ginger and turmeric. Mix in the black pepper and cinnamon and stir for 30 seconds. Pour in shot glasses and drink immediately. That's it - that's your quick and easy health boost for the day.

Copyright secured by Digiprove © 2020 The Anti-Cancer Kitchen