This turmeric shot made with apple and ginger is quick, nutritious and antioxidant. The only equipment you need is a juicer and you are good to go. It can be done in a batch and kept in the fridge for the whole week.
Turmeric shot recipe with apple and ginger
This turmeric shot recipe is made in a shot and drunk in a shot. Honestly, no more excuses, it's the most convenient way of getting those antioxidant and anti-inflammatory benefits into your diet. Just juice apple, ginger and add turmeric – that's it. So simple and so healthy and good for you!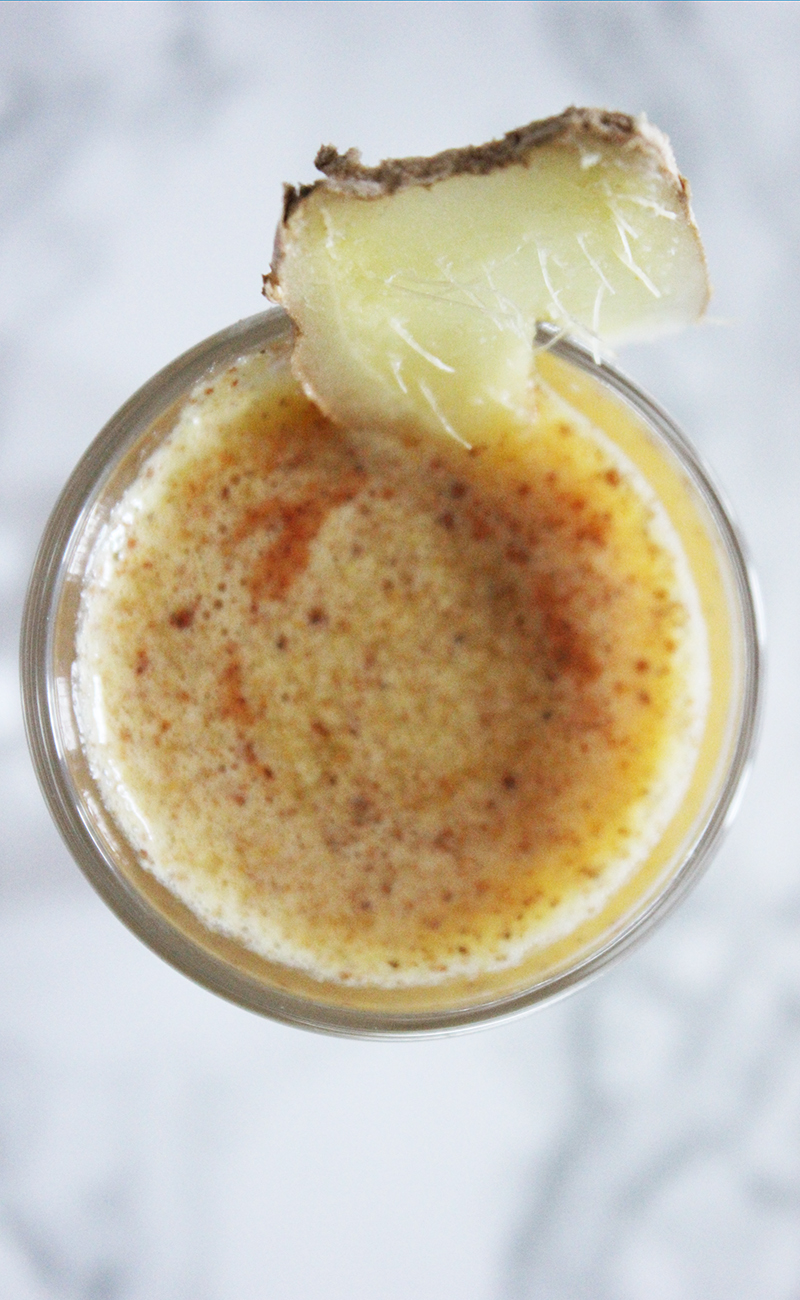 Turmeric shot health benefits
This healthy shot will literally change your life. It's energy-boosting and full of antioxidants our bodies need to stay healthy.  Moreover, research has shown some very promising results in regards to turmeric being cancer fighting. A phase one clinical trial looked at giving turmeric to 25 patients with precancerous changes in different organs. This study seemed to show that turmeric/curcumin could stop the precancerous changes becoming cancer. Studies have also shown that people that were eating about 100mg to 200mg a day over long periods of time could minimise the risk of developing cancer.
Ginger belongs to the zingiberaceae group, and is actually closely related to turmeric and galangal which is a version of a Thai ginger which is used in Thai cooking, see our Thai green curry paste recipe.  Ginger has for some time been used in various forms of alternative medicine. It has been used to help digestion, reduce nausea, especially in pregnancy and help fight cold and flue. One of the remedies you can do to fight cold is to make the super famous hot toddy drink.
Have you made this juice recipe?
We'd love to see your juice creations! Please leave a comment below, share or tag using @anticancerkitchen on Instagram and hashtag it #anticancerkitchen.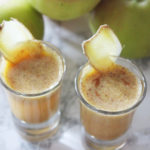 Ingredients
5cm of ginger

1 apple

1 tea spoon of turmeric

1/4 tea spoon of black pepper

1 tea spoon of cinnamon
Instructions
So, all you need is a juicer and juice the ginger and apple. Mix the spices in and stir. Pour in a shot glass. That's it - that's your quick and easy energy boost for the day.

Copyright secured by Digiprove © 2020 The Anti-Cancer Kitchen