Healthy turmeric tea recipe that is full flavour.
When the cold weather arrives, there is nothing better than a nice hot, mulled, spiced, anti-inflammatory apple drink, we call it Hot Gold Apple.
We very much enjoy this turmeric tea recipe just before bedtime as celery helps soothe the nervous system and acts as a stress-relief. Moreover, studies have shown that celery is crucial for an anti-cancer diet as it contains a powerful antioxidant, apigenin, which has shown to inhibit the initiation, progression, and metastasis of tumours. The infusion of matcha tea makes this a genuinely healthy way to end every day.
Have you made this turmeric drink recipe?
We'd love to see your drink creations! Please leave a comment below, share or tag using @anticancerkitchen on Instagram and hashtag it #anticancerkitchen.
More anti-cancer drink recipes
Check out our juice and smoothies category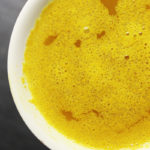 Ingredients
6 apples

3 celery stalks

2 tea spoons of turmeric

1 tea spoon of black pepper

Mulling spices - we use 1/2 tea spoon of cloves, 1 tea spoon of cinnamon, 1 tea spoon of dried ginger, a few cloves of star anise

4 fine slices of ginger

A few slices of orange peel

1 matcha tea bag
Instructions
So, all you need is a juicer and juice apples and celery. Pour the juice in to a sauce pan together with the rest of the ingredients, spices and the tea bag. Once it starts simmering, it's ready to drink.