Spiced sweet potato soup with turmeric is our go-to soup.
The best twist on a classic potato & leek soup
With so many soups to choose from and so many different cuisines to choose them from, why amend a classic? Simple, we are looking at classics that people love and adore and adding the ingredients that we know and that are growing in popularity for people who want to eat food with massive health benefits. A lot of classics were designed in times where ingredients were only found locally to them so it seems logical to us to infuse more healthy global ingredients available to us now to create new favourites. Most of the work was done years ago such was the case with leek and potato soup but here we hope we've added something memorable as well.
How to make spiced sweet potato soup
To make this spiced sweet potato soup is really simple. The preparation is minimal and the oven, the hob, and the blender does the work for you.
The base of this soup is simple – sweet potatoes, carrots, leeks, and vegetable stock – then you jazz it up with super healthy and anti-cancer herbs (coriander, lemongrass, Thai holy basil), anti-inflammatory spices (turmeric), roasted garlic and coconut milk. So let's get cooking.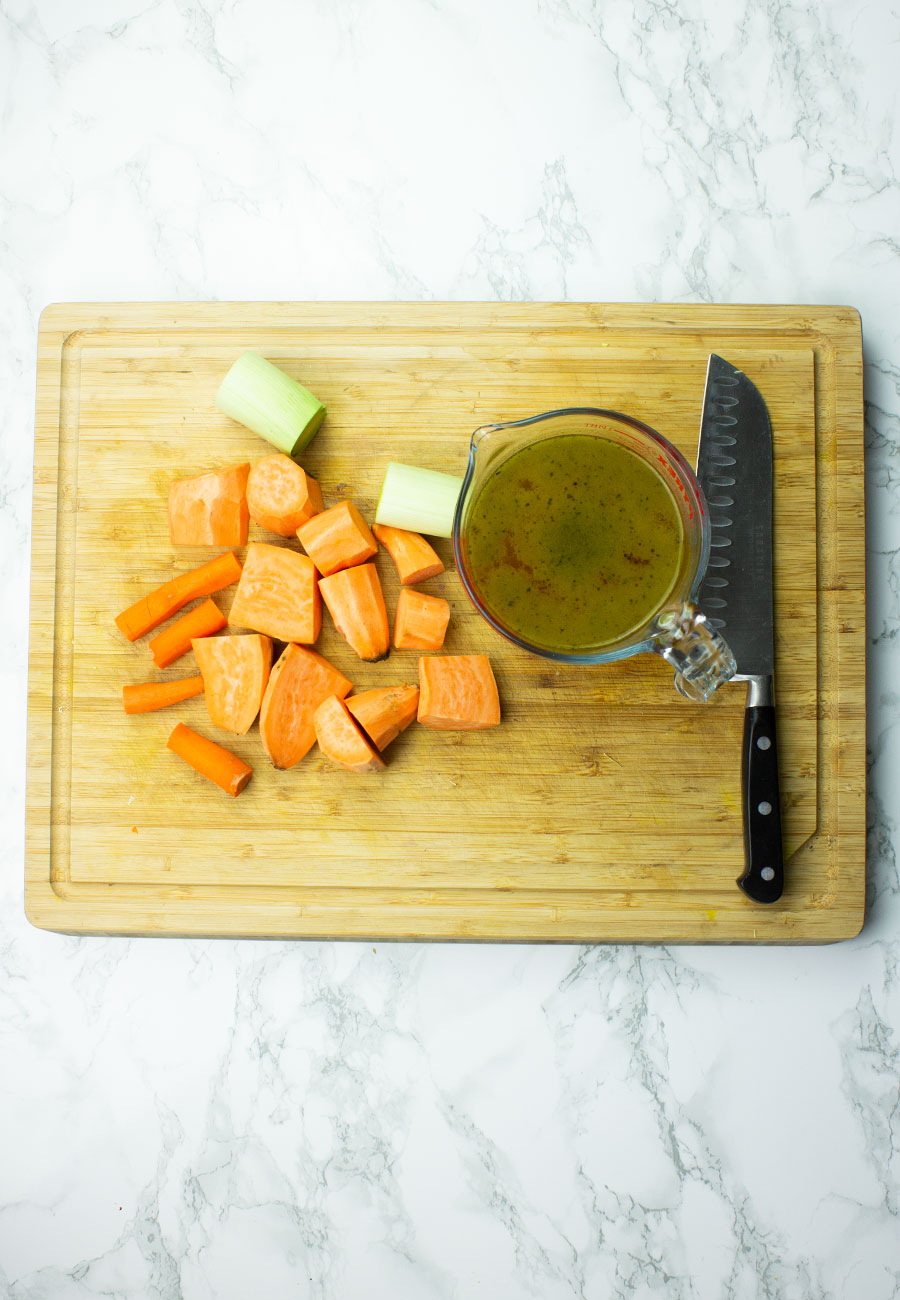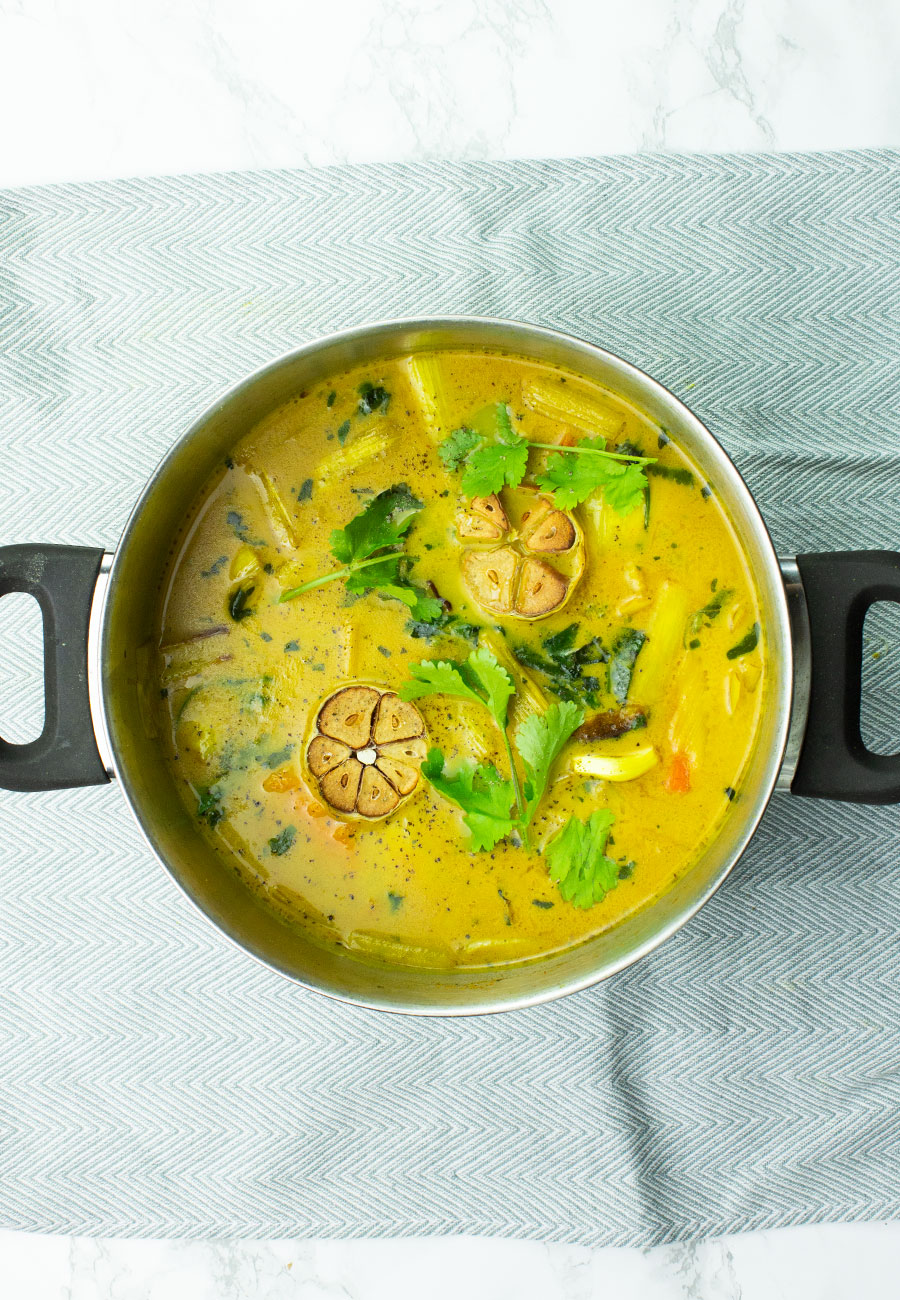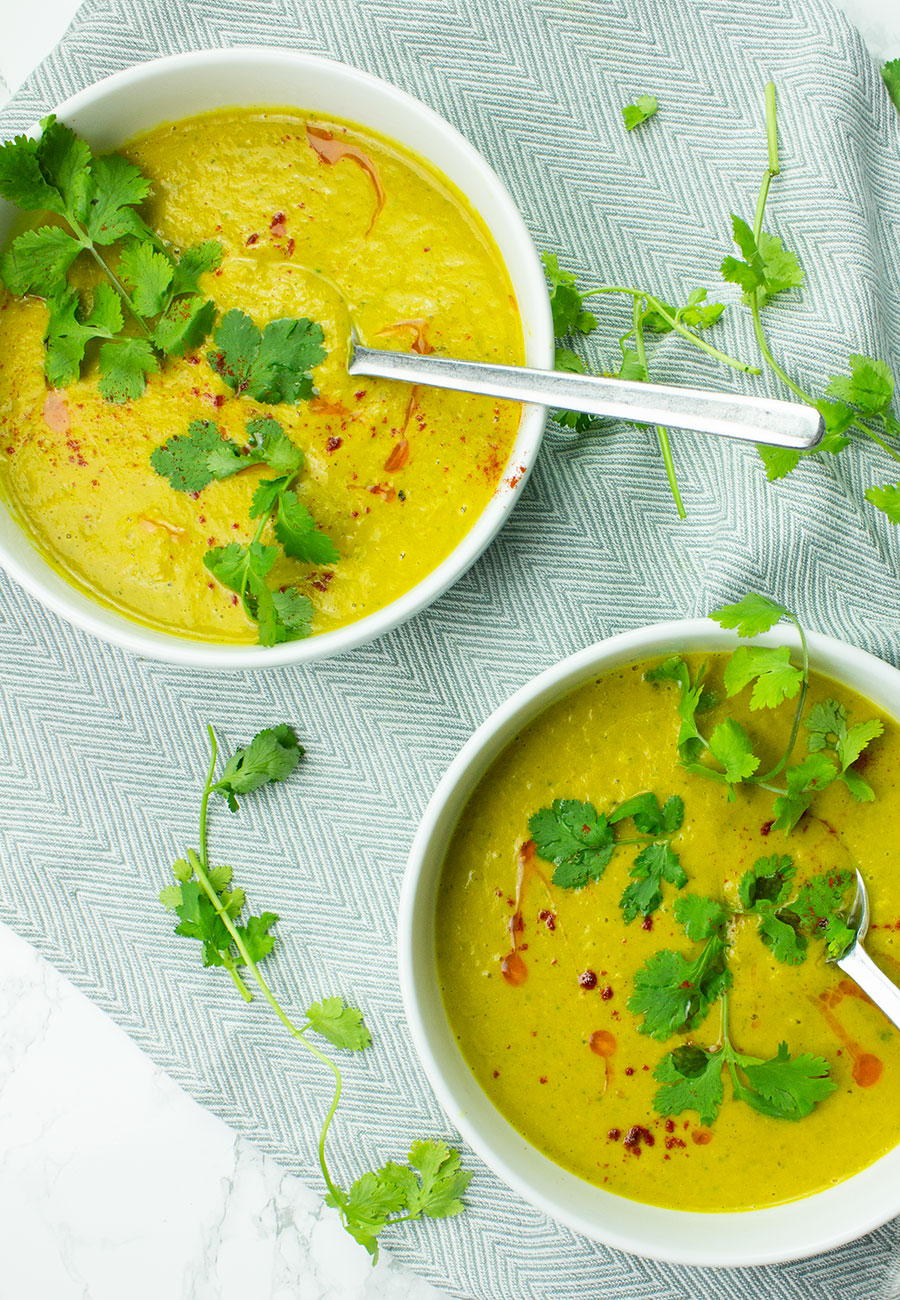 Have you made this spiced sweet potato soup recipe?
We'd love to see your food creations! Please leave a comment below, share or tag using @anticancerkitchen on Instagram and hashtag it #anticancerkitchen.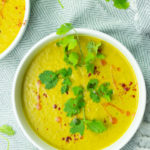 Ingredients
2 peeled and cubed sweet potatoes

2 roughly chopped leeks (white part only)

1 large carrot, chopped

1 whole garlic bulb, sliced in half through the middle not the stalk

1 lemon grass stalk smashed and finely chopped

2 teaspoons of turmeric

1 teaspoon of cumin

1 teaspoon of paprika

A handful or about 20g fresh coriander

A handful or about 20g of fresh Thai holy basil

750ml organic vegetable stock

250ml of coconut milk

A drizzle of olive oil
Instructions
Put the leek, garlic and lemongrass in a roasting tin, drizzle over the olive oil and put in a 200c/392°F oven for 20 minutes.
Take the leek and lemongrass out and set aside after this time but return the garlic for another 10 minutes. Meanwhile, pour the stock into a pan and bring to a boil then add sweet potato, carrot, turmeric, cumin and paprika. Simmer for 15 minutes or until the sweet potato and carrot are tender then add the roasted leeks and lemongrass.
Remove the roasted garlic cloves from the skin and add to the pan along with the coconut milk, coriander and Thai holy basil. Let the soup cool a little then transfer to a blender or with a hand blender blitz until smooth. re-heat in a pan when ready to be served.

Copyright secured by Digiprove © 2020 The Anti-Cancer Kitchen