This roasted celeriac soup recipe is absolutely delicious. It's super healthy, comforting and full of flavour. This vegan and anti-inflammatory roasted celeriac soup recipe with spinach and turmeric is also very filling and fresh and totally bursting with flavour.
Why celeriac works so well in this soup
Celeriac is a pale root vegetable with a similar flavour to sweet celery or parsley. It is a Mediterranean root that has similar qualities to potatoes and other roots such as turnips, parsnips beetroots and squashes and as such is a great alternative to many of these root vegetables. Try a smooth mash or sliced up on top of a stew or simply roasted with your favourite protein. Here we have combined some fragrant spices and coconut to go accompany the delicate nutty and sweet flavour of celeriac in a warming 100% plant-based autumnal soup.
Celeriac – health benefits
There are a few good reasons to use celeriac as opposed to potatoes in soups and stews, one being that they contain around one third fewer calories and carbohydrates than potatoes. This is great for people looking to lower their calorie or carbohydrate intake. Of course at The Anti-Cancer Kitchen, this is very much part of our ethos as in the UK alone obesity is the second largest cause of cancer. Celeriac also contains vitamin K which research has shown has a positive impact on bone health which if you are anything like us then this will help your physical activity lifting weights or running to stay in shape. One of our tenets is to protect your "terroir" as David Servan-Shreiber wrote his book Anti-Cancer, A New Way of Life. The terroir is the landscape of your health and to maintain it you need to look after your diet, your exercise and your state of mind. So, to consume foods such as celeriac that are not only nutritious for your diet they allow you keep in shape and exercise which in turn will have a positive impact on your state of mind, basically 3 out of 3.
Roasted celeriac soup with turmeric
The fragrant spices in this soup not only add to the warming taste they actually increase the nutritional and health benefits too, one ingredient, in particular, that does this is turmeric. Used for thousands of years for its health benefits this vivid yellow root, distinct in its flavour is probably the world's most well-known anti-cancer ingredient. Turmeric has a unique make-up with over 100 compounds that gives it its profile. Most importantly turmeric contains curcumin, a polyphenol that is a potent anti-inflammatory. The consumption of this is shown to help your immunity system protecting against illnesses
and diseases and also helps destroy diseased cells within the body and brain.
Introducing weight maintaining and nutrient-rich ingredients into your diet can be hard especially with so many carb high ingredients in the seed-food world but celeriac is certainly a staple and substitute that will bring you tasty dishes time and time again.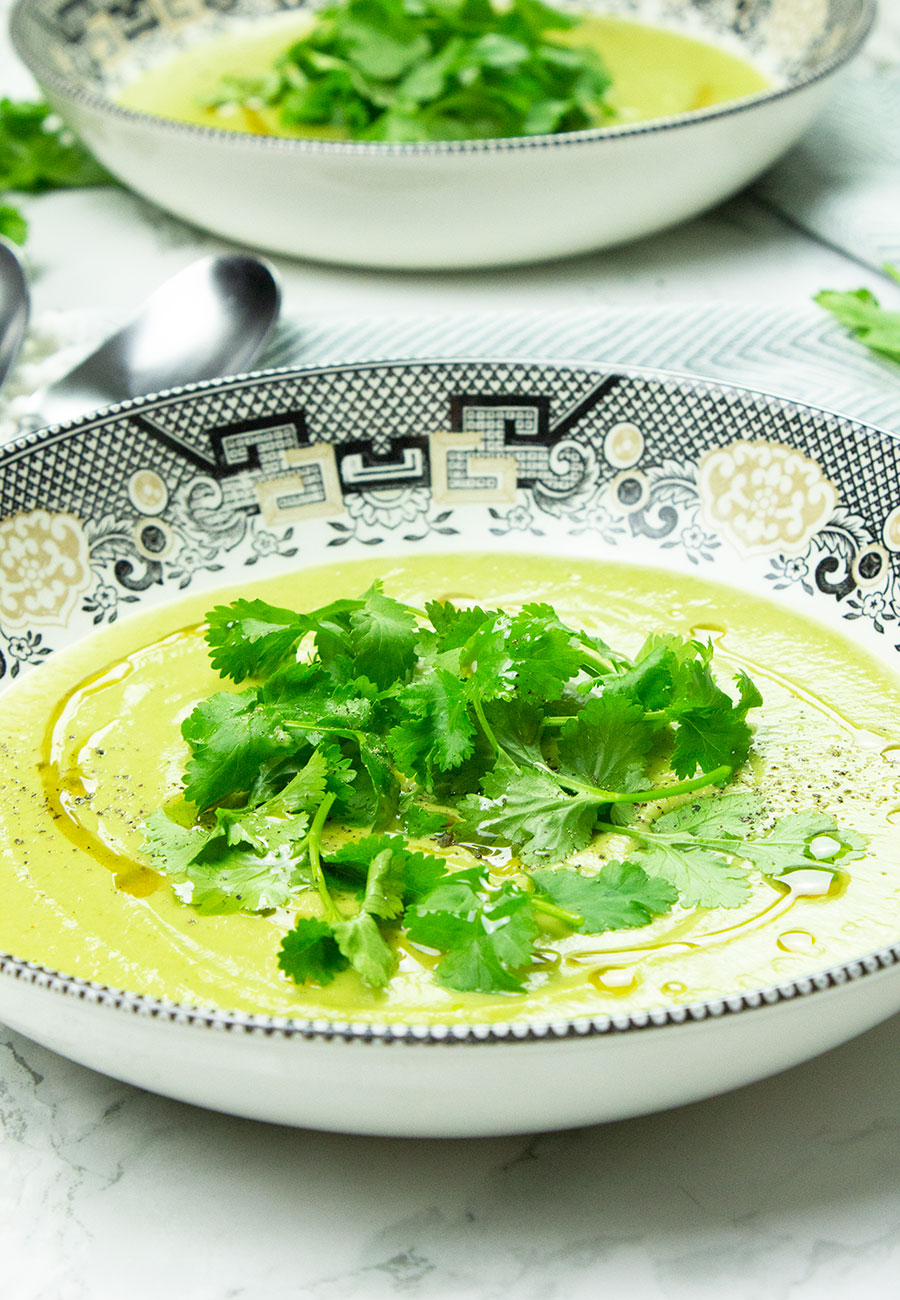 Have you made this celeriac soup recipe?
We'd love to see your food creations! Please leave a comment below, share or tag using @anticancerkitchen on Instagram and hashtag it #anticancerkitchen.
More delicious anti-cancer soup recipes
Check out our soup recipes category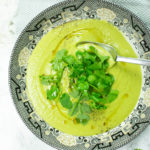 Ingredients
1 celeriac diced

2 leeks (white part only) chopped

60g of fresh spinach

1 litre of organic vegetable stock

250ml of coconut milk

2 whole cloves of garlic

2 tablespoons of Masala powder or a mix of coriander, ginger, star anise, nutmeg, turmeric, cumin, paprika

A dash of olive or rapeseed oil
Instructions
Bring a pan of salted water to the boil, add the celeriac and on a medium high heat simmer for 20 minutes. Drain and set the celeriac aside.
Heat the oil in a wide frying pan and stir in the masala powder until starting to foam. Add the leeks, celeriac and garlic to the pan and stir-fry until the starting to brown and fully coated in the spices.
Transfer to a roasting tray and put in a 200c oven to roast for 25 minutes. Add the spinach for the last 5 minutes of cooking.
Transfer the contents to a blender and pour in the stock and coconut milk and process until smooth.
Gently re-heat in a pan when ready to serve.