This is a delicious and easy to make alkaline kiwi fruit, banana and ginger smoothie, perfect as a quick and nutritious breakfast.
We don't really eat a lot of kiwi fruit. Not because we don't like it, on the contrary we love kiwi fruit, but because it is a little bit like avocados – we always miss its ripening period. When we buy it tends to be a little bit on the hard side and then we leave it in the fruit bowl and next time we squeeze it it's always too soft and mushy. Maybe it's just our household…?
This week we decided to find out how to ripen kiwi fruit. Apparently, it takes three to five days for them to ripen. It's easy – just don't forget the three to five days bit, place them in a bowl and wait. You can also speed up the ripening process by placing the kiwi fruits next to a banana or an apple or a pear, which will expose them to ethylene which is a hydrocarbon gas. This gas occurs naturally, and we can't see or smell it. Some fruit will produce ethylene as ripening begins.
So, we followed this advice and what happened? We got beautifully ripen kiwi fruit to put in this kiwi fruit, banana and ginger smoothie – it took three days.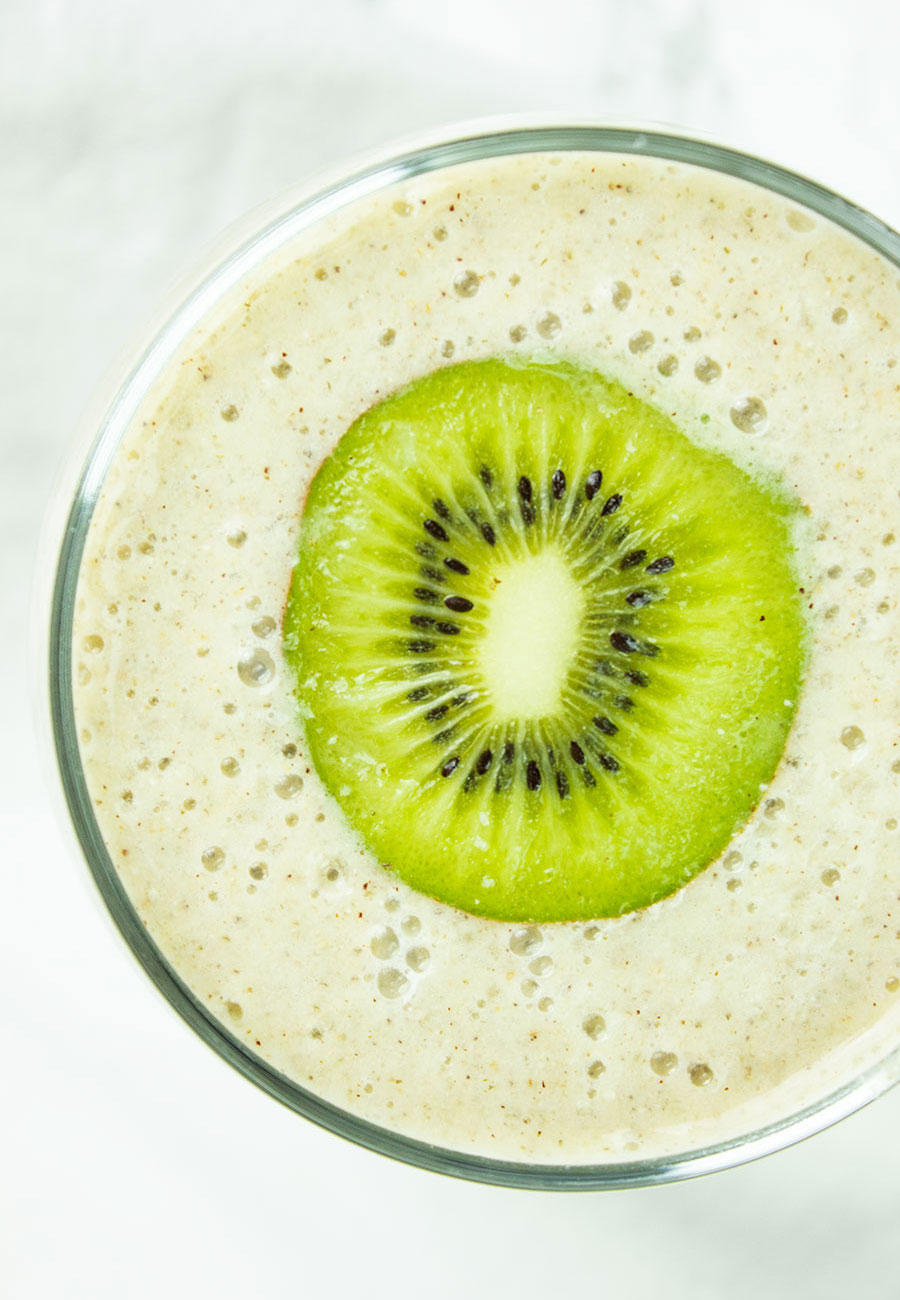 So why should we eat more kiwi fruit?
Because kiwi is alkaline and is packed with essential vitamins and minerals. It has one of the highest sources of vitamin C which a powerful antioxidant. Vitamin C is amazing as it helps getting rid of free radicals that could cause inflammation or cancer. Additionally, it helps boosting our immune system. It also can help digestions as it contains an enzyme which is known for its protein dissolving properties and can help people who suffer from irritable bowel syndrome. Other crucial vitamins and minerals such as vitamins A, B6, B12, E, and potassium, calcium, iron and magnesium are also all present in this exotic green fruit. Moreover, kiwi fruit has a great source of folate. Folate is important for repairing our cells and making DNA as well as forming red and white blood cells.
Bananas are also antioxidant
This smoothie is truly fantastic as bananas also contain antioxidants which can destroy free radicals. To understand a bit more about what free radicals are we have to imagine tiny molecules that exist in the blood stream causing damage to proteins and DNA which can trigger a number of human diseases such as cancer.  By destroying free radicals, we are able to reduce free radical damage in the body and fight cancer in its early stages. Bananas have also an excellent source of potassium and vitamin B6, fibre and carbohydrate.
We have also put in a tiny bit of ginger in this smoothie. Not only is it delicious it's also anti-inflammatory and antioxidant.  The antioxidant compounds found in ginger that that are important for the anti-cancer diet include gingerols and beta-carotene. Other crucial nutrients found in ginger are vitamin B6, magnesium, copper, phosphorous, zinc, folate and niacin.
Other alkaline recipes on the blog
Have you made this alkaline kiwi banana ginger smoothie recipe?
We'd love to see your smoothie creations! Please leave a comment below, share or tag using @anticancerkitchen on Instagram and hashtag it #anticancerkitchen.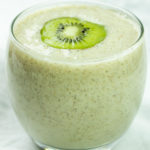 Ingredients
3 kiwi fruit (peeled and chopped)
2 tablespoons organic porridge oats
1 table spoon chia seeds
1 banana
300 ml almond milk (or oat milk)
1 cm fresh ginger
Ice cubes (10)
Instructions
Place all the ingredients into a blender and blend until smooth (30-60 seconds).