Delicious and easy-to-make chilled cucumber soup that is raw and detoxifying. Made with cucumber, juniper berries and lime, this soup is refreshing, zingy and hydrating.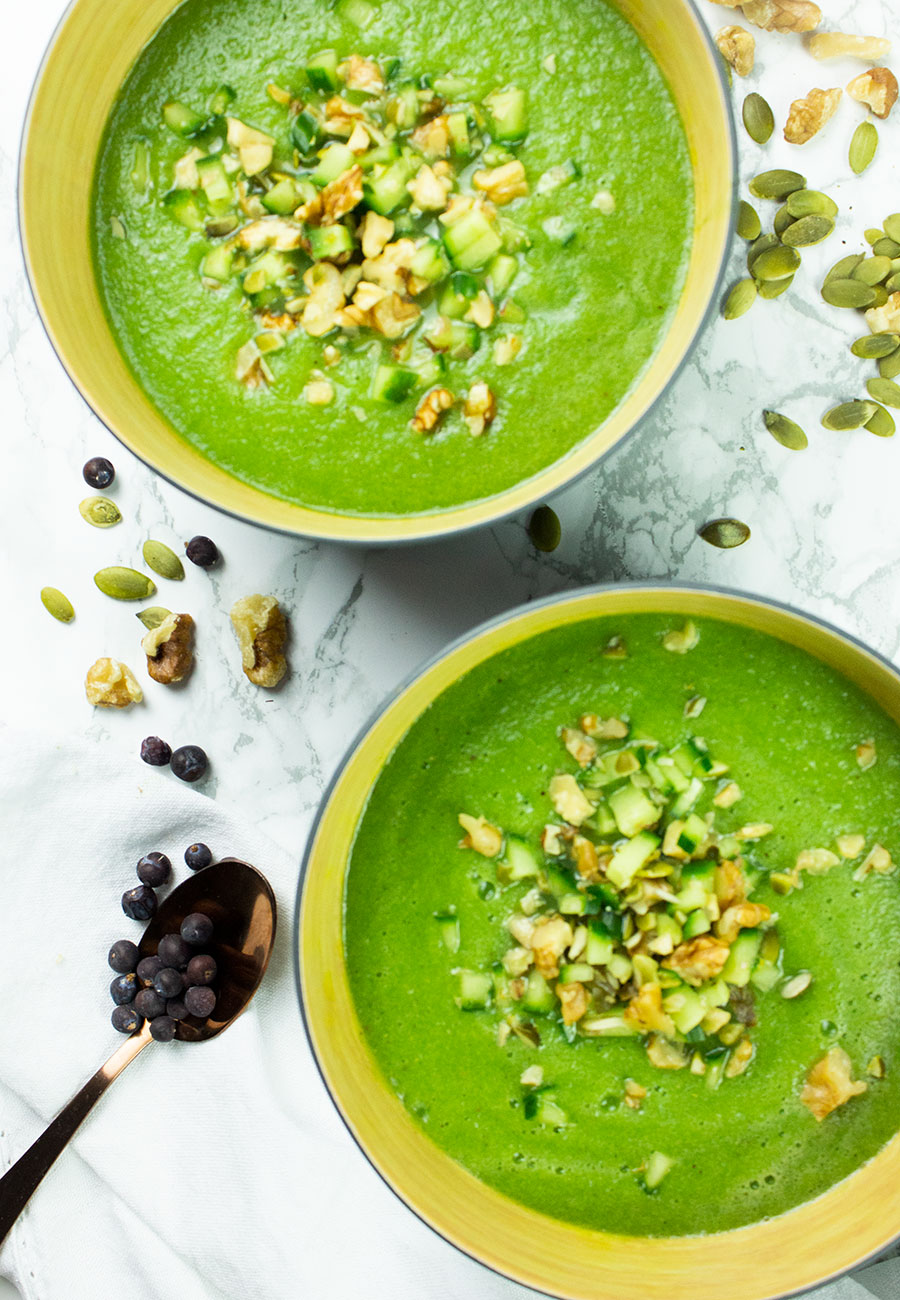 Chilled cucumber soup recipe
We have been inspired from a combination of avenues when creating this soup. First of all we wanted a raw soup that had to be flavoursome, it had to be alkaline, and it had to have some identity. We looked to chilled soups such as a gazpacho and avocado soup for some flavour ideas and saw cucumber as our main ingredient. Such a refreshing flavour however needed to be given a make-over so we thought what else does cucumber go in? A nice gin and tonic perhaps and we thought, yes!
The flavours of a few easy sourced botanicals could elevate this chilled soup and give it an entirely new identity replicating a gin and tonic in a raw soup. The juniper berries which give gin its flavour is a tonic in itself as it has amazing detox capabilities. Other flavours marry well such as a zing of lime, some spice and aroma from Szechuan pepper and cumin and another altogether different herb that is often found alongside cucumber, especially in Nordic countries – dill. This is a beautifully balanced and refreshing soup that with a little crunchy walnut and pumpkin seed garnish is as tasty as they come.
Benefits of the raw vegan diet
This chilled cucumber soup is perfect for your raw cancer-fighting or cancer-preventing diet. We should all include some raw plant-based meals and methods on a regular basis. These methods should include juicing, blending and soaking in order to get as many nutrients as possible as cooking food in general does minimise the nutritional value of the produce. If you keep the food raw you will get more nutrients and antioxidants into your system.
Chilled cucumber soup benefits
You would think that a green vegetable full of water is pretty insignificant when it comes to nutrients. On the contrary, cucumbers contain an anti-inflammatory agent called fisetin that is vital for our brain health. They also have important lignans, which may help lowering the risk of breast or prostate cancers. They are high in fibre which helps with digestive health and help you stay hydrated as they are made up of mostly water.  Cucumbers are extremely antioxidant and include the well-known vitamin C and beta-carotene. 
Other vitamins include:
Vitamin K
Manganese
B vitamins
Copper
Potassium
Cucumbers are a perfect alkaline raw food
Cucumbers are perfect for blending and juicing. No water is needed as they contain over 95% of water. They have a mild flavour and are brilliantly alkaline.  If you juice raw cucumbers you will get an incredibly amount of vitamins, minerals, and enzymes because they go straight into your blood stream without having to be broken down. Your immune-system with get a fantastic boost and you will feel hydrated and more energised.
Have you made this chilled cucumber soup recipe?
We'd love to see your soup creations! Please leave a comment below, share or tag using @anticancerkitchen on Instagram and hashtag it #anticancerkitchen.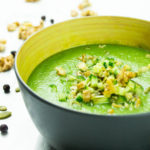 Ingredients
2 cucumbers chopped

1 garlic clove peeled and crushed

Juice of 1 lime

½ a cup of fresh parsley

2 sprigs of fresh oregano or 1 teaspoon of dried oregano

1 teaspoon of Szechuan pepper

2 teaspoons of juniper berries

½ teaspoon of cumin seeds

2 tablespoons of fresh dill

4cm of a leek (white part only)

Garnish

1 tablespoon of chopped walnuts

1 tablespoon of cucumber skin finely diced

1 tablespoon of chopped pumpkin seeds
Instructions
Simply combine all the ingredients in a high speed blender and process until smooth.
Chill in the fridge for at least ½ an hour.
Mix the garnish together and sprinkle over the soup to serve.