A healthy creamy vegan Caesar salad – is this even possible? We think so. And this is how to make it.
The best vegan Caesar salad recipe
A Caesar salad is crisp and fresh with wonderful crunchy Romaine lettuce, beautifully toasted fragrant croutons and a punchy, creamy umami filled dressing.
The original which  believe it or not was actually created in Mexico by a chef called Caesar Cardini in the prohibition era, a time where  ingredients that would normally be used to create such a fantastic dish were scarce. The salad however became  a dish that has stood the test of time. The New York city would then be introduced to the salad and the rest is history.
What we know now, even if few people who had worked at Caesars who had claimed ownership of the salad made a few changes to the original recipe, what we know and love today seems to be very much the same wherever we have it. That is until now.
For this The Anti-Cancer Kitchen version, we have re-created a classic salad with more healthy plant-based ingredients that captures every bite of fresh lettuce and every crunch of toasty croutons with the ever so important briny emulsion of the dressing. In fact it is the briny hit that was introduced by anchovies and a Worcestershire sauce in the original dish accompanying a salty parmesan cheese that really elevated this dressing. Re-creating this part of the recipe which is the main flavour is the most important stage.
How to make the healthiest vegan Caesar salad dressing
First of all the dressing creaminess normally associated with dairy fats, is created by blending a firm tofu with olive oil as you would find in many plant-based dressings but the salty sea flavour in this case comes from a sheet of kombu seaweed infused in water (vegetarian dashi) with nutritional yeast and extract. Our vegan Caesar dressing is everything, it's:
Creamy
'Cheesy'
Salty
Works perfectly as a dip or a salad dressing
Simple to make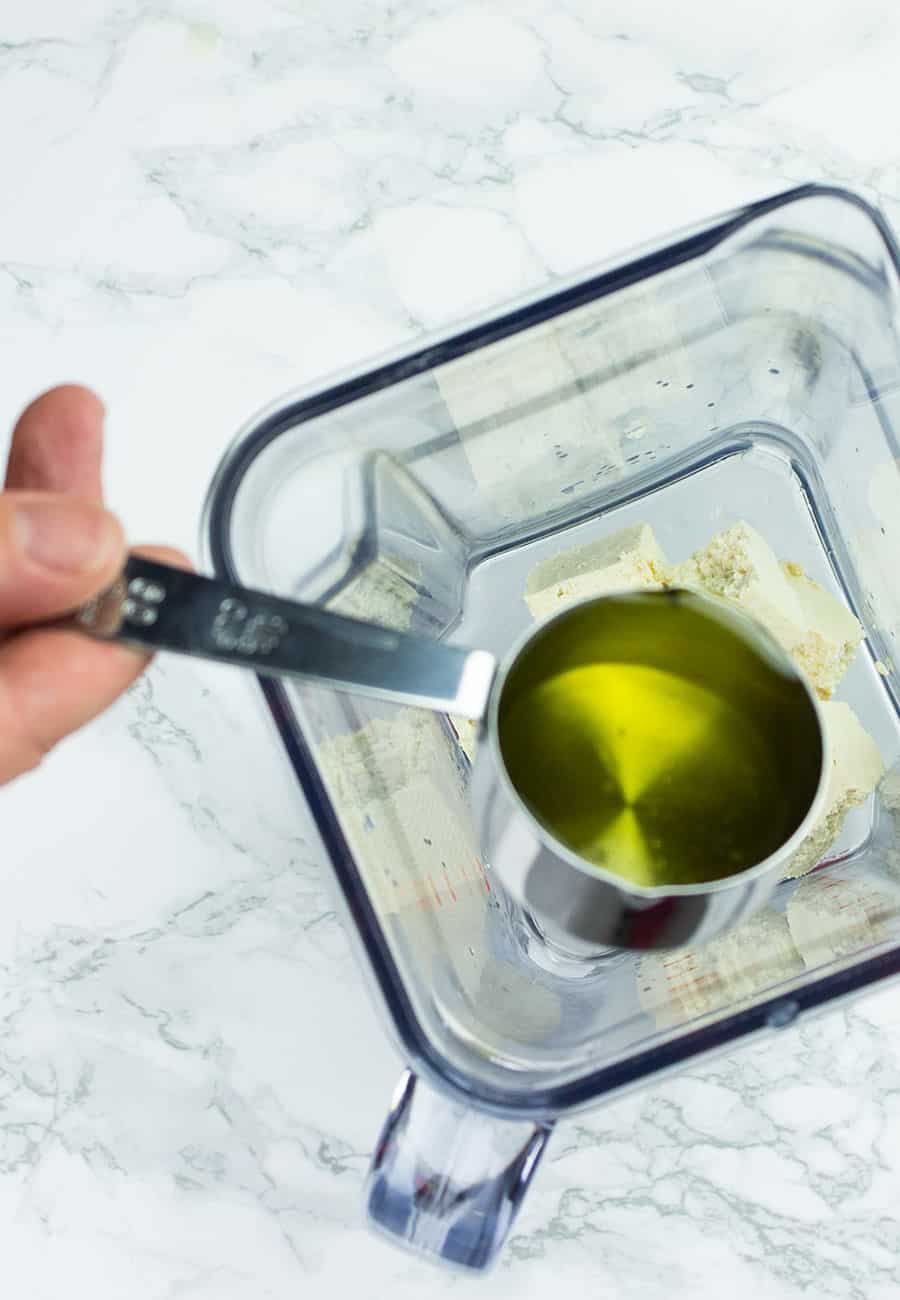 Health benefits of kombu seaweed
Sea vegetables such as kombu and other kelps have known anti-inflammatory properties and as we know that this, as well as oxidative stress are risk factors for the development of cancers. Sea vegetables could could provide a well needed defence for your body. There is also a link between eating kelp and the female body's production of oestrogen, which, if too much is produced can put woman at a higher risk of developing breast cancer. The reason that there is a link between hormones and cancer is the reason that dairy products and eggs which would be the normal ingredients in making a creamy caesar dressing have to be cut out entirely.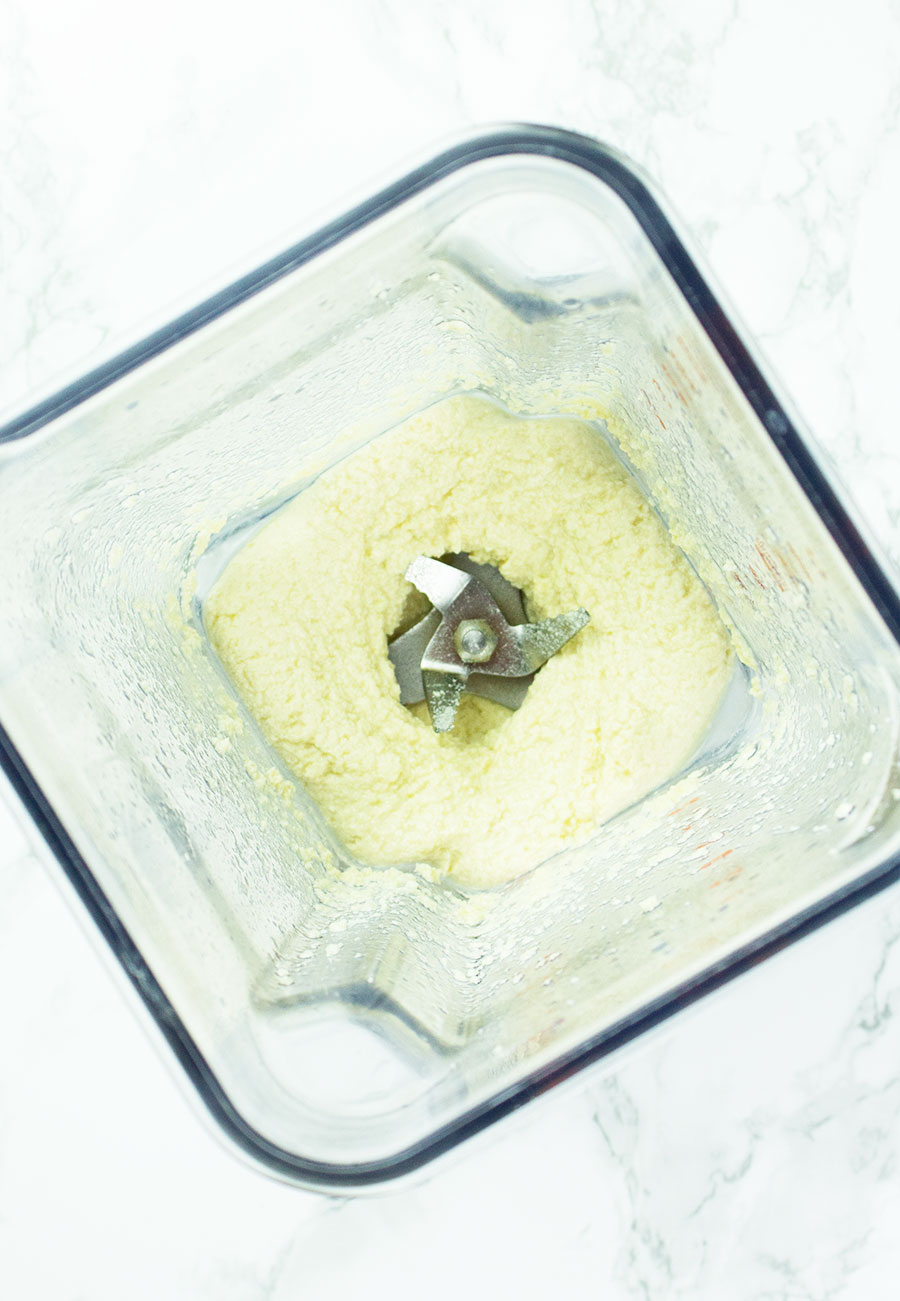 The second important flavour and texture comes from parmesan in a classic Caesar which is essentially hormone rich milk from cows. What we use for this umami hit is recreated by baking artichokes in white miso. This traditional Japanese seasoning, made from fermented soybeans, rice and seaweed is high in protein and minerals not only visually help this salad look the part but texturally and tastefully it really hits the spot.
If you can source a vegan dashi stock rather than preparing your own then this salad takes on a rather different appeal for the ease of making it. It is quite simple, buy some crisp lettuce, croutons, a jar of marinated artichokes and mix with the miso and bake, then follow these easy steps to create a wonderful punchy, indulgent, creamy caesar salad dressing full of goodness.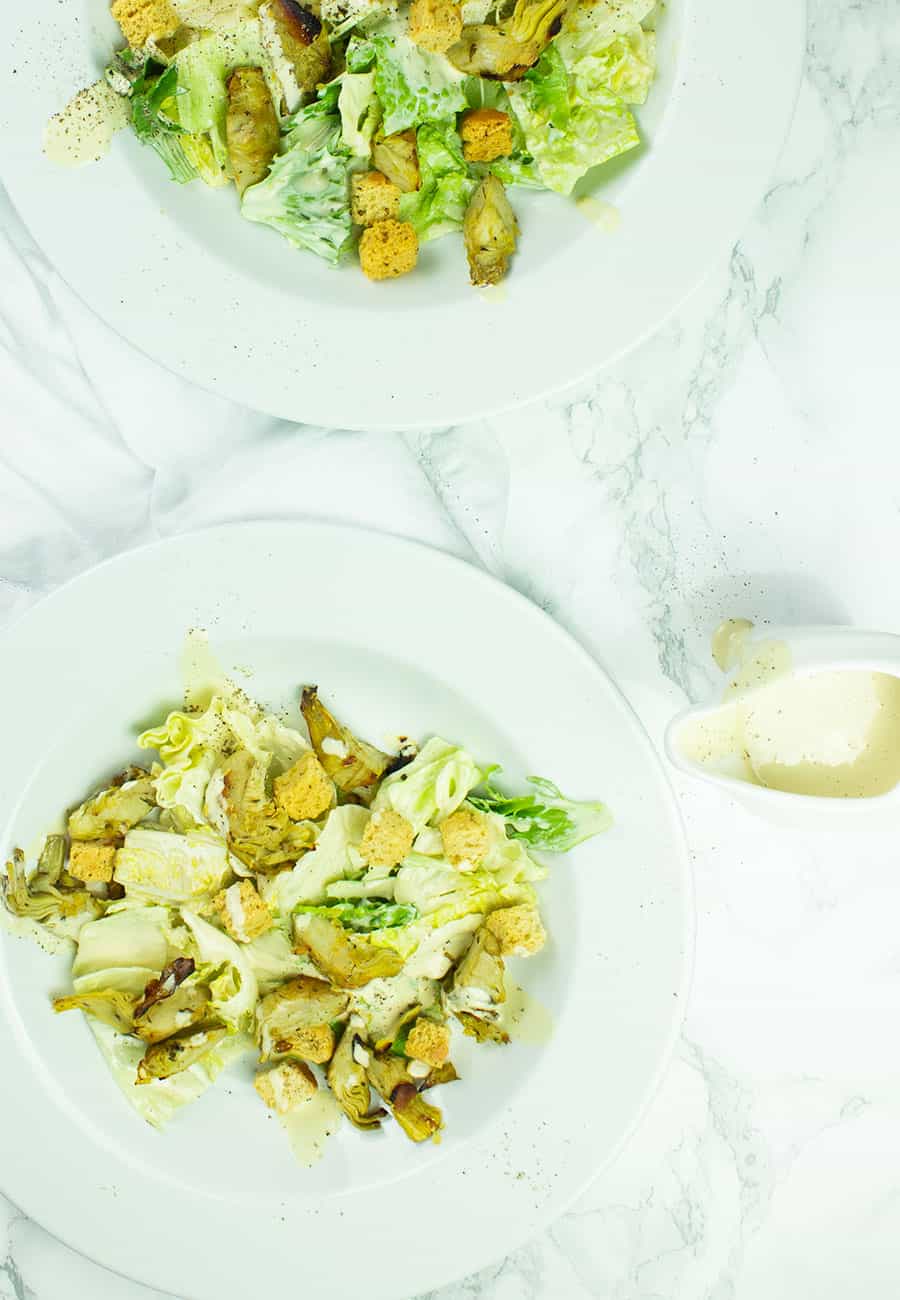 Have you made this vegan Caesar salad recipe?
We'd love to see your salad creations! Please leave a comment below, share or tag using @anticancerkitchen on Instagram and hashtag it #anticancerkitchen.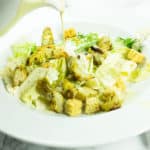 Ingredients
For Caesar dressing:

1 ¾ cups/400ml of vegan dashi stock or (1 ¾ cups of water, 1 kombu sheet, 2 teaspoons of white miso paste, 2 peeled garlic cloves, 2 teaspoons of yeast extract)

150g of firm tofu

Juice of 1 lemon

1 teaspoon of dijon mustard

¼ cup of olive oil

1 tablespoon of red wine vinegar

For the salad:

4 cups/300g of romaine or cos lettuce (leaves separated and coarsely chopped)

1 cup of croutons (or 2 slices of cubed stale bread seasoned and lightly baked)

1 cup of marinated artichokes (drained and cut in slices)

2 tablespoons of white miso

1 tablespoon of olive oil
Instructions
For the dressing:
If you are making the dashi stock, bring the water to a boil and add the kombu sheet, miso paste, garlic and nutritional yeast. Turn down to a simmer and reduce the stock to about ¼ to ⅔. Remove the sheet of kombu seaweed and discard. set the stock aside.
Using a blender, mix the tofu, oil, lemon juice, mustard and vinegar together with the dashi stock to create a creamy consistency.
For the salad:
Combine the miso and the oil to make a thinner paste. Brush over the artichokes and bake in a 220c or 425F oven for 20 minutes. Set aside to cool.
Mix the lettuce leaves together with the croutons and the baked artichokes.
To serve, stir in the caesar dressing to fully coat the leaves and serve straight away to keep the leaves crisp.