Homemade beetroot blueberry juice is a fresh and naturally sweet way to boost our immune system with essential nutrients and antioxidants. This easy 2-ingredient undiluted beetroot blueberry juice recipe offers the perfect antidote in the morning to stay healthy. With a deep crimson colour and a complexity to the flavour, it works also as a great pairing for food instead of wine. 
Using fresh and organic produce also helps you avoid many additives and preservatives that maybe contained in store-bought juices. Juicing your beetroot blueberry juice at home using either a centrifugal juicer or a cold-press juicer (which is essential in this recipe) is by far the healthier option. We've dug more into the health benefits of beetroots and blueberries, keep reading.   
Why juicing beetroot and blueberries 
Juicing is a process that extracts the juices from beetroot and blueberries but also removes most of the solids, including the seeds and pulp, also known as fibre. Juicing helps our bodies to absorb nutrients (and fructose) into our bloodstreams more quickly in comparison to blending or when we eat the fruit and vegetables wholesome. Saying that fibre is also very important for us so juicing is a good complement and great if you would like to add more fruit and vegetables into your diet.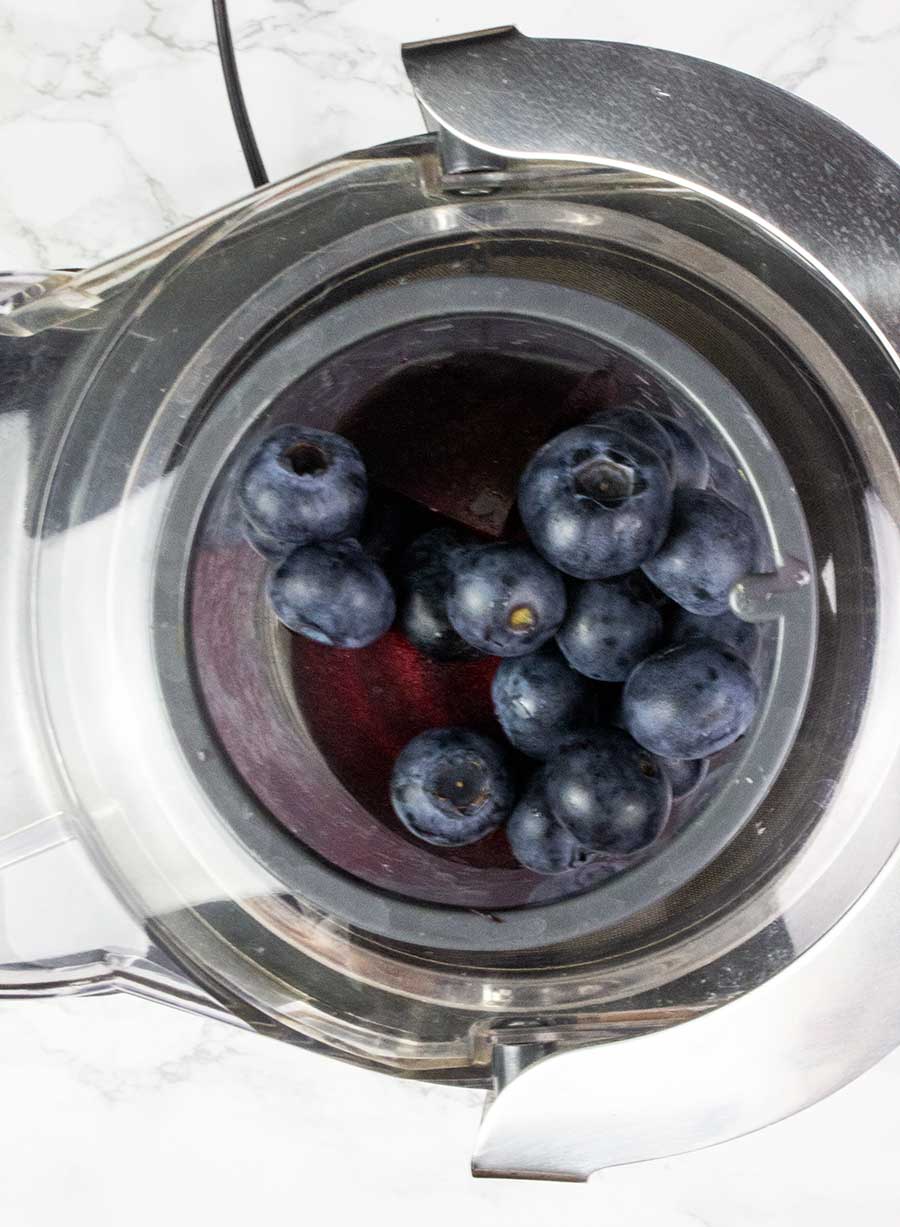 Health benefits of juicing beetroot
Boosts minerals and vital vitamins – Juicing beetroot can help us to maximise on minerals and vitamins fast. This includes vitamin B6, folate, magnesium, calcium, iron, copper, manganese, zinc and other compounds such as betalains, phytochemicals and nitrates. Research shows that intake of antioxidants especially has an effect on inflammations, cancers and cardiovascular issues.
Blood pressure control – Research shows juicing beetroots can help in the management of blood pressure. It controls both diastolic and systolic pressure of blood, especially due to nitrates in beetroot juice that help blood vessels to ease and expand.
Boosting the health of those with heart failure – Apart from offering lots of nutrients to the body, beet juice has been found to have a positive effect on heart failure patients. Muscle power is boosted in just 120 minutes of intake by over 10 percent.
Aids in weight management – Considering its lack of fat and very few calories, beetroot juicing is a wonderful addition to any weight management regimen.
Dementia management – The potential of juicing beetroot in managing dementia has been encouraged by research that shows nitrates in beet juices expand blood vessels encouraging more blood to flow into the brain. This happens even among the older generation improving cognitive function.
Enhances physical workouts – Juicing beetroots for workouts boosts plasma nitrate capacity in the body enhancing physical performance in a huge way. It also lowers the total output of oxygen. Athletes often drink beetroot juice to help recover from physical exertion too.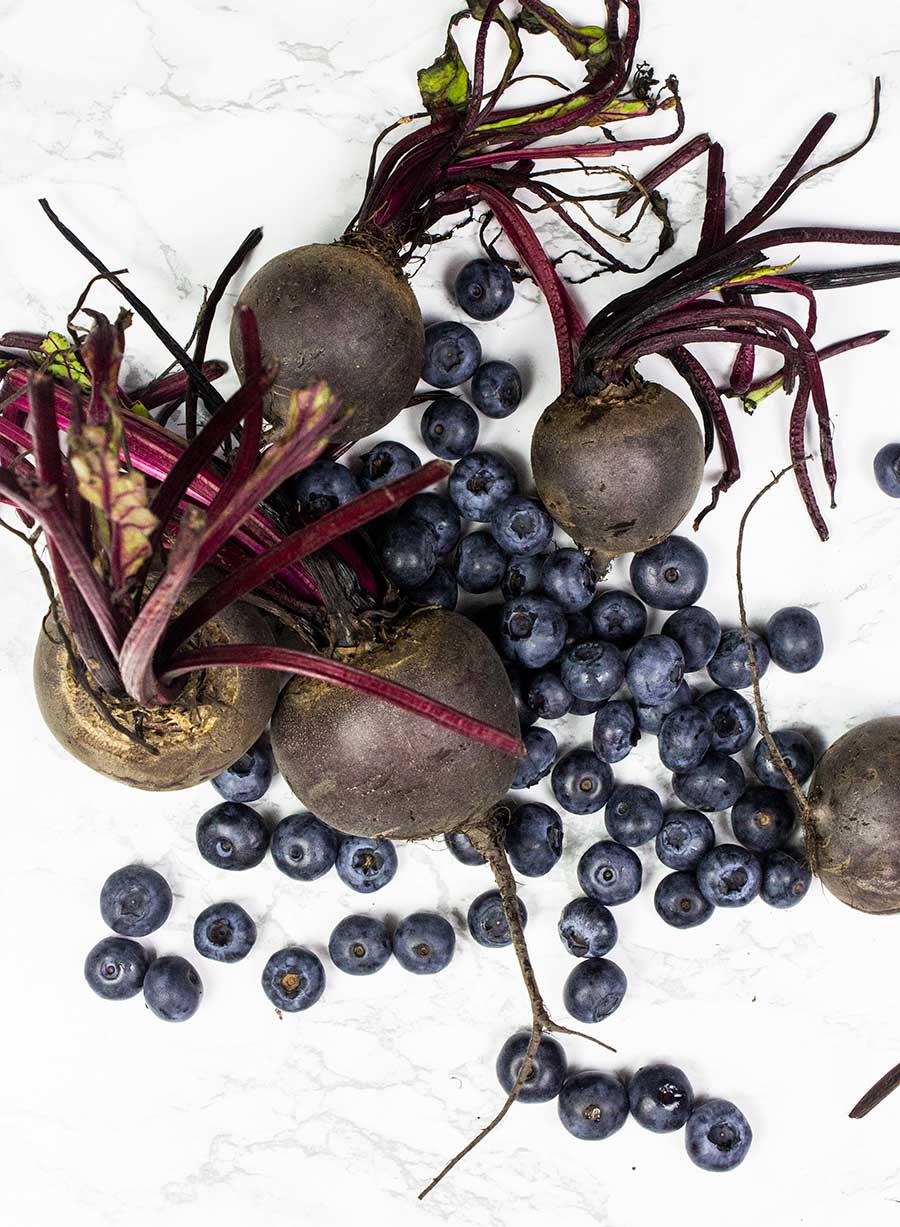 Cancer prevention potential – A study has shown that betalains in the juice, including antioxidants, are chemotherapy preventive as well as significant fighters of free radicals that cause cancer in cells.
Liver performance boost – Beet juice contains betaine, a type of antioxidant effective in ensuring the liver doesn't attract fatty deposits, particularly among those leading a sedentary way of life, follow poor diets and over-consume alcohol.
Health benefits of juicing blueberries – Apart from being a popular ingredient in desserts and baking, blueberries on their own are juicy, sweet and incredibly nutrient-rich. A superfood in its own right, it has diverse health benefits.
Cancer and rapid aging deterrence – One of the reasons people age fast is due to the oxidation of DNA in the cell, which also causes cancer among other complications. Juicing blueberries offer a source of vital antioxidants that neutralizes the effect of free radicals lowering oxidation, whether juicing with fresh blueberries or blending using blueberry powder. 
Blood pressure control – With increasing pressure of blood heart problems could worsen. Intake of blueberries juice can help reduce pressure in blood according to research.
Heart disease management – Among many benefits such as decreasing blood pressure risk, juicing blueberries has been found to increase anthocyanins in the body, reducing cardiovascular problems by over 30 percent.
Reducing diabetes risk – Blueberries do contain quite a lot of sugar which makes them really sweet. Even so, the anthocyanins content in juiced blueberries help in glucose and insulin management lowering the risk of attaining diabetes.
Improved cognitive function – Free radicals and oxidative stress is known to cause lots of problems including decreasing proper brain function. Juicing blueberries boosts the body with antioxidants improving the performance of certain areas of the brain while enhancing signaling in cells. For instance, older people with mild brain impairment were able to improve their cognitive functions after a few weeks of juicing blueberries.
Aid in UTIs management – Just like a number of fruits out there, blueberries contain anti-adhesives that come in handy in preventing certain bacteria that cause UTIs (urinary tract infections), predominantly among women.
Decreasing muscle damage after workouts – Workouts and strenuous physical activities are important for the body but often lead to muscle fatigue and unfettered aching.  In a study, blueberries were found to boost muscle recovery after demanding workouts.
Help in weight reduction – In a study carried out by the University of Michigan, it was found out that weight management can be greatly enhanced by blueberries. Juicing blueberries were found to impact on sugar breakdown and storage in the body, reducing fat intake no matter the kind of foods a person is consuming.
In essence, both blueberries and beetroots contain an incredible amount of antioxidants, among other nutrients, that are immense and critical in protecting our bodies against the free radicals that can cause cancer, aging or other health-related complications.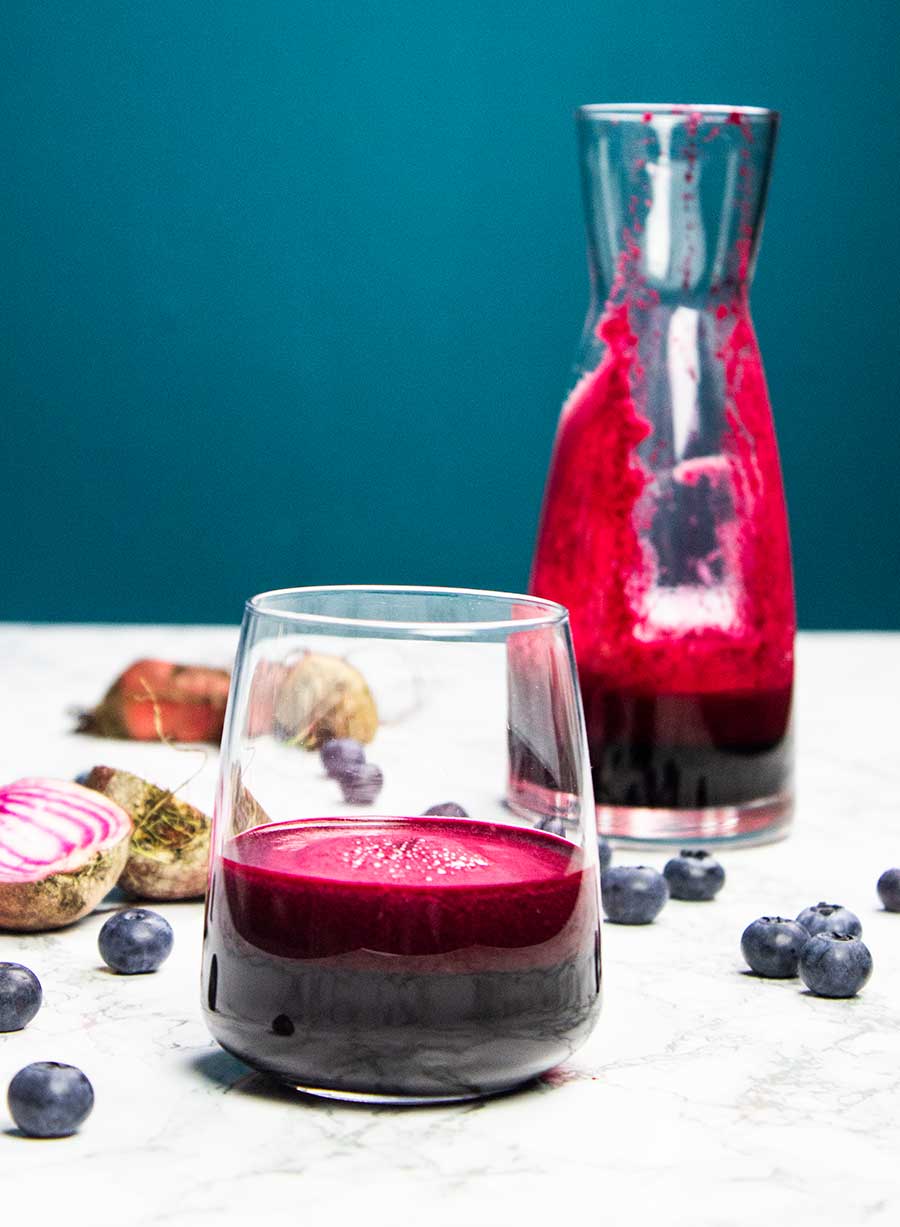 Have you made this beetroot blueberry juice recipe?

We'd love to see your juice creations! Please leave a comment below, share or tag using @anticancerkitchen on Instagram and hashtag it #anticancerkitchen.
More healthy drinks recipes on the blog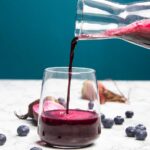 Ingredients
3 big beetroots

1 cup of blueberries
Instructions
Chop the beetroots to a size to fit in a juicer and press through the machine with the blueberries. Pour the juice into glasses with some ice and drink immediately.
For a smoother juice, pour through muslin or a fine sieve.

Copyright secured by Digiprove © 2020 The Anti-Cancer Kitchen