The main thing with this healthy peanut butter smoothie is that it is healthy but feels ever so naughty. The luscious texture is thick, creamy and unctuous rather like a milkshake. The flavours are very much like a milkshake too. Frozen bananas take the place of ice cream, delicious plant-based milk takes the place of normal dairy milk and it is flavoured more with organic peanut butter, which is important as good organic peanut butter is made using 100% peanuts and nothing else. We have shaken it up a little further too by adding some chai flavours using a blend of Indian spices found in a sweet garam masala. We have a sweet woody cassia cinnamon, aromatic cloves, a slightly spicy black pepper and fragrant and perfumed cardamom alongside the golden wonder ingredient of turmeric, famed throughout ancient and modern times for its medicinal benefits.
Using a high-powered blender, simply add all the ingredients together and process to a creamy smoothie. A little grating of dark chocolate which is massively antioxidant finishes it off perfectly.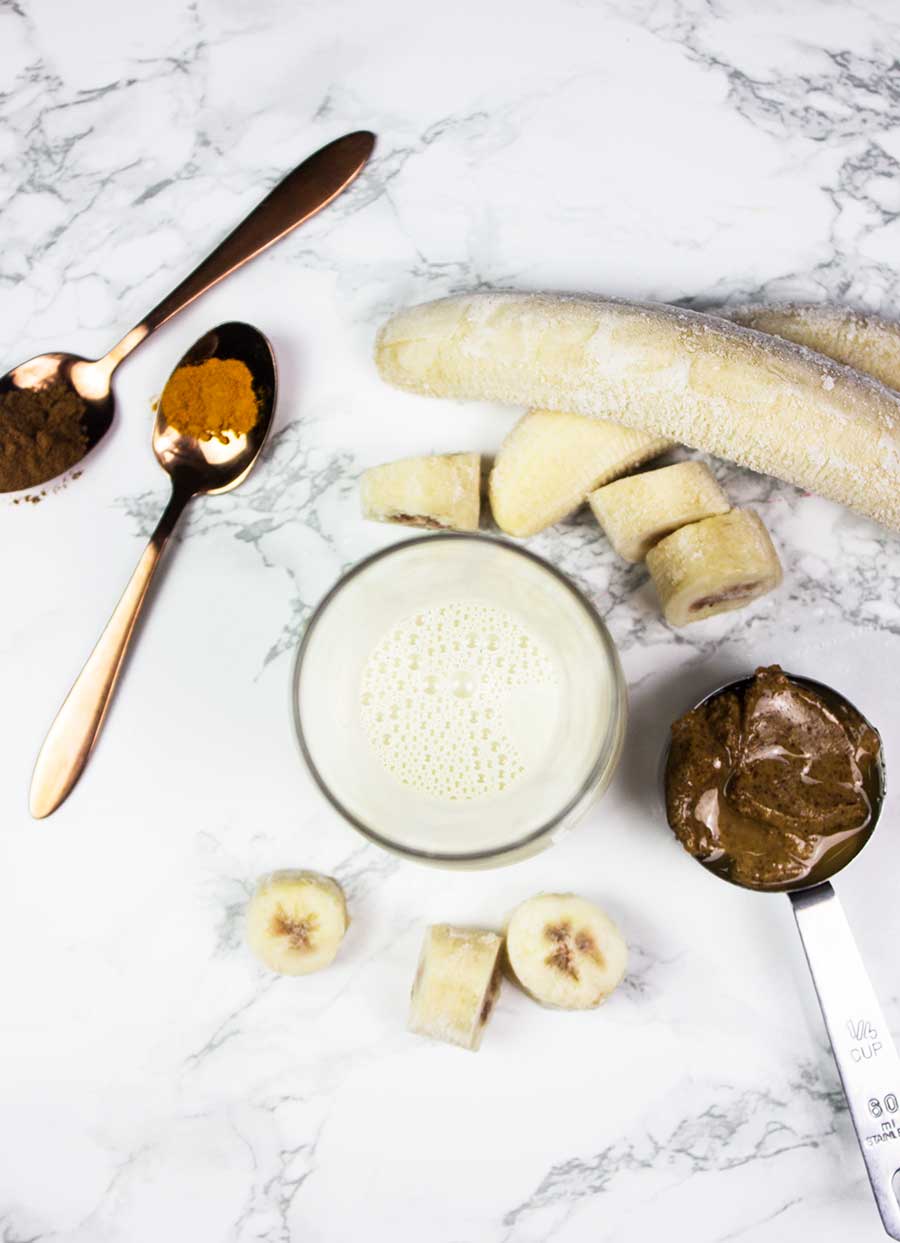 A healthy peanut butter smoothie recipe
Is it breakfast, is it an energy shake, is it a dessert? It is all of them. Hugely satisfying, massively tasty and super healthy at the same irresistibly decadent. 
The flavour combinations are classic too, sweet, nutty and creamy. A little spice adds another dimension too but here we have no added sugars other than the natural sweetness of bananas and peanuts. Different plant-based milks give a slightly different end result and you can use your favourite one instead if you want. We have used oat milk but coconut milk will add even more richness and fattyness, cashew milk is nice and creamy too and also contains a high amount of lutein which is good for eye health. Almond milk is high in calcium and has a sweet nutty flavour too which would pair well too. Tiger nut milk is also a great alternative as it really goes well with the added spices. Rice milk works flavour wise as it gives a pudding kind of flavour. Soy milk is great plant-based milk as it is full of phytonutrients that are potent antioxidants that could potentially fight cancers. Either one you choose you are going to love the end result.
Banana health
Bananas are one of the most popular fruits to eat and easy to add into a smoothie, especially when frozen to add a chilled/frozen aspect to your drink. Bananas are often given as healthy snacks to children and athletes. This is because they contain a healthy amount of carbohydrates that slowly release energy and contain little protein and almost no fat content whatsoever. They contain a kind of starch that, like soluble fibre, escapes digestion which helps ferry toxins out of the liver and also helps you feel fuller for longer, aiding you to resist the urge to overeat. The electrolyte composition on bananas has also fuelled the belief that they may help overcome muscle cramps too. Another reason to consume bananas and backup their health benefits is that they are naturally high in vitamin B6. Vitamin B6 helps metabolise carbohydrates turning them into energy, helps produce red blood cells and can help the body maintain a healthy nervous system. They are also high in antioxidants such as catechins. These antioxidants belong to a category of plant compounds known as flavanols which have been linked to aiding with neurological and cardiovascular health. Amongst other health benefits such as actually being a decent source of vitamin C and also magnesium and potassium. These extra nutrients can help balance blood pressure.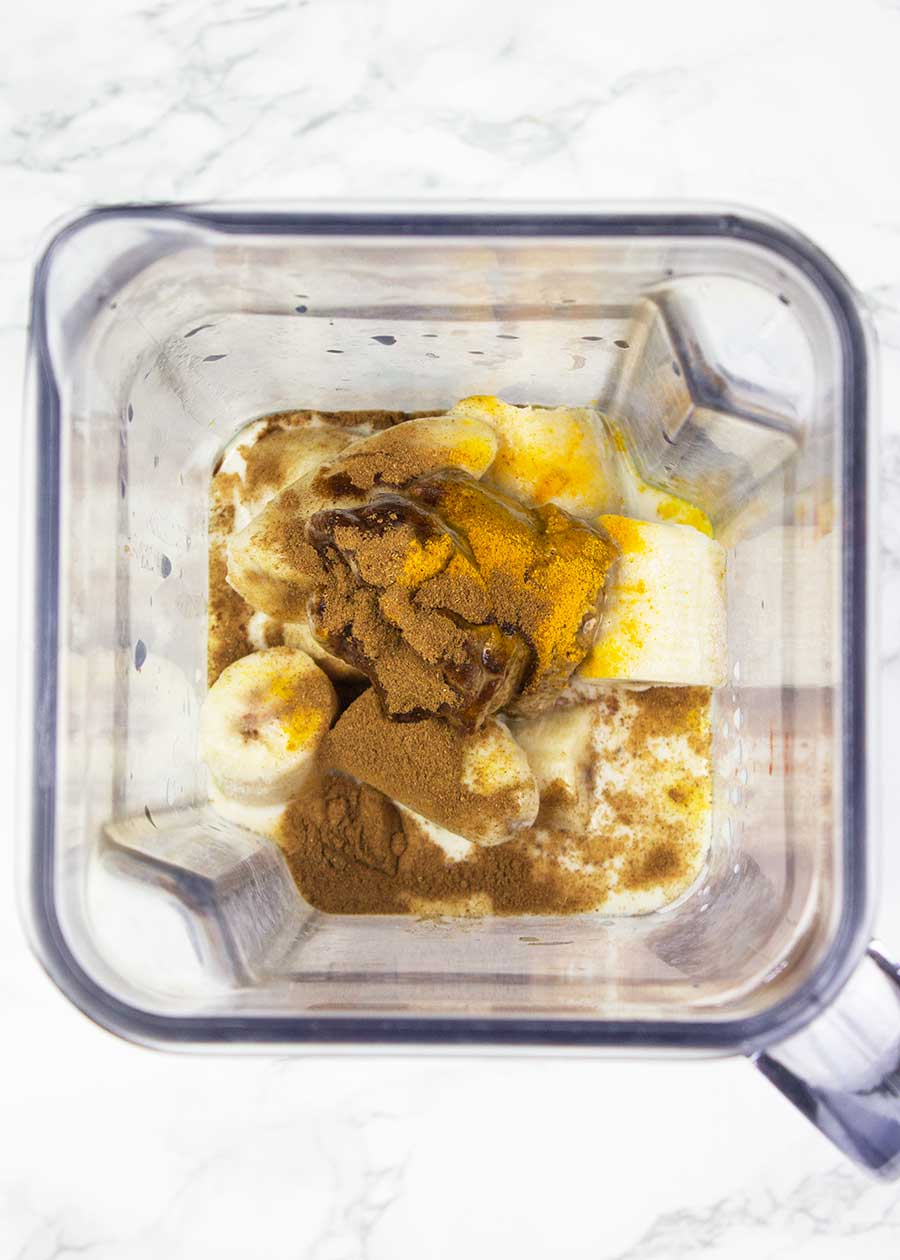 Peanut health
Peanuts too are healthy too. They contain a balanced amount of carbohydrates, protein and fat. The monounsaturated fats and polyunsaturated fats which they contain are healthy fats. This is down to where the carbon atoms are bonded to the hydrogen atoms. This may sound complicated but simply speaking it means that as the fats are constructed differently from unhealthy fats and are liquid at room temperature they are important for our health by supplying us with a balanced mix of omega-3 fatty acids and omega-6 fatty acids. Certain oils for example such as peanut oil and especially olive oil are well known to be part of a healthy diet. This can be evidenced most by observing a Mediterranean diet which sees people living some of the longest healthiest lives on the planet.
Healthy peanut butter smoothie with turmeric and chai spices
Turmeric is a tall flowering plant native to Asia. The vivid golden root has been used in Ayurvedic medicine and Chinese herbal medicine for millennia. It is well known for its healing properties but more recently western medicine is studying this root in more detail to understand what it is potentially capable of.
Long throughout time in the East, this spice has been used to treat indigestion, gallbladder pain and high cholesterol. It is these health benefits that have gained the attention of western medicine. The genetic makeup of turmeric is a current topic and currently being dissected to find out what compounds it contains and what they are capable of.
The main active compound is curcumin. This is an antioxidant very potent at a cellular level in the body. Research has shown that curcumin actually integrates itself into the cell lining and helps to stabilize them. This then helps the cell's integrity and its resistance to infection and malignancy. Turmeric, therefore, has the potential to give our cells a fighting chance against cancer. 
The recommended daily dose is about two teaspoons twice a day. Studies have also shown that people with chronic pain due to inflammation who have taken 800 mg of turmeric in capsule forms have shown a noticeable reduction of pain.
Turmeric is also easily put in your every day as it is readily available in powder form but more recently fresh in its root form. 
With the addition of Cassia cinnamon and cloves, we have a whole array of traditional ayurvedic medicine ingredients that have been used to reduce pain and inflammation and even reduce blood sugar levels for millennia in one recipe.
As we have said, we like to shake things up and this shake is no different.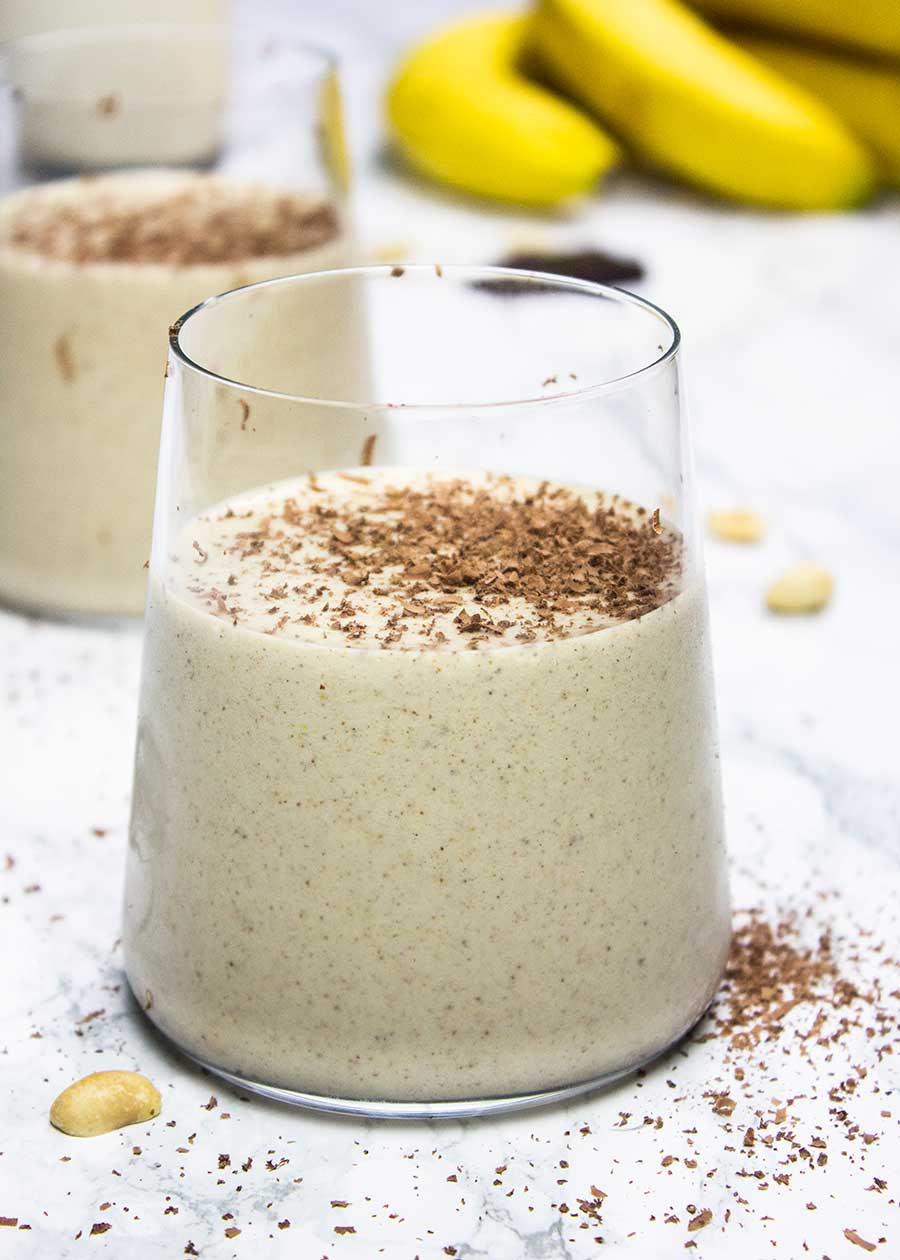 Other healthy smoothies on the blog
Have you made this healthy peanut butter smoothie recipe?
We'd love to see your smoothie creations! Please leave a comment below, share or tag using @anticancerkitchen on Instagram and hashtag it #anticancerkitchen.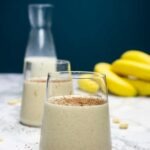 Ingredients
3 frozen bananas

1 teaspoon chai

1 teaspoon turmeric (ground)

1/4 cup peanut butter

1 1/2 cups oat milk
Instructions
Put all the ingredients in a high-speed blender and blitz until smooth. Pour into a glass and enjoy!

Copyright secured by Digiprove © 2020 The Anti-Cancer Kitchen