This mango and apple smoothie with ginger is quick and simple, naturally sweet, spicy, and nutrient-rich. Made with just 3 healthy plant-based ingredients that are blitzed together in seconds, this spicy and silky smooth mango smoothie is surely one of the best and easiest nourishing breakfast recipes.   
This mango smoothie recipe will: 
Give you a boost in antioxidants 

Strengthen your immune system

Facilitate healthy digestion 

Help with relaxation

Lower cholesterol levels  

Kick start your day 

How to make an easy and super healthy mango smoothie 
This is probably the easiest mango smoothie recipe you can make. It involves three easy steps. Firstly, remove the skin and chop the mango fruit into chunks, just be aware of the stone in the middle and put it in your blender. Then juice the apples using your juicer and add the juice into your blender. Lastly, add fresh ginger and a little bit of cold water and blitz until smooth. (See the full recipe card with measurements below.)
If you don't want any fuss cutting your mango up (which can be a bit messy), you can easily use frozen mango pieces. And, instead of juicing apples, you can also use a store-bought juice. Just make sure that your store-bought juice is organic and cold-pressed with no added sugar, sweeteners, or concentrates.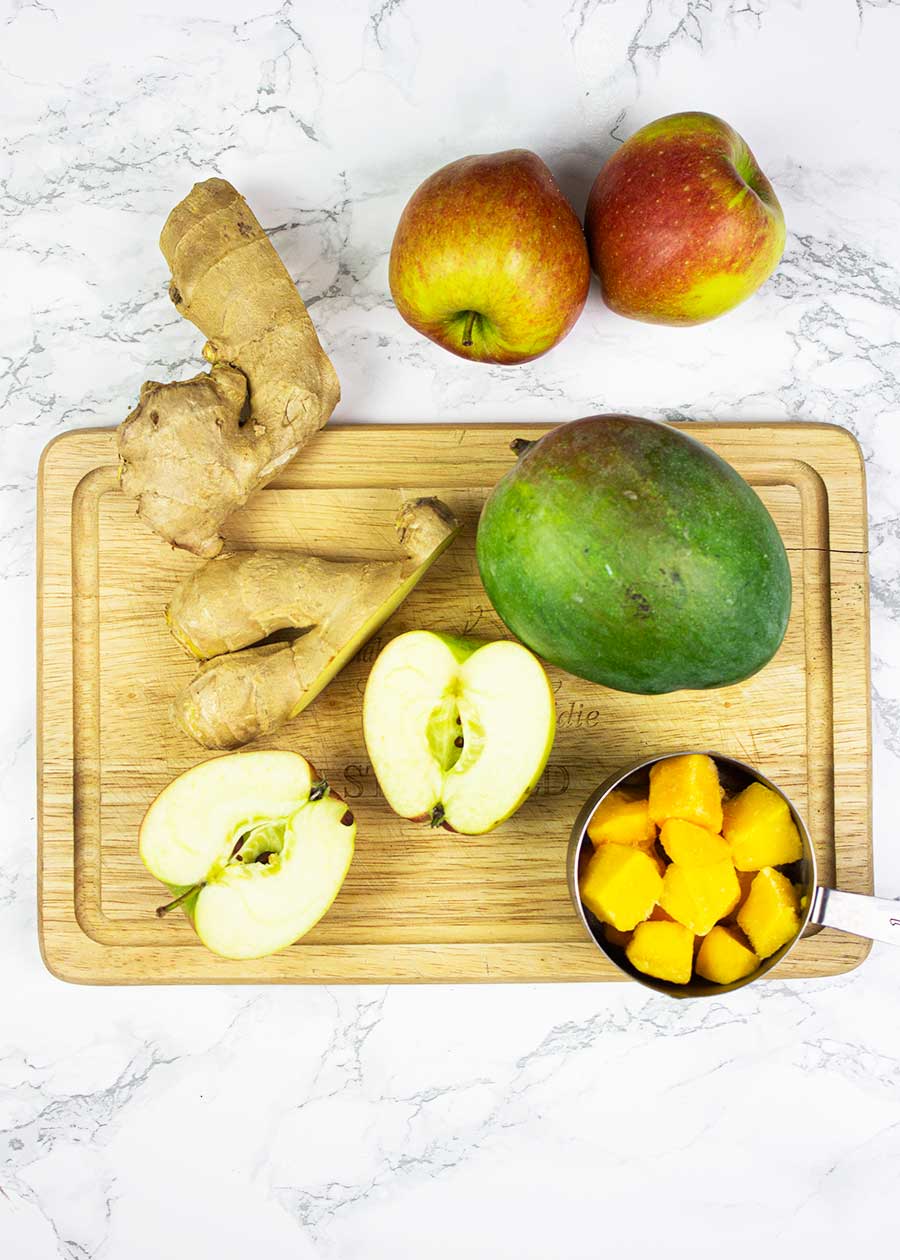 Blending versus juicing
In this mango smoothie recipe, we use both blending and juicing techniques. The difference between blending and juicing is quite big. When you juice, you separate the liquid from the fibre and pulp leaving behind a smooth, thin concentrated drink full of vitamins, minerals and phytonutrients.
When you make a smoothie and blending produce, you make use of the entire fruit and everything that has been blended is consumed with the volume of the liquid termed as a smoothie. Here is some more useful information about juicing and smoothies health benefits.
Now onto the health benefits of our mango smoothie recipe with ginger. 
Cancer-fighting mango
Mangoes, which originate from South Asia are drupes that are fruits with thin skin and flesh surrounding the stone which contains the seed. There are several hundred varieties of mango which vary in size, shape, sweetness, skin color, and flesh color. Mangos are sweet and creamy with an exotic flavour and because of their texture, they are perfect for smoothie blending.
Fruits such as mangoes are packed with micronutrients called polyphenols which are responsible for how a plant grows, what colour they are and how they react to stress such as damage, lack of sunlight or pests and fungus etc. 
Mangoes have various types of polyphenols that help it react to its natural surroundings to help it survive just as these plant compounds help us when we consume them. Flavonoids, a subcategory of the polyphenol class of plant-compounds that are responsible for the vivid colours of fruits and vegetables and come in their thousands where each one has a different effect on us. One of these flavonoids, anthocyanin which makes fruits red, is concentrated in mangoes that get the most sun at the edges of the trees as opposed to the green-skinned fruits in the middle. Research has shown that the redder the skin the better the chances that the mangoes are more resistant to fungus and decay. These mangoes in turn have more antioxidant qualities when consumed. Other flavonoids in mangoes such as the flavonols quercetin and kaempferol have been linked with the prevention of chronic diseases such as cancer. Another subcategory of polyphenol called flavonols such as catechin have been linked to positive effects on neurological and cardiovascular health. 
Anti-tumor effects of mangiferin
Mangiferin which is a phytonutrient isolated from the mango tree has been studied to show many health benefits. The compound which to be honest is a fairly low level in mangoes is a potential candidate for pharmaceutical research and modification for a therapy. Mangiferin has been validated to trigger cell cycle arrest in tumors at the point of cell growth prior to division. This inhibitory action of the mangiferin in mangoes is a good reason to include it in your regular dietary routine as even trace amounts of this compound in your food is better than none at all.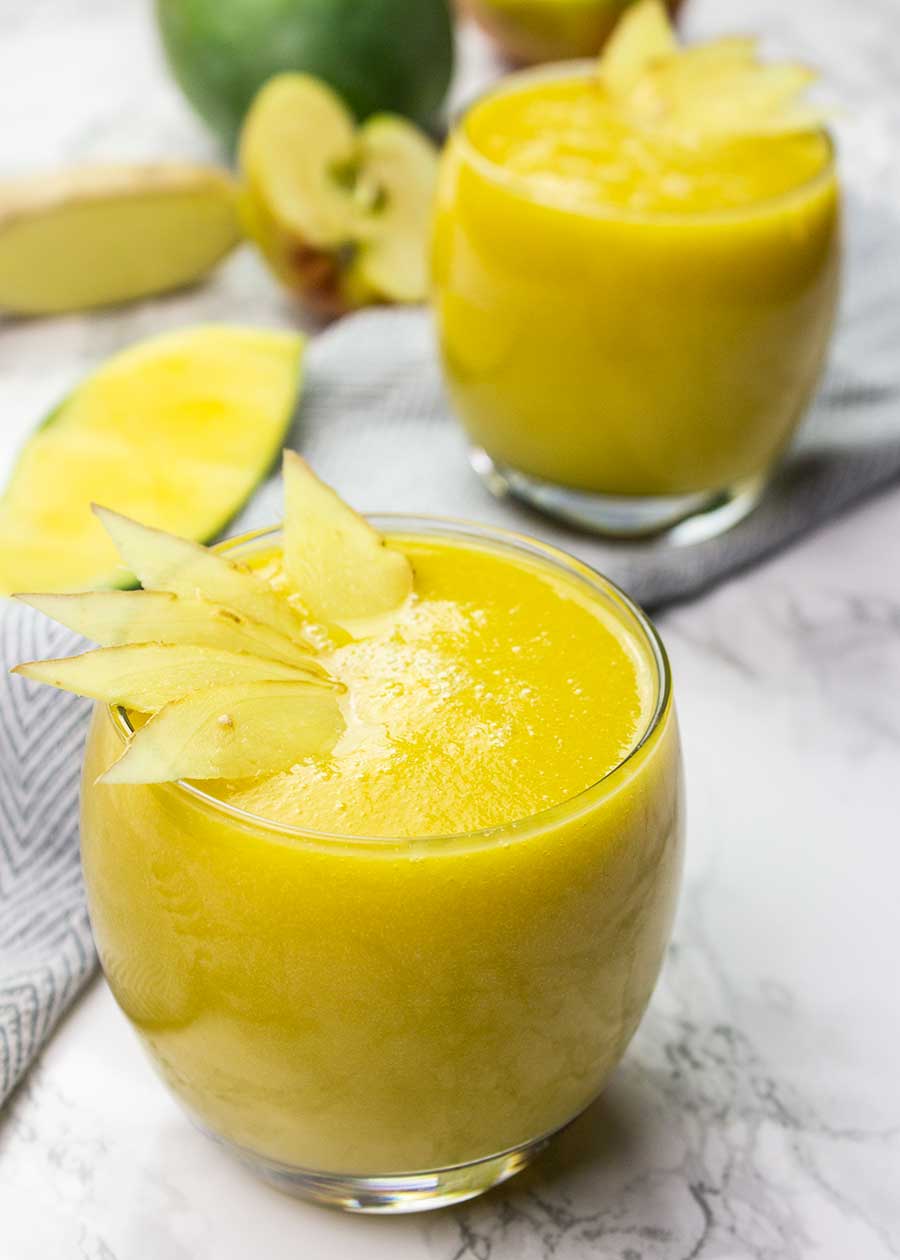 An apple a day keeps the doctor away 
Apples are one of the easiest fruits to have on a daily basis. There is no need for peeling so you can just pick it up and eat it on the go. For this easy smoothie recipe you don't need to peel it either, just discard the core. 
Apples come in many varieties too that will give a different dimension to your smoothie. Here is a quick guide to some apples and their differing flavours: 
Golden delicious – soft and subtle

Mutsu – very juicy and great for smoothies

Gala – sweet and crisp, perfect for snacking

Pink Lady – sweet with a soft but firm bite, great for pies

Cox – a honey aroma with a good balance of sweet with a firm bite

Granny smith – intense tart flavour and very crisp

Jazz – fairly tart but very juicy with an almost pear aroma

Red delicious – soft but juicy, not good for cooking but amazing to snack on.
Whichever apple you choose they all contain lots of vitamins and nutrients and as you are not peeling the skin they are even higher in fibre which is essential for a healthy gut and can ferry toxins out of the body.
Apples have also been linked to good neurological health as they are high in a plant compound flavanol called catechin which is a potent antioxidant that can protect cells such as brain cells against oxidative stress. Catechin which is also high in green tea as well as apples has also been linked to the reduction of cancers due to this antioxidant capability too. 
Oxidative stress which can lead to inflammation will also affect the body's resilience to other chronic conditions such as diabetes and stroke so consuming more apples a day really could keep the doctor away.
Ginger power
Ginger has been used for centuries for its medicinal properties. It is a flowering plant native to China but it is the root that is used for the beautiful sweet and spicy flavour. Traditionally it has been used to treat infections, colds and sores. It has also been shown to relieve pain and especially menstrual pain. 
Ginger is related to turmeric and likewise has a whole host of health benefits. The essential oil gingerol it contains is a powerful antioxidant and inflammatory that can lessen nausea from morning sickness, sea sickness, and even potentially relieve sickness for patients undergoing chemotherapy.
Another very welcome effect that ginger can deliver is the ability to ease sore muscles and fight chronic indigestion. So not only is this very tasty, it can be very relaxing to consume. 
Some of the best and healthiest smoothie recipes rely on only a handful of ingredients and this mango smoothie is no different. As mentioned above, you can use fresh mangoes but more commonly these days (and to save time) you can buy them frozen which not only keeps them longer, it means you can blend straight from the freezer for a more chilled stimulating drink. 
Have you made this easy mango smoothie recipe with ginger?
We'd love to see your smoothie creations! Please leave a comment below, share or tag using @anticancerkitchen on Instagram and hashtag it #anticancerkitchen.
More healthy and easy smoothies you might want to try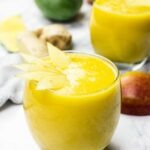 Ingredients
2 mangos or 2 cups frozen mango

1/2 cup of cold water

3 apples, juiced using a juicer or 300ml (1 and 1/4 cups) of organic cold-pressed apple juice

1 and 1/2 tablespoons of fresh ginger (4.5 cm)
Instructions
Wash all the fruit.
Cut the mango down either side of the flat stone, then peel and cut the flesh into pieces and put them in your blender. You can also use frozen mango. 1 mango = 1 cup.
Juice the apples and add the juice to the mango chunks in the blender. Alternatively use a store-bought apple juice.
Cut approximately 4.5cm of ginger. Chop the coins into matchsticks and then tiny cubes. Add the ginger cubes into the blender.
Blitz (mango, apple juice and ginger) for approximately 2 minutes. Add cold water and blend for another 30 seconds and serve.

Copyright secured by Digiprove © 2020 The Anti-Cancer Kitchen