This mango and raspberry smoothie with coconut water is quick and simple, naturally sweet, and nutrient-rich. Made with 3 healthy plant-based ingredients that are blitzed together in seconds. We use equal parts frozen raspberries and mangos for one half and the other made with pure hydrating coconut water that is full of electrolytes that will help balance your fluid levels. This smooth pink mango raspberry smoothie is surely one of the best and easiest nourishing breakfast recipes.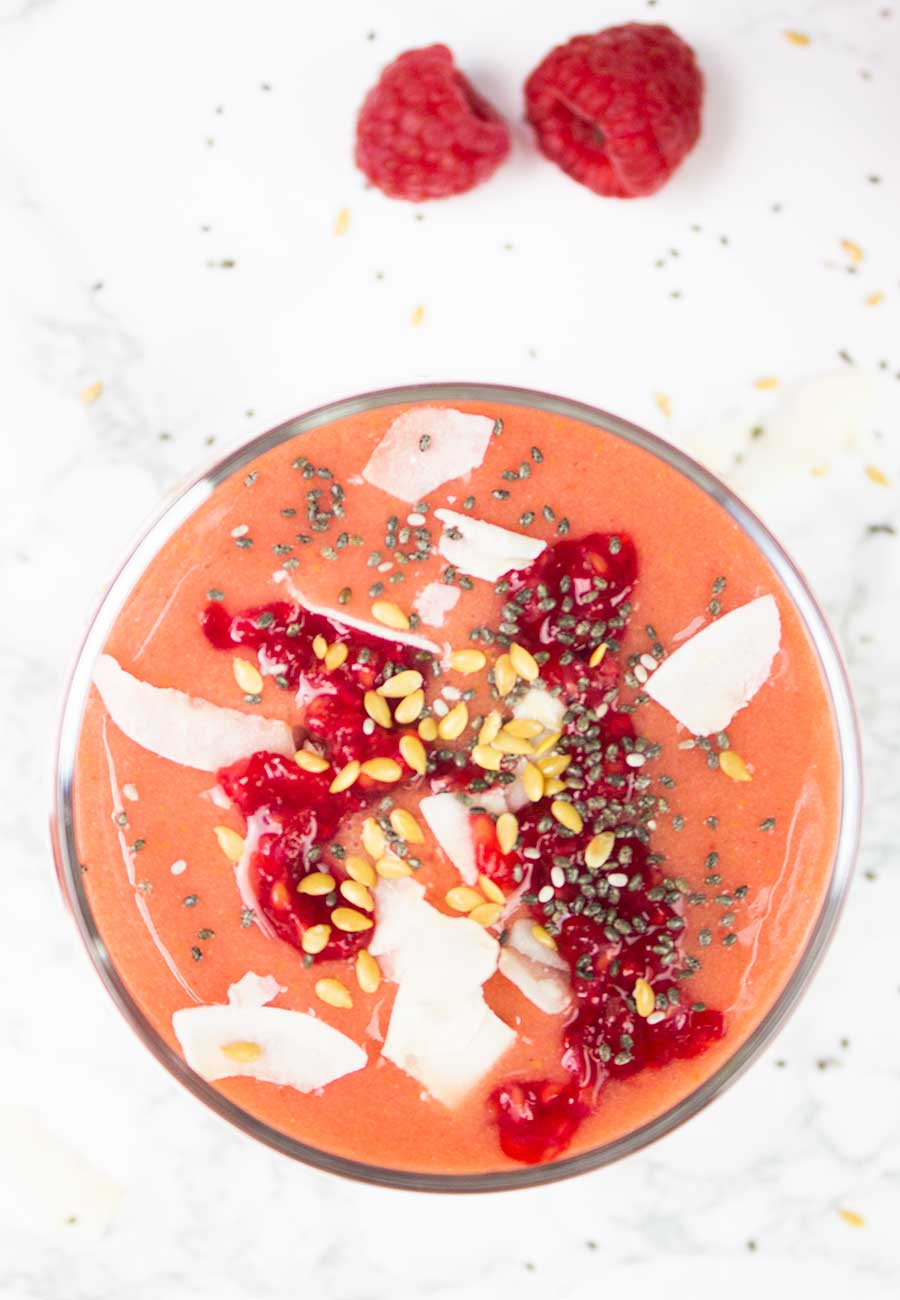 This raspberry mango smoothie recipe will: 
Give you a boost in antioxidants 

Help your immune system 

Facilitate healthy digestion 

Promote eye health 

Lower cholesterol 

Help clear skin and is potentially anti-aging

Balance your electrolytes after exercise 
How to make mango and raspberry smoothie 
To make this delicious mango raspberry smoothie takes less than 5 minutes. Just put frozen raspberries, frozen mango, and coconut water in a blender. Blend for 2 minutes and you have a naturally-sweet, beautifully pink, smooth, creamy immune-system boosting powerhouse in a glass. Perfect for busy weekday mornings as well as lazy weekend brunches. Both mango and raspberries have incredible health benefits. You can also top this smoothie with a host of other superfoods such as chia and flax seeds for added protein, coconut flakes for texture, or whatever you like to top a smoothie such as grated dark chocolate or oats for example.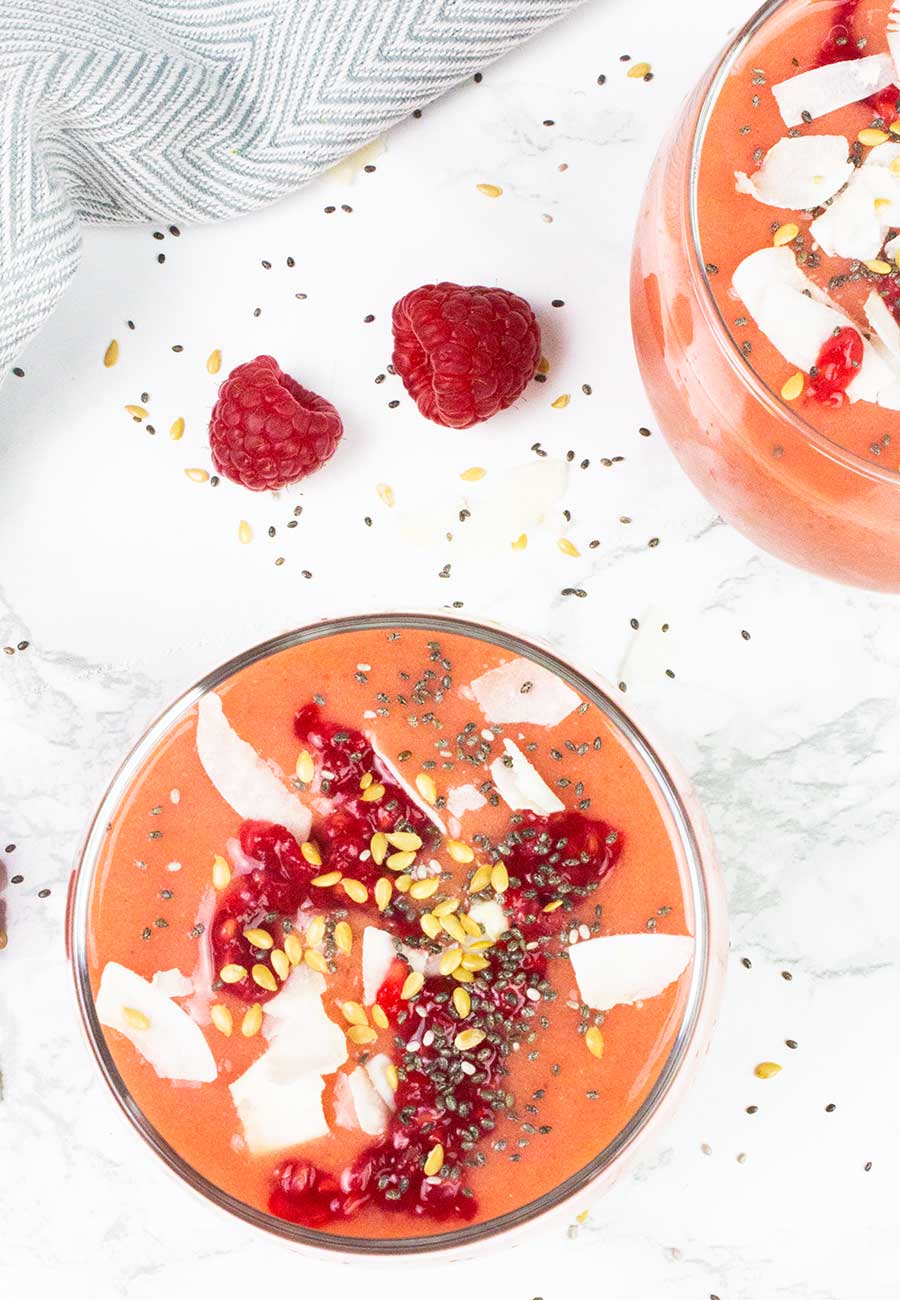 Healthy raspberries
Raspberries have a high Oxygen Radical Absorbance Capacity score. This is when a food is graded on its antioxidant potency, the phrase "your 5 a day" came about following this format of how you can increase your daily fruit and vegetable intake. The average person should be aiming for at least 7000 ORAC units per day but optimally a lot higher at 20,000 ORAC units per day. Red raspberries have a score of about 5000 per 100g but if you can source black raspberries you will quadruple this score. Only a few other ingredients such as Acai, dark chocolate and goji berries have higher antioxidant potency. They are low in calories but very rich in fibre, crucial vitamins and minerals too. Raspberries are known for potentially protecting against cancer, obesity, and arthritis as well as potentially delivering anti-aging properties. That's one amazing berry.
Raspberry belongs to the perennial rose family with over 200 varieties available to use in your everyday diet. They range in colour from black blue and red to the rare purple and yellow varieties.
Raspberries contain key nutrients including Vitamin C which is crucial for making collagen which the body needs to keep our skin and joints healthy. As we age our skin loses elasticity so consuming more Vitamin C can help us look and feel younger. Vitamin C also regenerates other antioxidants such as Vitamin E and has numerous other benefits such as protecting good cholesterol against oxidation. Studies have also suggested that people with the highest intakes of Vitamin C are less likely to develop certain cancers.
Raspberries are also high in Vitamin K which promotes proper blood clotting and folate that is essential for healthy cell division. 
Antioxidant – phytonutrients + flavonoids 
Raspberries contain plant chemicals known as flavonoids which add to their antioxidant effects. These antioxidants help our bodies to remove damaging substances known as free radicals. When we metabolise food for energy free radicals are formed which are negatively charged particles, they then trigger a chain reaction where the molecules try to lose the extra negatively charged electron with collisions into other molecules which in turn need to lose their charge too. This process is known as oxidative stress and although our bodies must go through this process thousands of times a day, consuming foods high in fat and sugar can cause excessive damage to cells, proteins and DNA. Antioxidants will balance the harmful effects of this process so consuming foods high in antioxidants such as raspberries is exceptionally important.
Damaged cells can potentially progress to become cancerous and not only can antioxidants reduce the harmful effects of oxidative stress some of the anti-cancer benefits of raspberries have been researched to suggest that their phytonutrients can alter the development or reproduction of cancer cells by being able to change the signals that are sent to encourage the cancer cells to begin apoptosis process (cancer cell death) and encourage the non-cancerous cells to remain.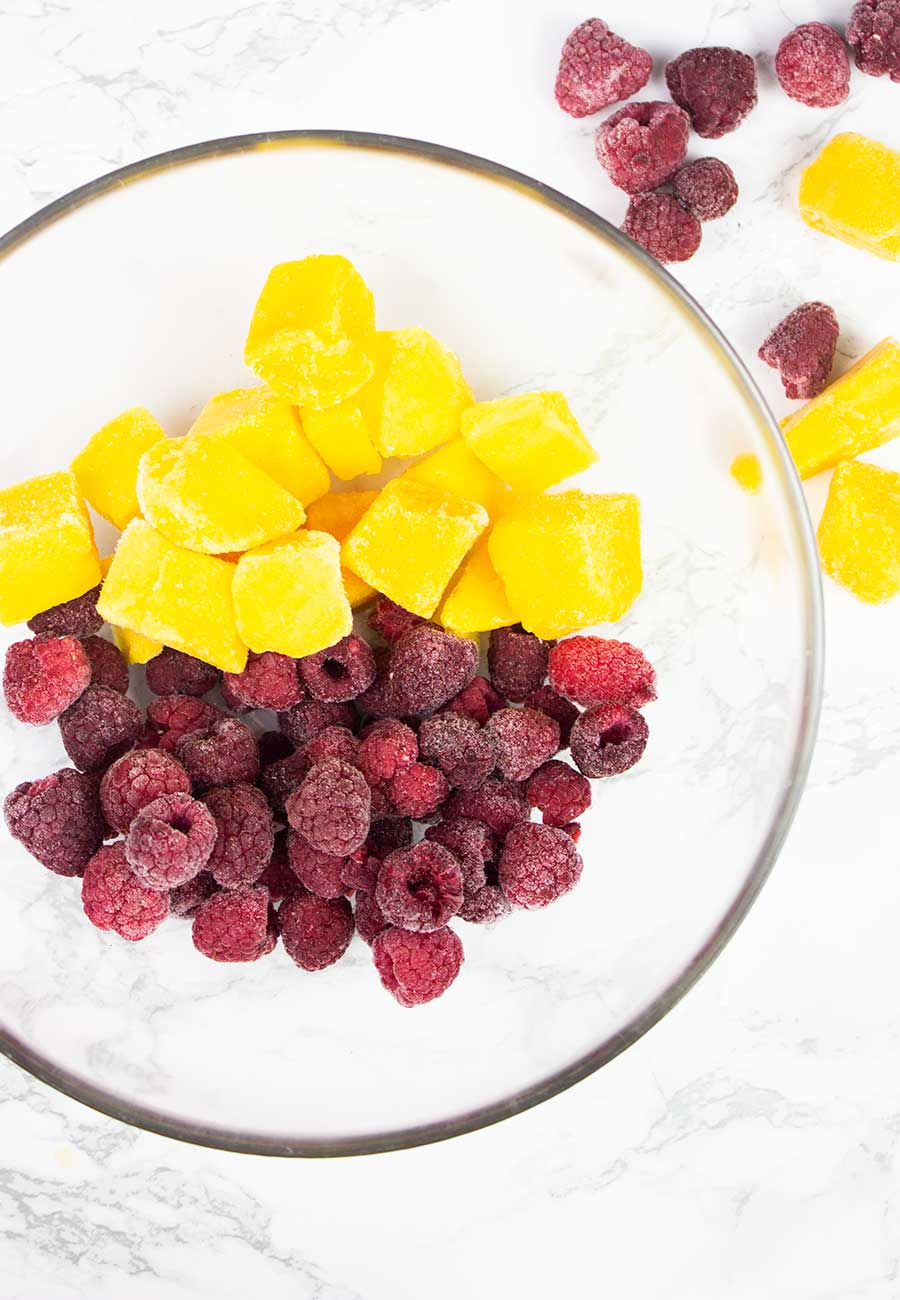 Mango health benefits
Mango's are drupes which is a fruit with thin skin and flesh surrounding the stone which contains the seed. Originating from South Asia, there are several hundred varieties of mango which vary in size, shape, sweetness, skin color, and flesh color. Mangos are sweet and creamy with an exotic flavour, perfect for smoothie blending.
Fruits and vegetables are packed with micronutrients called polyphenols. They are responsible for how a plant grows, what colour they are and how they react to stress such as damage, lack of sunlight or pests and fungus etc. Mango has many different types of polyphenols that help it react to its natural surroundings to help it survive just as these plant compounds are good for us when we consume them. Flavonoids are a subcategory of the polyphenol class of phytonutrients (plant-compounds) that are responsible for the vivid colours of fruits and vegetables and different concentrations of these flavonoids of which there are thousands of, have different effects in us. For example anthocyanin which makes fruits red is concentrated in mangoes that get the most sun at the edges of the trees as opposed to the green-skinned fruits in the middle. Research has shown that the redder the skin the better the chances that the mangoes are more resistant to fungus and decay. These mangoes, in turn, have more antioxidant qualities when consumed. Other flavonoids in mangoes known as flavonols such as quercetin and  kaempferol have been linked with the prevention of chronic diseases such as cancer. Another subcategory of polyphenol called flavanols such as catechin has been linked to better neurological and cardiovascular health. 
Anti-tumor effects of Mangiferin
Mangiferin which is a phytonutrient isolated from the mango tree is showing some quite promising health benefits. Although the compound is fairly low level in mangoes it could be a good candidate for pharmaceutical research and modification for a therapy. Mangiferin has been validated to trigger cell cycle arrest in tumors at the point of cell growth prior to division. This inhibitory action of the mangiferin in mangoes is reason enough to include it in your regular dietary routine as even trace amounts of this compound in your food is better than none at all.
Some of the best and healthiest smoothie recipes rely on only a handful of ingredients and this mango raspberry smoothie is no different. By using fruit kept in the freezer it is not only quick to make but it helps you keep your ingredients for longer so you can use them in other recipes. Mangoes, for example, are beautiful in Asian salads too and raspberries are great for sweetening sauces etc, however together with coconut water which is great for hydration, they create just an amazing fresh exotic fruit and berry flavour.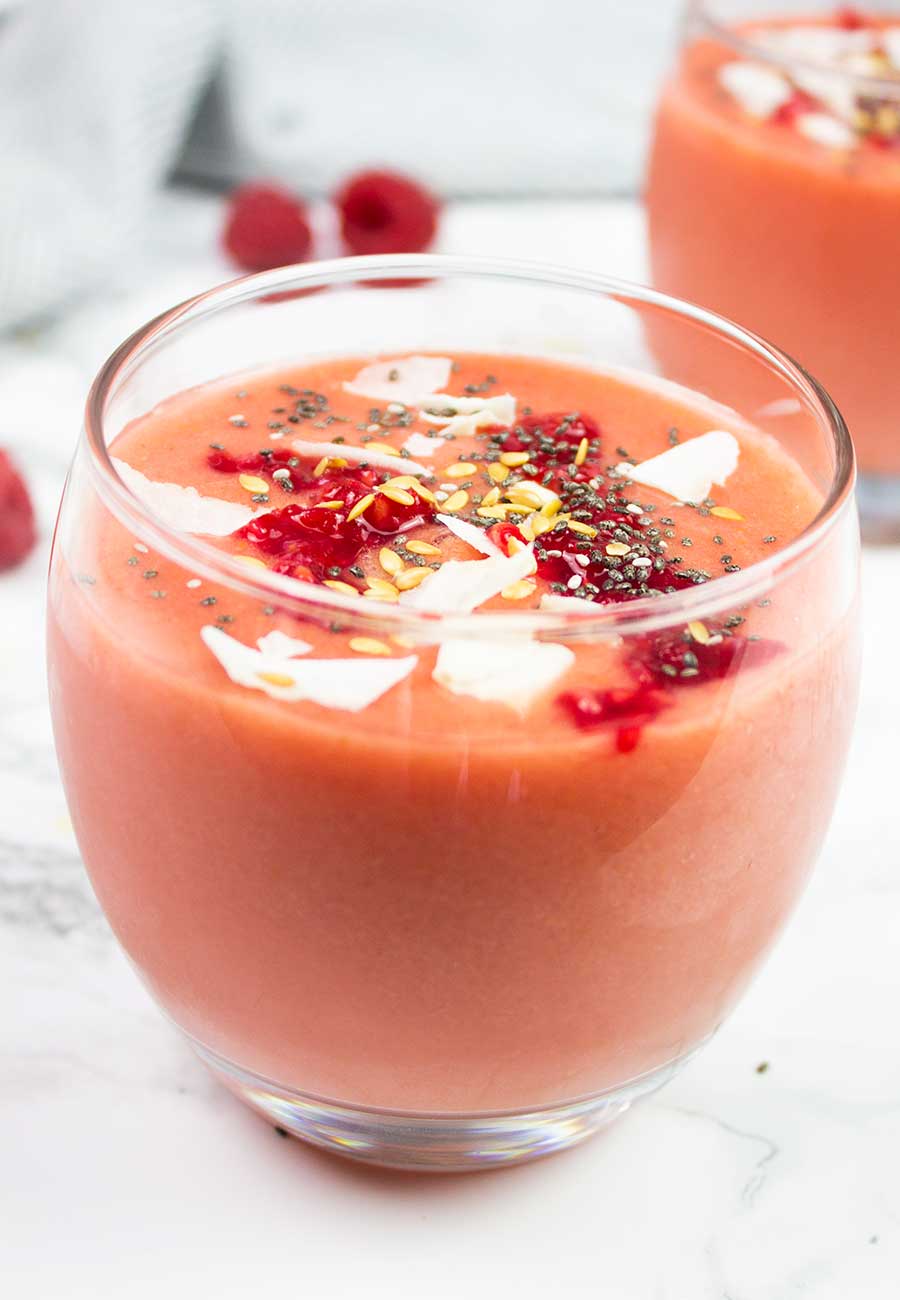 Have you made this mango raspberry smoothie?
We'd love to see your mango and raspberry smoothie creations! Please leave a comment below, share or tag using @anticancerkitchen on Instagram and hashtag it #anticancerkitchen.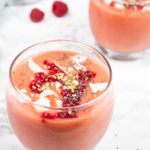 Ingredients
1 cup of frozen raspberries

1 cup of frozen mango

2 cups of unsweetened coconut water

4 ice cubes (optional)

Optional toppings: chia seeds, linseeds/flax seeds, coconut flakes, smashed raspberries
Instructions
Put frozen raspberries, frozen mango, and coconut water into your blender. Blend until smooth.
Top with chia seeds, linseeds/flax seeds, coconut flakes, and a smashed raspberry.
Step-by-step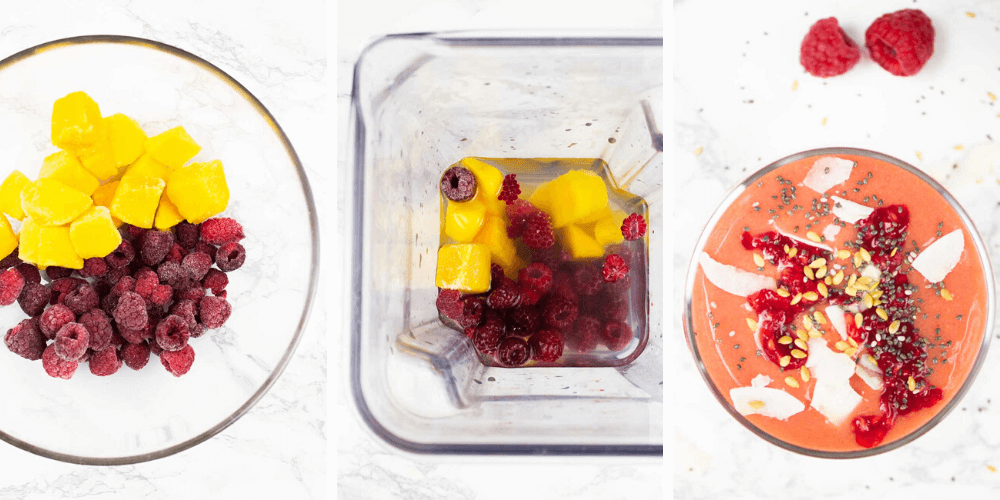 Copyright secured by Digiprove © 2020 The Anti-Cancer Kitchen