We can't get enough of this smoothie bowl and the fact that our 4-year-old son who rarely eats fruit or berries (unless hidden or blended) absolutely wolfed it down like no tomorrow (evidently, this hides berries perfectly), we feel like we have a breakfast winner. Not only is this perfect for breakfast, it is great for any meal or snack especially if you don't have the time or energy to prepare anything else.
Delicious and healthy smoothie bowl recipe
To make this smoothie bowl all you need is some frozen fruit and berries from your freezer. Use banana, raspberries and blueberries and a little bit of almond milk or any other dairy-free alternative.  It's so easy to make – the blender does the job for you.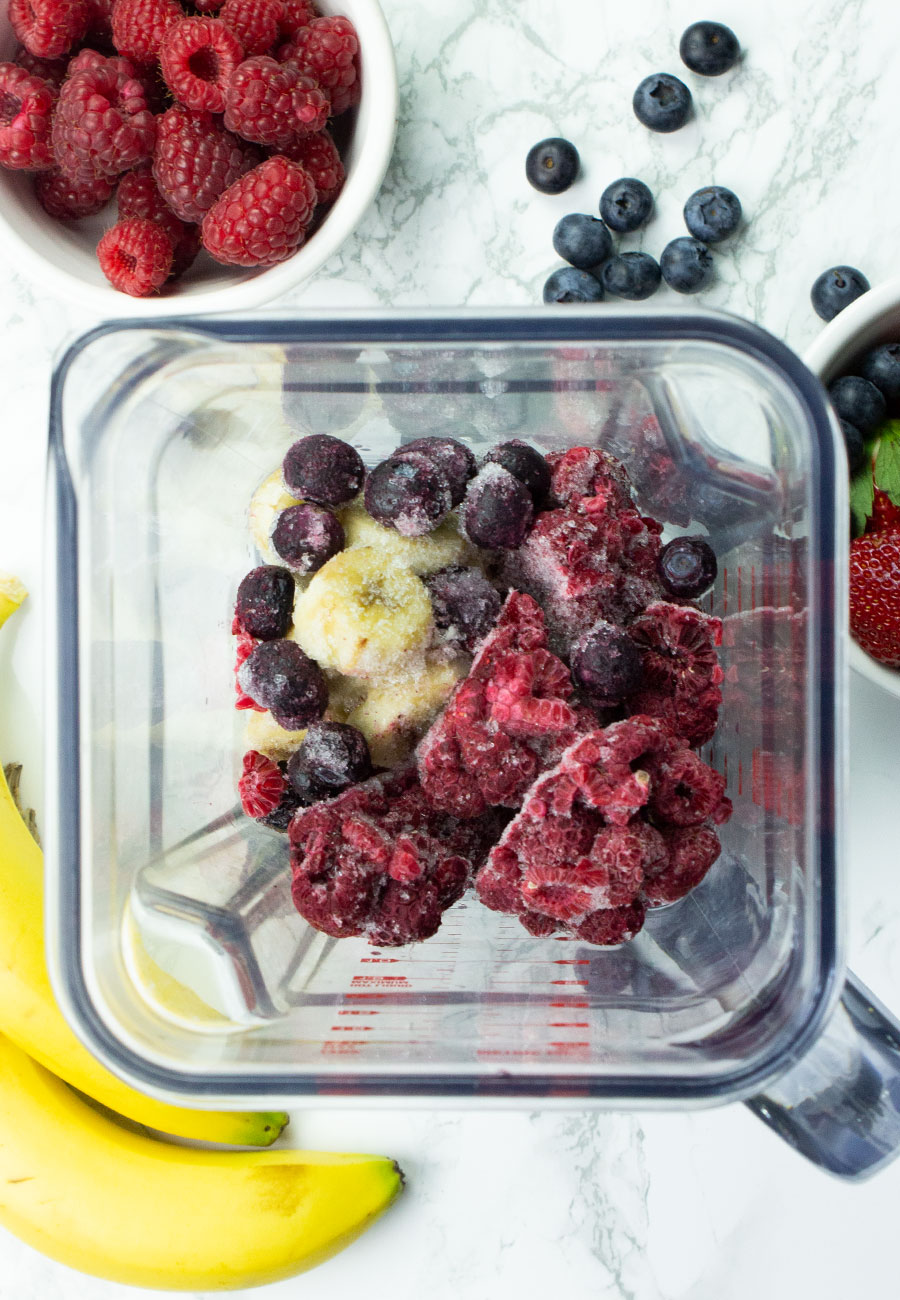 The smoothie bowl is also very versatile as you can finish it off with a multitude of delicious toppings. You can add granola, fresh fruit or dried fruit, berries, seeds, nuts or cereals, the choice is yours. This recipe uses chia seeds, coconut flakes and fresh berries.
How to make a smoothie bowl
The trick is to blend the frozen berries and banana on a low setting until they look like crushed ice. Then add almond milk in stages and continue blending on a higher setting until you have a thick smoothie like paste.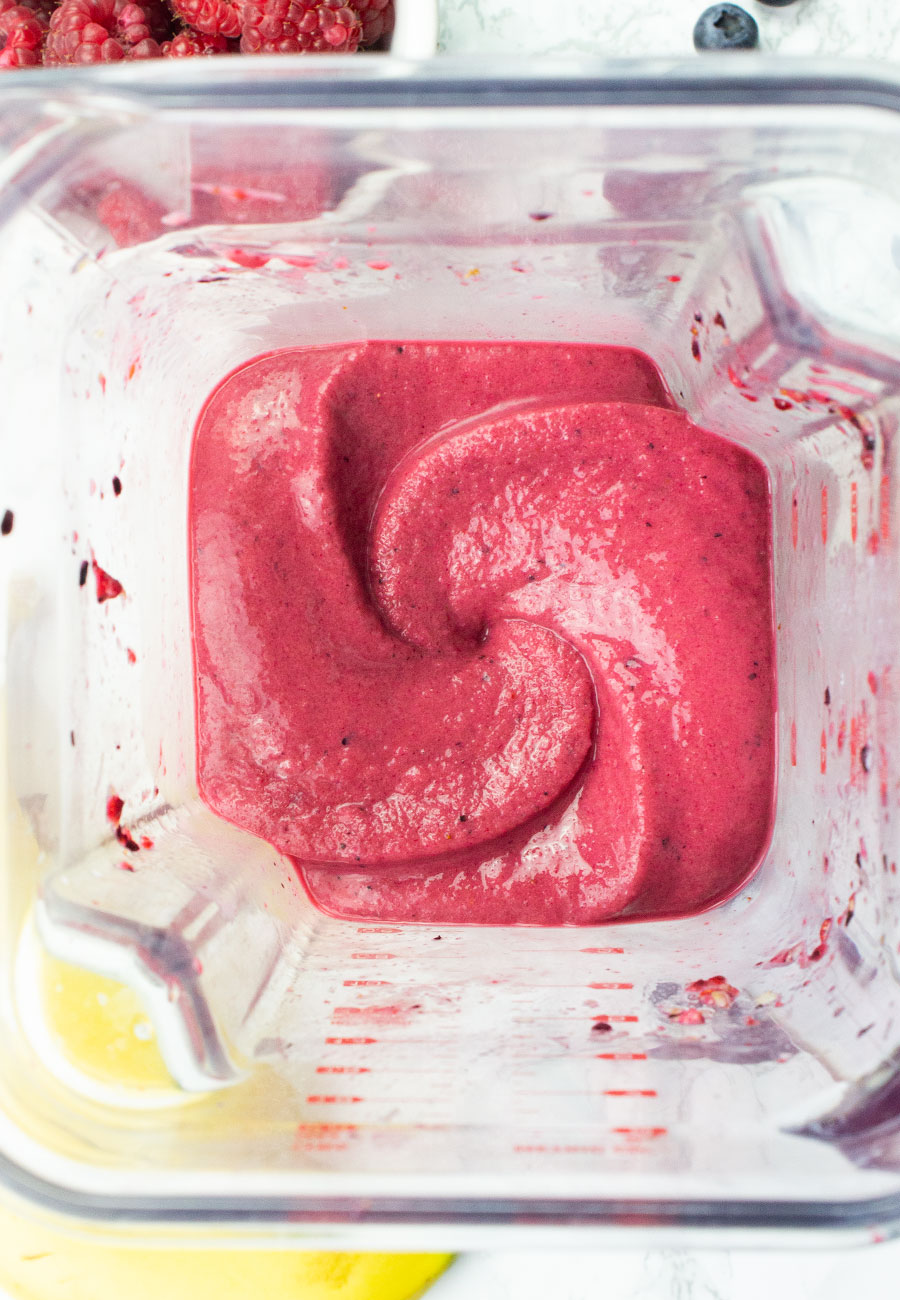 One of the best things with a smoothie bowl is that the ingredients are frozen which means that you can make one as and when you want without the risk of having to throw your fruit away. For example, when you have old bananas that look pretty dull and brown – don't throw them away – peel, chop and freeze them. They are perfect for your smoothie bowl. Moreover over ripe bananas are healthier for you too.  An over ripe banana is incredibly anti-cancer as the browner they are the richer they are in antioxidants which help prevent cell damage in our bodies. Antioxidants also help improve our general immune system. Additionally, over ripe bananas can sometimes work as an antacid as the smooth yellow texture protects us from harmful acids and irritation.
This is one fantastic healthy bowl packed with nutrients, antioxidants, fibre, immunity-boosting and energy-boosting ingredients. Of course, it has been well researched that blueberries and raspberries are also super good for you as they are rich in resveratrol ( a plant compound currently under research for possible effects of inhibiting cancer cells) and flavonoids which are important for your anti-cancer/cancer prevention diet as they have antioxidant, anti-inflammatory and anti-bacterial properties.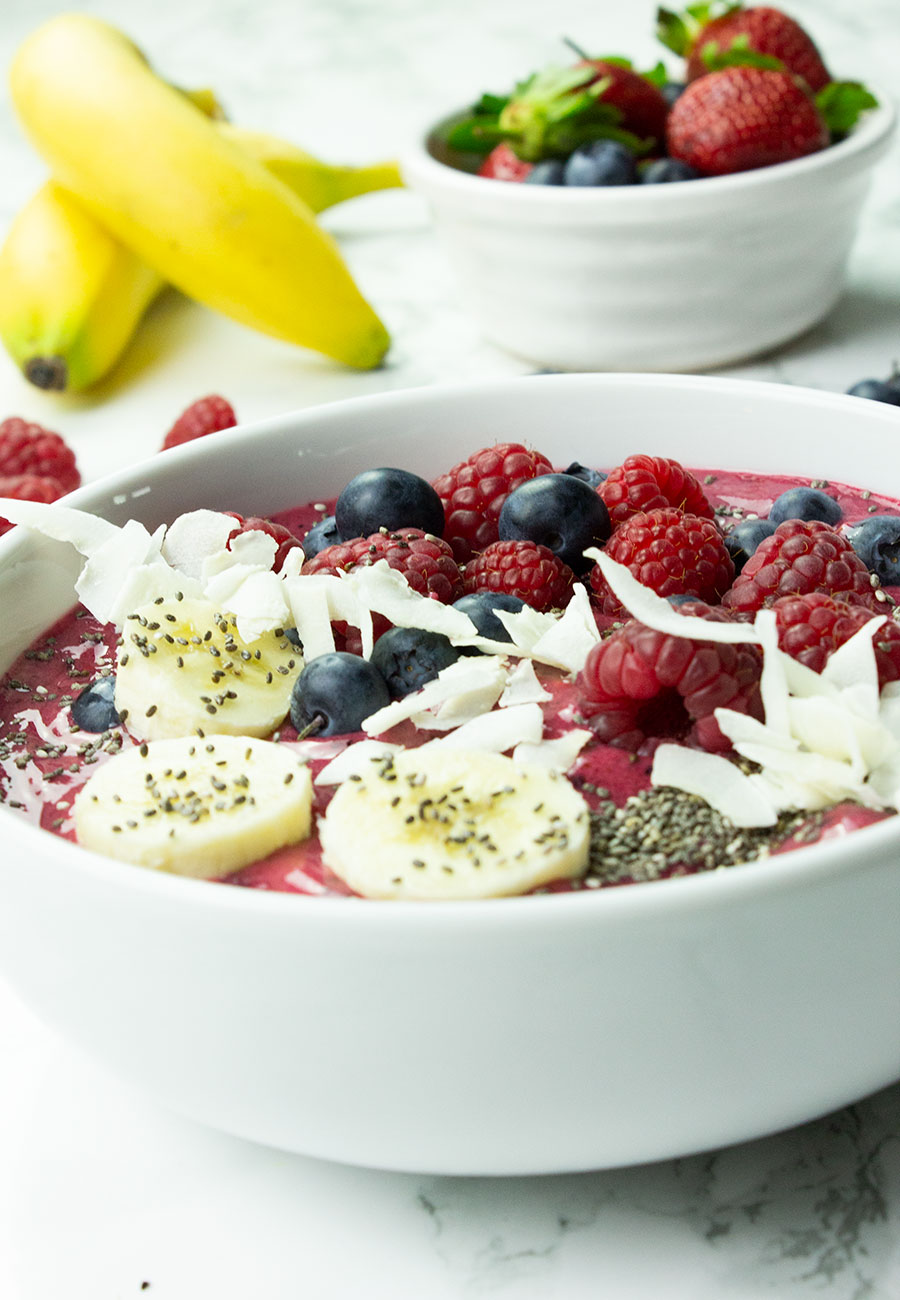 Have you made this recipe?
We'd love to see your food creations! Please leave a comment below, share or tag using @anticancerkitchen on Instagram and hashtag it #anticancerkitchen.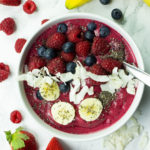 Ingredients
A handful of frozen raspberries

A handful of frozen blueberries

A handful of frozen banana

50ml almond milk
Instructions
Simply blend, on a lower setting, frozen banana, raspberries and blueberries until it looks like crushed ice. Then continue blending on a higher setting adding small amount of almond milk until it looks like a thick paste or a thick smoothie.
Pour the smoothie into a bowl and add sliced banana, fresh blueberries, fresh raspberries, chia seeds or what ever topping you want.