This is super easy to make plant-based mushroom lasagne with more than a little bit of chefy extras for a wow that will have your audience asking for seconds. Whether you want to add this to your repertoire for a family favourite or serve up for a dinner party we hope you'll agree it is a perfect healthy mushroom lasagne recipe for any occasion.
Lasagne with pear white sauce
With this recipe we got inspiration from a fabulous food market in Madrid called Mercado Del Anton where the lasagne on the menu for the top floor cuccina was a slow-cooked oxtail in a dark unctuous sauce topped with fresh pasta and a liberal spreading of bechamel sauce flavoured with pear. This was by no means an Italian classic with a rich tomatoey ragu that families including ours make on a regular basis. It was, however a dish that not only sounded exceptionally exciting and tasty, it did to be fair look very easy to prepare. It was just the unusual mix of ingredients sounded chefy and something that you may want to leave to the professionals. Suffice to say that anyone who ordered this dish didn't say a word the whole time a bite of it remained on someone's plate.
We had to try this pear white sauce and my god it worked. I know that we're total foodies and anything slightly new and unusual will tickle our taste-buds but a simple pairing of flavours we're so used to but not in one dish had to be worth a go.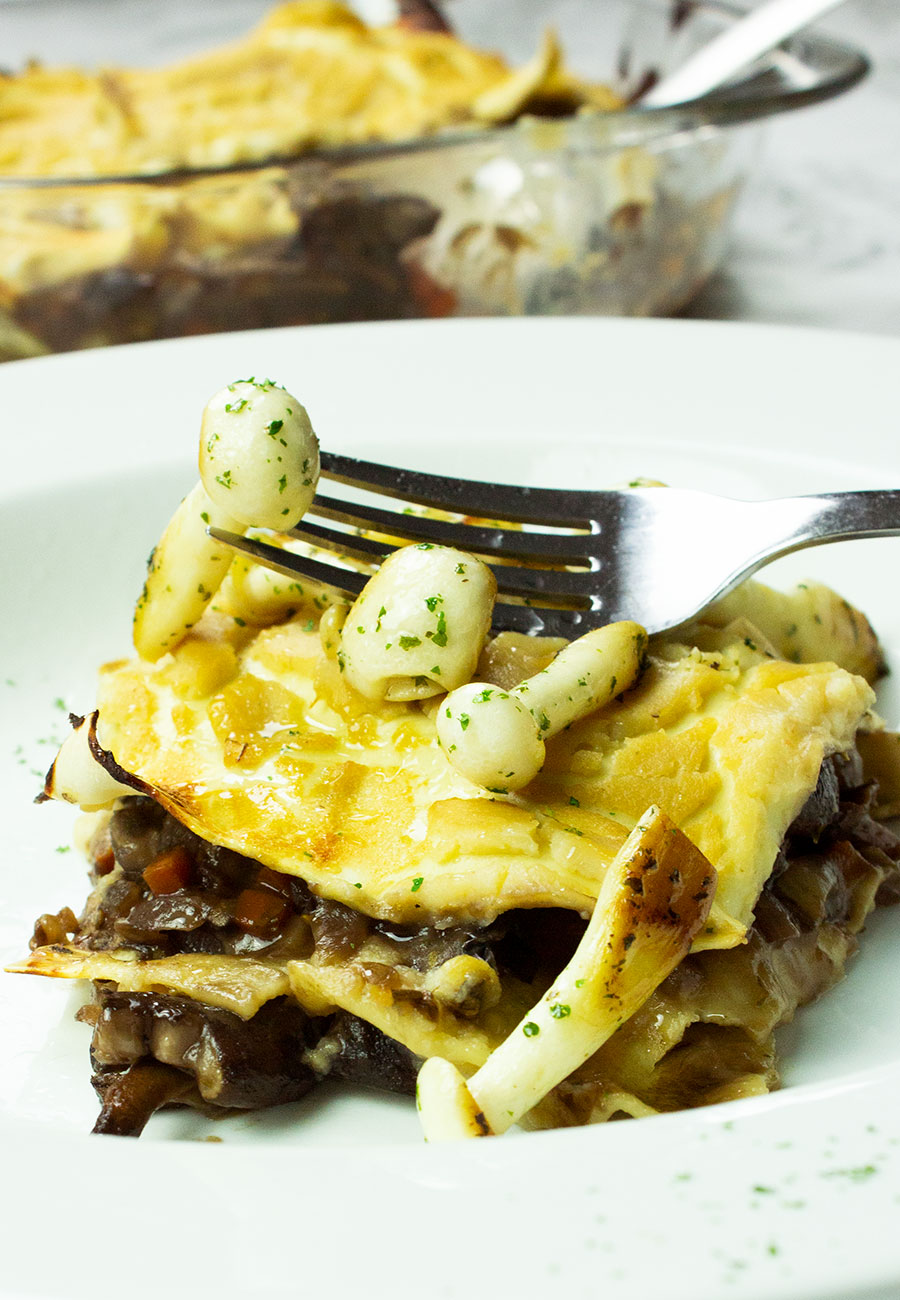 The first obvious obstacle is making this recipe 100% plant-based. It wasn't actually that difficult really as the main injection of new flavour comes from the pear. You could use a plethora of meat substitutes for the ragu such as soy or grated potato as we have in many of The Anti-Cancer Kitchen recipes as the deep flavour mostly comes from our rich vegetable gravy.
The mushrooms we've decided to use we feel give an earthy robust flavour you wouldn't ordinarily get with other vegetables or meat substitutes and they add an extra kick of selenium which is an amazing cancer-fighting antioxidant which may also protect against heart disease as well as boosting your immunity.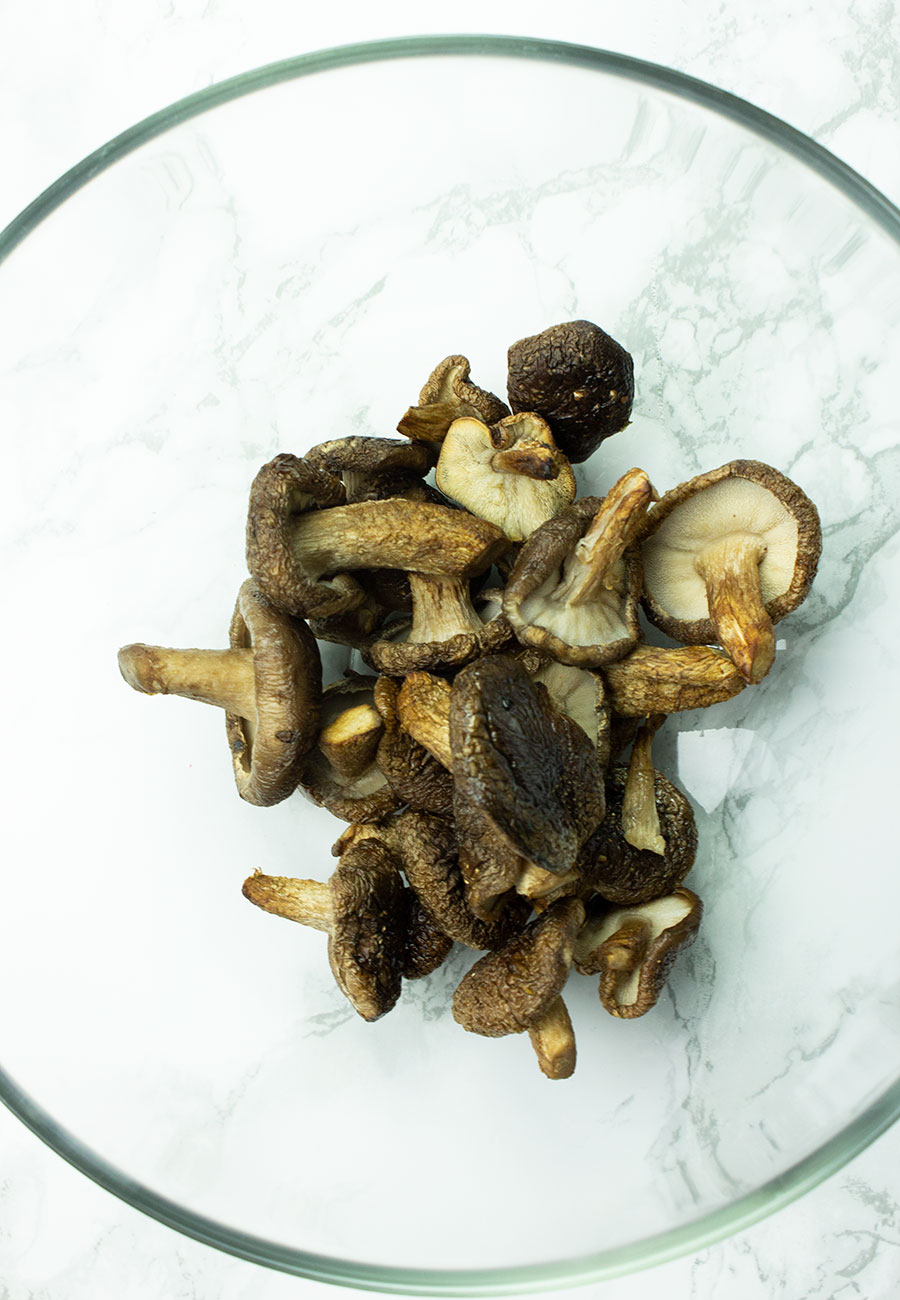 The white sauce also didn't prove too difficult as we've been blending cauliflower or celeriac with nutritional yeast plus a few other ingredients for a great tasting sauce for ages. It just needed a pear added to the mix.
When combined for the first time we too didn't speak a word whilst there was a bite left on the plate, please try this recipe too.
Have you made this mushroom lasagne recipe?
We'd love to see your food creations! Please leave a comment below, share or tag using @anticancerkitchen on Instagram and hashtag it #anticancerkitchen.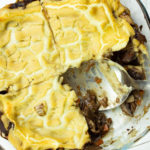 Ingredients
375g of shiitake mushrooms

250g of portobello mushrooms

100ml of red or white wine (optional)

400-500ml of vegetable stock enriched with ½ teaspoon of marmite or miso

1 red onion finely diced

1 carrot finely diced

1 celery stalk finely diced

1 teaspoon of flour

½ teaspoon of agave or date nectar

1 tablespoon of soy sauce

2 teaspoons of mixed herbs (we use thyme, rosemary and oregano)

4 lasagne sheets

50g of shimeji, enoki, or cep mushrooms to garnish (optional)

½ a cauliflower broken into florets

1 pear peeled and quartered

100-200ml of vegetable stock with 2 tablespoons of nutritional yeast
Instructions
Start with roasting the mushrooms and cauliflower.
How to make the white sauce
Place the cauliflower and pear in a roasting tin and place in a pre-heated oven at 200c for 30 minutes.
Use then a blender and blitz the cooked cauliflower and pear adding small quantities of the stock until you have a smooth viscous puree like a bechamel sauce.
How to make the mushroom ragu
Using two forks pull the oyster mushrooms and shiitake mushrooms apart to create shreds. Place in another roasting tray and put in the same oven as the cauliflower for 30 minutes (200c) or under a hot grill for 15 minutes. Drain the liquid off and reserve and set aside the mushrooms.
Whilst the cauliflower and mushrooms are roasting. Make the ragu base.
In a wide frying pan add a dash of olive oil and fry the onions, celery and carrots for 5 minutes or until softened and starting to brown. Add the date or agave nectar and herbs and fry for a few minutes more until the vegetables are caramelised.
If using red wine add at this point mixed with one teaspoon of flour and reduce by a third.
Pour in the stock, soy sauce and the reserved mushroom liquid (and the flour if not used already) and turn the heat down to a medium low and simmer for 25-30 minutes until the mixture has thickened. Stir in the mushrooms and take off the heat.
Make the lasagne
Spoon half the ragu into an oven proof lasagne dish and place 2 lasagne sheets on top. Spoon over a layer of the white sauce to cover the pasta. Repeat this stage once more to create 2 layers and bake in the oven at 200c for 25 minutes.
Garnish
To garnish simply fry some whole shemeji, enoki or sliced ceps in some oil with a sprinkling of the dried herbs until browned. (optional).