Introducing turmeric overnight oats that is simple to make and is packed with anti-inflammatory and healing properties.
We never used to eat breakfasts especially during a working week, probably due to laziness and time. We would rather spend those 5 minutes in bed rather than prepare something to eat in the morning. Anyway, guess what, two children later and we are still the same. We will prepare an amazing nutritional breakfast for our kids but can't be asked to do anything for us. That's why overnight oats are the best. Prepare it in the evening, and grab it from the fridge in the morning and eat in the office as soon as you get in.
Easy overnight oats recipe
Overnight oats are great for many reasons, they are so simple to prepare. Just add all the ingredients, mix well and leave in the fridge overnight to get ready. I would say for a minimum of 6 hours. Oats keep you full for longer too. This overnight oats recipe is made with turmeric to give you the best start to the day as turmeric contains curcumin, a substance with powerful anti-inflammatory and antioxidant properties. This turmeric overnight oats recipe is sweet, spicy and creamy  – all at the same time. It goes perfectly with a cup of green tea or coffee or whatever you prefer.
Love this turmeric overnight oats recipe?
Have you made this recipe?
We'd love to see your food creations! Please leave a comment below, share or tag using @anticancerkitchen on Instagram and hashtag it #anticancerkitchen.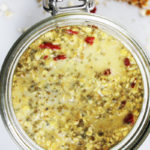 Ingredients
120g organic oats

1 table spoon chia seeds

1 table spoon flax seeds/linseeds

300ml oat milk or milk of your choice

A handful of goji berries or sultanas

2 tea spoon maple syrup/honey

1 table spoon turmeric

2 table spoons cinnamon

1 tea spoon black pepper
Instructions
Combine the oats, milk, seeds, berries/sultanas, maple syrup/honey, turmeric, cinnamon and pepper. Cover the bowl and place it in the fridge overnight. The next morning, give the oat mixture a quick stir and tuck in.

Copyright secured by Digiprove © 2020 The Anti-Cancer Kitchen