Introducing turmeric overnight oats that is easy, sweet and spicy and incredibly filling. This delicious overnight oats recipe with turmeric is packed with vitamins, minerals and fibre.
We never used to eat breakfasts especially during a working week, probably due to laziness and time. We would rather spend those 5 minutes in bed rather than prepare something to eat in the morning. Anyway, guess what, two children later and we are still the same. We will prepare an amazing nutritional breakfast for our kids but in most cases too busy/lazy to do anything for us. That's why overnight oats are the best invention ever.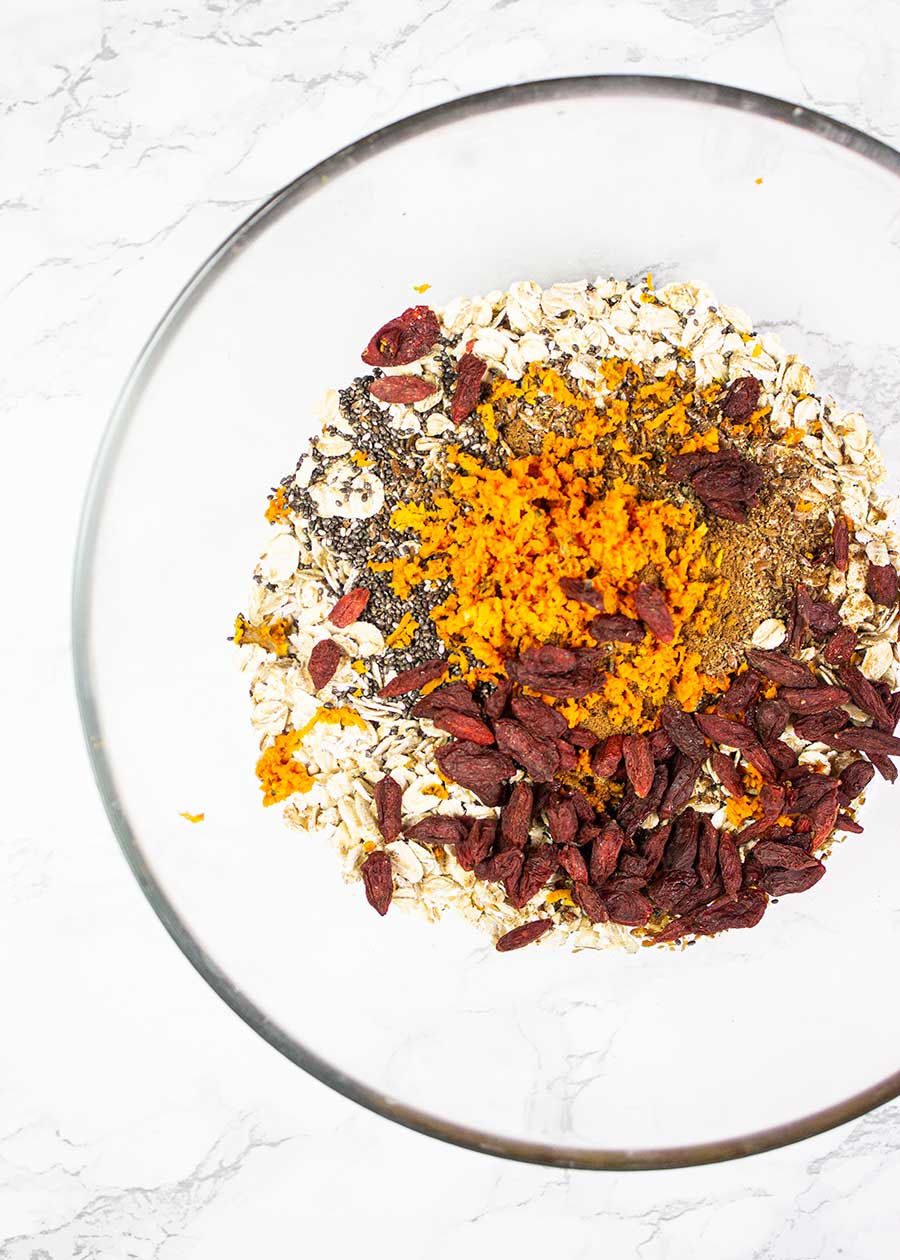 Overnight oats are a wonderfully quick breakfast that set you up for the rest of the day with a boost of the best nutrition and healing.
They got their name because you basically prepare them the night before – which is perfect if you are a little bit like us. There is no cooking involved, instead, you put the oats and the rest of the ingredients in a jar with milk and spices in the fridge and let the fridge do its job.
When you leave the overnight oats with turmeric in the fridge overnight,  all of the ingredients including oatmeal, chia seeds, flax seeds, goji berries, spices are soaking up the liquid which softens them in order for us to eat them uncooked after a few hours, but they are even better when they're allowed to soak all night to make this turmeric overnight oats:
Full of flavour
Deliciously creamy
Spicy and sweet, all at the same time
Full of fibre
Packed with cancer-fighting antioxidants
Energy-boosting and anti-inflammatory
Easy turmeric overnight oats recipe
This overnight oats recipe is so simple to prepare. You only need one bowl or you can also make the overnight oats straight in your jars. We use one bowl to add all the ingredients and stir until the mixture it becomes beautifully yellow. The we divide the mixture into two jars and leave in the fridge overnight to soak all that turmeric goodness.
The best thing about this overnight oats recipe is that it is incredibly healthy. This overnight oats recipe is made with fresh turmeric, goji berries, chia seeds, flax seeds, cinnamon which are all superfoods that we should eat on a regular basis. Turmeric contains curcumin, a substance with powerful anti-inflammatory and antioxidant properties.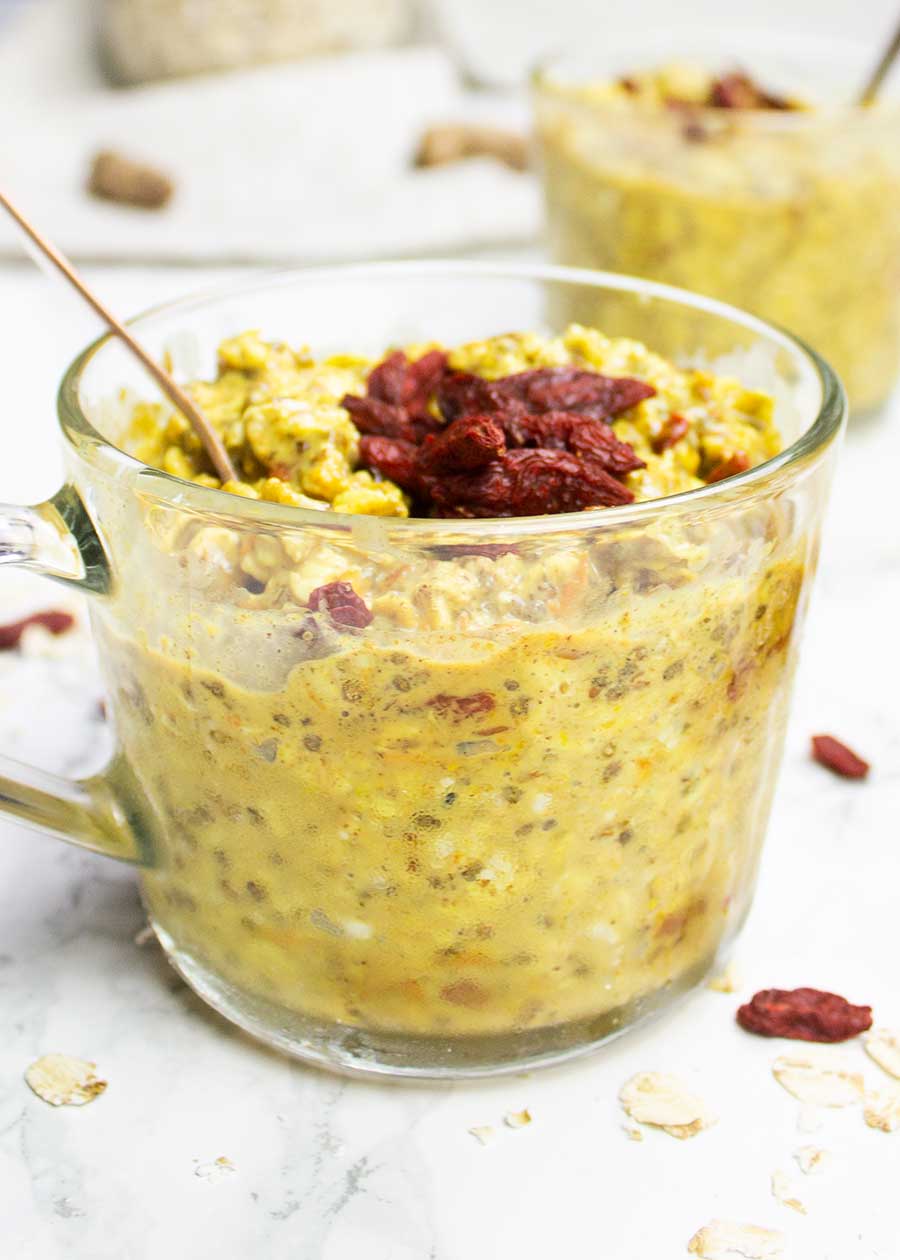 What is turmeric?
Turmeric is bright orange root that grows a tall flowering plant native to Asia. When cooked or juiced it imparts a vivid golden colour on the ingredients you are cooking. It is well documented to have incredible health benefits and has been used in Ayurvedic medicine and Chinese herbal medicine for millennia. Traditionally It has been used for its well-known healing properties but more recently western medicine is studying this root in more detail to understand what it could be further capable of.
In the East this spice has been used to treat indigestion, gallbladder pain and even high cholesterol for generations. It is these health benefits that have gained the attention of western medicine. The genetic makeup of turmeric is a current topic and currently being dissected to find out what compounds it contains and their derivatives and what effects they can have in food and medicine.
The main active compound is curcumin. This is a potent antioxidant at a cellular level in the body. Research has shown that curcumin actually inserts itself into the cell lining and helps to stabilize them. This then helps the cell's integrity and its resistance to infection and malignancy. Turmeric, therefore, has the potential to give our cells a fighting chance against cancer.
The recommended daily dose is about two teaspoons twice a day. Studies have shown that people with chronic pain due to inflammation who have taken 800 mg of turmeric in capsule forms have shown a noticeable reduction of pain.
Turmeric is also easily put in your every day as it is readily available in powder form and commonly found more recently in its fresh root form in supermarkets.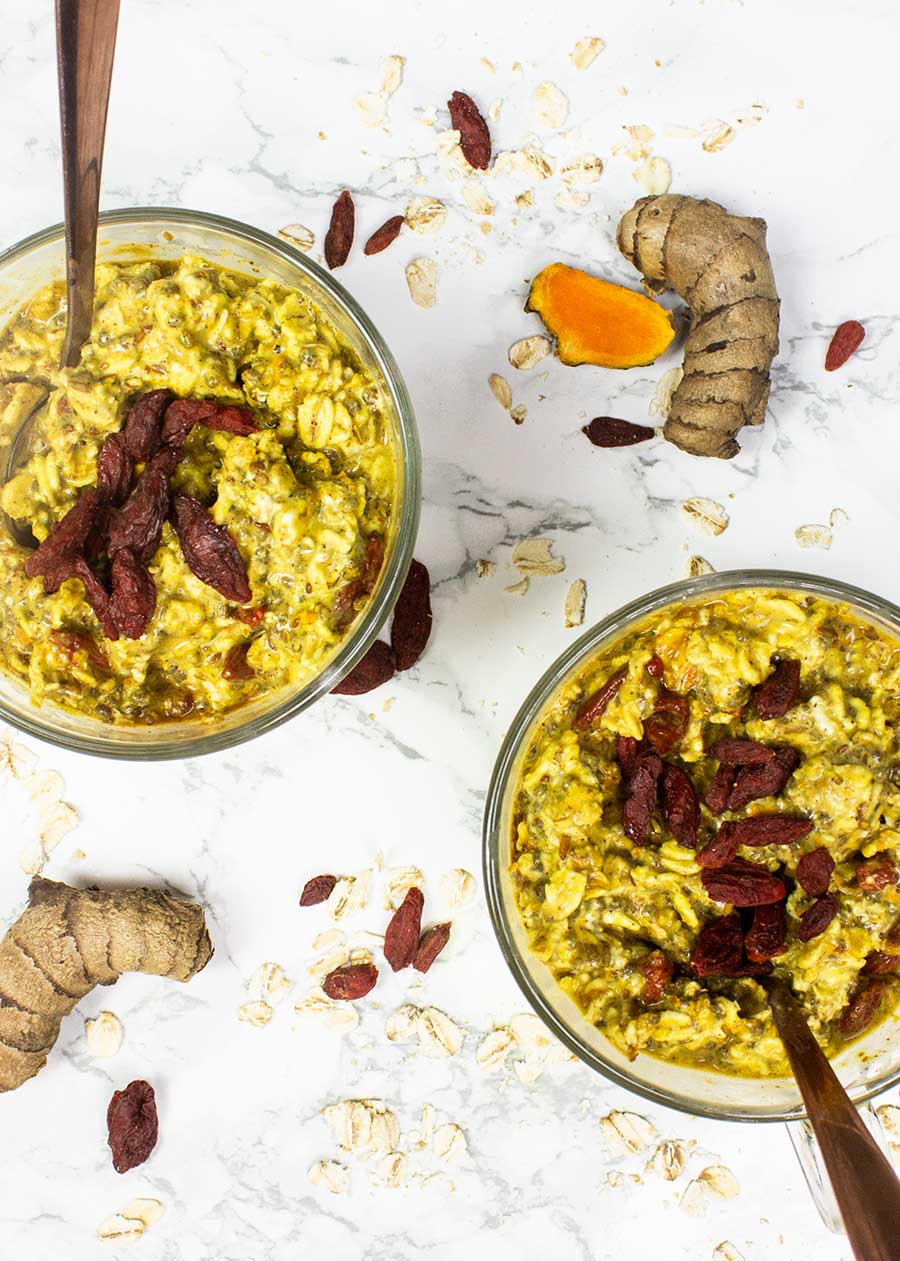 More oats in our diet
One of the key benefits of oats is that it is high in protein and fibre which help keeping you fuller for longer which in turn helps improve your blood sugar. This is because oats are full of beta glucan which is a soluble fibre and when it hits your stomach it forms a thick gelatinous substance in the gut which helps with the blood sugar stabilisation. Additionally, it can also help to reduce your LDL cholesterol level and promote the growth of healthy good bacteria within your digestive tract. Oats are also a good source of some of the important vitamins and minerals including manganese, magnesium, iron, zinc, vitamin B1, and vitamin B5.
Oatmeal is incredible as it is packed with antioxidants and contains polyphenols which are plant compounds. Avenanthramides are only found in oats and no other plants, these can work on lowering blood pressure and creating a better blood flow. They also have anti-inflammatory properties and have an anti-itching effect. If you've ever asked on a parent forum about a child with chickenpox you will be told to bathe them in water that has passed through a bag of oats for this very reason.
So, when you add things like chia seeds, turmeric and goji berries to the mix you are creating a seriously nutrient-packed breakfast that has some really incredible health benefits and will set you up for your long day ahead. It also means that should you wake up tired you don't have to put any effort into getting your breakfast. Just simply open the fridge and grab a spoon.
Love this turmeric overnight oats recipe?
Why not try these recipes too, both developed for cancer prevention.
Blueberry oats with seeds
Quick overnight oats with chia seeds and berries 
Have you made this recipe?
We'd love to see your food creations! Please leave a comment below, share or tag using @anticancerkitchen on Instagram and hashtag it #anticancerkitchen.
Update notes: This post was originally published on the 30 of April 2018, but was republished with new photos, step-by-step instructions and tips in July 2020.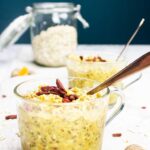 Ingredients
1 1/2 cups or 120g of organic rolled oats

1 tablespoon chia seeds

1 tablespoon flax seeds/linseeds

1 1/2 cups or 375 ml oat milk or any other plant-based milk of your choice

A handful of goji berries or sultanas

1 tablespoon of maple syrup

1 tablespoon of fresh turmeric (grated) or 2 teaspoons of ground turmeric powder

2 teaspoons of cinnamon

1/2 teaspoon of black pepper
Instructions
Combine the oats, milk, seeds, berries/sultanas, maple syrup, turmeric, cinnamon and black pepper. Divide into smaller jars or glasses, cover them and place them in the fridge to soak overnight. The next morning, give the oat mixture a quick stir and tuck in.
Step-by-step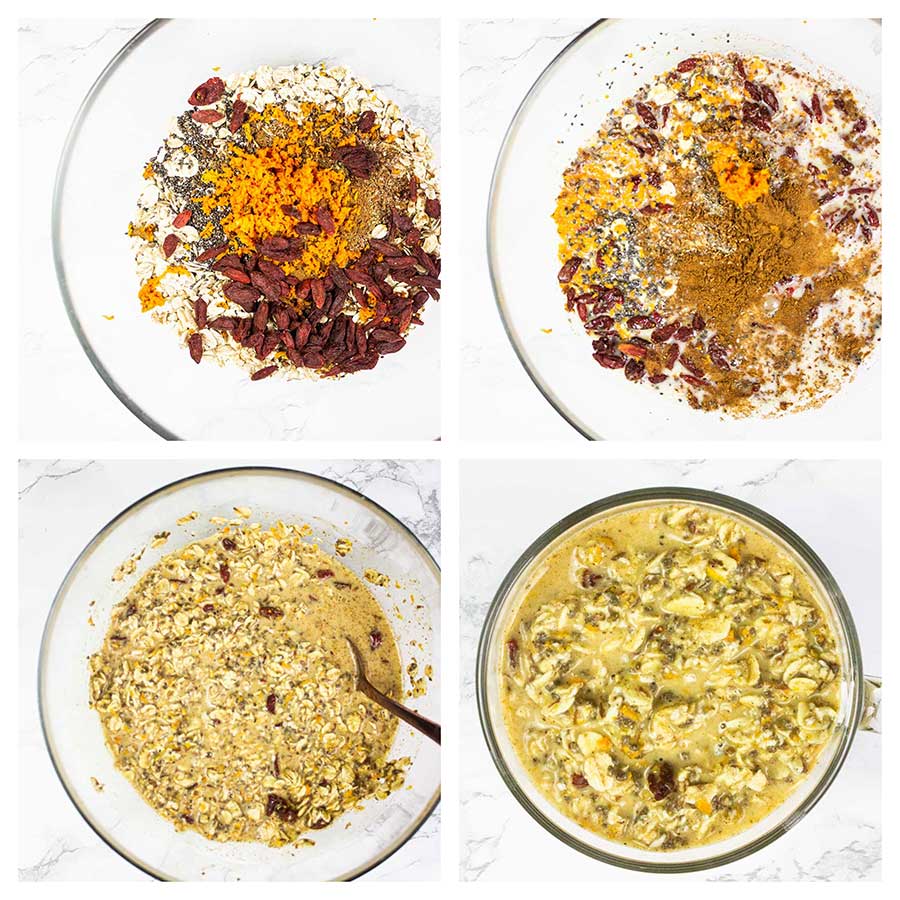 Copyright secured by Digiprove © 2020 The Anti-Cancer Kitchen