Summer rolls are cold Asian wraps with tasty ingredients rolled inside a soft starchy translucent rice paper. Popularly known as Vietnamese Rolls or Vietnamese spring rolls and even crystal rolls, these sharing treats are much easier to make than you'd think and can be easily tailored to your personal tastes.
With this summer rolls recipe, we have taken some inspiration from our colour scheme of turmeric gold, rich red and deep leafy green which encapsulates much of the incredibly healthy ingredients that comprise much of The Anti-Cancer Kitchen recipes. The thought process is to include as much of a harmonious unison of food in one silky, crunchy and fresh bite with as much dense concentration of nutrient as we can in one amazing plant-based dish. Here we have it, a colourful homage to healthy living in our best ever vegan summer roll recipe.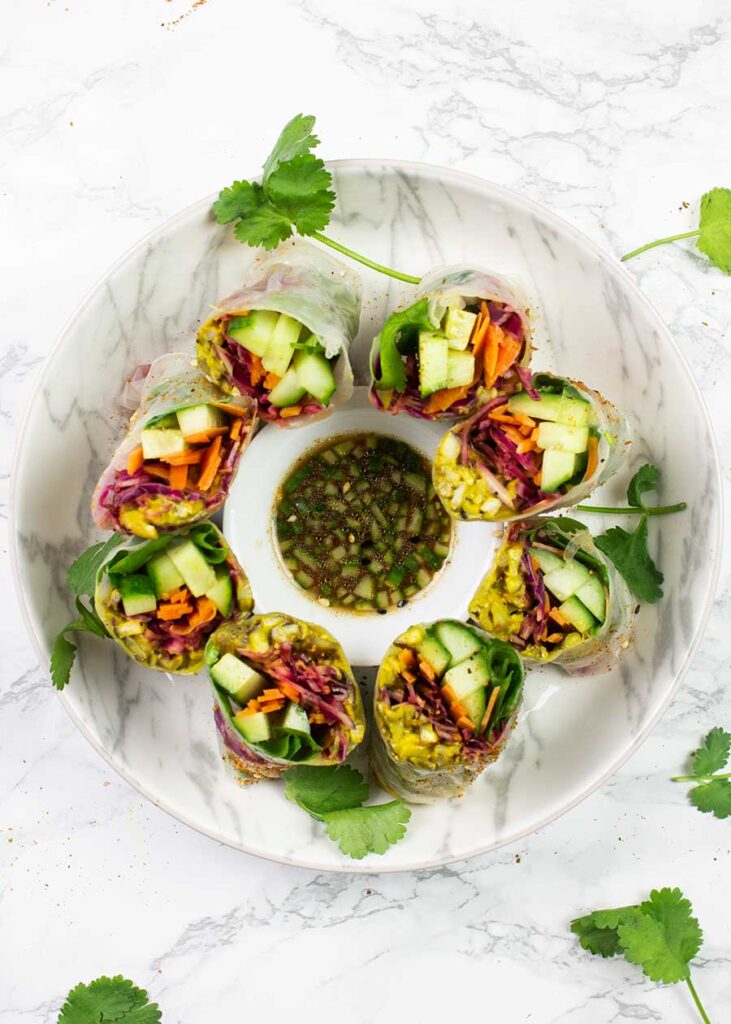 Summer rolls with flavour combinations
Traditionally, this dish comes from Vietnam via the Chinese immigrants who brought them there. They are synonymous with family gatherings where large gatherings of people share wonderful and simple fragrant dishes. Known as gỏi cuốn which means salad rolls they typically contain prawns or meat with long sliced vegetables and rice vermicelli noodles. The rice paper is soaked in water then laid on a bamboo board then lined with the fillings and tightly rolled. The ingredients often have vivid colours and are attractive to look at through the translucent paper. There is also an important array of textures too from a crunch of fresh vegetables such as carrots to the chew of prawns and the squashy texture of the noodles. The starchy nature of the rice paper too plays an important part as well as the spicy and sweet dip that these rolls are traditionally served with.
For a flavour combination that uses purely plant-based ingredients, we need to capture as much of the different textures as we can. The star of the show is arguably some strips of hearty shiitake mushroom which we have given a little bit of a makeover to by kissing them with a little bit of vegan mayo spiked with the gorgeous colour of golden turmeric which not only adds to their health benefits but gives it a vibrancy that stands out. Some shichimi togarashi is peppered on top to add a little heat and spice which you can add as little or as much as you want to (if you don't have this seasoning then use a few fine chilli flakes). To keep it simple so that preparation time is kept to a minimum but without oversimplifying the flavours we have matched these shiitake mushrooms with some flash pickled red cabbage and ginger (sliced red cabbage and ginger marinated in red wine vinegar for 20 minutes) for a fresh crunch and zing and a simple carrot, cucumber and coriander/ cilantro salad. These summer rolls are:

Spicy
Fresh
Zingy
Full of texture
Full of flavour
Full of vibrancy
Very importantly too is how healthy this simple summer rolls recipe is. The tricolour of ingredients has potent antioxidant capabilities as well a much-needed hit of nutrients that our bodies require that believe or not are not so easily sourced.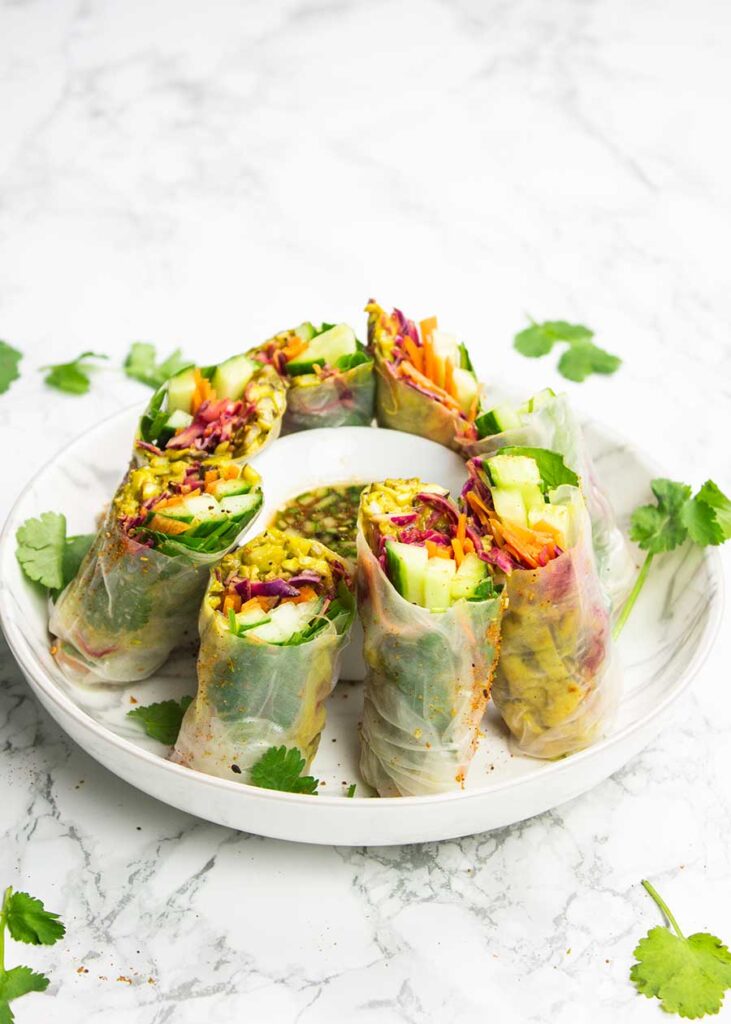 Health benefits of Shiitake mushrooms
Shiitake mushrooms contain a very important trace element called selenium that is required in your diet. Selenium helps our bodies regulate normal cell growth and repair and promote apoptosis which is the programmed death of abnormal cells. The amount of this cancer-fighting compound in food depends on the content contained in the soil the crop is grown in. Some parts of the world where selenium levels in the soil are low there are as much as six times the amount of cancer instances reported, a worrying statistic. Foods rich in this compound include algae, Brazil nuts, mushrooms and whole grains. There are reasons that these foods aren't prescribed for cancer patients when you thought they ought to because natural foods cannot be patented for medication, but awareness of the importance of ingredients such as this is key to The Anti-Cancer Kitchen. 
Another amazing compound found in these mushrooms is Lentinan which studies have proven to have antitumor effects. The compound derived from mushrooms including shiitake is also administered by injection in Japan to cancer patients.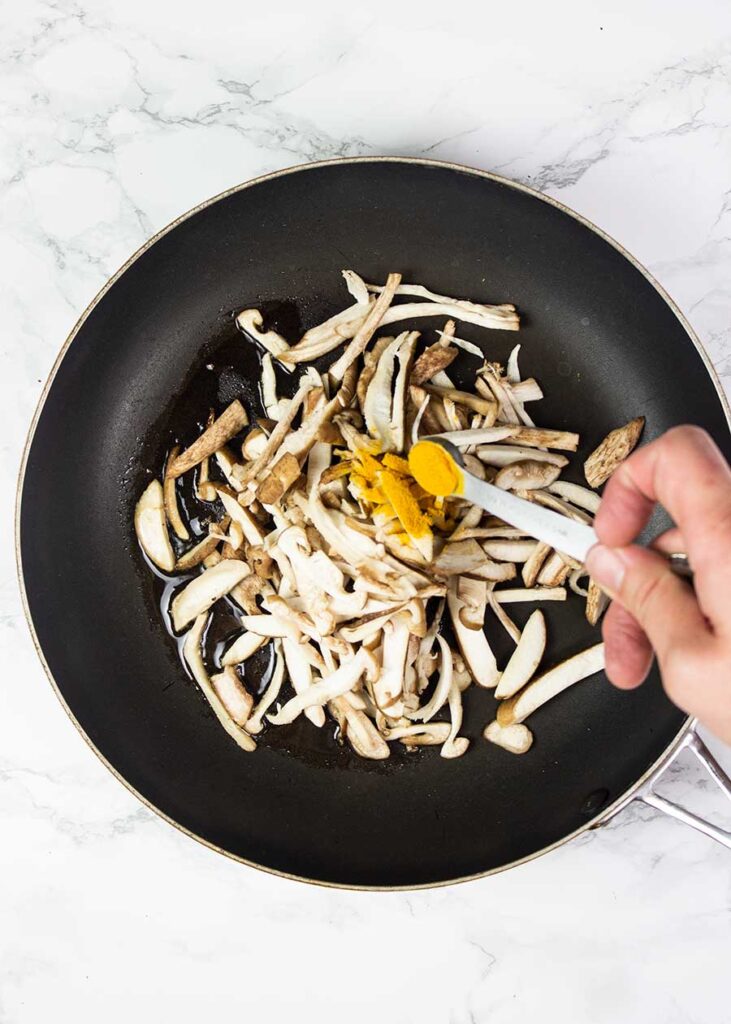 The addition of turmeric
Turmeric is a tall flowering plant native to Asia. The vivid golden root has been used in Ayurvedic medicine and Chinese herbal medicine for millennia. It is well known for its healing properties but more recently western medicine is studying this root in more detail to understand what it is potentially capable of.
Long throughout time in the East, this spice has been used to treat indigestion, gallbladder pain and high cholesterol. It is these health benefits that have gained the attention of western medicine. The genetic makeup of turmeric is a current topic and currently being dissected to find out what compounds it contains and what they are capable of.
The main active compound is curcumin. This is an antioxidant very potent at a cellular level in the body. Research has shown that curcumin actually integrates itself into the cell lining and helps to stabilize them. This then helps the cell's integrity and its resistance to infection and malignancy. Turmeric, therefore, has the potential to give our cells a fighting chance against cancer. 
The recommended daily dose is about two teaspoons twice a day. Studies have also shown that people with chronic pain due to inflammation who have taken 800 mg of turmeric in capsule forms have shown a noticeable reduction of pain.
Turmeric is also easily put in your everyday as it is readily available in powder form but more recently fresh in its root form. Just be careful not to stain your hands and everything it touches though.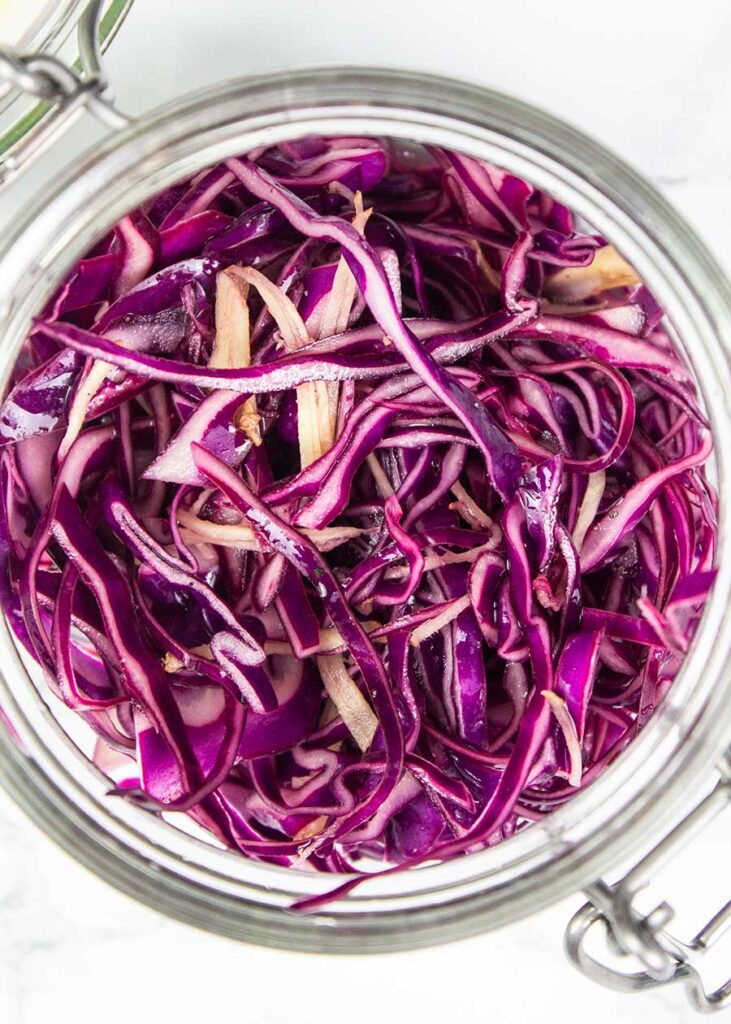 Red cabbage is a must in these summer rolls
Putting cruciferous vegetables such as red cabbage in your summer rolls is incredibly healthy as they contain polyphenols not found in other vegetables. One of these compounds found in cabbage as well as other vegetables in the Brassica family is Kaempferol which has been studied in relation to its anti-cancer capabilities. Research has shown that Kaempferol helps regulate healthy cells and activates apoptosis as does selenium from the shiitake mushrooms.   
They are also high in vitamin C which is an important antioxidant in all body tissue and is needed for at least 300 metabolic reactions including producing collagen which is a major structural protein in the body. They are also high in vitamin K which is essential for healthy blood. Cabbages add great flavour and texture and even more so when they are added to a little red wine vinegar which is also a potent antioxidant.
Summer rolls preparation 
Summer rolls are no more complicated to create than the average wrap or fajita. All you need is the wraps which are rice paper sheets which are dipped in hot water and laid flat on a slightly damp wooden board, then filled with whatever you want, then simply rolled.
The mushroom constituent is simply sliced and wok-fried and mixed with vegan mayo and turmeric and set aside.
The red cabbage only needs to be thinly sliced and put in a bowl or freezer bag with enough red wine vinegar to cover it and left for 20 minutes. You can add sliced carrot at this point or you can add the carrot later, it's your choice. This is another constituent set aside ready for when you want to fill your Vietnamese rolls.
Lastly, just simply slice some fresh cucumber and tear some fresh coriander/cilantro into it for your last choice of the filling.
You can experiment with other taste and textures too and some traditional other ingredients to choose could be baby sweetcorn, green beans, glass noodles, radishes or bean sprouts.
Serve with your favourite dipping sauce but we find a bit of diced cucumber in a bowl with the juice of a whole lime with some vegan Worchestershire sauce and Agave nectar is wonderfully authentic – full recipe in the recipe card below.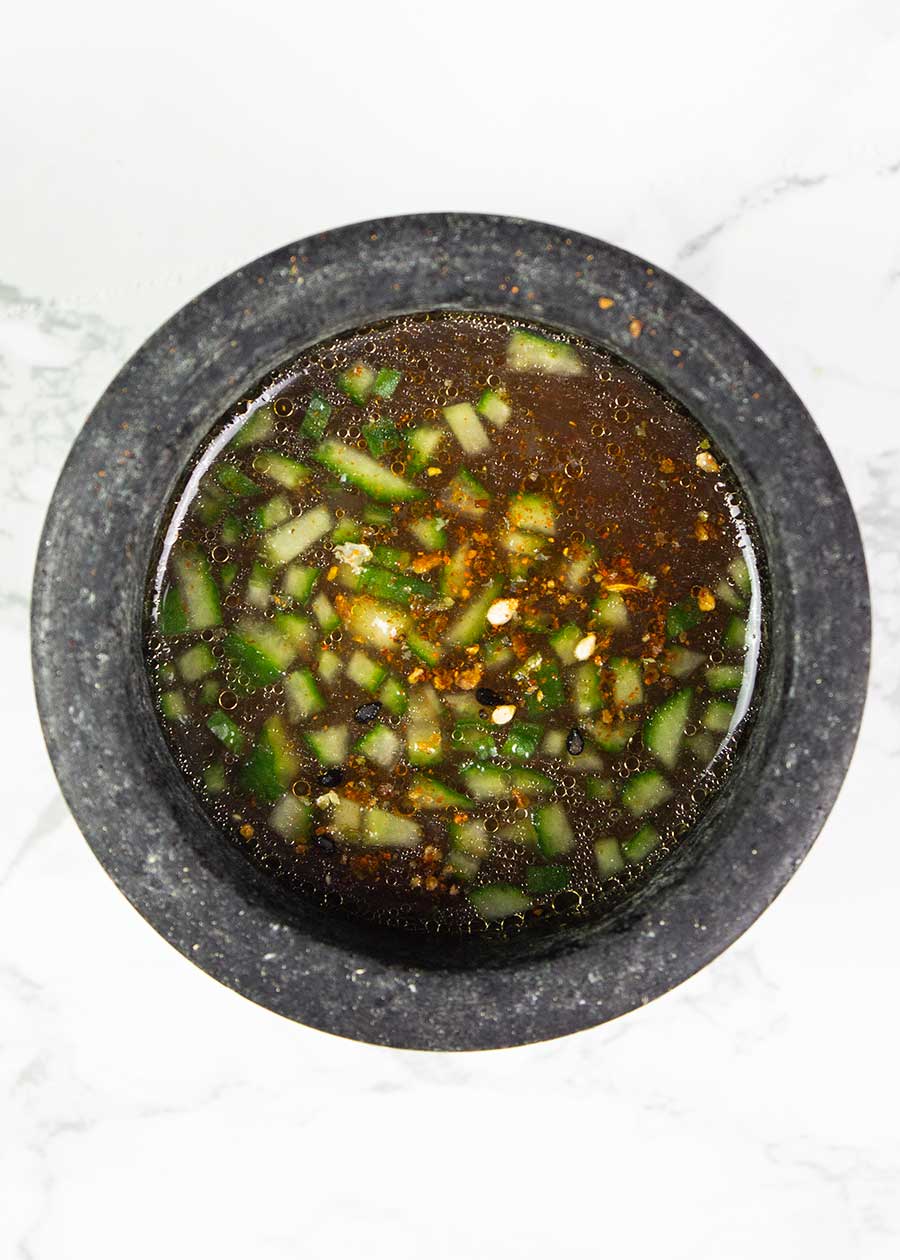 Whatever you choose, be bold and get stuck in. This is an impressive looking dish that is as healthy as it is tasty.   
Have you made this delicious summer rolls recipe?
We'd love to see your food creations! Please leave a comment below, share or tag using @anticancerkitchen on Instagram and hashtag it #anticancerkitchen.
More Asian recipes on the blog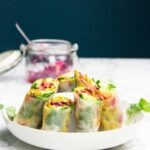 Ingredients
125g of shiitake mushrooms sliced

1 teaspoon of vegan mayo

½ a teaspoon of turmeric

¼ of a teaspoon of shichimi togarashi

80g of finely sliced red cabbage

80g of finely sliced carrot

1 teaspoon of finely sliced fresh ginger

¼ cup of red wine vinegar

2 teaspoons of agave syrup

125g of sliced cucumber

10g of fresh coriander leaves

4 large rice paper sheets

For the sweet chilli dipping sauce:

2 tablespoons of lime juice (juice on 1 lime)

1 tablespoon of rice vinegar or vegan Worchestershire sauce

A dash of soy sauce

A dash of Agave syrup

A dash of sesame oil

A dash of Sriracha

1.5 cm of finely chopped cucumber
Instructions
Start with the red cabbage
Add the red cabbage, ginger, red wine vinegar and agave syrup in a bowl or freezer bag and pickle for 20 minutes.
Then mushrooms
Fry the mushrooms in a little wok oil with the turmeric for 1 to 1 ½ minutes. Cool and stir in the vegan mayo. Set aside. 
Then the rest of the filling
Slice carrot and cucumber and tear some fresh coriander/cilantro and set aside. 
Now it's time to make the summer rolls
Sprinkle a little water on a wooden board for the rice paper sheets. Fill a bowl large enough to fit the rice paper sheets in with hot water. Submerge a sheet of rice paper in the water for a few seconds and lay on to the board.
Add a tablespoon of the mushroom mix in a line just above the middle of the sheet leaving a gap at either end.
Place the same amount of cabbage followed by the carrots, cucumber and coriander/cilantro on top.
Fold the top of the rice paper from the top over the filling into the middle of the sheet.
Then fold about 3cm from each side in then wrap the rest of the roll-up.
Repeat the process then cut each roll-up in half on the diagonal and serve with a dipping sauce of your choice.
Make the sweet chilli dipping sauce
Combine all of the ingredients (Vegan homemade Worchestershire sauce recipe here) in a small bowl and start dipping.

Copyright secured by Digiprove © 2020 The Anti-Cancer Kitchen