This is a fun take on a traditional cheese fondue that is great for family and friends to share. Autumnal produce is hearty and filling but this homemade vegan fondue with pumpkin adds a sweetness to a bowl of plant-based cheese sauce that can be scooped up with all the favourites and usual suspects surrounding a fondue.
Try dipping cubes of bread, celery and some parboiled fresh baby carrots. This is a dish that is ever so versatile too. Make the savoury recipe below and then embellish it with other ingredients such as sun-dried tomatoes and basil for a wonderful Mediterranean feel or add some jalapenos for a Tex Mex feel. Or, you could remove the umami extras such as nutritional yeast, which creates a cheese flavour and the garlic and white miso paste which add bigger flavours in the savoury version and add sweet ingredients such as vanilla, chocolate or maple syrup or honey and you end up with a dessert fondue that has an almost custard-like finish to it. Then serve with cookies and treats for a real seasonal treat.
Either way, this is a great way to bring friends around a table and share some tasty and fun fondue which is totally plant-based and also nice and healthy (depending on what you dip into it).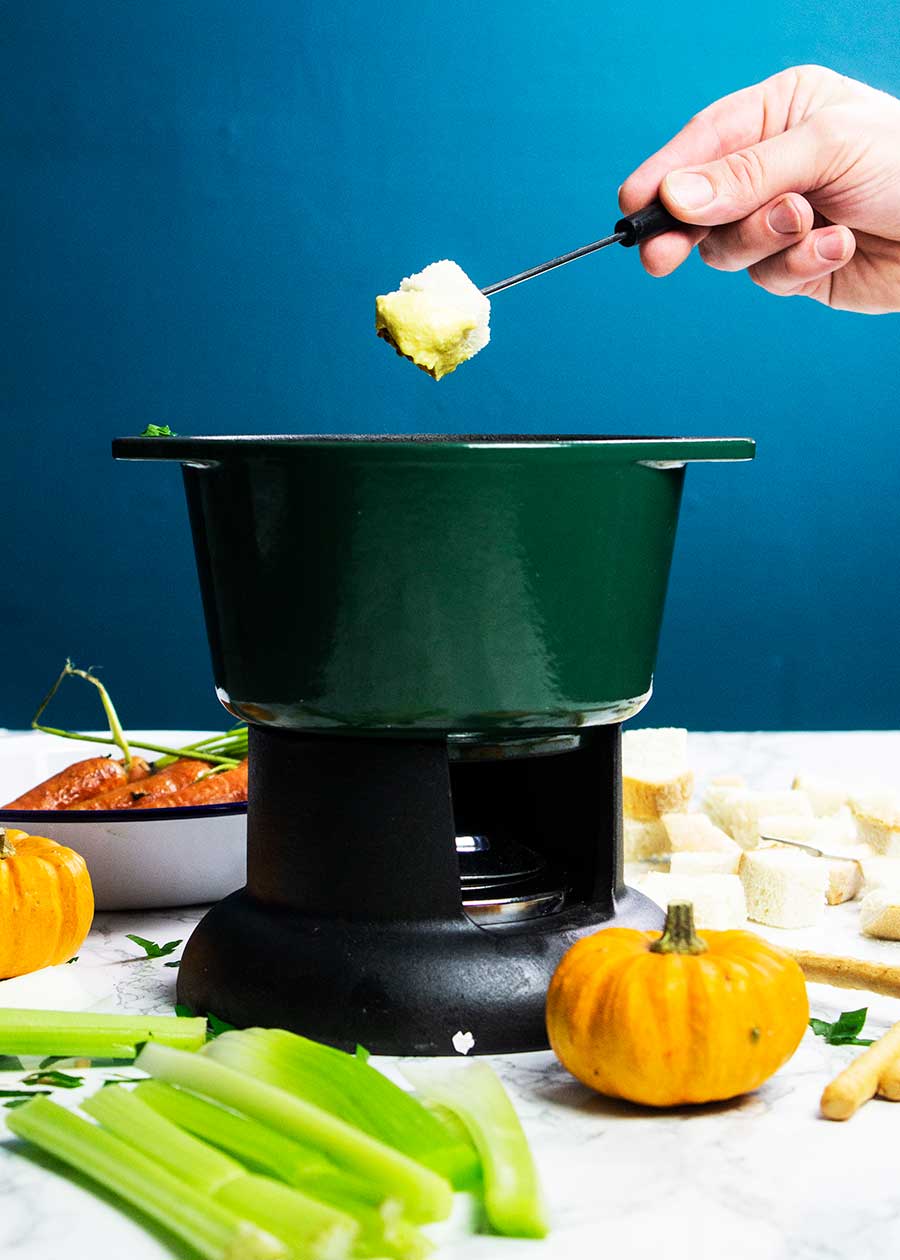 How to make a homemade vegan fondue
This homemade vegan fondue is easy to make with a few simple steps and is great for parties and especially Halloween as a pumpkin is the food to have at this time of year.
For the savoury vegan fondue version which is a playful homage to the cheesy original, there are some big flavours that need to come through. Also, there is a certain texture that needs to happen too. Although, there really isn't anything that we have encountered or created that can ever take the mantle of a real piece of cheese, there are some big-hitting flavours that can make an incredibly tasty vegan version and certain ingredients such as cassava root or arrowroot can give it a stringy texture too.
For an anti-cancer diet, there are recommendations as to what goes in your diet and much of what is in dairy products such as hormones in cow's milk and the chemicals and modified foods that could have been introduced in the animals-based diet and then transferred via the milk could potentially have negative health effects on us, some of which have been associated with chronic disease so omitting them altogether is a viable option.   
Removing cheese from your diet may mean having to find suitable replacements and there are very nice homemade plant-based cheeses you can make, most of which use a soaked nut such as cashews to create the creamy texture.
With this simple vegan fondue or vegan cheese sauce recipe, if you like, all you need to do is boil some water and steep some cashews in it for only about 20 minutes before blending them. This saves a massive amount of time as many recipes call for overnight soaking.
For the bulk of the sauce, we use cauliflower. This has a nice texture when blended but has a soft savoury flavour perfect for adding some extra big flavours too. The pumpkin is sweet and brings a nice cheese colour to the fondue. You don't need much to give this plant-based fondue a real pumpkin flavour. Half as much pumpkin to cauliflower works well. You can use frozen pumpkin too, but in the fall/autumn, pumpkins are quite prevalent, so best to use a fresh one. You can then use much of the rest of the pumpkin (as you only need a cup full of cubed pumpkin) for other dishes such as pumpkin curries, soups, breads, pies and even spiced lattes.
To make, start by boiling water and adding the cauliflower to parboil. This only takes about 3 minutes. Now take the cauliflower out and set aside with a slotted spoon. Add the pumpkin to the water and boil until they are all smushable (putting a stock cube in your water will add flavour to your finished fondue). This will take about 10-15 minutes, then drain and put the cauliflower, pumpkin and cashew nuts in a high-speed blender. Now add the big flavours which give the fondue a cheese and umami flavour, 4 garlic cloves, 1 tablespoon of white miso paste and 4 tablespoons of nutritional yeast. Add 2 teaspoons of cassava root or arrowroot which will give the fondue more starch and stringiness to the texture. This will create a firm paste so if you want a little more saucy, then just blend and add a little bit of plant-based milk such as soy milk or nut milk to the mix. Now just simply put in the sauce in fondue and light the flame underneath and start dipping away.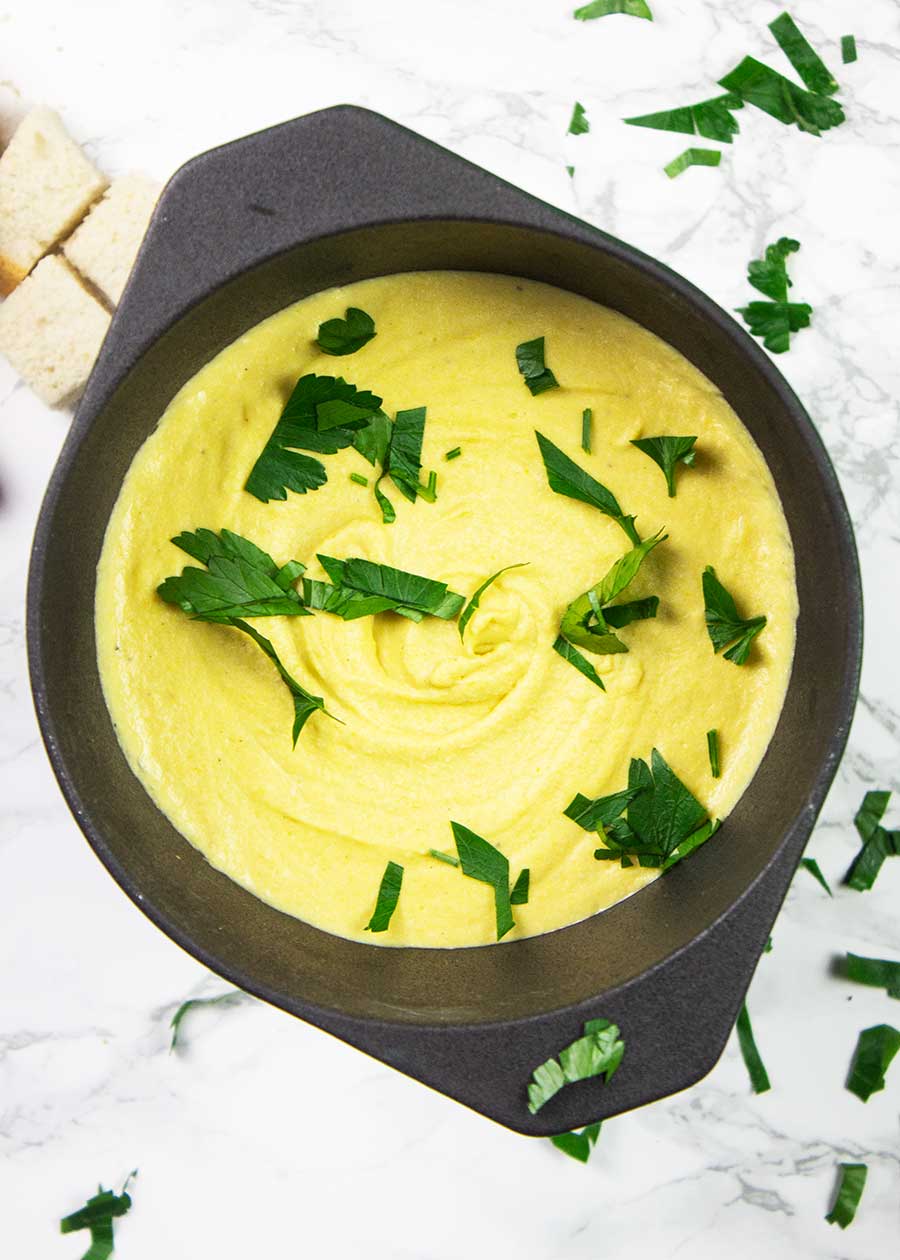 La fondue crée la bonne humeur (Fondue creates a good mood)
Fondue is a Swiss creation and the national dish of Switzerland. It is a celebrated dish which brings people together around a table with a big pot of (traditionally) molten cheese in wine which stale bread and other crudites are dipped into using a long pronged skewer. Although it has a common perception of being a peasant food from the mountain dwellers and villagers of Switzerland, it actually used strong cheeses such as gruyere which was a valuable export and not readily affordable. As such it was more of a dinner party staple for celebrations and sold in restaurants which understandably became famous for them.
It has always been popular in Switzerland and northern France and the surrounding areas but it had a big resurgence in the USA  in the 1960s. Whether or not the popularity has diminished or not it certainly has its variations today such as the chocolate fondue or fondue Chinoise which is a broth of vegetables, let alone the classics which are still served in specialty restaurants around the world.
For this fun take on the classic cheese fondue and to make it totally plant-based you can still use white wine as the traditional method suggests. First of all rub some fresh garlic on the bottom of your fondue and pour in the white wine and boil. This of course brings a flavour to the dish that is incredible but of course if you do not want to use alcohol, which is really the anti-cancer kitchen way, then we would suggest either using a non-alcohol wine or a decent vegetable stock. Umami stock cubes are becoming more and more popular and these would be recommended too.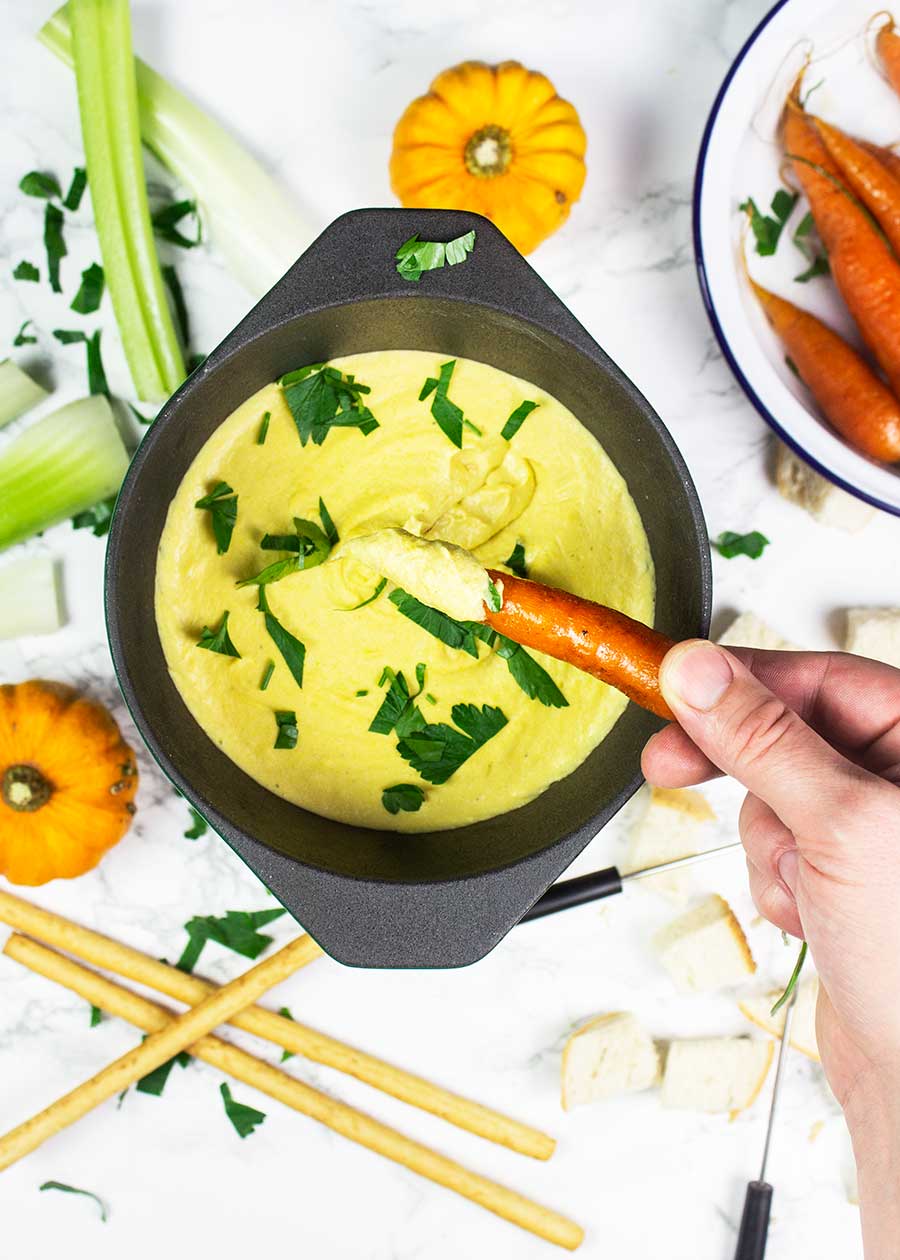 Variations of vegan fondue 
We have used pumpkin for our main flavour addition as it is prevalent throughout the fall/autumn. The cauliflower actually is the main ingredient for its subtle flavour and texture. However, there are other vegetables you can use. Potatoes for example have a nice starchy texture when blended and will make a good sauce too. Remember the added umami filled ingredients such as white miso, garlic and nutritionally yeast add the cheese flavour dimension. Other root vegetables, in general, all work well. Squashes such as butternut squash are also good variations to use. Celeriac, swede and particularly Jerusalem artichokes have amazing velvety textures when pureed. To be honest, what is created is somewhat of a thick smooth soup to which a cheese flavour is given and a stringy texture created by blending starchy arrowroot/cassava root powder in a high-speed blender. One trick you could apply is to add a slightly under boiled potato to blend which creates a sticky, starchy texture too. Anyone who has made the mistake of pureeing under boiled potatoes for a dinner party before will understand that one.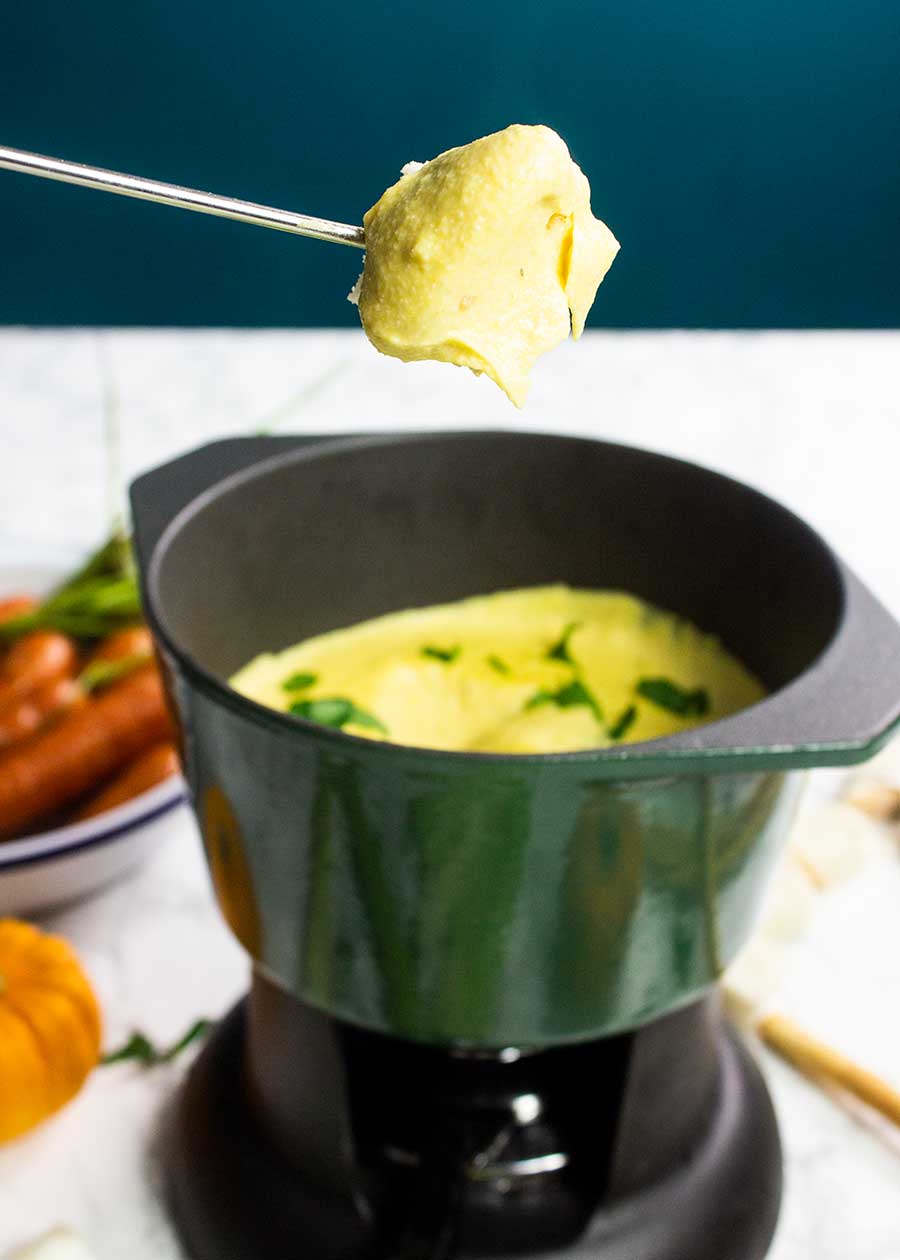 Other than the base of the fondue, extra ingredients can be added to your finished dish too. As well as the Mediterranean version of sundried tomatoes and oregano or the jalapeno tex mex version, why not try a forestiere with succulent mushrooms, a Russian taste with beetroot and dill or go American with ketchup and mustard. Go ahead, add some fun to your next dinner.
Other delicious vegan cheese recipes on the blog
Have you made our homemade vegan fondue recipe?
We'd love to see your food creations! Please leave a comment below, share or tag using @anticancerkitchen on Instagram and hashtag it #anticancerkitchen.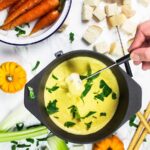 Ingredients
2 cups of cauliflower florets

1 cup of chopped pumpkin

1 cup of cashew nuts (unsalted)

1 tablespoon of white miso paste

4 tablespoons of nutritional yeast

4 garlic cloves

1 cup of white wine or vegetable stock

2 teaspoons of arrowroot powder (cornstarch can be used)

½ a cup of nut milk or soy milk
Instructions
Pour boiling water over the cashew and let them soak for 20 minutes. Drain and set aside.
Bring another pan of water to the boil and add the cauliflower florets and boil for 3 minutes. Remove using a slotted spoon and set aside.
Peel half a small pumpkin and remove the seeds from the inside. Chop the pumpkin into cubes and add them to the boiling water. Add the cashews and a stock cube and cook the pumpkin for 10-15 minutes until soft. Drain and set aside.
Combine the pumpkin, cashews, cauliflower, garlic, arrowroot, miso paste, and nutritional yeast in a high-speed blender. Process until fully pureed. Add the milk a bit at a time to create your desired texture.
In a fondue or heavy-bottomed pan rub a clove of garlic on the bottom and then on medium-high heat add the white wine or stock until it starts to bubble. Stir in the cauliflower and pumpkin puree and serve straight away in a fondue dish.
Serve with stale bread cubes, celery stalks, and par-boiled glazed baby carrots.  

Copyright secured by Digiprove © 2020 The Anti-Cancer Kitchen