Greek salads are delicious, they are unfussy and refreshing with a bit of salt and a bit of sweet! This vegan Greek salad is a must on your summer table. Find out why. 
Greek salad must be the ultimate summer salad? All this classic Greek salad has undergone is a super plant-based upgrade with an amazing chickpea and cashew feta-style cheese that after being baked is marinated in a herby red wine vinegar olive oil.
The vegan feta cheese needs a bit of preparation but the actual salad is done in no time. All you need to do is a bit of chopping, adding and mixing and you have an amazing summer salad that is full of flavour, filling and immune-system boosting.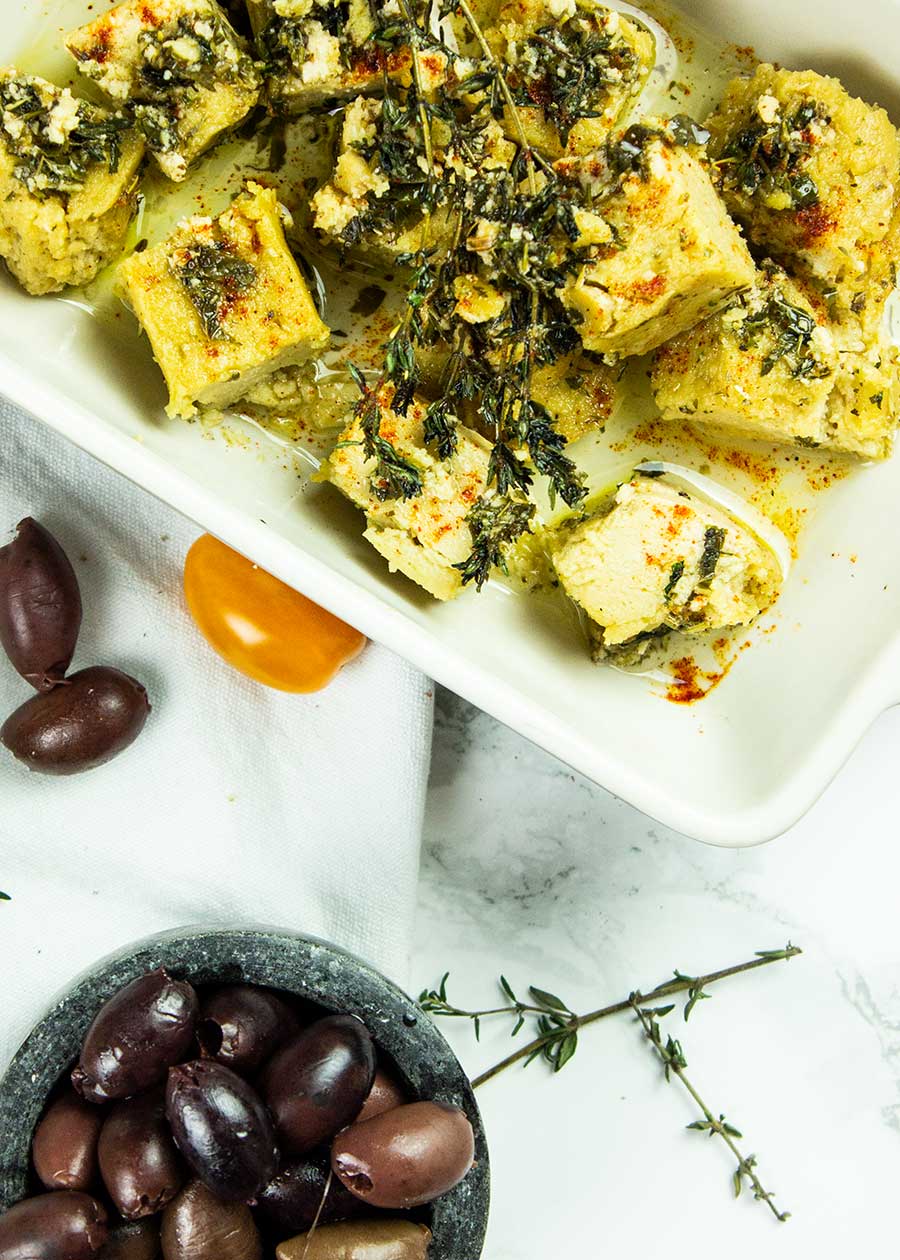 What is in a greek salad? 
A traditional Greek salad, also known as horiatiki salad meaning 'village salad' is one of the most well-loved salads the world around originating from the beautiful country of Greece. This popular Mediterranean vegetarian salad consists of a few simple ingredients of gorgeous ripe tomatoes, cucumbers, peppers, red onion, feta cheese, and Kalamata olives all dressed with a little extra virgin olive oil and the Greek seasoning of oregano, mint and salt & pepper. 
Our purely plant-based version of this full flavoured, full textured salad focuses on the feta cheese element by creating a smooth yet crumbly vegan cheese that adopts the umami, briny flavour of the original. 
Vegan feta cheese and how you make it
Many vegan cheeses purely use soaked cashews which are then blended with nutritional yeast. This best ever vegan feta cheese recipe uses the addition of a can of chickpeas /garbanzo beans to add a depth of flavour and texture. First of all, you can soak the cashews for up to 8 hours or alternatively gently simmer in a pan of hot water for 20 minutes which makes them supple enough to then blend to a firm cream with the chickpea/ garbanzo beans. We then bake the cheese which helps it create a crumbly texture yet keeping the luscious smooth quality it needs. 
Not only does this vegan feta look and crumble like the original, we then marinate the cheese in a herbal, red wine vinegar marinade with salt to give it an amazing full flavoured punch that works as perfectly with a classic Greek salad or to eat just by itself.

The best ingredients for a delicious vegan greek salad
To best show off this amazing vegan feta cheese you need to make a bed of some of the finest yet easily sourced ingredients available. There is of course a way to prepare these ingredients so that they remain either crunchy or juicy, salty or sweet, strong or subtle and the key is in how they are chopped. You'll probably already have the below in your kitchen but sometimes it is worth hunting out some slightly rarer varieties that will give just that added taste of the Mediterranean for your salad. What you don't need though are salad leaves or salad dressings.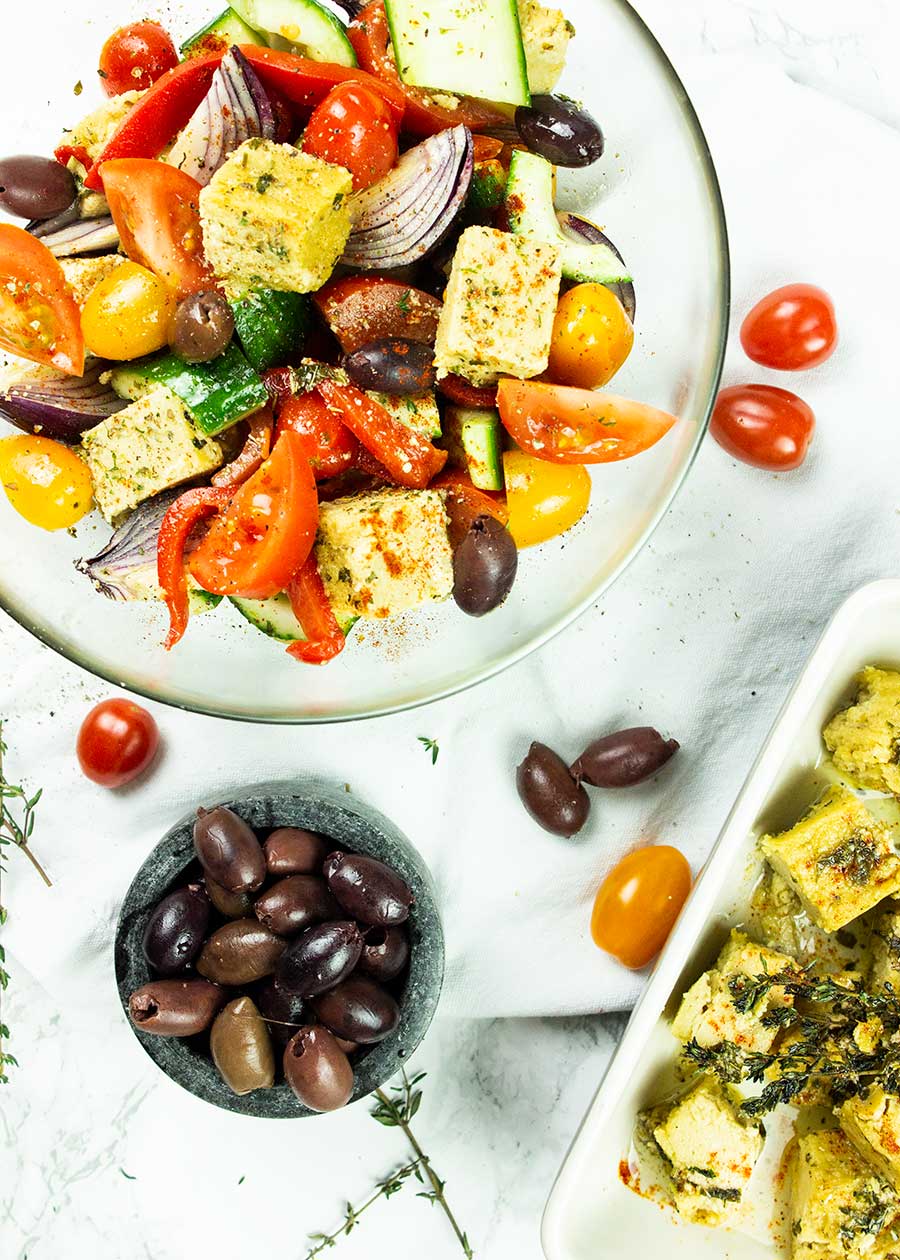 Cucumbers — There are quite a large amount of cucumber varieties that you can choose from. However, always use a fresh, crisp cucumber such as the common seedless variety you would find in your local green grocers or Mediterranean varieties such as the Armenian cucumber. You are looking for a fleshy almost melon-like consistency so sometimes it is worth peeling some or all of the skins away. You can use just about any cucumber for this salad including varieties used more for pickling so explore what works for you. One type to look out for is the lemon cucumber which is round in shape and looks a little like a lemon slice when cut. This is perfect for salads.
We like the crispness of the cucumber so just like many of these salads that we have eaten in Greece, we too like to keep the sizes fairly large.
Tomatoes — A Greek salad works well because the combinations from fresh flavoured vegetables can be altered for your desired outcome. On a hot summer's day, this salad can be truly refreshing with hydrating cucumbers and tomatoes. Simply choose large vibrant red beef tomatoes for loads of juice and a light flavour. However, some of these ingredients can be incredibly strong in flavour such as a bitter olive. For a culinary sensation, you could alternatively choose small tangy cherry or heritage tomatoes that will notch up the flavour quite a bit. Small plum vine tomatoes work every time as they have a wonderful sweet flavour with just the right amount of juice. 
Red onion — It is imperative to use a red onion for a vegan Greek salad. Red onions are a lot sweeter than their white counterparts. Unless you like the raw spice of an onion this is an ingredient best cut up finely.
Olives — Pitted black olives are best and the traditional olive to use is the Greek Kalamata as generally these smoky, fruity intense olives are marinated in red wine vinegar which is one of the great flavours of this salad. They have a firm texture that comes from their shiny skins. A nicoise olive is similar with a hint of bitterness which like the kalamata olive works well in a tapenade too. Not overpowering but just enough to lift the flavour. The Chilean Alfonso olive is macerated in red wine and meaty and tart. If you want to ramp up the large flavours in your salad then choose this olive. In Greece the amfissa olive is harvested late so that the olive is very fleshy so that when they are brined they bring on a beautiful fruity flavour that pairs very well with cheeses such as feta. 
Oregano, mint. salt, pepper, olive oil and red wine vinegar — There is no need for a shop-bought dressing as it is the case really with any salad. For this easy Greek salad you just need a few classic simple ingredients. Salt, pepper and oregano, fresh mint with a touch of lemon juice and red wine vinegar is the classic Greek way. These flavours are the marinade for the cashew feta and simply drizzle over your salad.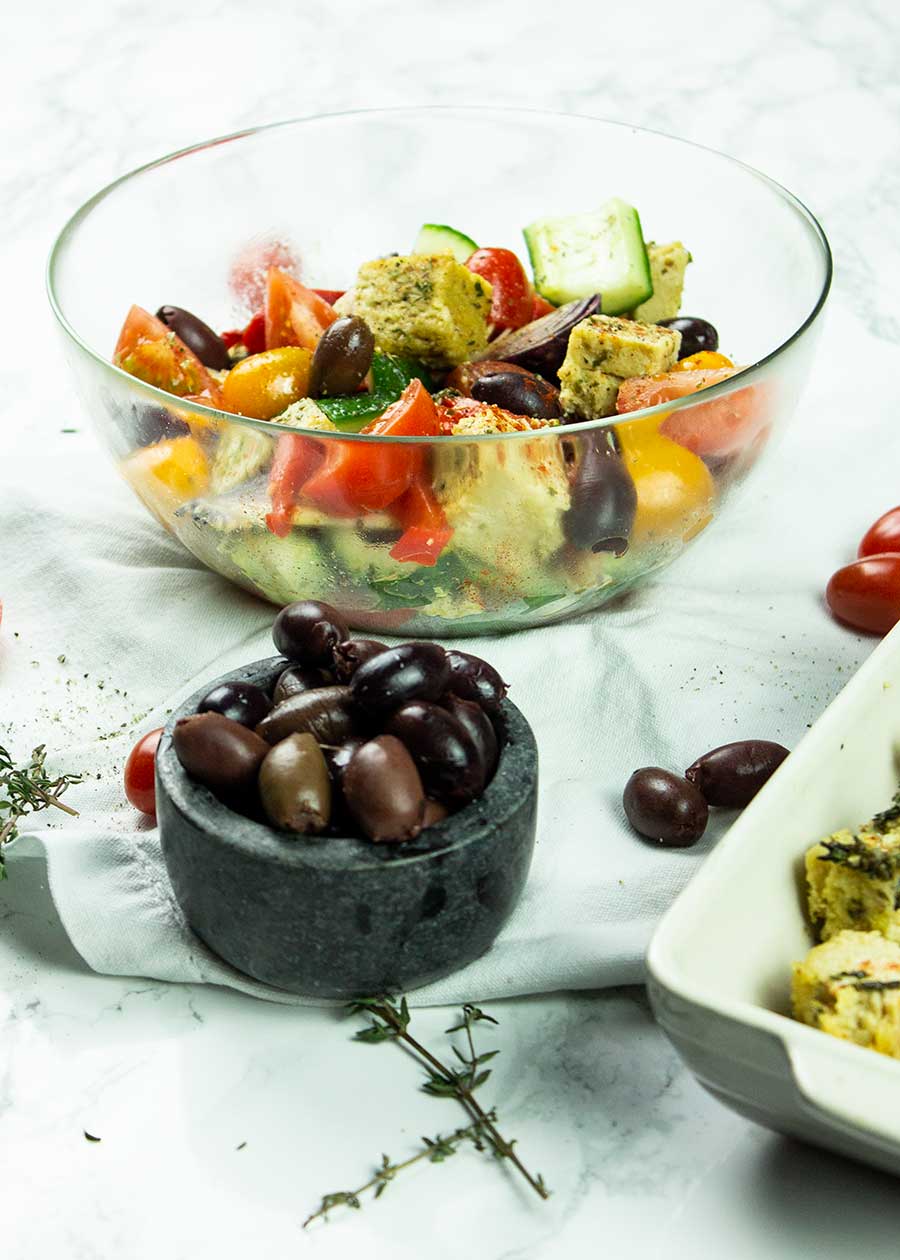 Health benefits in our super tasty vegan Greek salad
Tomatoes

If you have followed our blog for a while you probably know already about the importance of tomatoes and lycopene in our diets. According to research a very important antioxidant called lycopene which you can find in tomatoes has been linked to many health benefits including reduced risk of heart disease and cancers. Tomatoes and lycopene are also a great source of vitamin C, potassium, folate and vitamin K.  
Lycopene is a plant compound and one many carotenoids found in fruit and vegetables but more importantly one of only a handful that are recognised as important to human health. Carotenoids are the pigments responsible for giving colour to yellow, orange, red and dark green fruit and vegetables such as tomatoes. Some carotenoids including lycopene are converted into Vitamin A in the body which is a fat-soluble vitamin stored in the liver that is essential for numerous functions. They bind onto cells that regulate how our bodies read genes. Vitamin A is vital for the production of some proteins and important enzymes that maintain healthy growth and development of cells including helping how our bodies heal.
Lycopene, the red pigment found in fruit and vegetables, is not essential for humans, however studies have suggested that there is a strong link between tomato intake and blood lycopene levels alongside the reduced risk of many cancers. 
Lycopene is also a powerful antioxidant and is about three times more potent than Vitamin E. It has been studied that consuming just one serving of tomatoes can reduce oxidative stress to our bodies by as much as 50% within one day. 
Antioxidants help reduce damage caused by free radicals at a cellular level in our bodies. Free radicals are produced in the body as a result of our metabolic reactions, muscle contractions during exercise, drinking, smoking and exposure to uva sunlight. Whilst these reactions are normal and essential it is the antioxidant protection against excessive free radical damage that provides the benefits. Antioxidants come from fruit, vegetables and nuts in our diet and the correlation between people who have a high intake of fruit and vegetables and the reduced risk of high blood pressure, diabetes and cancer is considerable. 
Cucumber 
Cucumbers are great as they promote hydration. They also help with important body functions such as temperature regulation and the transportation of waste products and nutrients. Cucumbers are also very high in many important vitamins, minerals and antioxidants. 
Red onion 
Red onions are packed with vitamins and minerals, including folate, thiamine, calcium, magnesium, potassium, manganese and vitamins C, K and B6. Not only are they full of flavour they are full of antioxidants that help give this vegan Greek salad a health boost. 
Health benefits chickpeas
Chickpeas also are known as garbanzo beans are most commonly known as the ingredient in hummus, are high in dietary fibre. They are also a great source of omega-3 oils that come from oily fish and other plant sources such as flaxseed, walnuts and beans such as soy. They provide a large amount of protein too which for people who don't consume animal produce can be harder to obtain in your diet.
Health benefits cashews

Cashew nuts are a great source of Vitamin E. About 30 grams can contain as much as 40% of your recommended daily intake. Vitamin E is a potent antioxidant which plays an important role in strengthening the immune system and reducing oxidative stress caused by free radicals in the body.
Cashews are also a good source of energy through healthy fats, complex proteins but low in carbohydrates. Additionally, cashew nuts are good for reducing blood pressure and cholesterol levels. There is no doubt that cashew cheese is just another good way of introducing more of these healthy tasty nuts into your diet.
Have you made this super tasty vegan Greek salad recipe with vegan feta?
We'd love to see your vegan Greek salad creations! Please leave a comment below, share or tag using @anticancerkitchen on Instagram and hashtag it #anticancerkitchen.
More healthy summer salads on the blog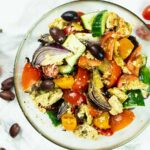 Ingredients
2 cups of cashew nuts (soaked for either 8 hours or simmered in hot water for 20 minutes and drained)

240g (1 cup) of chickpeas

3 tablespoons of nutritional yeast

135ml (½ cup) of olive oil

3 tablespoons of red wine vinegar

2 tablespoons of dried oregano

2 tablespoons of chopped fresh mint

Juice of ½ a lemon

1 teaspoon of salt

1 red onion peeled and chopped

10 small tomatoes or 4 chopped large tomatoes or a mixture of each

1 cucumber chopped

20 black olives such as Kalamata

1 small red or green pepper, de-seeded and chopped
Instructions
Combine the soaked cashew nuts, chickpeas, and nutritional yeast using a high-speed blender, process until fully smooth.
Run a line of olive oil around a small baking dish roughly 20cm by 15cm by 5cm and rub to fully oil the inside. Spoon in the mixture to the dish and smooth with a palette knife. Cover in grease-proof paper and bake in a 200°C (390F) oven for 30 minutes. Remove and set aside to cool.
Remove the cheese from the dish and chop it into equal-sized cubes. Mix the oil, vinegar, oregano, mint, and lemon juice and put it into a freezer bag along with the cheese cubes. Marinade in the fridge for at least 30 minutes.
To serve simply combine all the ingredients together and toss in a salad bowl. Use the marinade as your dressing.

Copyright secured by Digiprove © 2020 The Anti-Cancer Kitchen