This delicious vegan Mexican salad with juicy pulled jackfruit is crunchy, zingy, warming, fresh and most importantly full of flavour and full of nutrition and antioxidants.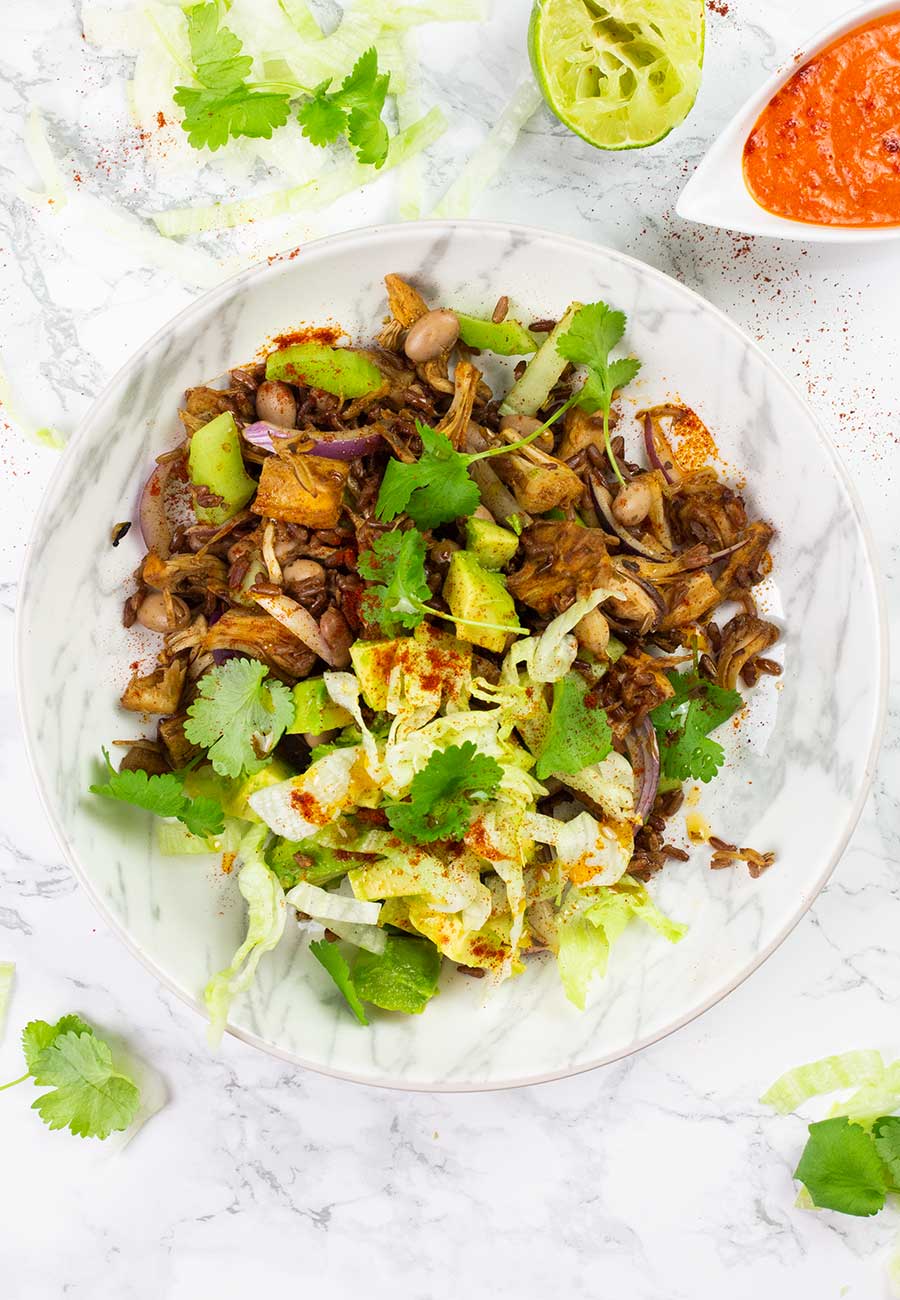 Vegan Mexican salad with pulled jackfruit recipe
What is jackfruit?
Jackfruit is a wonderfully firm textured fruit that has a resemblance to pulled meat when shredded and as such has been dubbed very much a substitute ingredient. It has occurred to us that this fruit although fantastic at recreating a meaty texture in classic dishes for plant-based foods it hasn't in our opinion been given enough kudos in its own right. It is good at soaking up flavours around it and especially sauces. Because of this talent this ingredient has we tend to see it with lashings of BBQ sauce over it called vegan pulled pork or formed together with herbs and spices and donned a vegan crab cake.
There are two lessons to be taken from this and looking into why this may be the case.
First of all, the vegan movement is growing from strength to strength and much of it because of the health benefits of a plant-based diet. However the moral beginnings of veganism is about the well being of animals and basically not eating them. The goal here is clear, stop animals from being butchered and ending up on our plates whatever the means. Now, like a political party the vegan movement needs to feed their ranks. The easiest way to recruit new plant-based diet followers is to recreate classic foods that most people are generally accustomed to with the plant-based substitutes such as jackfruit, hence we see the aforementioned dishes such as vegan "pulled pork" or vegan "crab cakes". There are of course many vegans who resent this classification of new foods being related to a meat protein but to create further followers, certainly from a bloggers perspective, these words such as "no" meatballs, vegan "barbecue ribs" or chilli "no" carne have to be inserted so that the very people we need to be reading it can find what we have to say.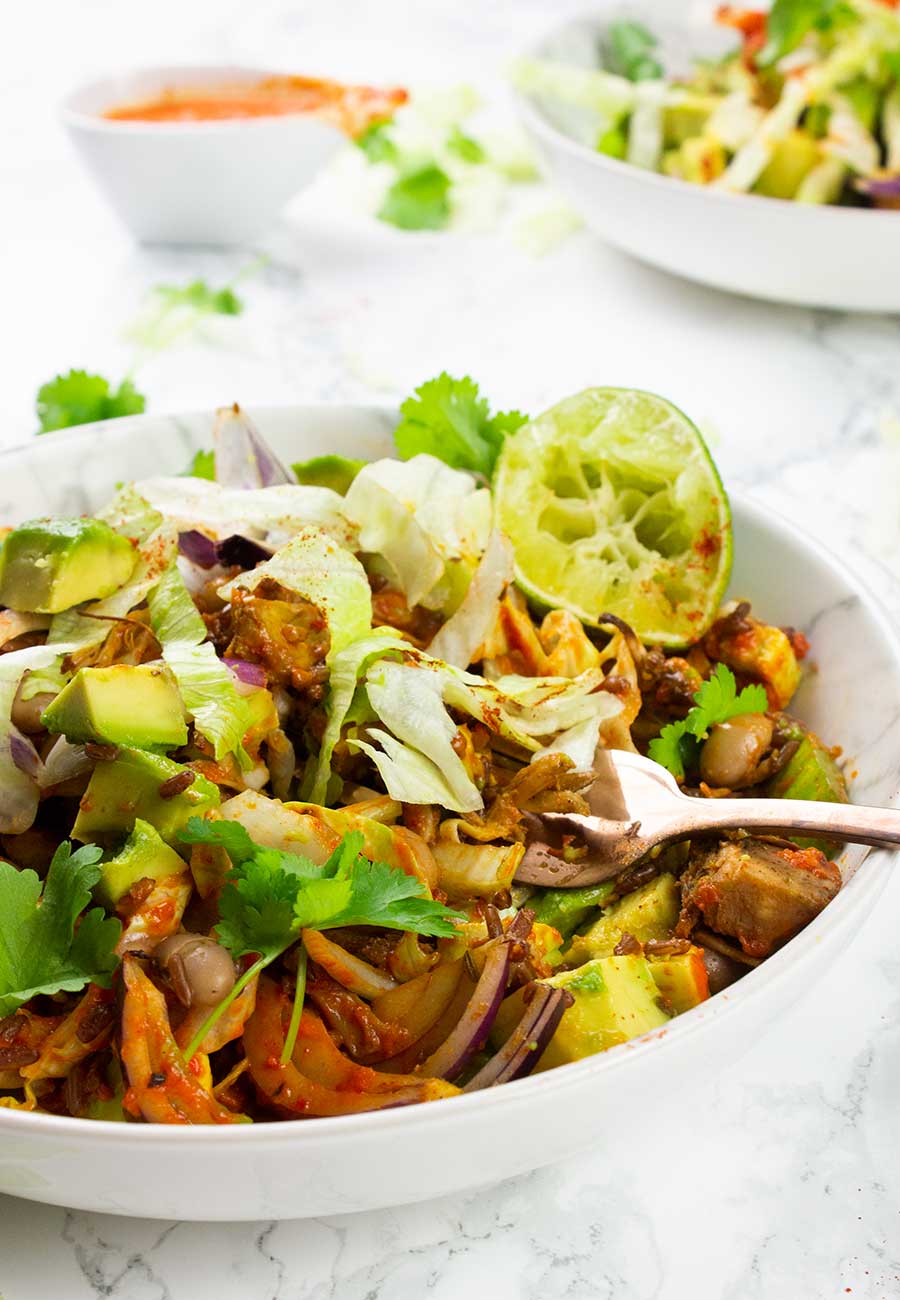 The second thing to be taken from this is, although we are very aware and grateful that the recognition of fabulous under-dog ingredients such as jackfruit are being propelled into the spotlight, for us at The Anti-Cancer Kitchen it is like jumping from the frying pan into the fire for the very reason that the ingredient is used purely to stop people eating meat but not actually (in most cases) giving you the healthy diet your body requires. We still hear on numerous occasions murmurings such as "I've never met a healthy vegan". We think much if this can be accredited to the lack of awareness of other factors that need to be considered when cutting out meat or dairy. One of these factors is not cutting out other foods that cancers feed on such as processed foods and sugars. It is these additives, however, that make most dishes like vegan jackfruit sandwiches, sliders and steaks appeal to people. It is a means to an end and not actually a way of making people aware of what they are consuming.
If we are to bring an end to this false economy much has to change but at the moment there are just too many profiteers for the way we continue to farm and manufacture produce. We believe we are a grassroots purveyor of this tenet just as organic food shops are. We just have to remember that although good organic and sustainable food produce is more expensive, it is undoubtedly healthier, but the more people who get behind it the more accessible it will become.
At The Anti-Cancer Kitchen, we understand that all too well that using lesser known ingredients in favour of a staple can be scary, so re-creating a favourite recipe with something like jackfruit in it instead of the meat previously used is an easy way in. We don't want to stop this but we certainly want to embellish on many recipes going forward. We want to show you best tips on how to use these foods, how to cook them to get the most nutrition out of them and how they can be prepared to give them the best texture for your different recipes, but most importantly we want to show you how to start using them as the star of the show so you can begin to create your own individual favourites without being scared to do so.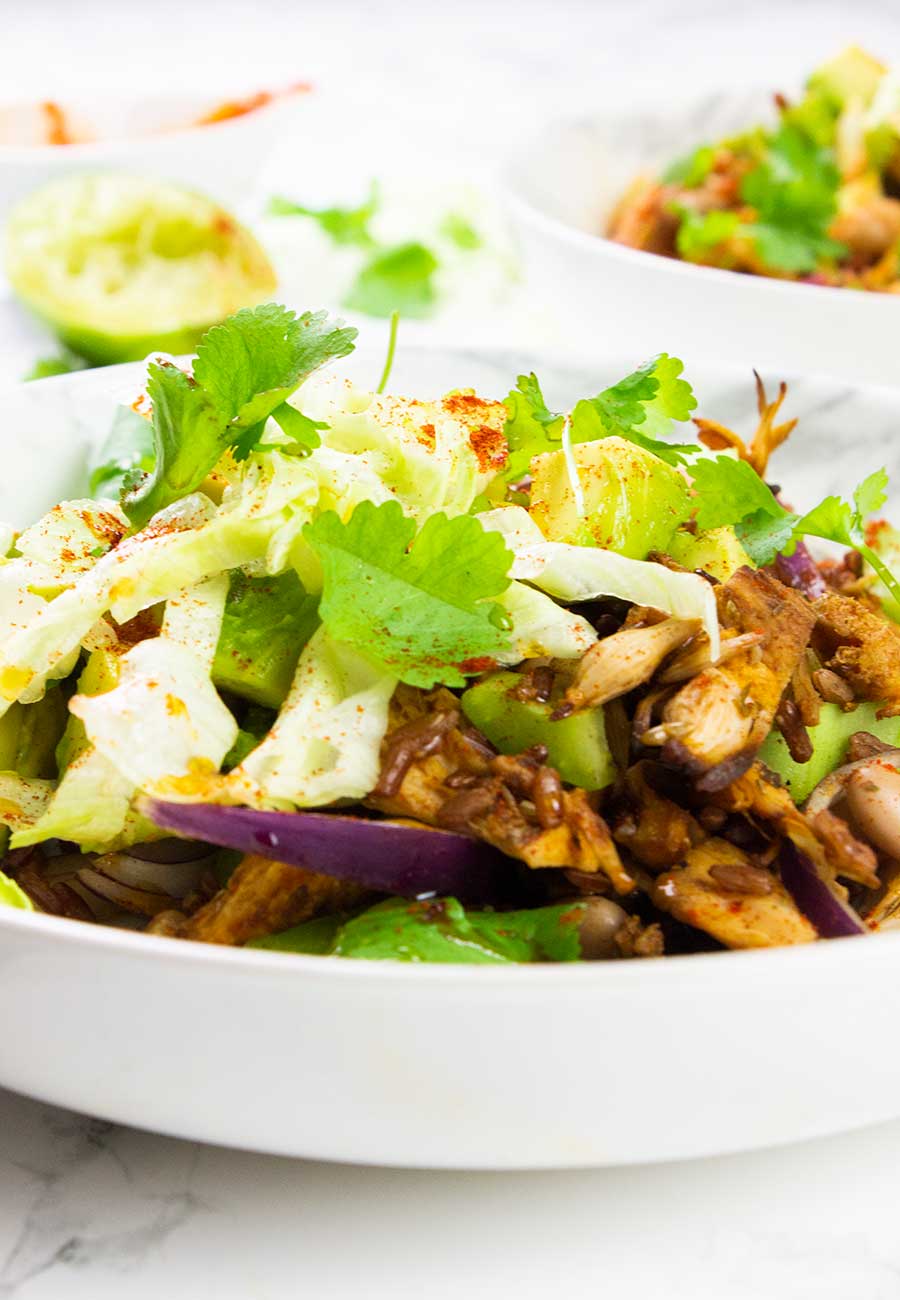 It has been suggested that most people have about 5 dishes in their repertoire of cooking. Even Matt, as a chef seemed to have a finite amount of recipes in his repertoire where we seemed to be eating very much the same on a weekly basis. However since starting The Anti-Cancer Kitchen, we can't remember a time where we have eaten the same meal twice in months. We have taught ourselves to use healthy plant-based ingredients and experiment to create new tasty dishes.
In this tasty vegan Mexican salad recipe, we have used jackfruit to add a flavour as well as texture.
If we asked the question," what does a jackfruit taste like, we'd expect to get many different answers. The most common answer, unfortunately we think would be "we don't know" but even more expected we think would be that it tastes like pulled pork. Is that sad, or this that a sign of the times?
In fact, jackfruit tastes a little like a mix of an artichoke heart with the slight after flavour of a lychee. The texture is more under-ripe pineapple than meat but it can be cooked in a way to lose some of the excess moisture and "fruity" flavour to give it a more savoury appeal. There is a certain school of thought for example that you should never put pineapple on a pizza. Whatever your stance is on that could sway you one way or another how to cook jackfruit.
How to cook jackfruit
In this recipe for a simple vegan Mexican salad with some vibrant flavours we have simply fried some jackfruit after tearing it apart with some choice herbs and spices then we transfer it to a hot grill for 10 minutes. We have found that this method of cooking really brings out the savoury earthy but fragrant flavours of the jackfruit out that compliment the other salad ingredients beautifully. What's more, the texture firms up to rather like a meaty mushroom. For the rest of the salad ingredients, we have opted for pinto beans (what could be more Mexican?), red rice for a bit of a burrito feel, avocado (of course) and celery and iceberg lettuce for a lovely fresh crunch. The dressing is super easy too but full of zingy spice and warming roasted red peppers and paprika. All cut with a citrus hit of fresh lime and the heat of some jalapeños, this is the taste of Mexico.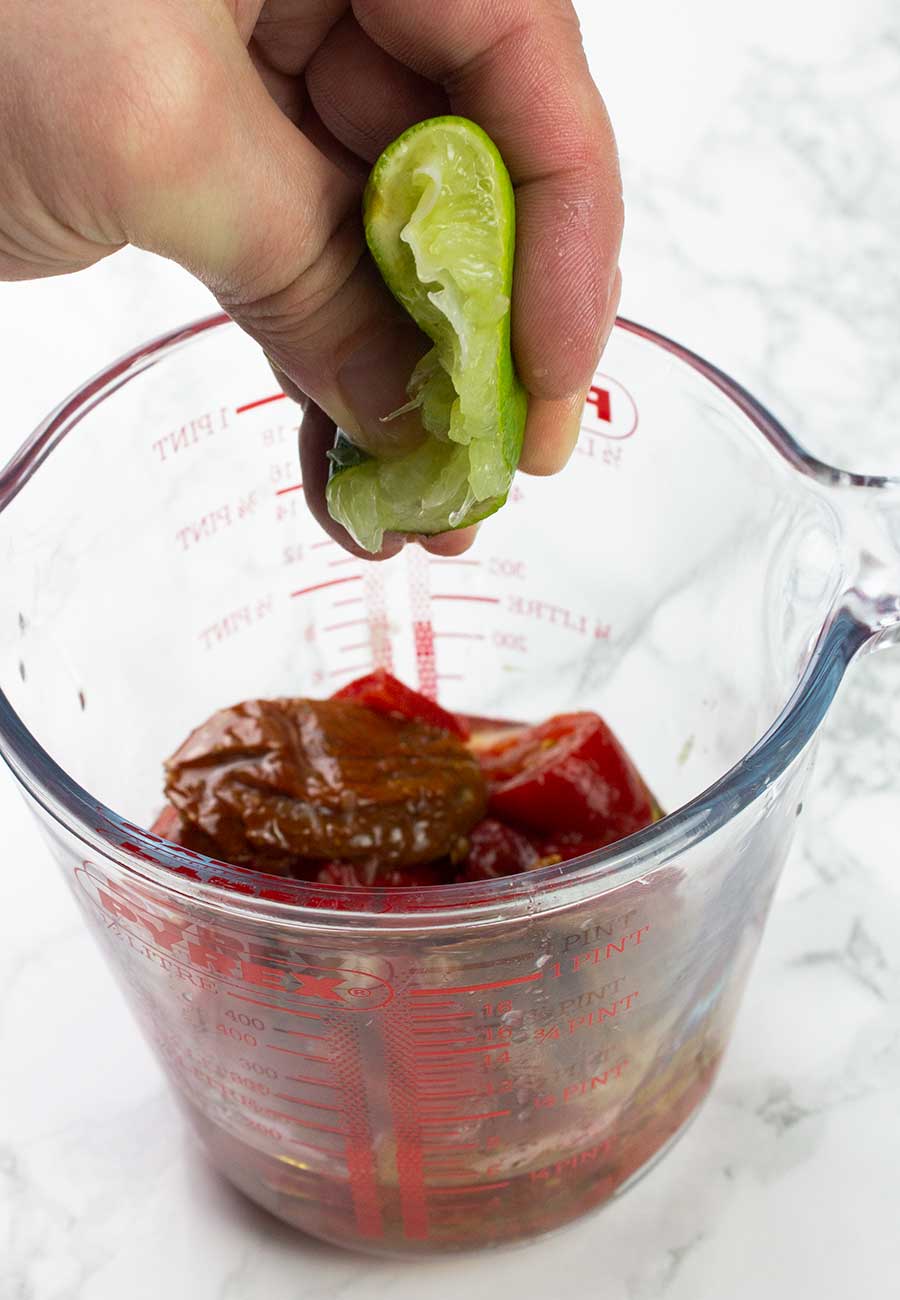 With this plant-based easy to prepare Jackfruit salad the sweet comes from roasted red peppers, and cinnamon (no added sugar), the spice comes from jalapeños, garlic, cumin and paprika, the freshness comes from lime and crunchy lettuce and the earthy flavours and tough and smooth textures are supplied by jackfruit, rice and avocado.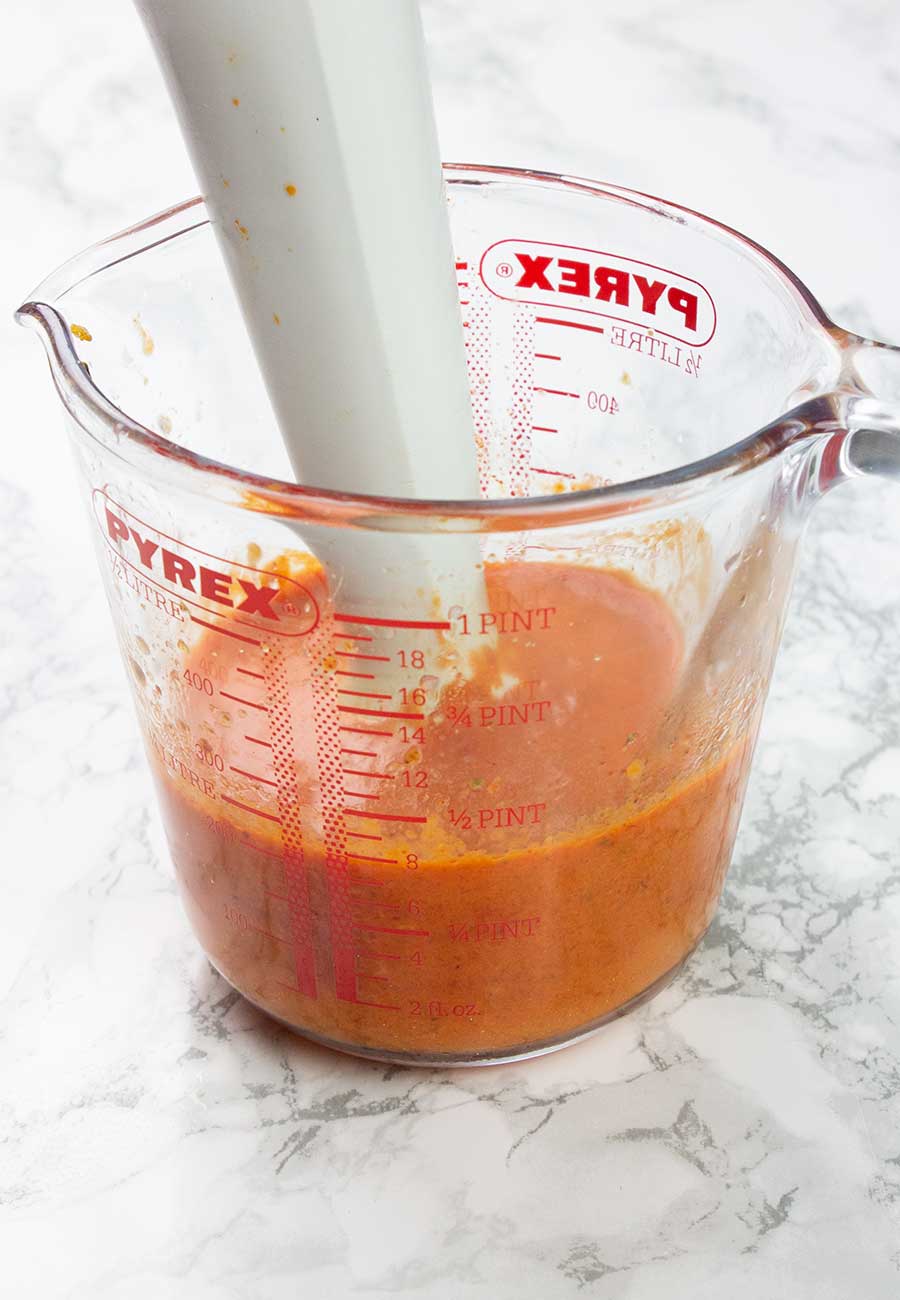 Now for a little health aspect, which of course is key. Our bodies require fibre for healthy digestion and a healthy heart. Legumes such as pinto beans contain soluble fibre that attaches itself to cholesterol and ferries it outside the body. Jackfruit is a good protein source for you and is high in antioxidants such as vitamin c, carotenoids and flavanones which lower inflammation in the body caused by oxidative stress from free radical molecules, a known feeder of cancers and heart disease. The red rice is also high in both fibre and antioxidants and really brings the three ingredients together very nicely in flavour but in texture too.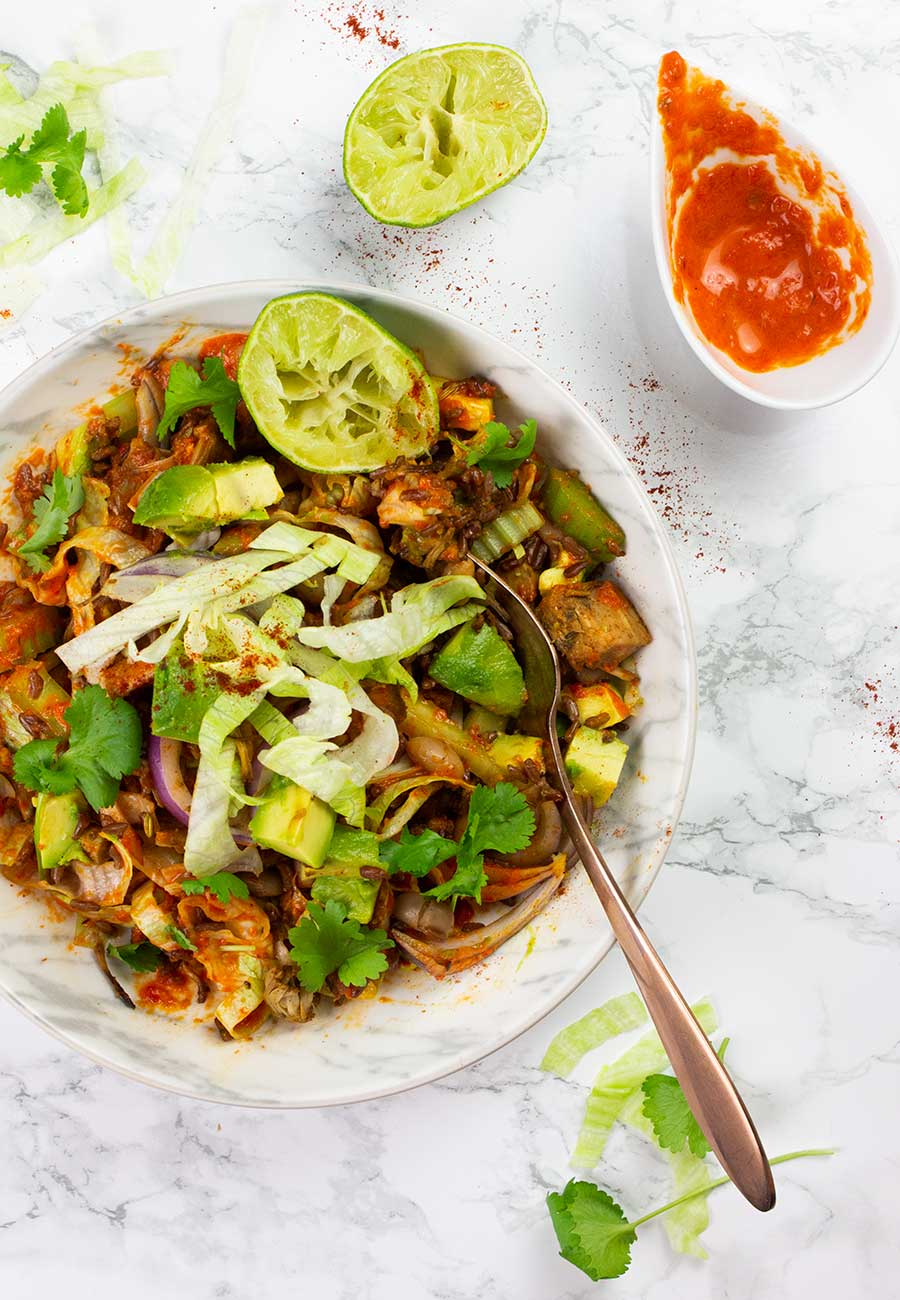 This vegan Mexican salad is
Crunchy
Zingy and warming
Fresh and moreish
Full of flavour
Full of nutrition and antioxidants
Full of texture
Full of ariba ariba!!
Have you made this jackfruit salad recipe?
We'd love to see your food creations! Please leave a comment below, share or tag using @anticancerkitchen on Instagram and hashtag it #anticancerkitchen.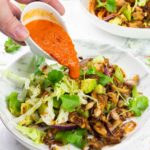 Ingredients
300g of torn jackfruit (drained weight from a tin)

½ a cup of tinned pinto beans

1 red onion, sliced

½ a cup of cooked red rice

1 avocado, de-stoned and chopped

1 celery stalk, sliced

½ a small iceberg lettuce, shredded

½ a teaspoon of each: oregano, paprika, cinnamon, fennel seeds, cumin, garlic powder

Garnish with fresh coriander /cilantro

For the dressing:

1 roasted red pepper

1 clove of garlic, peeled and crushed

1 tablespoon of jalapeños from a jar

2 sun-dried tomatoes

1 teaspoon of paprika

The juice of 1 lime
Instructions
Cook the red rice as per the instructions on the pack. Set aside to cool. 
Prepare the jackfruit by tearing the fruit by hand into shreds. In a  bowl mix in all the herbs and spices to the jackfruit. Heat a drizzle of olive oil in a pan on high heat. Add the jackfruit and stir-fry for 4-5 minutes so it starts to brown. Transfer the jackfruit to a roasting tray and grill under high heat for 10 minutes. Remove and set aside to cool.
Drain the pinto beans and rinse under cold water, set aside along with the chopped celery, onion, lettuce, and avocado.
For the dressing simply combine all the ingredients in a blender and process until smooth.   
To serve simply toss all the ingredients together in a bowl and garnish with coriander/ cilantro.

Copyright secured by Digiprove © 2020 The Anti-Cancer Kitchen