This healthy chili recipe with red lentils is the absolute perfect antidote for when you just crave good home-cooked food. Rich, comforting, smoky and spicy and full of flavour. This vegan and super healthy chili recipe is filling yet fresh and totally bursting with plant-based goodness. Great for family dinner or sharing with friends this is the very best plant-based healthy chili recipe we've ever made. We've made and eaten loads and tasted many chilis from its birthplace of the States and Mexico to trendy city street food scenes but this has an edge we think you'll like, what's more, keep the leftovers overnight and it's even tastier the next day to scoff the lot yourself.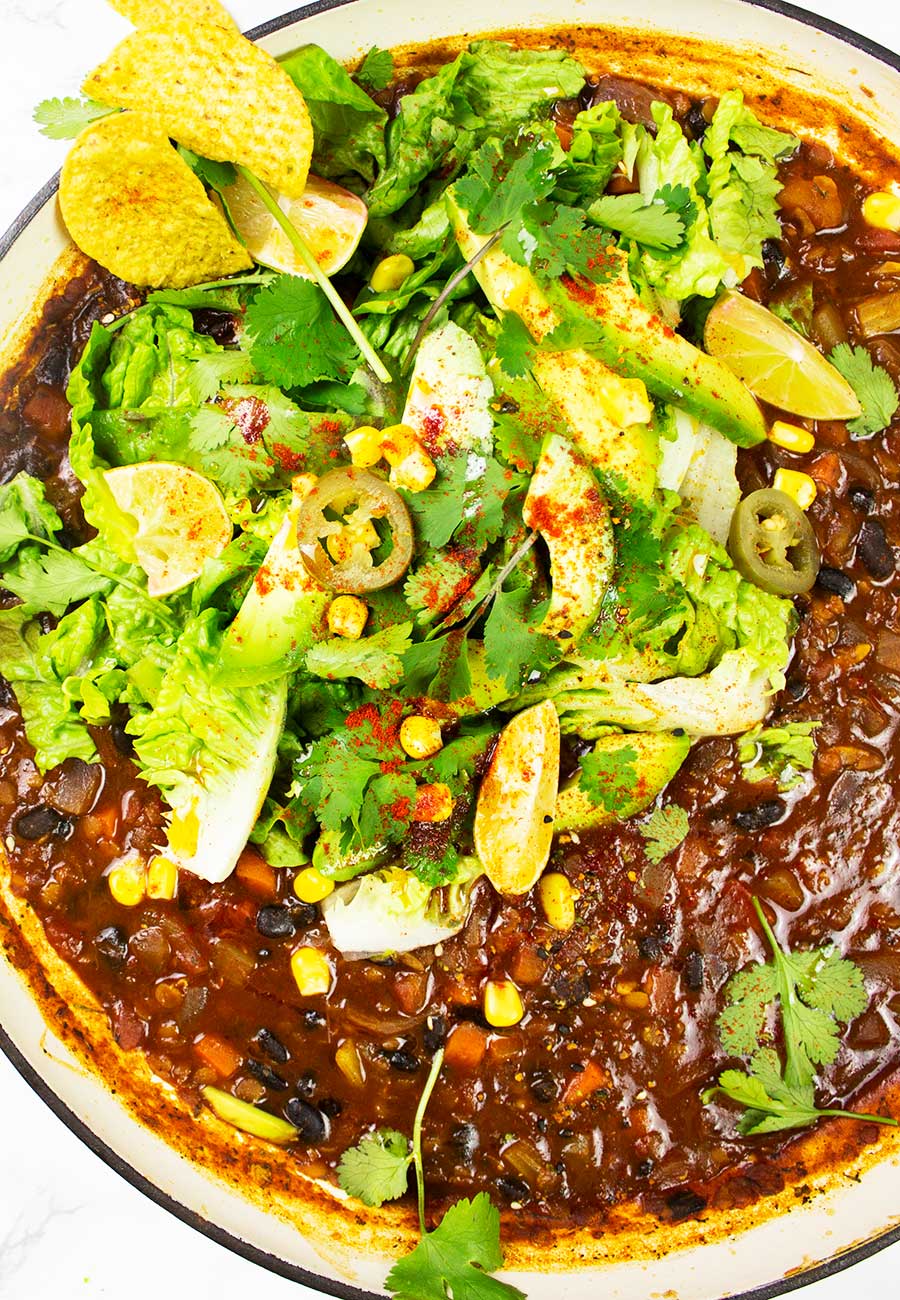 Arriba, Arriba, Andale, Andale! Bring on the heat, or however much you want, it's chili time but with no carne insight… Our Healthy Chili Recipe isn't just tasty, it is full of nutrition and really easy to prepare. It is also:
A family favourite

A good source of protein, fiber, minerals and vitamins

Totally full of authentic flavour

Fresh and full of texture

Great to share for taco night

A great way to help with your five a day

An awesome alternative to meat

A one-pot wonder, just add salad and tacos

Restaurant quality in your own home
Restaurants chilis vs homemade chilis, what is the low down
Chili or chili, like most classic dishes originated from humble beginnings, Now it is one of the most common foods for cook-offs! Families have secret recipes and secret preparation techniques even unusual secret ingredients to differ from the competition. So whether this amazing enduring dish is gotten in a restaurant or through the family everyone would be likely to argue that theirs is best, and we're no different. However, it is good to know where it comes from to know how best to either conserve this taste staple or refine it, de-construct it or evolve it like what we have had to do here at the Anti-Cancer Kitchen. Originally, this dish was made by working-class Mexican woman in Northern Mexico and what's now Texas. The preparation was to grind down beef, suet, and chili together and pat it down into bricks which were then dried ready to be boiled in pots for long journeys or working days. Hopefully, you won't feel the need to preserve a brick-sized stock cube to cook throughout the year as it is extremely easy to buy all the ingredients from your local supermarket or deli, keep it fresh and keep it healthy.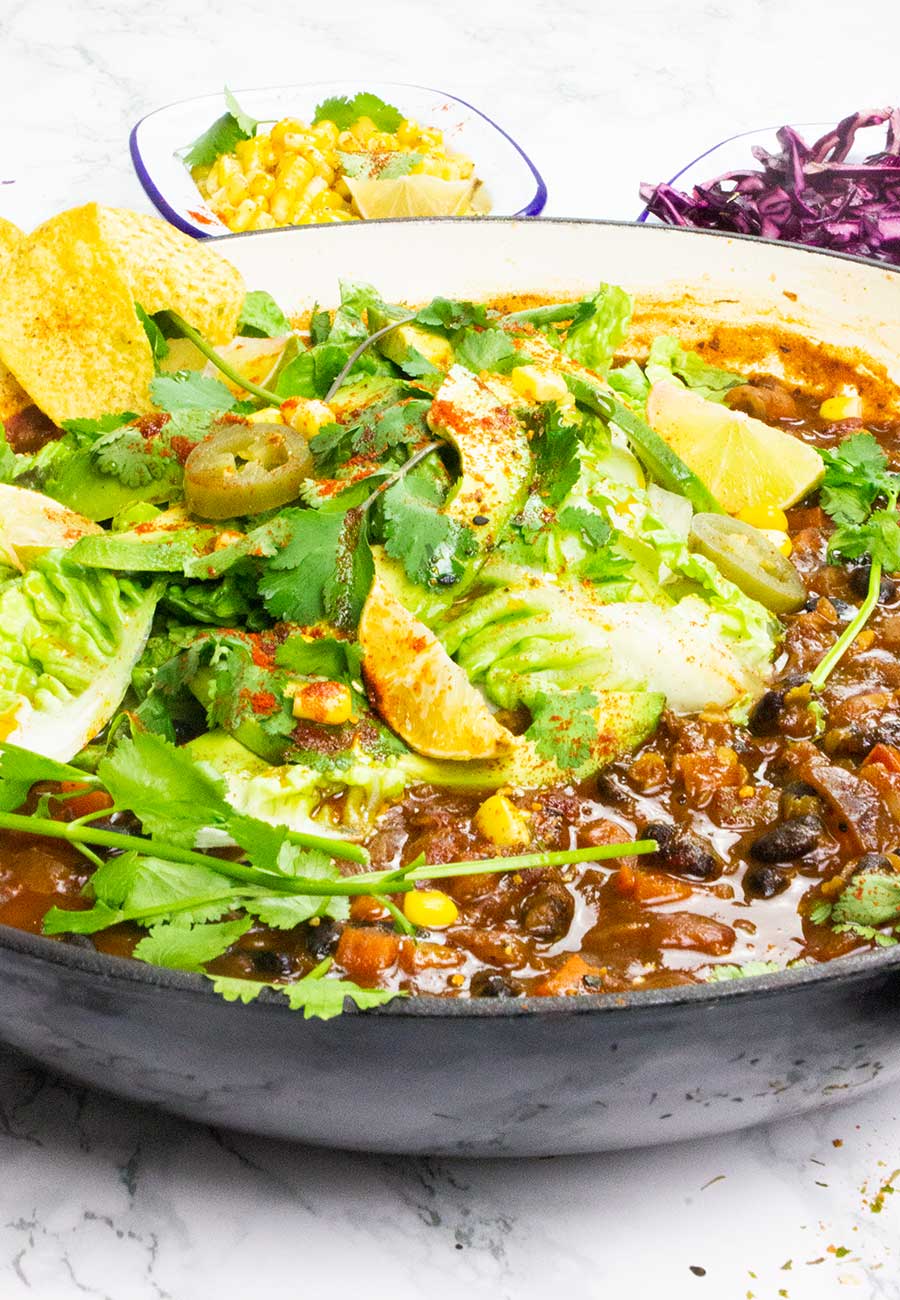 The restaurant chili, Is it dying? There are establishments all over the States from Texas, Cincinnati and Wisconsin serving their fayre since the early 1900s who are still going strong that would argue this point but the modern chili is definitely seen more in the modern, trendy taco joints and street food scenes. There is still a massive point to this dishes enduring nature and that has been its main ingredient, meat. This however adds a large helping of fats and the addition of unknown ingredients in the food chain of the said animal that has an arguable place on the plate we should be eating from. This previous main ingredient no longer has to be the star of the show. In this plant-based recipe the humble red lentil coupled with black beans (you can't have a chili without beans) with the addition of the right herbs and spices makes what we feel is the best healthy chili recipe.
Why chili with red lentils?
Plant-based creations need a good base, this comes from flavour as well as texture not to mention nutrition. Lentils are legumes and are rich in fiber and as such are a very heart-healthy ingredient. They have a wonderful texture and flavour that pairs so well with herbs and spices. Countries that have highly flavoured cuisines such as India and the Middle East have used this ingredient for centuries. In Mexico, Middle America and South America beans have been used similarly, in this healthy vegan chili recipe we have also used black beans to create a balanced dish. Other beans such as pinto or kidney beans would also give a good authentic taste and texture. What is also good about lentils is that they last for an exceptionally long time in their dried state, they are relatively cheap and they just sup up all the flavours you want to add to them. So for a base for a plant-based chili, they would seem to be the first go-to ingredient. We have made some incredibly good other vegan chilis with root vegetables with our chili con roots recipe and our jackfruit chili recipe, however this would be the easiest recipe to follow as it can be done all in one pot. Just serve it with your favourite sides, whether that is a salad and nachos or tacos or a hunk of cornbread. You choose.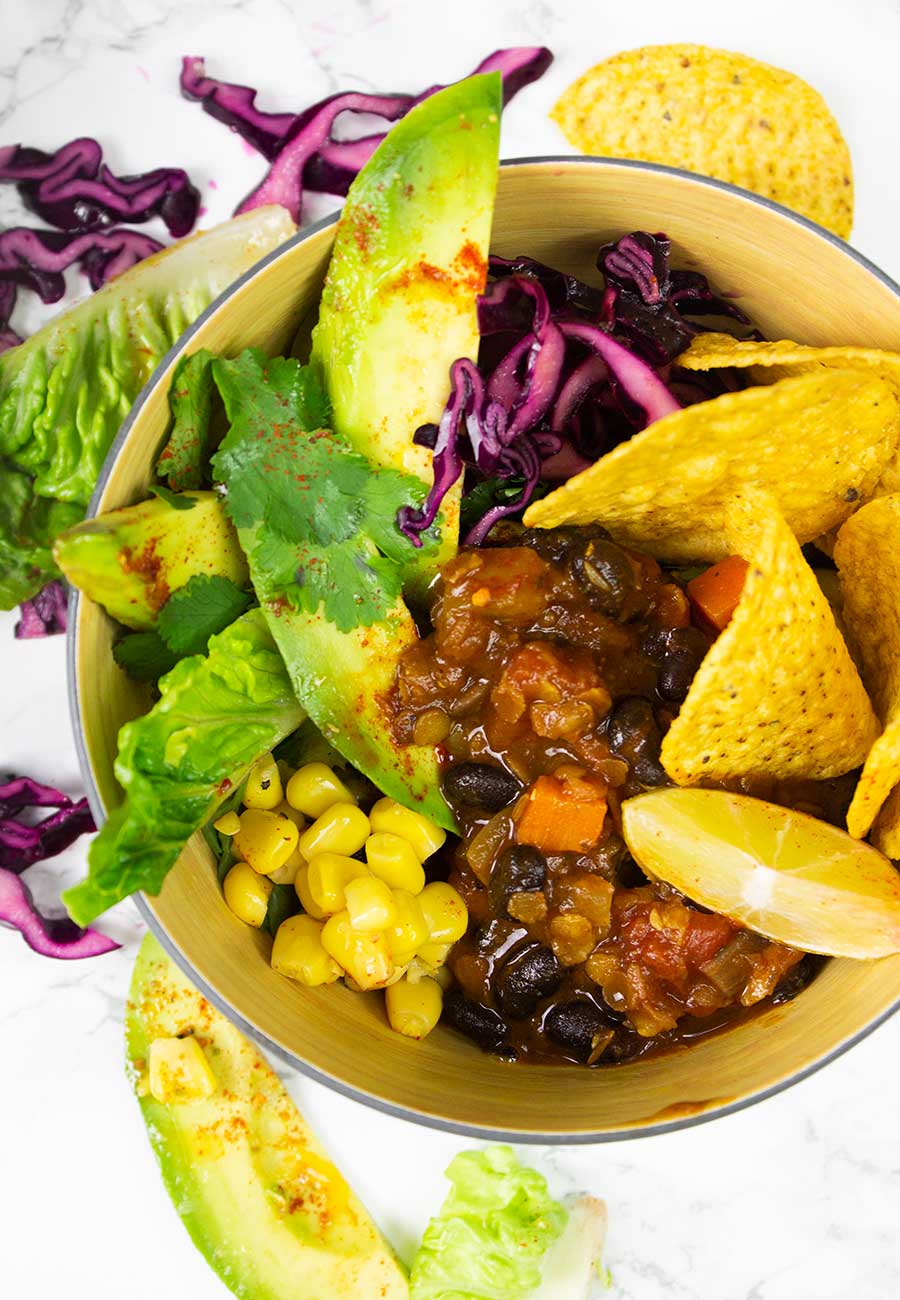 Health benefits of this healthy chili recipe with red lentils 
Not only do we revolve this vegan chili around red lentils and black beans, but there are also, of course, a host of other ingredients that are essential to make the perfect chili.
Now that we have decided on the lentils and the beans, the next important stage is to pack them with all the punchy, smoky, spicy flavour that we can. Without the meat in this dish,  and do you know what? You're not going to miss it, as with the original recipe when you create the chili sauce that with this recipe becomes part of the lentils and beans you have this freshness and complexity that you can't replicate with animal proteins. These are the flavours of family secrets passed from generation to generation but we have a foolproof mix of herbs and spices that we have experimented with and stand by, what's more the list isn't as long as you arm or incredibly hard to come by or grown in a garden where the only way to nurture the herb is by reading to them, All the ingredients should be found in your local supermarket. Obviously, with a chili dish, chili pepper is an integral ingredient. The main health benefits these spicy morsels have to offer come in the form of capsaicin and the antioxidant properties within. Studies have shown potential cancer-fighting qualities in a promising light, so that married with all the herbs (below in the ingredient list) is a winning formula. For the chili, we like to use a paste that has a mixture of chilis. Look out for dried versions which will add complexity and character such as Ancho which is a dried Poblano chili, it is not so hot and adds a sharp slightly fruity flavour, these are the chilis most famously used in chili rellenos. Also use chipotle which is smoked jalapenos for that warming smoky flavour. If however you crave a fiery heat then hunt out a habenero / scotch bonnet or serano chilis. Just wash your hands thoroughly after slicing and dicing them.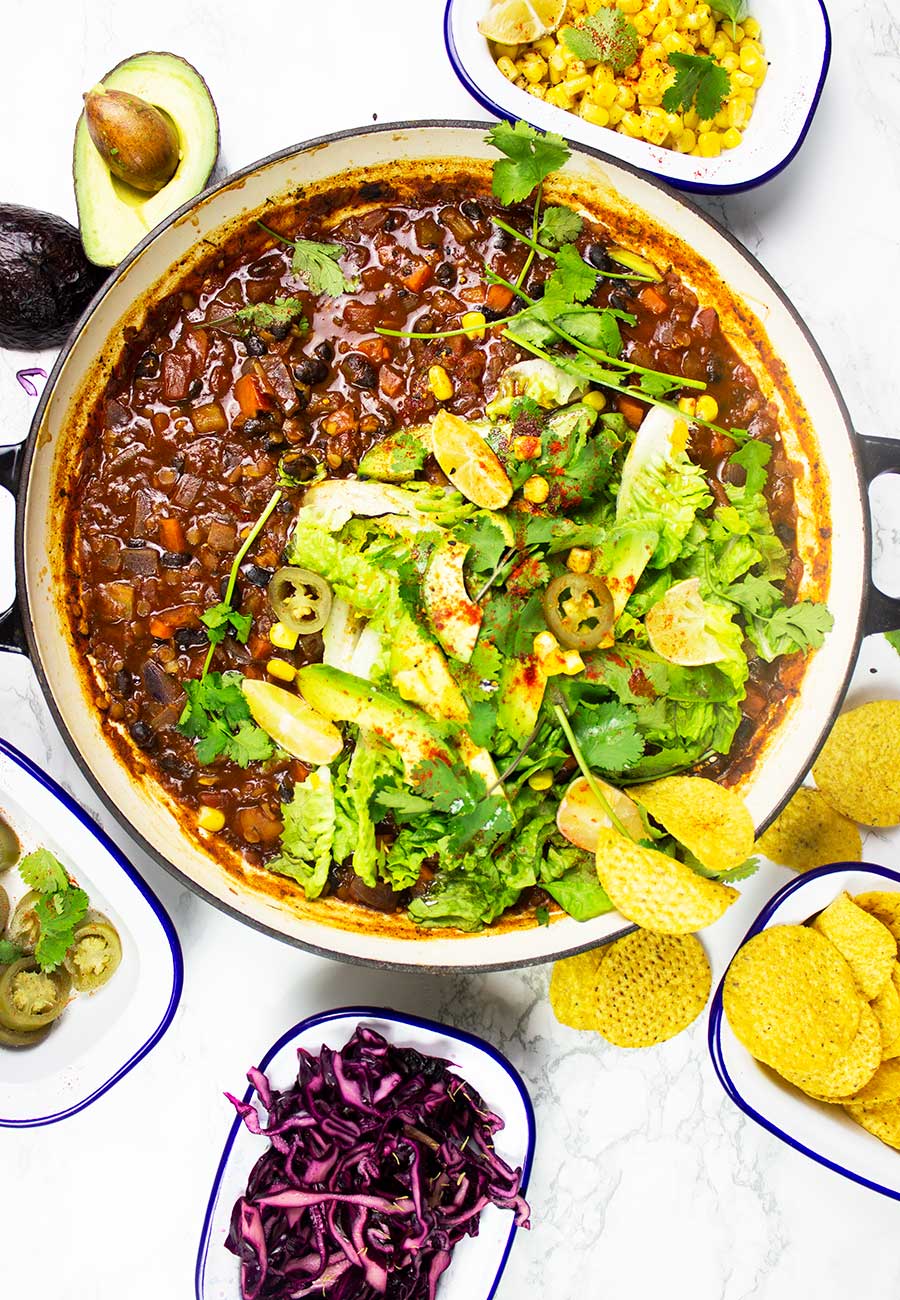 For the rest of the flavour we use garlic which has healing properties, namely antifungal and cholesterol-lowering abilities mixed with onion, paprika and some choice green herbs like oregano, thyme and fennel which makes this recipe an instant hit. The fennel really lingers on the pallet beautifully and lastly we add the mustiness and spicy woodiness of cumin and cinnamon which adds balance to the spice mix perfectly. 
Making 1-pot healthy chili recipe
We feel that using organic ingredients for our recipes means that we can be confident that we are not using unknown additives used in farming processes that we can't be sure of their effects on long term health. These would mean we are locking out pesticides, manufactured herbicides, insecticides, fungicides or artificial fertilisers. It has been mentioned after all that post world war II cancer rates soared, quite a coincidence that this was at a time when farming practices changed to bring in high yields using chemicals and added hormones. This is a foolproof recipe for home-made chili, no need for thickeners or shop bought pre-mixes here, nothing but seed food goodness.    
How to make this healthy chili – steps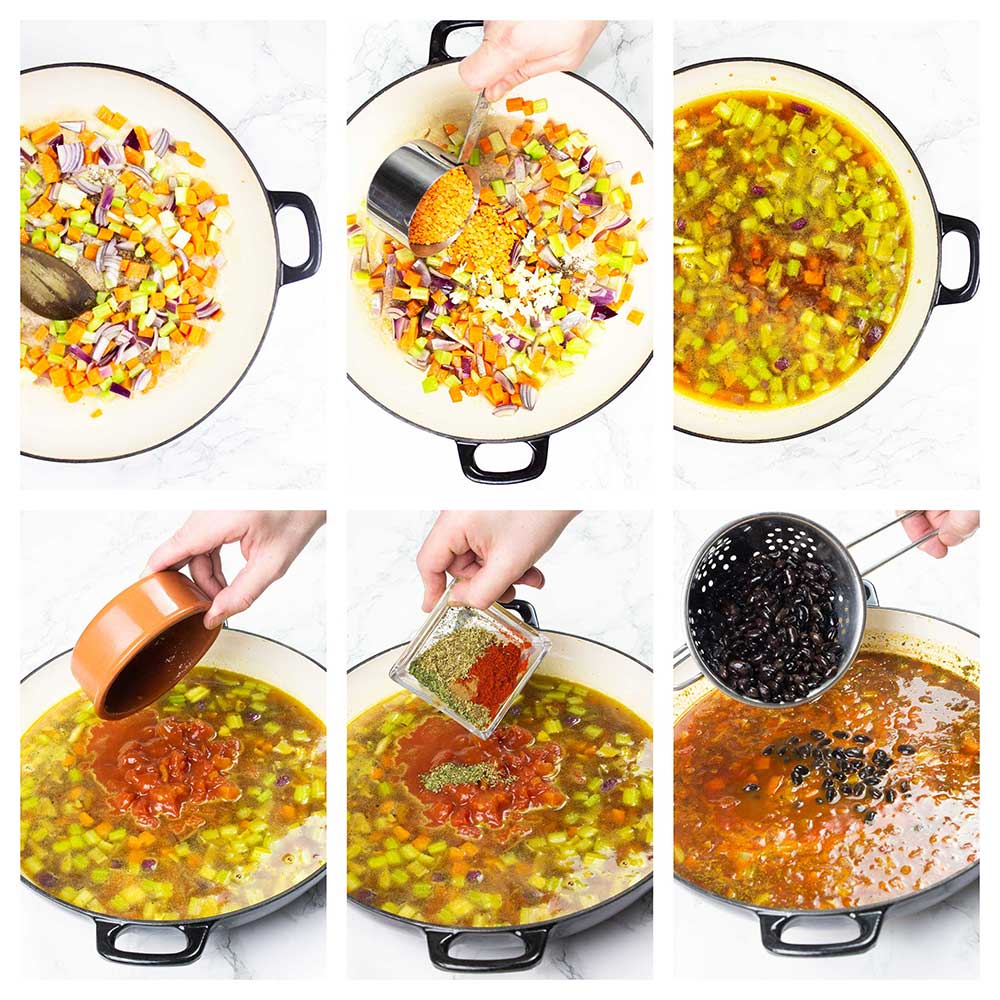 Step 1
Start by heating a glug of olive oil in a heavy-based pan on medium-high heat. Add the onion, carrot, and celery and saute for 5 minutes until they start to char.
Step 2
Add the garlic and lentils and stir through the oil until they start to pale in colour and glisten. Be careful not to burn the garlic and adjust the heat if necessary.
Step 3
Pour in the stock
Step 4
Pour the tinned tomatoes
Step 5
Add the spice mix, and chili paste and stir through.
Step 6
Add the black beans
Reduce the heat and place a lid on the pan and simmer for 20 minutes, stirring occasionally.
Other Mexican recipes you'll love
Have you made this healthy chili recipe with red lentils?
We'd love to see your food creations! Please leave a comment below, share or tag using @anticancerkitchen on Instagram and hashtag it #anticancerkitchen.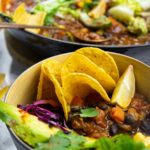 Ingredients
80g dried red lentils

240g (drained weight) tinned black beans

½ red onion chopped

1 celery stalk chopped

1 carrot chopped

2 garlic cloves finely chopped

600ml of vegetable stock enriched with a teaspoon of vegetable extract

400g of chopped tinned tomato

Mexican spice mix ( we use 2 teaspoons of oregano, 2 teaspoons of thyme, 1 teaspoon of fennel seeds, 1 teaspoon of cumin, ½ teaspoon of cinnamon, 2 teaspoons of smoked paprika)

1-2 teaspoons of ancho /chipotle chili paste to taste

Sides, we recommend - sweet corn, pickled red cabbage and nachos and a salad of iceberg lettuce with avocado and coriander / cilantro
Instructions
Start by heating a glug of olive oil in a heavy-based pan on medium-high heat. Add the onion, carrot, and celery and saute for 5 minutes until they start to char. Add the garlic and lentils and stir through the oil until they start to pale in colour and glisten. Be careful not to burn the garlic and adjust the heat if necessary.
Pour in the stock, the tinned tomatoes, spice mix, chili paste, beans and stir through. Reduce the heat and place a lid on the pan and simmer for 20 minutes, stirring occasionally.
Cook the chili longer if you prefer a thicker chili or alternatively add water if necessary.
Serve straight up with your favourite sides.  

Copyright secured by Digiprove © 2020 The Anti-Cancer Kitchen