We have tried a few chunky Guacamole recipes, as let's face it, there is no such a thing as traditional recipe for Guacamole. Everyone does it differently, even in Mexico, and we would like to think that ours is the best.  In fact the last time we went to a Mexican restaurant we gave each other a knowing nod in agreement that our Guacamole is simply better.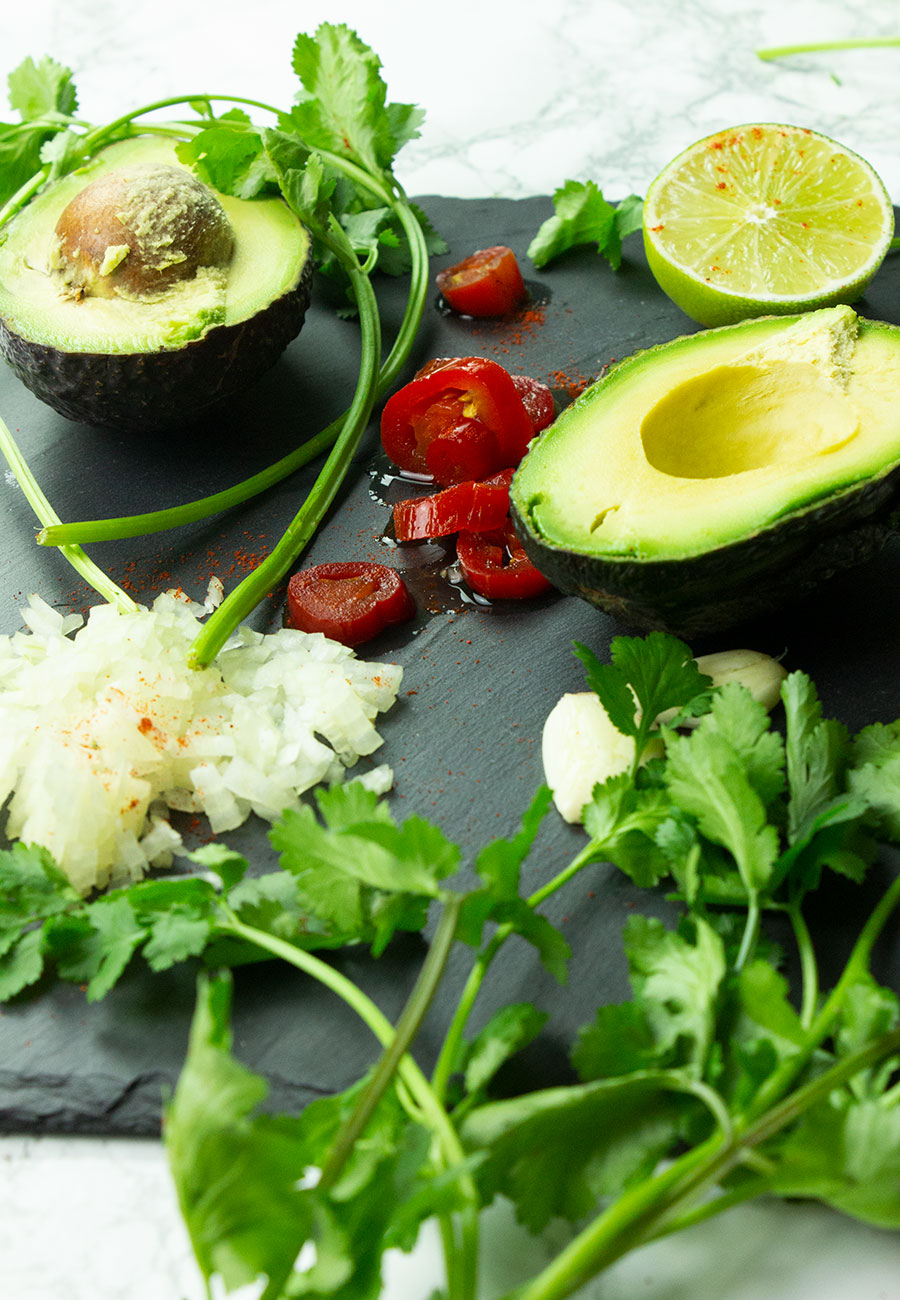 The best chunky guacamole recipe
Our guacamole has these amazing ingredients – avocados, garlic, white or red onion, lime juice, jalapeños, smoked paprika and lots and lots of coriander (cilantro). But we have seen Guacamole made with chillis, peppers and some times even tomatoes and rather it being chunky, it's been blitzed to almost looking like a light green dressing using most likely a mix of avocados and yoghurt. No that's not for us. We love it chunky and lumpy and we want to see the rest of the ingredients.
Guacamole's main ingredient, avocado, has great health benefits. It gives us healthy fats that are great for lowering our bad cholesterol levels and improving our heart function naturally, moreover it's antioxidant and incredibly rich in important and anti-cancer vitamins, minerals and fibre.
Avocados come from the ancient Aztec word "ahuacatl," meaning "testicles". And, Guacamole means literally a sauce from  avocados. Traditionally, to make Guacamole, people were using a mortar and pestle to get the right consistency. But you can use a fork, it works perfectly fine too.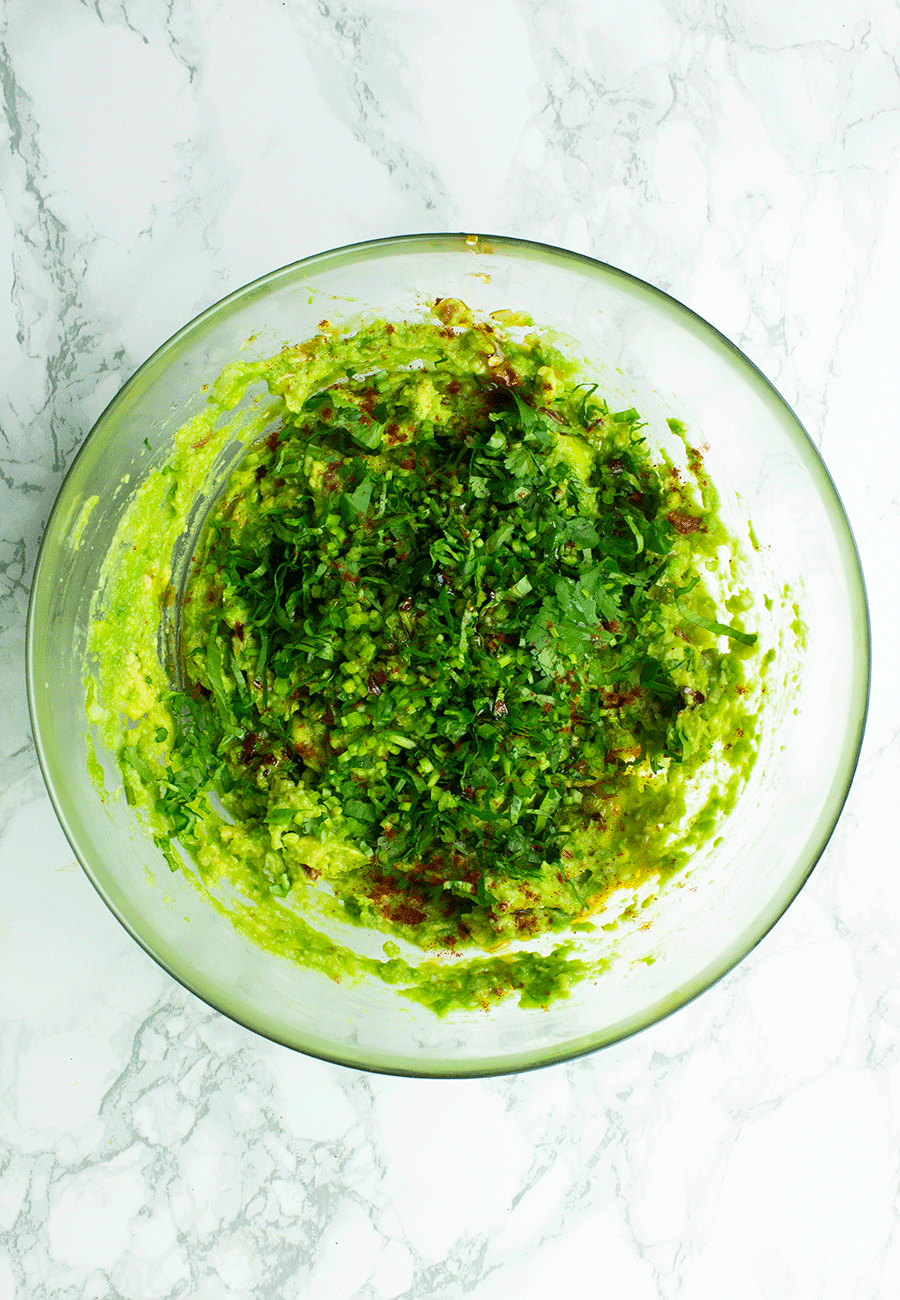 We use a lot of coriander, aka cilantro in our chunky guacamole recipe. Coriander is a fantastic herb. Not only is it tasty, but it comes with incredible health benefits. Coriander is super rich in antioxidants. It also is anti-inflammatory, anti-fungal and is brilliantly detoxifying. Coriander is also known for keeping our blood sugar low and can help treating diabetes naturally. It is also helps lowering bad cholesterol, support and help digestive system and protect agains heart disease.
Have you made this chunky guacamole recipe?
We'd love to see your food creations! Please leave a comment below, share or tag using @anticancerkitchen on Instagram and hashtag it #anticancerkitchen.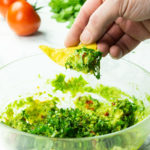 Ingredients
2 big avocados (stoned and peeled)

1 chopped jalapeño or equivalent from a jar

2 cloves of garlic, crushed and chopped finely

1/2 small white or red onion, finely chopped

Juice of 1 lime

1 tea spoon of smoked paprika

A handful of coriander (cilantro), finely chopped
Instructions
Mash the avocado in a bowl so it's nice and chunky.  Add the onion, jalapeños, garlic and lime juice and mix well.
Garnish with lots of fresh coriander and smoked paprika on top. Serve with nachos, corn tortillas or smoky over baked sweet potato wedges.