This is a very simple vegan black olive pesto that has an absolutely remarkable flavour full of Mediterranean goodness. Our umami filled black olive pesto creates a beautifully rounded sauce perfect for pastas, pizzas and sandwiches or to dip crispbreads into. We have combined some classic flavours of Italy and blended them all in one amazing plant-based black olive pesto. All you need is a food mixer and some easily sourced ingredients: 
A handful of smooth buttery pitted black olives

Fresh basil leaves for a warm aromatic flavour

Slow roasted tomatoes for a rich deep Mediterranean flavour

Some pine kernels for a nutty flavour and coarse texture

A fresh clove of garlic for warm spice and fragrance

A touch of nutritional yeast for an umami parmesan cheese flavour

And finally, a healthy extra virgin olive oil to bring it all together
All these ingredients are commonplace in the supermarkets and delis however homegrown and homemade are much better for a great slow roast tomato recipe.
Pesto is a Genoan word for the past tense of "crush" as this is the technique traditionally used to combine the ingredients. Hence "pestle" and mortar which would be the equipment used. There are many variations on the traditional recipe which uses basil, pine nuts, parmesan and oil. Spicy red pestos which use peppers and chillies are great as are truffle pestos but there is something very satisfying to this black olive pesto that is definitely a crowd-pleaser. It has a vibrant flavour that isn't bitter like other black olive sauces such as a tapenade. The infusion of all these flavours within the extra virgin olive oil marry well and combine to be something way more than simply the sum of its parts.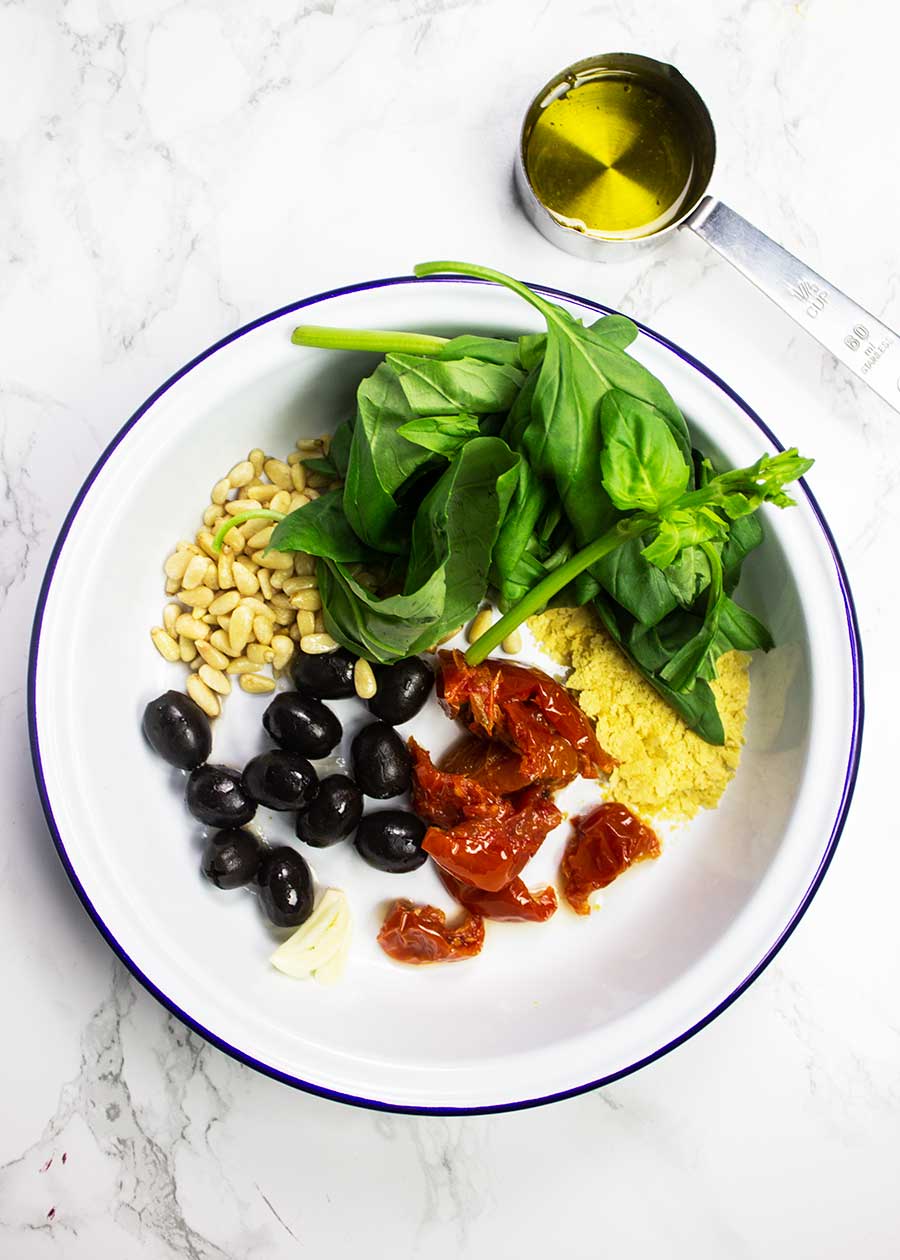 Black olives in pesto
For the olives we like the mild buttery flavour of a classic cerignola olive. These are the classic mild olives that you traditionally see on top of pizzas and generally sold in jars all over the world. They are definitely the reason that this black olive pesto recipe works so well. They go through a rinse before being brined that removes their bitterness and leaves them sweet and easily consumed, very more-ish. This is needless to say that if you like a particularly strong olive taste then of course use a different olive.
Other olives to use are Greek Kalamata which are smoky, fruity intense olives that have been marinated in red wine vinegar. Their shiny skins give them a firm texture too which would work nicely. A Nicoise olive is similar with a hint of bitterness which like the kalamata olive works well especially in a tapenade, not overpowering but just enough to lift the flavour. The Chilean Alfonso olive is macerated in red wine and meaty and tart. If you want to ramp up the umami of your pesto then choose this olive. In Greece another olive known as an amfissa olive is harvested late so that the olive is very fleshy so that when they are brined they bring on a beautiful fruity flavour that pairs very well with salty cheeses such as feta and parmesan, perhaps another noteworthy contender to use. Nocellara olives from Italy are the large green mild olives that have excellent subtle flavours, however, they contain large stones and are rarely seen pitted. If you have the patience to do this yourself then perhaps this would be the best choice to use over all the rest.
Olives too are particularly healthy as they contain many antioxidants. When the body metabolises food a process called oxidation occurs. The body can go through oxidative stress when negatively charged free radicals are produced which crash through the body trying to relieve itself of its extra negative electron. This then, unmanaged by antioxidants which can be easily introduced via diet can cause numerous issues including chronic diseases such as cancers. Olives contain compounds such as quercetin, hydroxytyrosol and oleanolic acid that are potent antioxidants that research has shown can neutralise the effects of these rogue free radicals. Olives are also a great source of Vitamin E, another healthy nutrient. Of course, these health benefits make their way into olive oil too which is possibly the primary staple in a Mediterranean diet.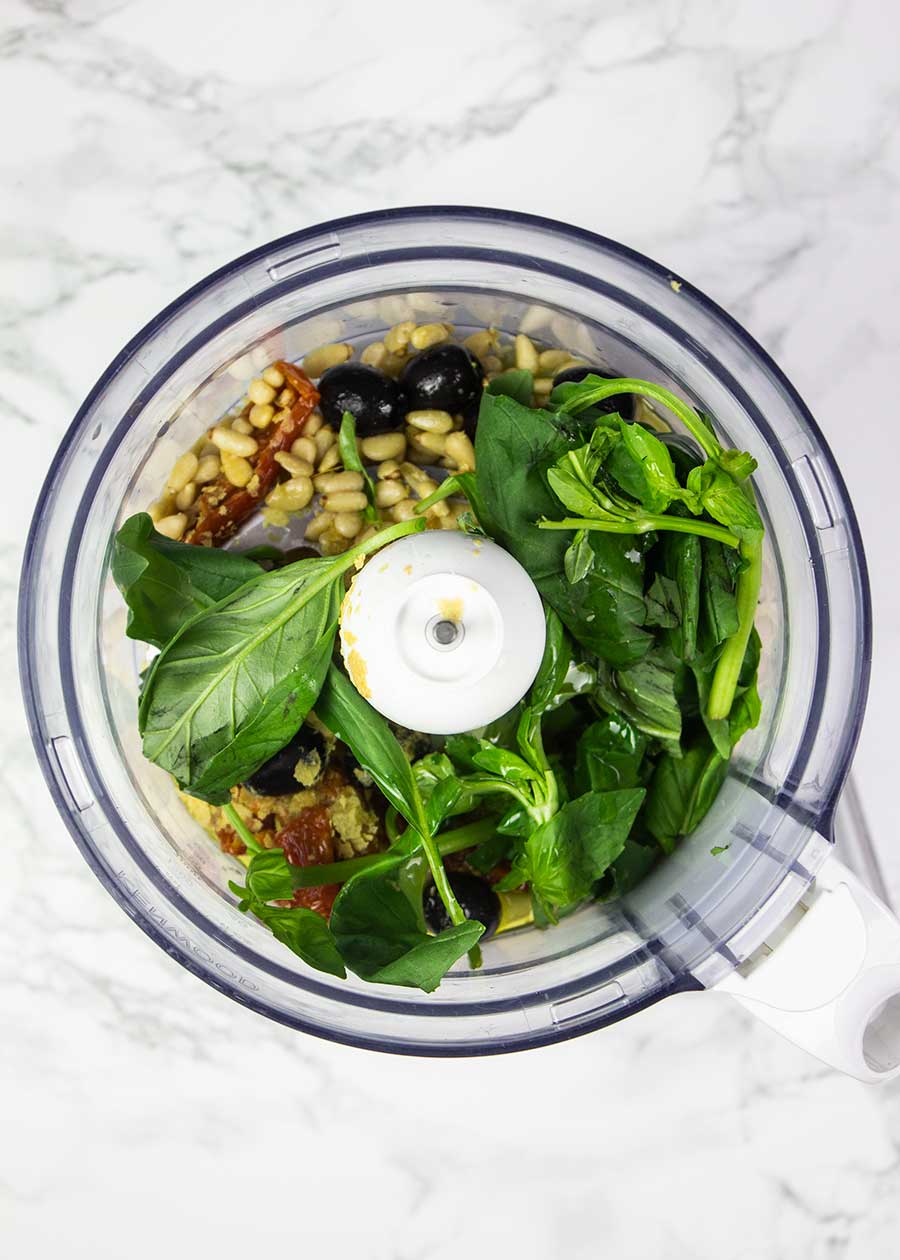 Slow roasted tomato health
Slow roasting tomatoes intensifies its lycopene content. Lycopene is a plant compound and one of 600 carotenoids found in fruit and vegetables but more importantly one of only a handful that are recognised as important to human health. Carotenoids are found in yellow, orange, red and dark green fruit and vegetables, including tomatoes, sweetcorn, oranges and spinach. Around 50 identified carotenoids including lycopene are converted into Vitamin A in the body. Vitamin A is a fat-soluble vitamin that is stored in the liver. It is essential for many functions in the body as it binds on to certain cells that regulate how our bodies read genes. It is vital for the production of some proteins and important enzymes that maintain normal growth and development of our cells including helping our bodies heal.
Lycopene which is the red pigment found in fruit and vegetables is not essential for humans, however, studies have suggested that there is a strong link between tomato intake and blood lycopene levels alongside the reduced risk of many cancers. Cooking tomatoes can release up to five times more lycopene than you would get by consuming just raw tomatoes and lycopene is already about three times more potent an antioxidant than Vitamin E. 
It has been studied that consuming just one serving of tomatoes can reduce oxidative stress to our bodies by as much as 50% within one day.
The correlation between people who have a high intake of fruit and vegetables and the reduced risk of high blood pressure, diabetes and cancer is overwhelming. Making an easy pesto that is crammed full of healthy ingredients is an ideal way to introduce more antioxidants into your diet.
Basil health
Basil, used as the traditional herb for pesto is high in phytochemicals such as the flavonoid antioxidants orientin and viceninare which have been associated with helping the body's self-defence against cancer. Basil is also a natural adaptogen which means it helps the body deal with stress. The more basil you can pack into a pesto then the more you will get out of it in terms of body and mind.
Basil also contains the essential oils linalool and eugenol which have powerful anti-inflammatory properties that could potentially lower the risk of heart disease and other inflammatory conditions.
Pine nut health
Pine nuts aren't really nuts but seeds found in pine cones. They've been consumed for centuries and are a source of really healthy fats, protein, sodium, fibre, and healthy carbs.
Consistent intake of pine nuts has been found to impact heart health, particularly due to high levels of vitamin E, magnesium and monounsaturated fats. Pine nuts are also effective in blood pressure management, attaining a proper body mass index and ideal waist circumference.
Pine nuts can be effective in reducing cognitive decline that results in conditions such as Alzheimer's and Parkinson's disease.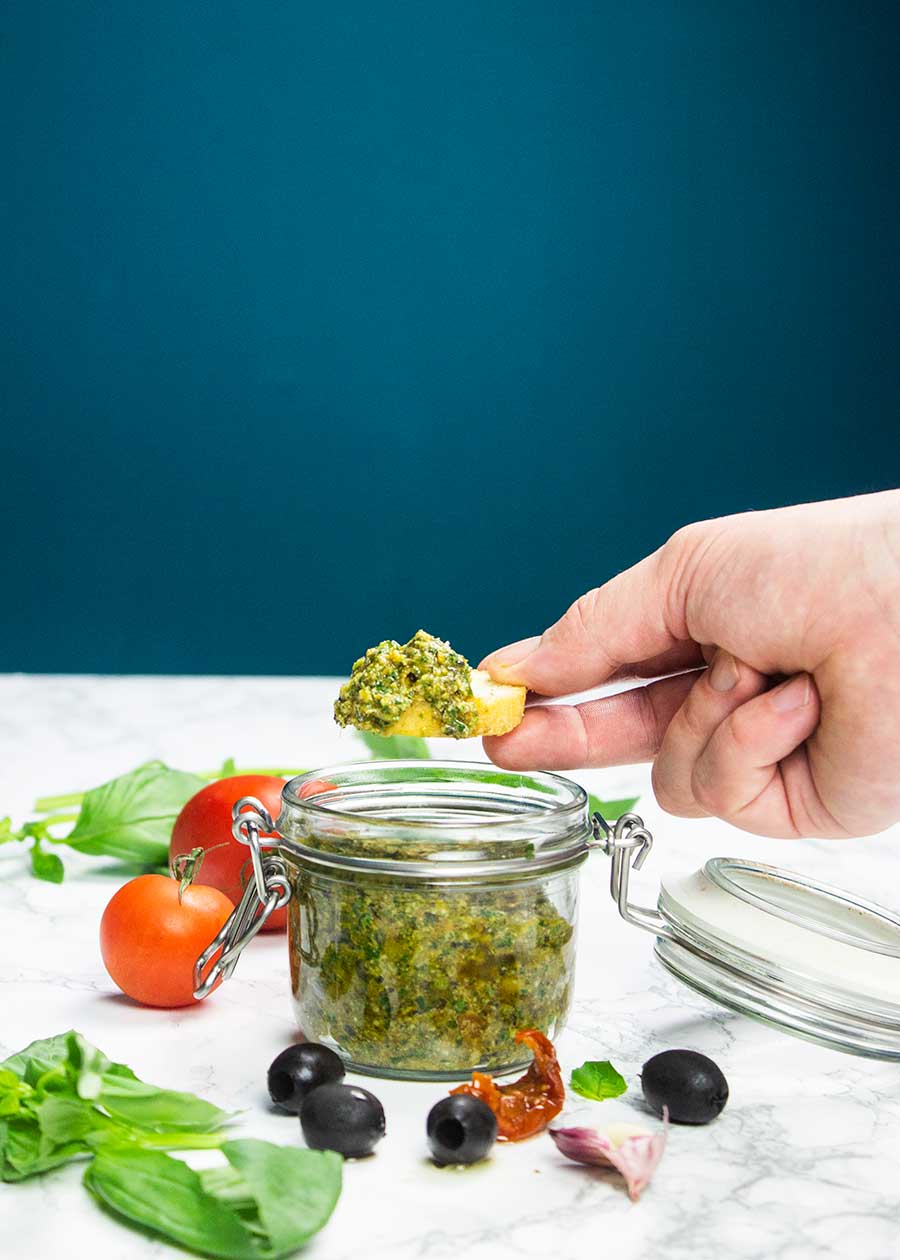 Have you made this black olive pesto recipe?
We'd love to see your pesto creations! Please leave a comment below, share or tag using @anticancerkitchen on Instagram and hashtag it #anticancerkitchen.
More healthy spreads on the blog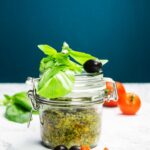 Ingredients
1 cup of fresh basil leaves

¼ of a cup of black pitted olive

¼ of a cup of slow-roasted tomatoes

¼ of a cup of pine kernels

¼ of a cup of extra virgin olive oil

2 tablespoons of nutritional yeast

1 peeled clove of garlic
Instructions
Place all the ingredients in a food processor and process to a coarse paste. Enjoy as a pasta sauce, a spread, or as a dip. 
Store in a re-sealable jar in the refrigerator for up to 5 days.

Copyright secured by Digiprove © 2020 The Anti-Cancer Kitchen