Amazingly tasty vegan pesto pasta courgetti that is full of flavour and goodness. Moreover this vegan pesto pasta recipe is dead easy to make. So let's get cooking.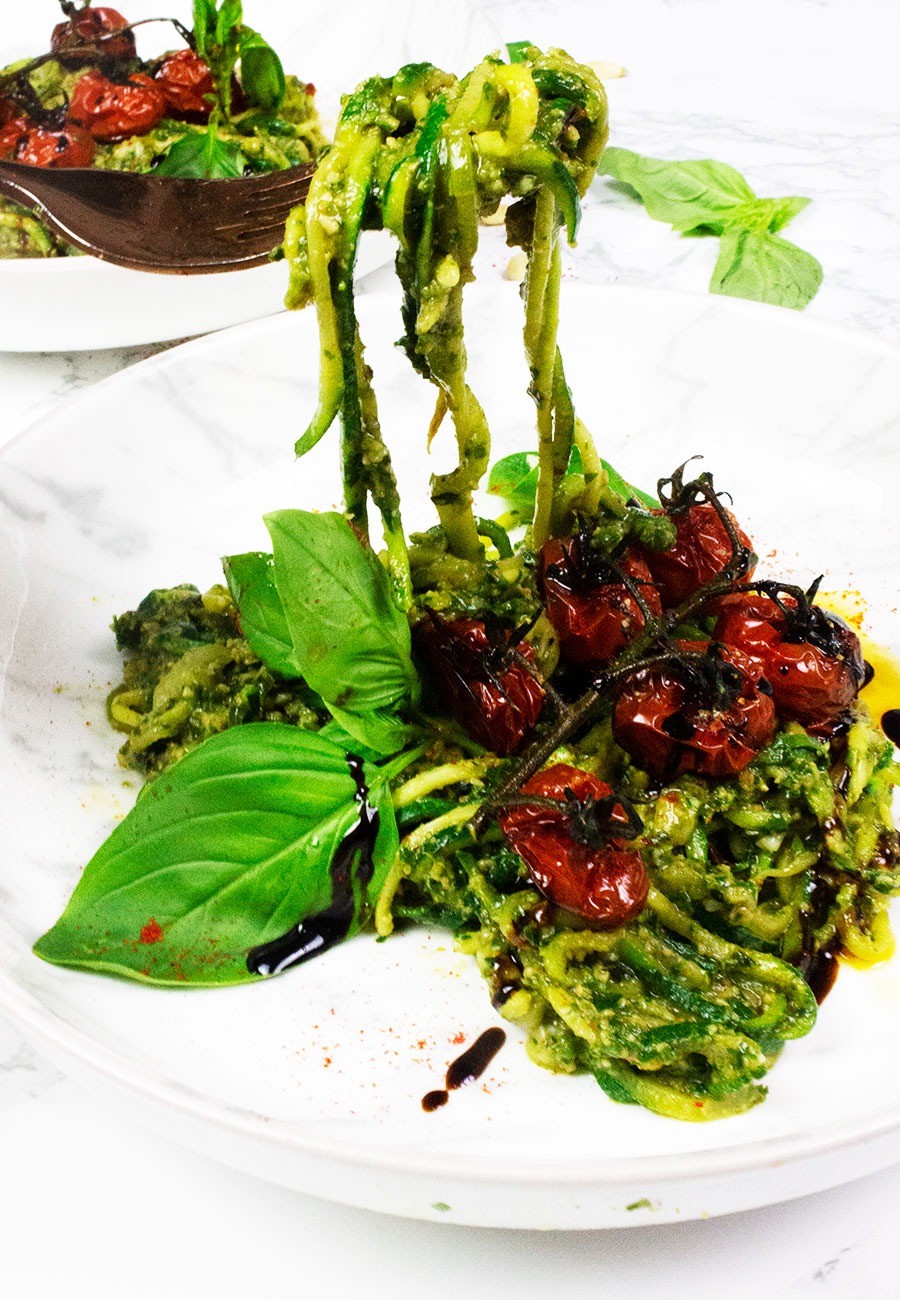 Vegan pesto recipe
Pesto is a fresh and easy to make sauce which is harder to mess up than to create something very tasty and once made it is used to flavour pasta, vegetables, bread or whatever you decide. It is so easy, it is well worth doing yourself rather than buying a jar. The classic recipe is made with just a few simple ingredients of basil, pine nuts, garlic and hard cheese with olive oil all ground or blended together. With this easy to follow totally plant-based pesto recipe we will show you what ratios to use, what herbs you can use for variations and especially what to use instead of cheese to recreate the tangy umami flavour that was created all those many years ago when the ancient Romans introduced pesto to the world.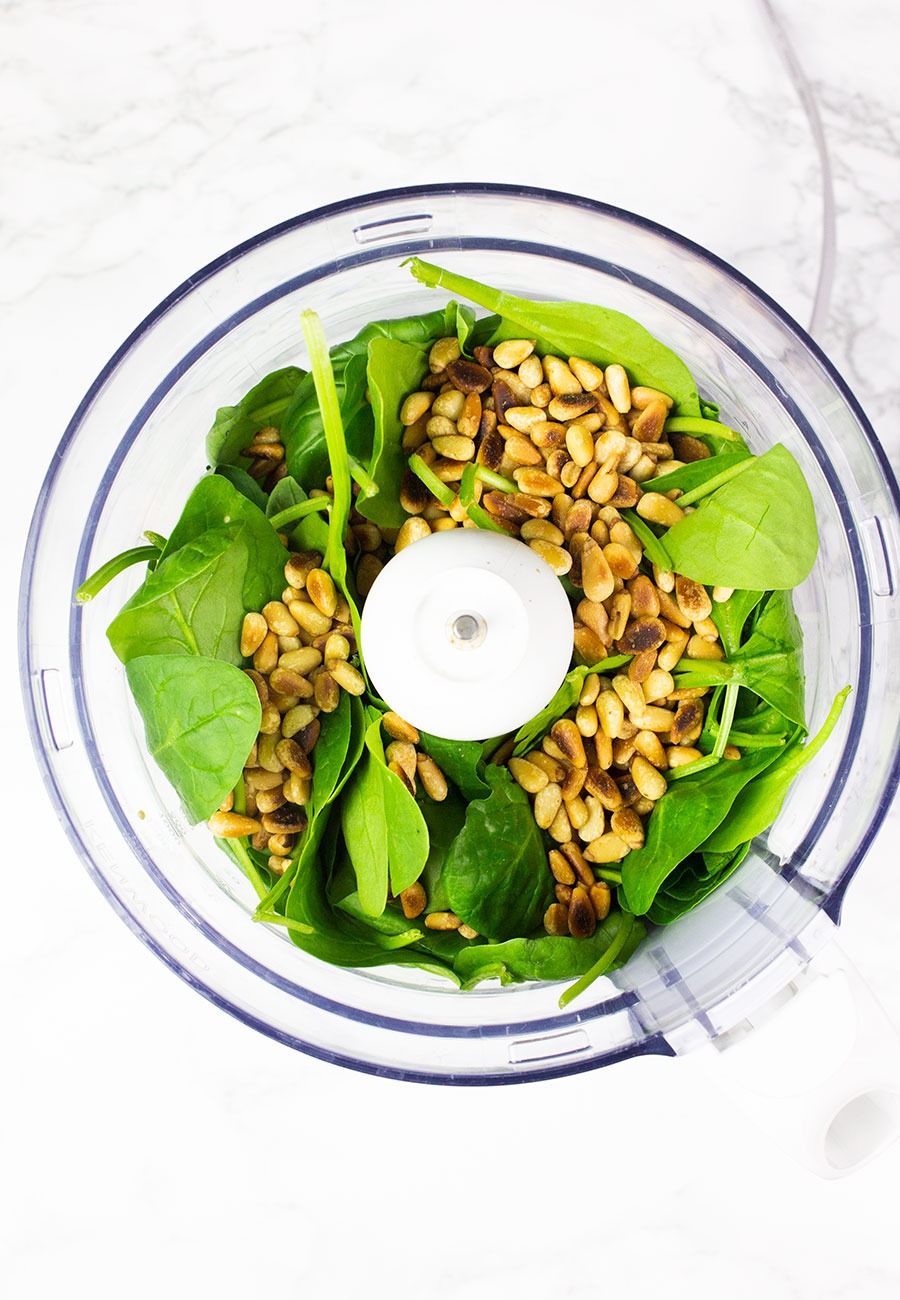 Why make your own pesto?
Fresh is the way to go, not that we are advising not to buy jars of pre-made sauces as many can be very good, economic and tasty and healthy, it's just if you make your own you know exactly what goes into your vegan pesto pasta recipe without worrying what unknown ingredients are in your shop bought sauces to lengthen their shelf lives and the unknown effect it can have on your health. All you are using are fresh ingredients. What's more is that you are likely to use what's left in your fridge rather than waste it. Also there is always a sense of pride when you've prepared something for yourself and you get to put your twist onto it too.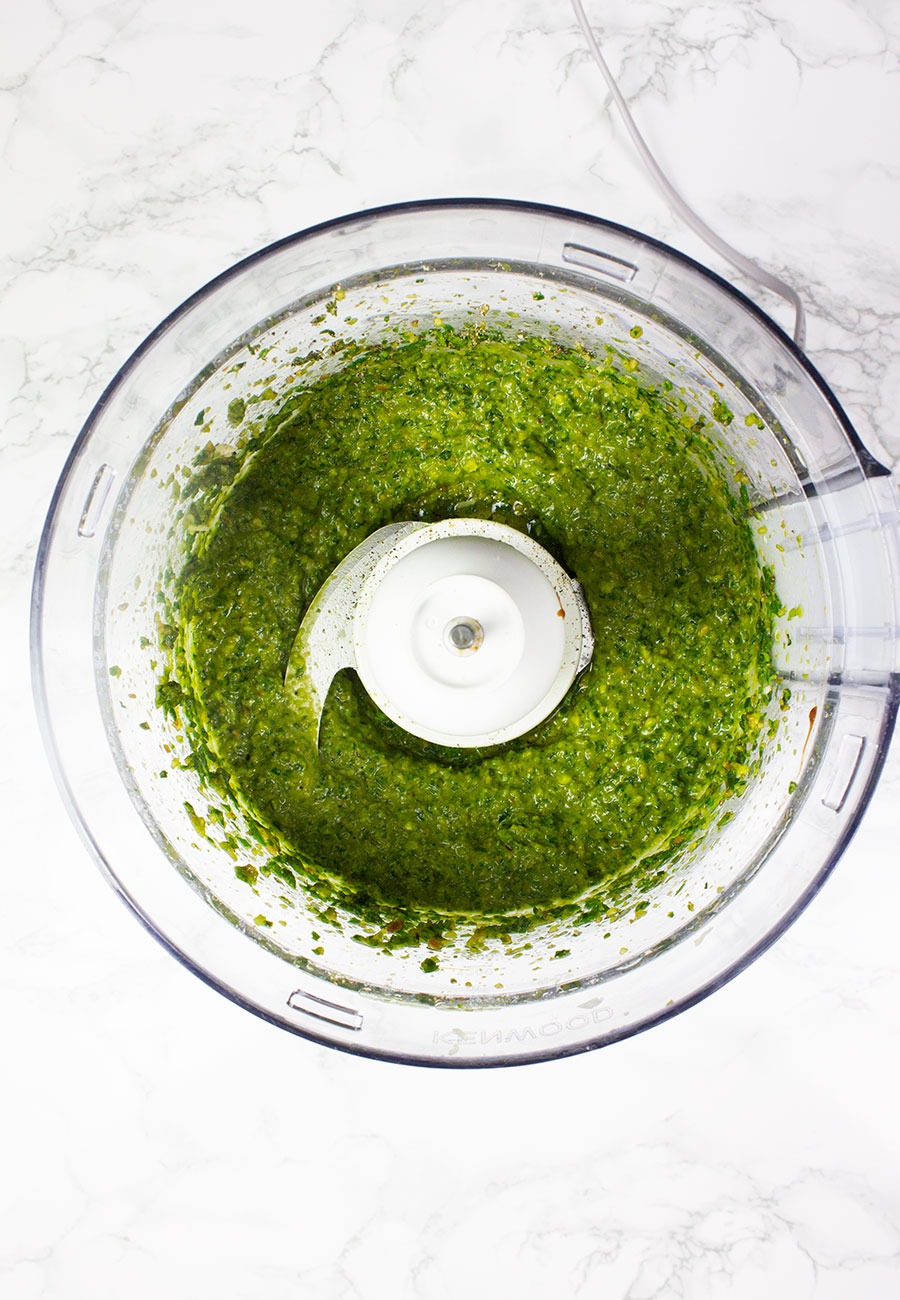 Have the confidence to experiment
Pesto does come in many forms and colours so have the confidence to follow the ratios in this vegan pesto pasta recipe and substitute some of the ingredients for your preference. Green pesto traditionally uses basil, but you can use pretty much any fresh green leafy herb such as parsley or tarragon and we add spinach in our best ever vegan green pesto recipe. Red pesto is made with sweet peppers, tomatoes or sun dried tomatoes as the main colour / flavour with the addition of the nuts, garlic, cheese and oil (this recipe doesn't use cheese though). Once that flavour has been decided then you can choose the nuts. Pine nuts or pine kernels are traditional, but you can alternatively use walnuts, cashews or seeds such as sunflower or pumpkin seeds, it is just the ratio that is important. Garlic is important for an authentic flavour but if you prefer you could use an onion or chives. Then we come to the oil. Olive oil works really well but so does rapeseed oil which adds an earthy flavour, walnut oil adds a rich flavour and add avocado oil or sesame oil to introduce dimensions of world cuisines to your pesto. The final flavour which is traditionally made by the addition of  a hard cheese such as parmesan or pecorino adds the tang normally. This umami flavour comes predominantly from proteins which as they are harder to digest provide a physical response in the body to create saliva to aid consumption. Parmesan does this well as does anchovies which are too often used in a Genovese pesto. Of course we have to look for plant nutrition however to provide this kick and tomatoes can work well to add the necessary umami hit but at The Anti-Cancer Kitchen our secret ingredient to add this wonderful tang is a good dollop of yeast extract. The dark unctuous paste that commonly adorns a bit of toast for breakfast gives a great punch of flavour that adds what would normally be a missing dimension to an ordinary vegan pesto. Nutritional yeast that is common in making vegan cheeses can also be used.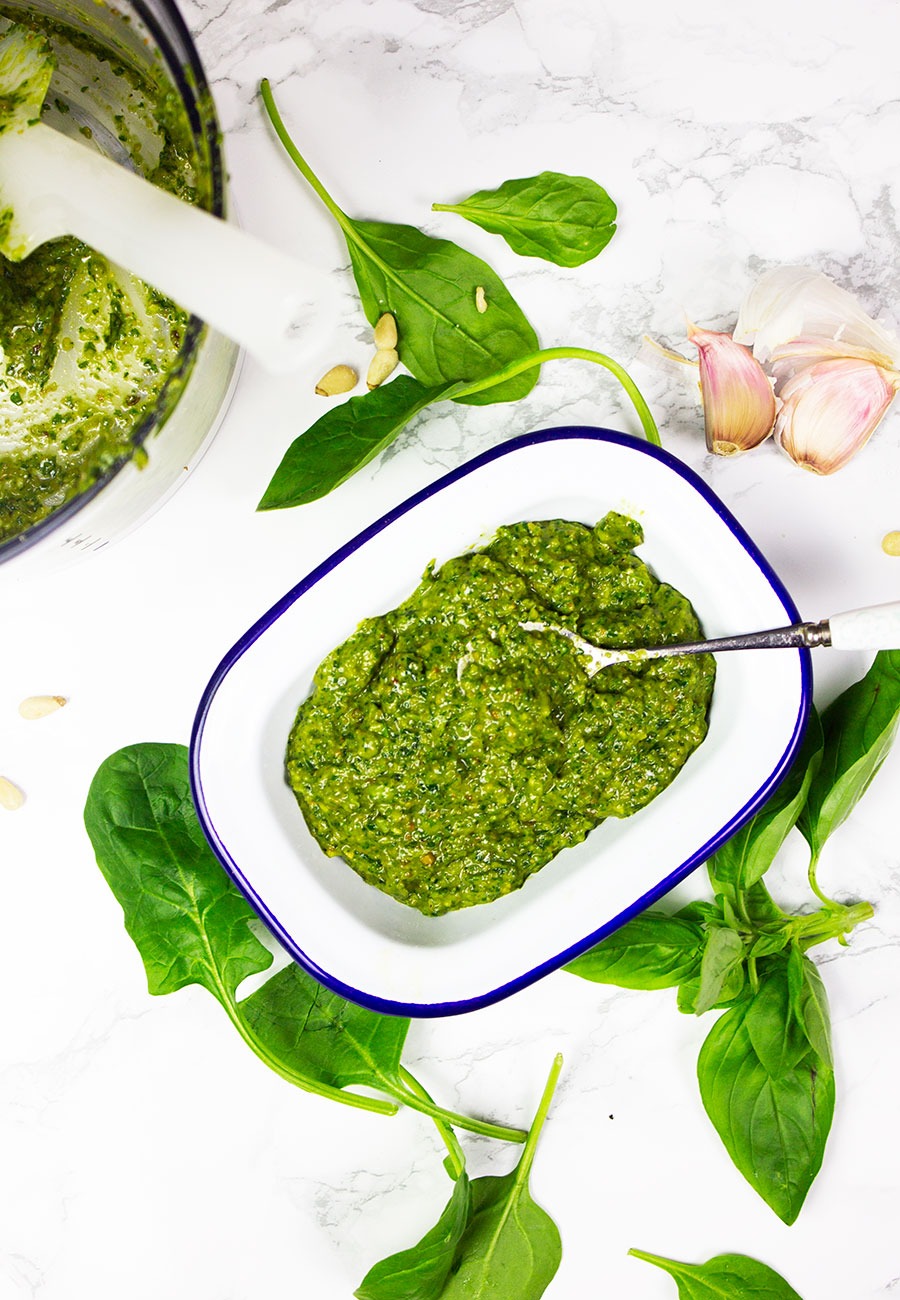 Types of basil to use and their health benefits
The main ingredient in your pesto will give you the colour and predominant flavour. Basil in this case is fragrant, woody, savoury and sweet. It is the essential oils contained within this herb that gives off the wonderful aromas and flavours. There are also many types of basil to choose from which will give a slightly different flavour such as lemon basil, Italian basil or Thai basil. 
Essential oils 
The citrus aroma given off from lemon basil comes from the concentration of citronellol oil which is also found in many plants including geraniums and roses. There are various oils found in herbs and plants and not only do they give off a sweet scent but they have numerous medicinal benefits too. 
Basil also contains the essential oils linalool and eugenol which have powerful anti-inflammatory properties which could have the potential to lower the risk of heart disease and inflammatory bowel conditions. It is inflammatories that can also soothe headaches and fevers. 
Basil is high in antioxidants
Basil is also high in the flavonoid antioxidants orientin and viceninare. Antioxidants play an important role in strengthening the immune system and reducing oxidative stress caused by free radicals in the body.

What are free radicals and why do we need to fight them 
Free radicals are chemicals in the body that are molecularly unstable. These are negatively charged molecules that set a chain reaction off with damaging effects to body proteins, fats and DNA. In fact the body is constantly under attack from this process and when genetic material is damaged it is the precursor for cancer and other degenerative diseases. For this reason consuming foods with antioxidant capabilities are vital for detoxifying your body. Oxidation however, is also a vital part of the body's function but we all need to consume substances that help neutralize the damaging oxidation reactions. Adding more leafy herbs such as basil to your diet will give you a better opportunity to improve your health. 
Monitoring our consumption of vitamin K 
One note to mention is that basil is high in vitamin k whilst this is important for cardiovascular health and bone metabolism it is a natural coagulant and consumption must be monitored for people using blood thinning medication.
Can spinach beat cancer?
The other major ingredient that accompanies our healthy pure plant based green pesto are fresh spinach leaves. Not only are these leaves full of antioxidants too there are ongoing studies regarding an x-ray structure in the leaf that aids photosynthesis for the plant called MGDG (monogalactosyldiacylglycerol) these studies link this plant compound to the inhibition of tumours. That is eating spinach could potentially inhibit cancers.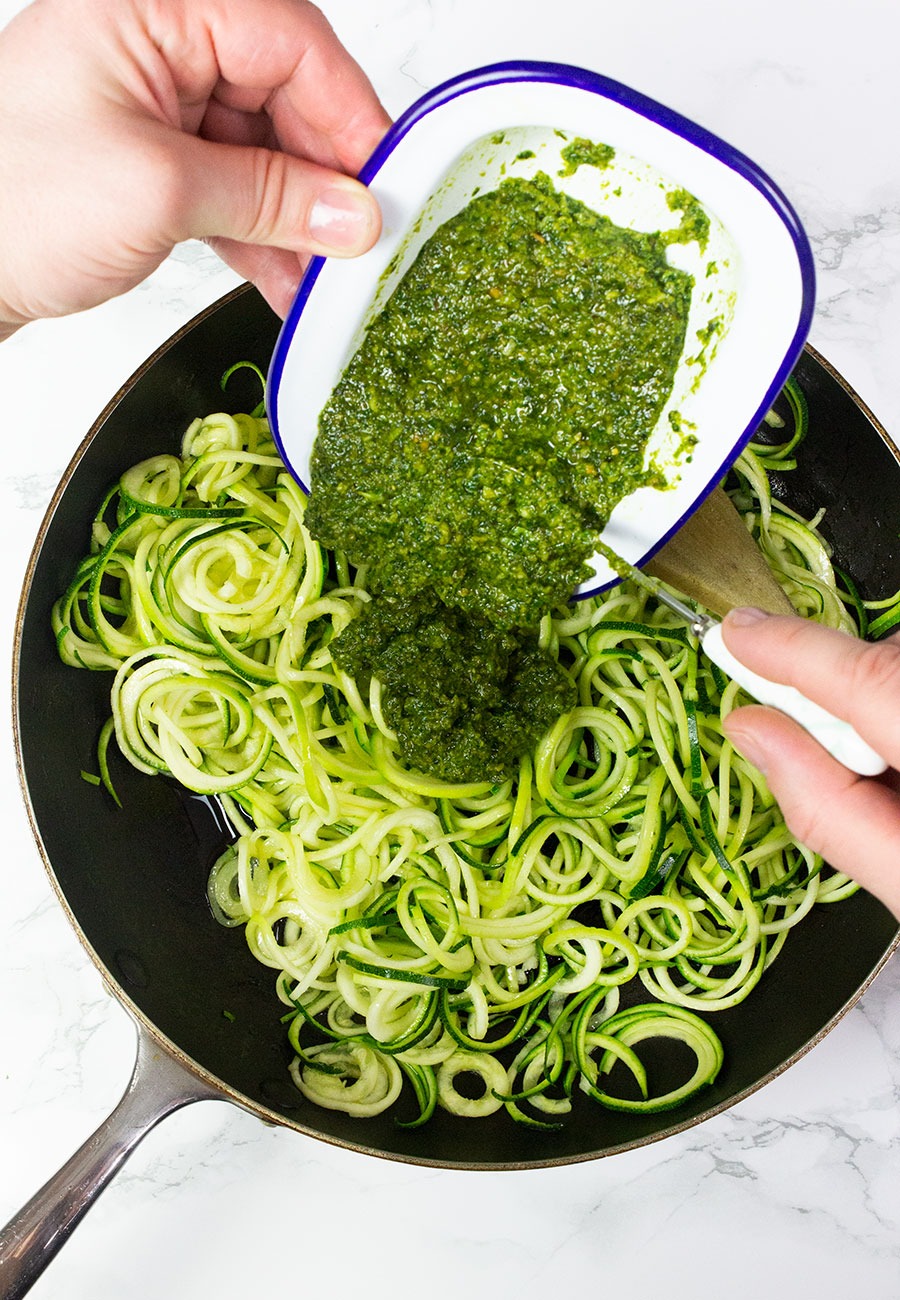 Ingredients ratio for the best vegan pesto pasta 
This is a foolproof way of creating a great pesto everytime.
2 cups of your main ingredient. This can be 2 cups of one ingredient such as purely basil or coriander for example or a mix of flavours such as basil and spinach as it is with this recipe. Sun-dried tomatoes and sweet red peppers or mushrooms and truffle are great combinations too.
⅓ of a cup of the seeds. Roasting them on a dry pan will bring out the nutty flavours. Pine kernels work well and are a good source of vegan iron and vitamins E and A. Other seeds such as sunflower or pumpkin seeds are high in healthy fats and are really tasty as are other common alternatives such as cashew or walnuts.
½ a cup of Oil. Olive oil is traditional but do opt for a quality oil such as extra virgin olive oil. You do not need to cook with this oil so a high smoking point is unnecessary. Avoid sunflower, vegetable and pure olive oils. Flavour is important and you can over do it if you use sesame oil by itself for example, dilute these highly flavoured oils with extra virgin olive oil. Avocado oil is a heart healthy oil worth using if you want to pay more as is cold pressed rapeseed oil. Coconut oil is high in saturated fats and coconut flavour perfect if you want to bring an Eastern or Caribbean flavour to your pesto.    
2 minced cloves of garlic 
2 teaspoons of yeast extract or nutritional yeast
Finally season with a few grinds of salt and pepper    

Courgetti instead of pasta
Pesto is famously a sauce for pasta or bruschetta, if you have gone for the option to make your own pesto then it does deserve to be served with homemade pasta. Failing that for obvious reasons then it of course works beautifully on your favourite shop bought pasta. However going that one healthy step further that we like to do in our kitchen we would highly suggest courgetti or spiralized courgette / zucchini. There is no need to blanch or parboil this squash as it will simply wilt when flash fried whilst keeping a beautifully tasty crisp bite. Just remember to let the courgetti or zoodles as they are called when put into Asian dishes rest in a colander for a minute to drain the excess liquid out before tossing them in your home made pesto. And here you are, a perfect vegan pesto pasta courgetti. 
Have you made this vegan pesto pasta courgetti recipe?
We'd love to see your vegan pesto pasta creations! Please leave a comment below, share or tag using @anticancerkitchen on Instagram and hashtag it #anticancerkitchen.
Love healthy Italian recipes? Why not try: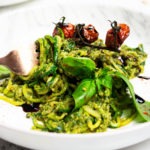 Ingredients
Vegan pesto Ingredients:

1 cup of fresh basil leaves (packed)

1 cup of fresh spinach leaves (packed)

⅓ cup of pine kernels

½ cup of extra virgin olive oil

2 peeled and minced garlic cloves

2 teaspoons of yeast extract

Courgetti pasta ingredients:

2 large courgettes

1 tablespoon of olive oil

Optional garnish:

Roasted vine tomatoes simply seasoned and drizzled with olive oil and balsamic vinegar and roasted in a 220℃ oven for 10 minutes.

Fresh basil leaves.
Instructions
Pesto method:
Put the pine kernels in a dry frying pan on a medium heat and roast the kernels for 2-3 minutes to bring out a toasted colour and flavour. Be careful not to burn them
Place the basil, spinach and toasted pine kernels into a blender and pulse to create a roughly chopped texture
Add the yeast extract and garlic and pulse to incorporate
Start the blender on the lowest continual setting and slowly pour the olive oil in. The longer you blend your pesto the finer the texture will be so monitor this for your desired pesto
Finish by seasoning with salt and pepper
Courgetti method:
Cut the ends off the courgette and cut them in half
Using a spiralizer make long strands of raw courgette
Pour in the oil to a frying pan on a high heat. Toss the courgetti in the pan for 2 minutes to gently soften and brown. Pour the contents into a colander over a pan to lose the excess moisture for a further 2 minutes
When  you are ready to serve bring some olive oil to a high heat on a frying pan and the courgetti. Toss in the oil and add the pesto and stir-fry quickly to cover the courgetti in the pest and serve immediately
Garnish with tomato and basil leaves (optional)

Copyright secured by Digiprove © 2020 The Anti-Cancer Kitchen