Our vegan carbonara recipe is creamy, comforting and super healthy.
The classic spaghetti carbonara has long been reproduced in an incorrect way elsewhere than Italy for many years. The creamy and cheesy texture has been re-created with just that, cream and cheese and often wine. Ham and mushroom were then added as extras. I'm sure that there are great, great mama mias in Italy rolling around in their graves with the thought that this signature Italian dish has been ruined by generations of let's face it, supermarkets and processed quick and cheap food around the world.
Carbonara is originally fresh spaghetti tossed in egg yolk and parmesan cheese emulsion with added salty pancetta pieces served straight up. The egg creates a bouncy, spongy texture whilst the pancetta adds a punch of satisfying saltiness. How on earth can a dish fuelled with eggs, dairy and meat be recreated in a healthier plant-based way without compromising on what would appear to be the traditional and genuine method of creating it not only visually but with the right textures and most importantly the same traditional taste.
Here's how and it's very easy.
Vegan Carbonara recipe
First of all, the sauce is made from blended cauliflower (roasted for added health benefits) with a stock which uses the impressive egg-like qualities of the water reserved from a can of chickpeas which can also be utilised in mayonnaise and even meringue (follow this blog as we will experiment with this later). This gives the spongy texture that discerns the original dish from many of its faux counterparts. Second of all, the salt kick that would have come from the pancetta comes from Shiitake mushrooms pressed in soy sauce. Lastly, the flavour that parmesan delivers so well in the original version is replaced with an absolute umami bomb from the nutritional yeast. So here we are, vegan carbonara/spaghetti Caulibonara is born.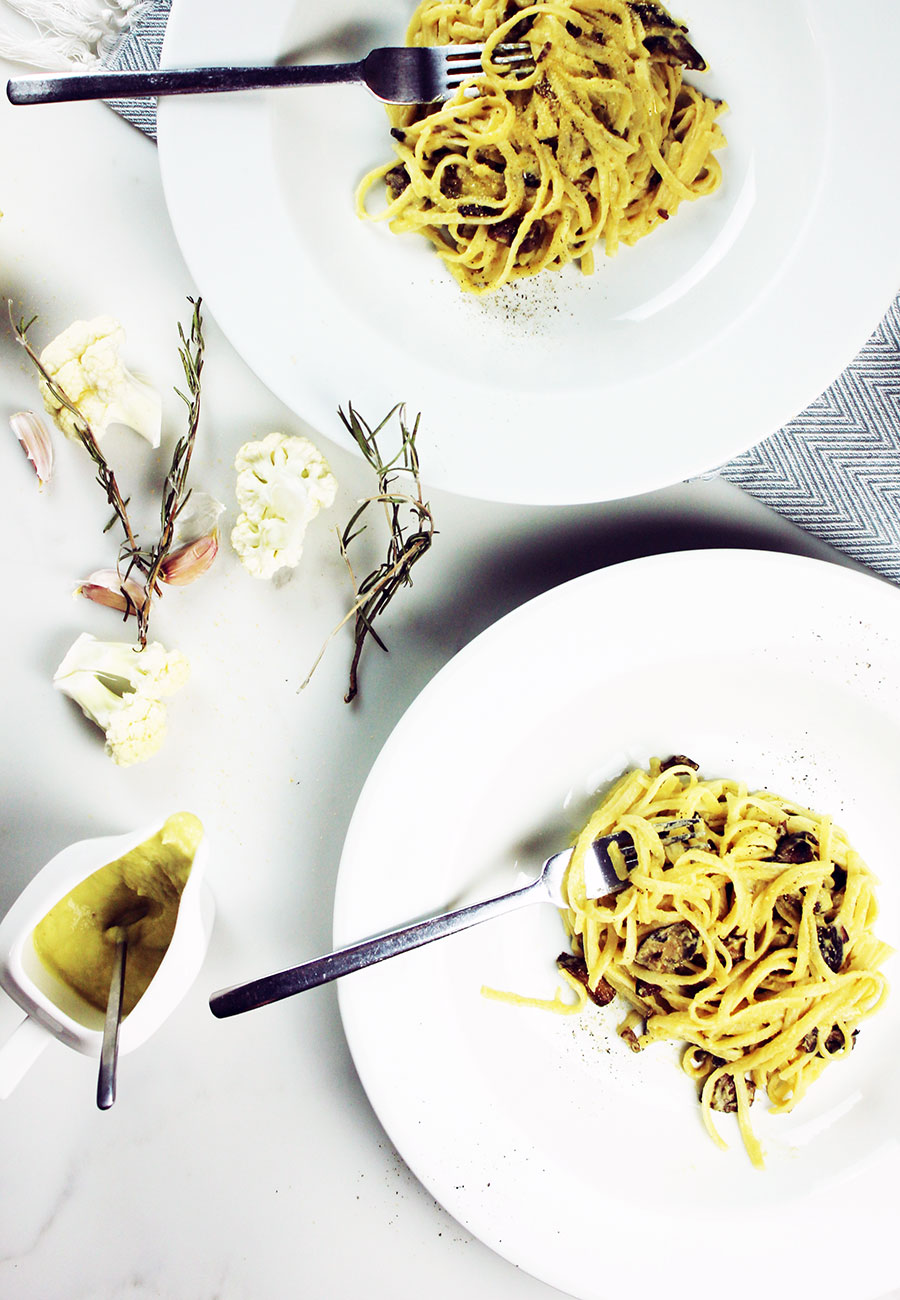 Have you made this delicious spaghetti Caulibonara recipe?
We'd love to see your food creations! Please leave a comment below, share or tag using @anticancerkitchen on Instagram and hashtag it #anticancerkitchen.
More anti-cancer dinner recipes
Check out our tasty and anti-cancer dinner category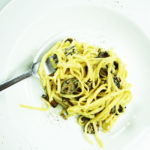 Ingredients
Half a cauliflower broken into florets

Seasoning cauliflower: ½ a teaspoon of turmeric, 1 teaspoon of dried rosemary and garlic, a drizzle of olive oil

The reserved liquid from a can of chickpeas, roughly 150ml

2 tablespoons of nutritional yeast

1 organic vegetable stock cube

200g of shiitake mushrooms

1 tablespoon of soy sauce

360g of egg free spaghetti with some reserved water the pasta is cooked in

Salt and pepper (seasoning)
Instructions
For the sauce - season the cauliflower florets with the turmeric, rosemary, garlic and oil and place in a roasting tin in a preheated 200c oven for 40 minutes (alternatively steam the cauliflower for 8-10 minutes and then season).
Heat the liquid from a drained can of chickpeas (reserve those in a container for another day) and stir in the nutritional yeast and vegetable stock.
Blitz the cooked cauliflower and liquid together in a blender until smooth
Chop the mushrooms into bite sized pieces and fry in a pan with a little olive oil and salt and the soy sauce. Press the mushrooms in the pan and cook for 10 minutes until they have reduced in size and taken on a slightly chewy texture. You can transfer to the oven to cook further if you like a firmer texture.
Bring a pan of salted water to the boil and cook the pasta until al dente. Drain well but reserve the water.
Combine to perfection. Pour a little olive oil in a wide frying and place on a high heat. Add the pasta and toss in the oil using a wooden spoon to stir and throw in the mushrooms. Pour in the sauce and fully coat the pasta, add the reserved pasta water spoon by spoon until you are happy with a silky texture. Plate up and serve immediately.