This is a very simple green spinach kale smoothie recipe.
Spinach, kale, and cucumber are so incredibly healthy and anti-cancer. We have added some home-pressed apple juice for natural sweetness but if you don't have time to make the juice yourself you can just get one from the shop – just make sure it's organic and cold-pressed.
Why drink a spinach kale smoothie
Eating or in this case, drinking darker green leafy vegetables such as kale and spinach are so good for us as they contain beta-carotene as well as the carotenoids – lutein and zeaxanthin. Research suggests that beta-carotene, lutein, and zeaxanthin are all powerful antioxidants that may help to block early stages in the development of cancer. These leafy greens are also very high in folate which is the natural form of folic acid. It important to highlight that folate is crucial for DNA duplication and repair. Without cell repair, the cells could develop cancer.
Have you made this spinach, kale and cucumber smoothie recipe?
We'd love to see your smoothie creations! Please leave a comment below, share or tag using @anticancerkitchen on Instagram and hashtag it #anticancerkitchen.
More anti-cancer juice and smoothie recipes
Check out our juice and smoothies category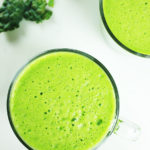 Ingredients
2 handfuls/cups spinach

2 handfuls/cups kale

1/2 medium cucumber

300ml apple juice
Instructions
All you need to do is blend all the ingredients and then pour them in a glass. You might want to add some ice whilst blending if you wanted the smoothie super cold.