Healthy pizza dough recipe that is easy and anti-inflammatory.
When we have pizza in our household we make it ourselves. We have spent hours or actually days to be completely honest with you perfecting the perfect crispy base recipe which we are so happy to share with you. This is is not a quick one you can do in half an hour. The proving process is one hour to one hour twenty minutes but that's what makes this base so amazing.
Healthy pizza dough recipe with turmeric
In this healthy pizza dough recipe, we have decided to add turmeric. We know that turmeric is pretty good for us. Unless you have been living under a rock in the last few years you must have heard about it's anti-inflammatory and cancer-fighting properties. As a former cancer patient and yes I am so pleased to say former (had my last Herceptin injection last month) I am adding turmeric in more or less everything. In juices, soups, breakfast bars, banana bread you name it. The spice is not only for Indian curry meals, it really works in other dishes too. If you need more inspiration, check out our turmeric recipes category.
A healthy pizza recipe
What makes this pizza so delicious is the homemade slow-roasted tomato and peppers sauce. It really is worth making the sauce too as you can use it as a pasta sauce later too. When it comes to the toppings we/'ve gone for mushrooms (healthy and full of cancer-preventing selenium), cherry tomatoes and mozzarella garnished with fresh basil.
Other pizza recipes you might want to try
Have you made this healthy pizza dough recipe with turmeric?
We'd love to see your food creations! Please leave a comment below, share or tag using @anticancerkitchen on Instagram and hashtag it #anticancerkitchen.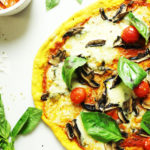 Ingredients
140ml of lukewarm water

1 teaspoon of sugar

7g of dried yeast

225g strong plain flour

1 ½ teaspoons of salt

A drizzle of olive oil

1 table spoon of turmeric
Instructions
Pre-heat your oven on a dough proving setting or 40c. Measure the water in a jug and pour the yeast and sugar in and stir gently until smooth. Place the jug into the oven for 15 minutes until a froth has developed. Add the salt to the flour in a mixing bowl and make a well in the middle. Pour the yeast water in and either with your hands or a wooden spoon mix together until fully combined.
Tip the dough out on to a work surface, sprinkled with flour and begin kneading it for about 10 minutes until the dough is soft and supple. Clean the mixing bowl and pour in a little olive oil and spread around the sides to stop the dough from sticking. Put the ball of dough in the bowl and cover with a damp cloth and place into the oven to rise.
After 30-40 minutes the dough will have risen but not with even air pockets. Punch the dough once to flatten it, this will help the pizza not cook unevenly. Place back in the oven for a further 30-40 minutes.
Take the dough out of the oven and equally divide and roll into 2 balls or 4 smaller balls. Place them onto a lightly floured surface and cover with a damp cloth for 20 minutes to rest. When ready to stretch out your pizzas start with plenty of flour on your work surface and flatten the dough with a slap. Roll the pizzas out with a rolling pin to whatever shape you like adding flour to the surface if it starts to stick. You will end up with two 16" thin pizzas or 4 smaller pizzas. Place the bases on some foil/grease-proof paper ready to top to make it easier to put in the oven. Add you favourite toppings. Lightly brush some oil around the crust and place in the oven on a pizza stone or upturned oven tray for 10-12 minutes.