Here is a pulled jackfruit pizza that is super tasty, full of flavour and actually healthy. This is our version of the sloppy Giuseppe pizza.
The Sloppy Giuseppe, a pizza very much made famous by Pizza Express and one Matt remembers well as it was introduced on the menu when he was working in the Charing Cross branch all those years ago. An instant hit it apparently saw their customers spend an extra 11% in their Irish outlets. Matt loved it too. The pizza which is an Italianisation of the Sloppy Joe, a spicy meat sauce served in a sandwich is mixed with tomato passata and peppers and mozzarella cheese which other than being on a pizza is the only Italian thing about it. The trouble is the beef. Red meat not famed for its anti-cancer properties.
Pulled Jackfruit pizza recipe
There are exceptions but we are not going into that with this recipe. Instead, we are here to introduce Sloppy Jack.
Here the wonderful Jackfruit gives the pizza a plant-based make-over and totally vegan if you can find a vegan mozzarella alternative. As the vegetarian version, we have made here we honestly think that in a blind taste test you would be hard-pressed to discern the difference. Also as a treat, we are sharing a dough recipe that we think you would also be hard-pressed to know you weren't eating the restaurant originally. A little bit of preparation goes into getting the topping textures right but this can be done beforehand and stored but certainly worth the effort.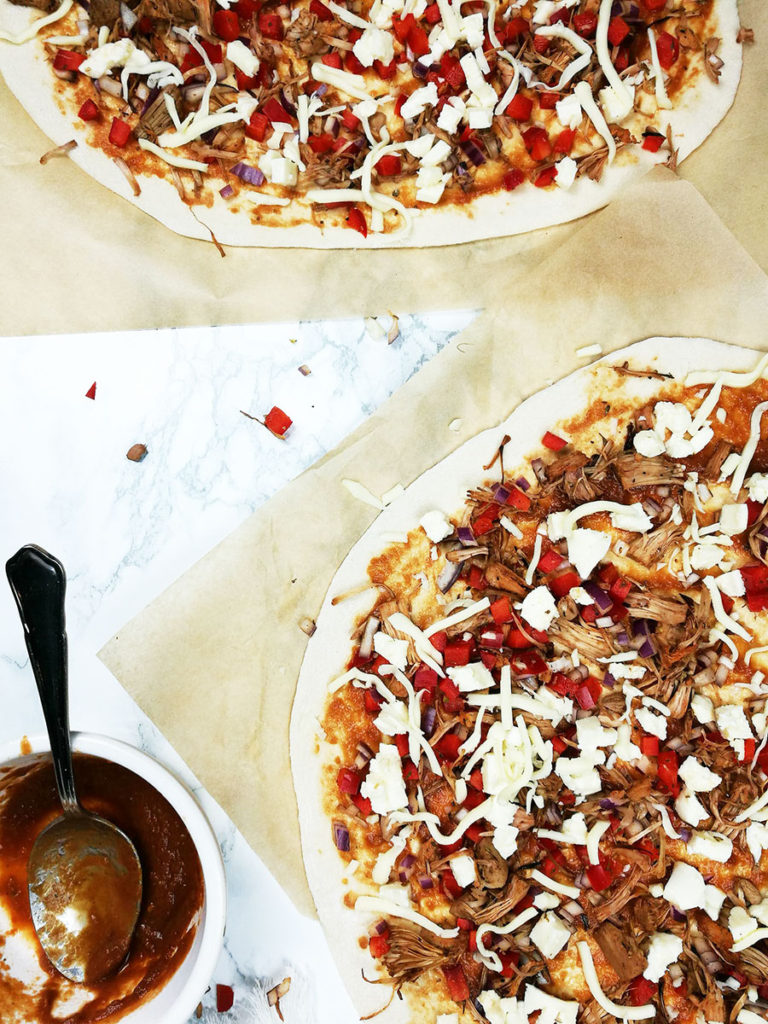 Other pizza recipes you might want to try
Have you made this pulled jackfruit pizza recipe?
We'd love to see your food creations! Please leave a comment below, share or tag using @anticancerkitchen on Instagram and hashtag it #anticancerkitchen.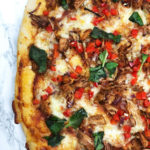 Ingredients
140ml of lukewarm water

1 teaspoon of sugar

7g of dried yeast

225g strong plain flour

1 ½ teaspoon of salt

A drizzle of olive oil

225g of Jack Fruit (1 x 400g tin before draining)

1 diced red onion

1 diced red or green pepper

150g of fresh torn mozzarella

2 teaspoons of paprika

1 teaspoon of cumin

2 teaspoons of oregano (dried)

2 teaspoons of basil (dried)

300g of tomato passata

1½ tablespoons of tomato puree

Olive oil
Instructions
If you have a double oven - start with draining the Jackfruit and rinsing thoroughly to get rid of any excess salt. Shred the fruit and mix in the oregano, basil, cumin, and paprika. Put into a roasting tin and drizzle over some olive oil. Grill the jackfruit at 200c for about an hour. (If you don't have a double oven - start with the bases).
Pre-heat your second oven on a dough proving setting or 40c. Measure the water in a jug and pour the yeast and sugar in and stir gently until smooth. Place the jug into the oven for 15 minutes until a froth has developed. Add the salt to the flour in a mixing bowl and make a well in the middle. Pour the yeast water in and either with your hands or a wooden spoon mix together until fully combined. Tip the dough out on to a work surface, sprinkled with flour and begin kneading it for about 10 minutes until the dough is soft and supple. Clean the mixing bowl and pour in a little olive oil and spread around the sides to stop the dough from sticking. Put the ball of dough in the bowl and cover with a damp cloth and place it into the oven to rise.
After 30-40 minutes the dough will have risen but not with even air pockets. Punch the dough once to flatten it, this will help the pizza not cook unevenly. Place back in the oven for a further 30-40 minutes. Take the dough out of the oven and equally divide and roll into 2 balls. Place them onto a lightly floured surface and cover with a damp cloth for 20 minutes to rest. When ready to stretch out your pizzas start with plenty of flour on your work surface and flatten the dough with a slap. Roll the pizzas out with a rolling pin to whatever shape you like adding flour to the surface if it starts to stick. You will end up with two 16" thin pizzas. Place the bases on some foil/grease-proof paper ready to top to make it easier to put in the oven. Mix the tomato passata and the tomato puree together to make a thick rich sauce. Add some basil if you like. Time to make the Sloppy Jacks.
Pre-heat your oven to 230c. With your rolled dough on some foil spoon on the tomato sauce and spread evenly over the pizzas. Scatter the spiced Jackfruit over the pizzas along with the onion and pepper and top with the torn mozzarella. Lightly brush some oil around the crust and place it in the oven on a pizza stone or upturned oven tray for 10-12 minutes. Remove from the oven and garnish with basil and serve straight away.